Everyone loves jewelry, but not everyone can afford it. When it comes to the best of the best, some of the world's most renowned jewelry manufacturers often create unique collections that are designed to take our breath away.
Some of them command amazing price tags, while others aren't even available for sale. In truth, many of these fine jewels will eventually end up in a millionaire's vault. The world's richest individuals often invest in fine jewelry, much like they do in fine art. Without further adieu, let's have a look at the most luxurious jewelry collections in the world!
Bulgari Divas' Dream Collection.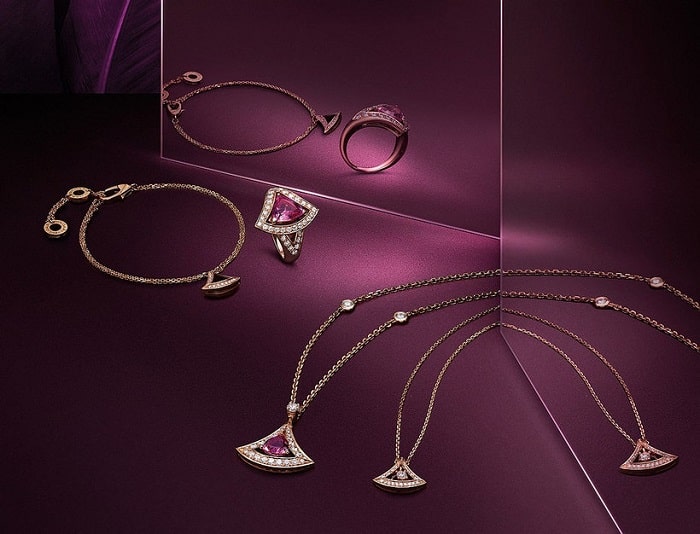 Bvlgari has taken the world by storm yet again with a remarkable luxury collection dedicated to divas from all over the world. The Bulgari Divas' Dream Collection is exactly what you'd expect it to be: a lavish display of opulence and fine taste that would make even the most avid connoisseur go "whoa." Now, those who are used to seeing high-end jewelry on a daily basis might not have the same reaction, but still. It's quite clear that Divas' Dream is in a league of its own.
The collection was inspired by the mosaics of ancient Rome, particularly the fan-shaped mosaics of the Caracalla Baths. Another key motif comes in the form of Italian femininity, which is a recurring theme in many of Bulgari's creations. Divas' Dream comprises pieces such as pendants in white gold, lavish gemstones, and pavé diamonds. Some of the most eye-catching jewels include amethysts, a pink tourmaline, aquamarine, and rubellite.
We don't know about you, but to us, this is one of the most exquisite jewelry collections to date. Contemporary collections, that is.
De Beers Aria Jewelry Collection.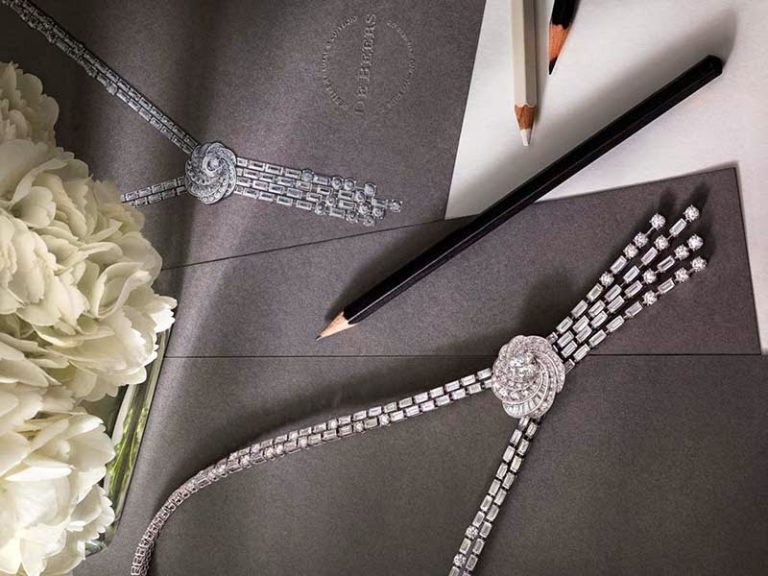 De Beers is not a company that launches jewelry collections every year, but when it does, its products always enjoy profound admiration and quickly become symbols of excellence in the luxury world. The London-based jeweler unveiled its previous Imaginary Nature collection back in 2012, and even though the line was simply breathtaking in all regards, the brand new Aria Collection is arguably even more impressive.
Aria was launched officially in London, and as with all De Beers bundles, it focuses on showcasing the immeasurable beauty and grace of diamonds, but with a white gold twist. Flaunting a generous array of covetable jewelry pieces, De Beers Aria includes luxe necklaces, lovely earrings, and fabulous watches that ooze elegance and sophistication from each and every pore. However, what makes this collection instantly recognizable is its unique and breathtaking design. The diamond – a symbol of purity, beauty, delicacy, and strength, is surrounded by white gold strips that form a superb spiraling motif. This motif is a key part of all of these masterpieces, and it definitely brings that touch of originality and fine art that we've come to expect from a company of this caliber.
The stunning white gold Aria watches flaunt 4.35 karats of diamonds, while the necklaces can have as much as 10 karats of diamonds each. Those with lighter pockets that still wish to purchase a fine De Beers piece will be glad to know that the company also included a few smaller signature pieces that feature just 0.15 karats of lavish diamond adornments.
The De Beers Aria collection became available globally on July 24, 2014. As time goes by, it will undoubtedly become one of the most coveted and appreciated jewelry line in the world.
Piaget Rose Passion High Jewelry Collection.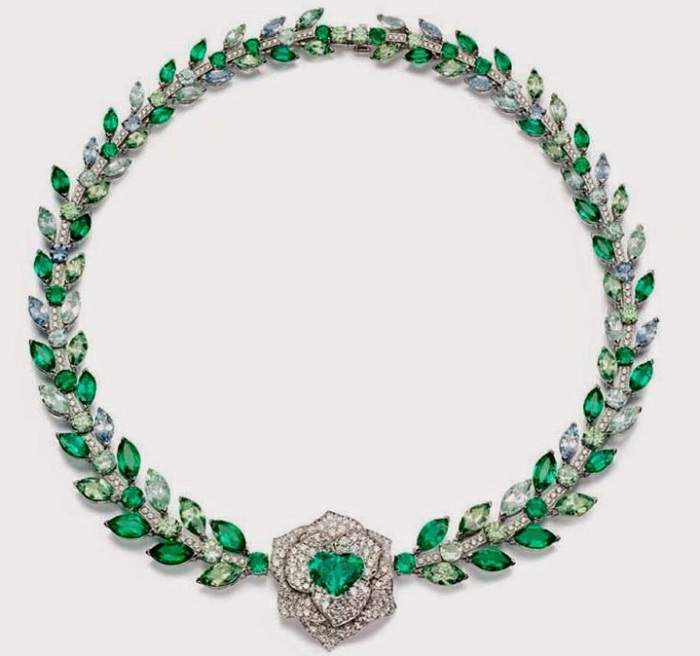 Founded in 1874 by Georges Piaget himself, Piaget is a luxury watch-making and jewelry-making company that is based in Geneva, Switzerland. Ever since its humble beginnings, the company strived to create luxurious, eye-catching, and immensely valuable products, many of which could very well be considered works of art. One of the most valuable sources of inspiration for Piaget's experts is the ever-beautiful rose – a symbol of passion, purity, beauty, and elegance.
The Piaget Rose Passion high jewelry collection is almost too beautiful to be described in words, but we'll give it our best shot anyway. This mesmerizing collection comprises no less than 75 jewelry pieces as well as 25 watches, all of which reflect the outstanding attention to detail and long hours that were invested in their creation. The collection does invoke the rose motif repeatedly, but it does so with a tropical twist since numerous pieces flaunt combinations of colors such as green, blue, deep red, pink, and orange.
The color combination was chosen specifically in order to remind of the exotic Caribbean environment that was such a big part of Joséphine de Beauharnais's childhood. Just in case you weren't aware, Joséphine de Beauharnais was the wife of Napoleon Bonaparte and she was born in Martinique. During her younger years, Joséphine was surrounded by gorgeous flowers brought from the Caribbean, and since she loved flowers so much, she later decided to create and tend to a huge rose garden at her Château de Malmaison.
The Piaget Rose Passion collection was showcased aptly by Bar Refaeli during a special celebratory party, where she wore an exquisite set of white gold Rose Passion earrings adorned with 281 brilliant-cut diamonds, a white gold Rose Passion necklace with 676 brilliant-cut diamonds, and a white gold and diamond Rose ring. Pink is definitely the color that is present the most throughout the collection, but green gems were also added for a touch of freshness and contrast. Further emphasizing the life of the Empress, some of the jewelry pieces feature Laurel branches that have marquise-cut diamonds as leaves thus reminding of Joséphine's gorgeous embroidered dresses.
Furthermore, Piaget stated that it has every intention to fully restore the magnificent rose garden at Château de Malmaison by helping the establishment plant no less than 750 stunning roses. Below you will find a series of images depicting some of the collection's main highlights, including a fabulous Piaget Rose Passion necklace set in diamonds and tourmalines, as well as the fabulous Piaget Rose Passion watch with a pink sapphire as its centerpiece.
Dior à Versailles, Côté Jardins.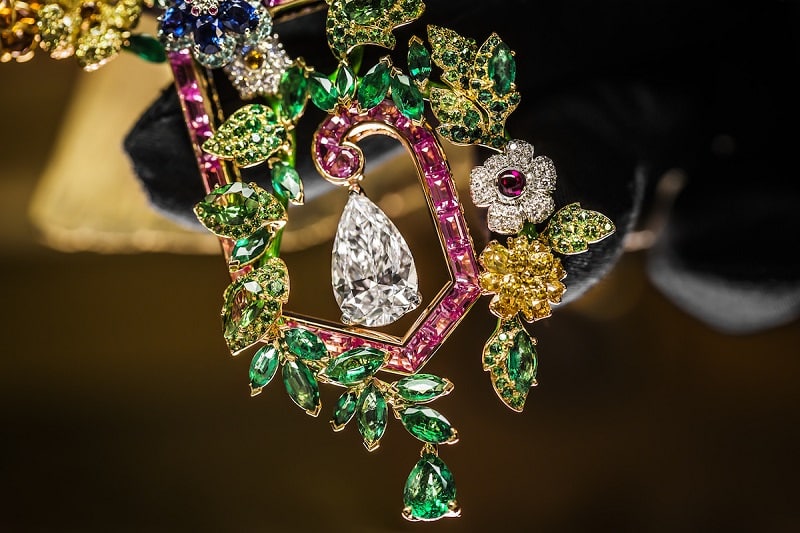 What would the world look like without precious jewels, glistening necklaces, bracelets, and intricate earrings? Much duller, if you ask us. Fortunately, we won't have to find out, especially if masterpieces such as Dior à Versailles, Côté Jardinscontinue to pop up on our radar. Inspired by the lavish estate of Queen Marie-Antoinette, this fabulous jewelry collection honors the gardens that made Versailles so popular in the old days.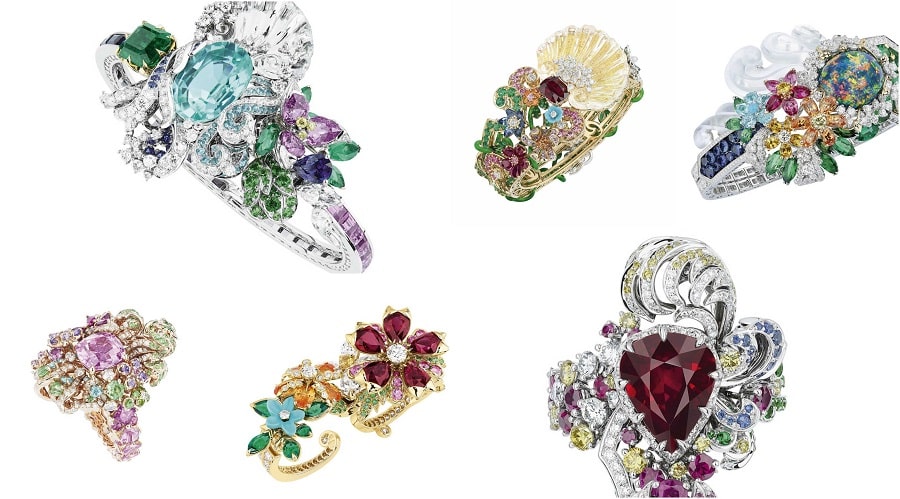 As such, the pieces feature complex flower motifs, superb little pools, groves and parterres, statues, and stone walkways. The collection's highlight comes in the form of a necklace boasting precious stones representing geometric flower beds. There's also a ring that flaunts a sunshine yellow diamond, which looks sublime from every angle. As much as we'd like to describe each piece in detail, we know that a picture can sometimes speak 1000 words. We'll let you admire the Dior à Versailles, Côté Jardins collection yourself, while you imagine a time when sophistication and extravagance represented the social norm.
House Of Dior Archi Collection.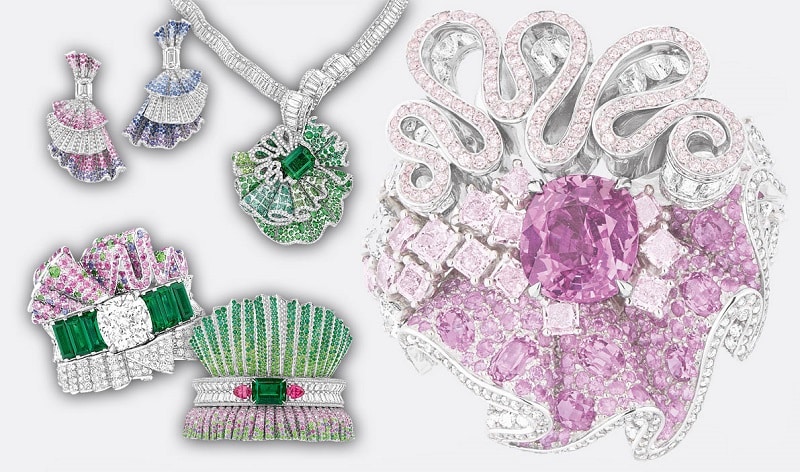 The jewelry masterpieces that you're admiring right now are a part of the Archi Collection that was launched recently by the House of Dior. The pieces were inspired in their designs by the label's renowned couture dresses, and they were put together using lavish rose and white gold. The glamorous metal was shaped carefully in order to mimic the draping on Dior's dresses, and the result is purely breathtaking, to say the least.

The Archi Dior jewelry pieces were designed to complement fabulous Dior couture gowns, and they represent a recreation of last year's collection. The gowns were recreated with incredible attention to detail in the form of these masterpieces. To be more specific, a voluminous dress took on the form of a Dior ring with pave swirls, while the diamond band inserted around a sublime colored gemstone on the Dior bracelet was inspired by a nipped-in waist piece. Given its exclusivity and uniqueness, the Archi Dior jewelry collection is nothing if not pricey, with the cheapest offering starting off at £5,000.