The world's most luxurious watches – masterpieces of art and design that can also tell time. The world's most renowned watchmakers are locked in a constant race, a constant battle to create the most amazing timepiece of them all. There are always new designs coming out, and older luxury watches often reach the auction block. Whether they're new or old, luxurious watches have timeless designs that allow them to maintain their value across the decades. Some of them even become more expensive as time goes by.
Today we're going to have a look at the world's most luxurious watches. They were created by famous watchmaking brands such as Blancpain, Chopard, HYT, and Jaquet Droz. The following watches are not arranged according to their value. While some of them might be more expensive than the others, their true value depends on the wearer's appreciation. Some of these luxe watches have artful, colorful designs, while others are sportier, or even more classic-looking. Have a look at the list below and decide for yourself which one you like the most. We're betting on the stunning Chopard piece right at the end.
20. Clé de Cartier Mysterious Hour Watch.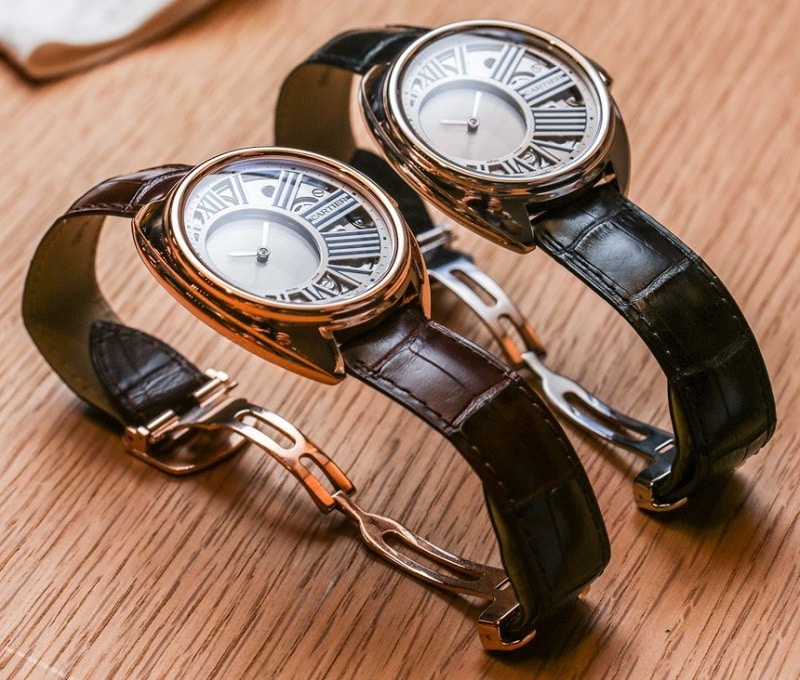 Unveiled during a prestigious watches exhibit in Hong Kong, the Clé de Cartier Mysterious Hour watch is an epitome of sophistication and elegance that impresses with a reliable construction based on a mix of sapphire and metal. Naturally, the timepiece's durability is not its only highlight, especially since this unique piece blends three of Cartier's most recognizable elements.
Since it is a part of the Cle collection, the watch flaunts an oblong case as well as an original cle (key) that is used to wind it. What's also noteworthy about the key is that it boasts a rectangular crown with a gorgeous sapphire embedded within. The "mysterious" part comes in the form of a set of transparent discs that create an illusion of floating hands that tell the time in a magic way. The dial is semi-skeletonized and provides a glimpse into the inner workings on the timepiece.
As for the case of the Cle Mysterious, it was created using 18k pink gold or palladium and is complemented by a leather strap. The dial flaunts Roman numerals and flaunts a width of 41mm, which is a bit larger than usual watches in this segment. At the back, this Cartier masterpiece boasts a sapphire crystal glass that affords clear views of the movement's cogs and wheels.
When it comes to pricing, the palladium-made version of the Cartier Cle Mysterious timepiece costs $68,500, while the 18k pink gold is a bit cheaper at $64,000. Don't ask us to make up our minds on which version we like best, as both of them are absolutely sublime in our book.
19. H. Moser Heritage Tourbillon Skeleton Watch.
What is it about pocket watches that make them so incredibly sought-after these days? Well, when it comes to H. Moser products, in particular, they remind us of a time of elegance and fine taste, a time when a watch was so much more than a simple time-telling device. The H. Moser Heritage Tourbillon Skeleton timepiece was obviously inspired by pocket watches, but since few people actually wear those nowadays, it took on the form of a regular wristwatch with a vintage twist.
Flaunting an 18 karat red gold pocket-watch shaped case that measures 46mm, this masterpiece is decorated with 28 diamonds and double sapphire crystals, but we should definitely mention that both of its sides have a cover with a hand-engraved, guilloché decoration.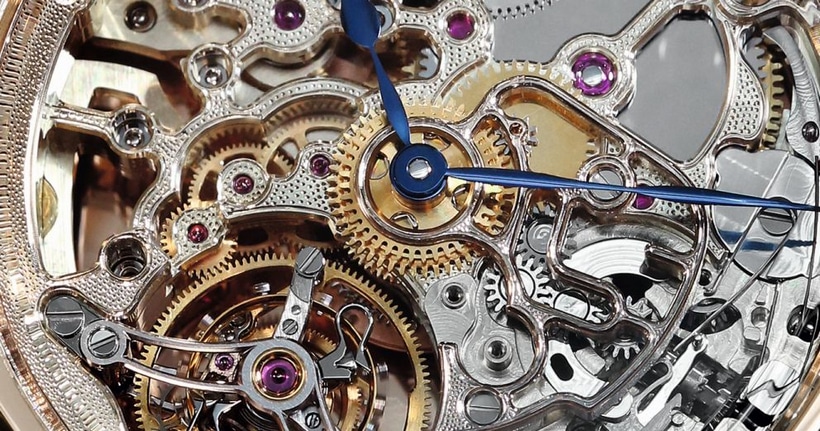 The piece is animated by an in-house Swiss automatic H. Moser skeletonized caliber HMC803, which boasts an operating frequency of 21,600 vph, a power reserve of 3 days, and 29 splendid jewels. Then there's the automatic bi-directional pawl winding, and the 18kt red gold skeletonized engraved rotor, both of which round up a luxurious piece that's absolutely impossible to ignore. The piece is complemented by a hand-stitched purple crocodile leather strap and an 18kt red gold folding clasp. The strap matches the red gold case beautifully, and it is a true masterpiece of craftsmanship in itself. However, those of you who really have a soft spot for pocket watches can also replace it with something more appropriate.
An antique chain, perhaps?
18. Roger Dubuis Excalibur Star Of Infinity.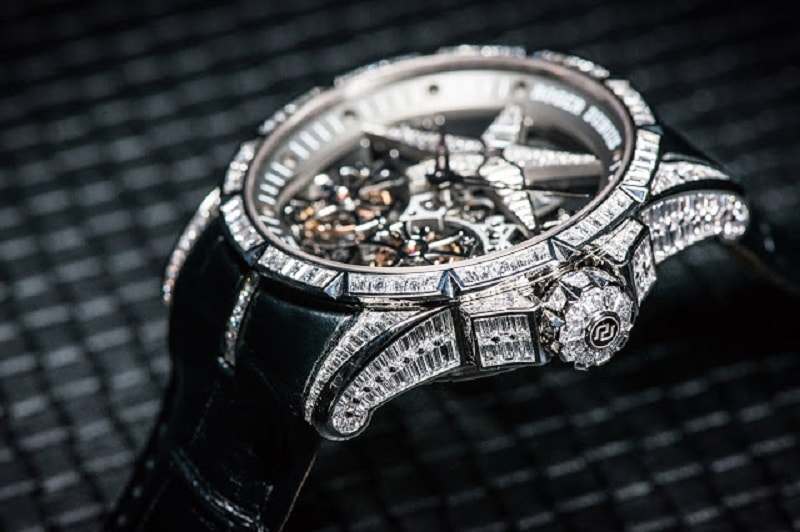 Yes, we feature luxurious watches often here on Luxefeed, and while most of the timepieces that we've presented so far are purely stunning, we think that this one might actually be the most amazing, at least for now. During the most popular Haute Horlogerie Exhibition in Asia, the Roger Dubuis Excalibur Star Of Infinity was unveiled for all to see, and it dazzled everyone with its luxuriousness and beauty. Based on the Astral Skeleton concept, this masterpiece of micro-engineering comes with a fabulous white gold case that measures 45mm.
The case is decorated with 12.64 karats of breathtaking baguette-cut diamonds, but the timepiece actually incorporates 312 diamonds in total, which weigh in at 14.93 karats. Some of these diamonds found their place on the watch's skeleton dial, which boasts the instantly recognizable shape of a star and is set with 0.96 karats of baguette-cut diamonds. As far as the movement goes, the Excalibur Star of Infinity is powered by a caliber RD01SQ in-house skeleton movement that incorporates 301 components. The movement flaunts a 50-hour power reserve and is water-resistant up to 30 meters.
The strap is made out of alligator skin and is complemented by a white gold clasp that features an adjustable folding buckle as well as 1.33 karats of baguette-cut diamonds. Limited to just 28 pieces worldwide, the Roger Dubuis Excalibur Star Of Infinity is one of the most exclusive, stylish, and sought-after watches in the world.
17. Hermes Faubourg Joaillerie Timepiece.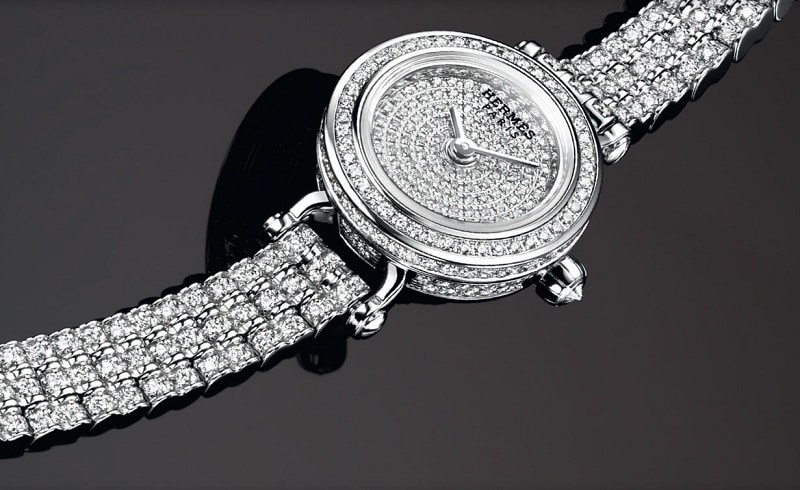 Founded all the way back in 1837, Hermes of Paris is a French manufacturer that specializes in the creation of lifestyle accessories, perfumery, leather goods, luxury goods and ready-to-wear. When it comes to timepieces, one of the latest additions to the brand's collection is the Faubourg Joaillerie watch – a luxurious wearable piece of art that boasts 652 diamonds as well as a slim gold mesh. Its 16.3 mm case is encircled by the precious stones while interlacing gold patterns bring forth its airy, sublime nature. The bracelet is also made out of gold and incorporates 388 diamonds, all of which were adjusted to perfection in order to achieve a harmonious look.
The 18-karat white gold dial is set with 112 diamonds that weigh 0.17 karats, and it is protected from the elements by an AR-coated sapphire crystal. Other highlights include water-resistance of 30 meters as well as a Swiss quartz movement that includes 5 jewels in its construction. The Faubourg Joaillerie watch by Hermes reminds us of the tiny watches worn by ladies during the 1840s. During those times, simple and lavish timepieces alike boasted small cases and tiny dials that gave off a sense of unmistakable femininity.
16. Christophe Claret Marguerite Watch.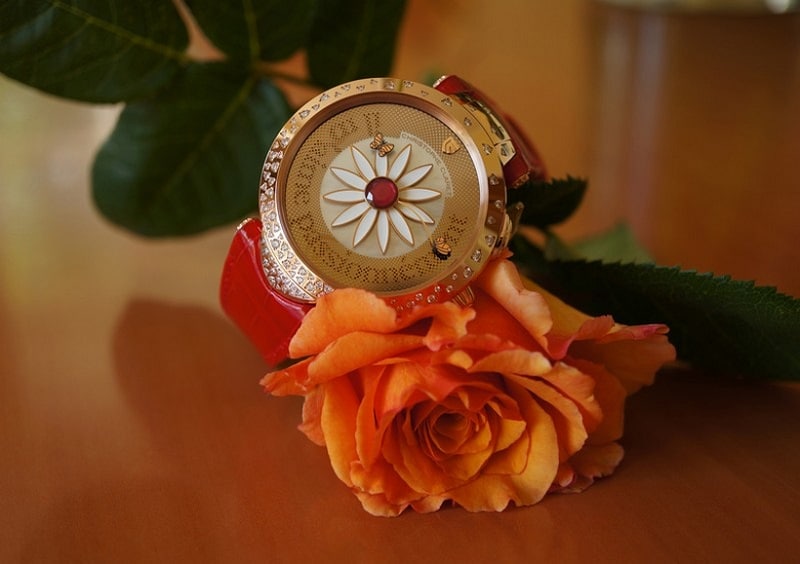 Just when we thought we'd already seen the world's most luxurious and romantic watches, Christophe Claret released its staggering new Marguerite watch. This unique masterpiece features a playful and romantic appearance, and just like its name suggests, it boasts a beautiful representation of a daisy and its petals. The Christophe Claret Marguerite watch is a part of the brand's Margot line, and it features exquisite diamond adornments, more than 600 of them, actually.
The 5N red 42.50 mm case flaunts more than 380 diamonds across its bezel and lugs, while the dial impresses with two inspiring butterflies that sit on the daisy that we mentioned before. The dial has more than 220 diamonds of its own, as well as a breathtaking precious stone as a centerpiece. Pressing the 2 o'clock pusher hides away the numerals and reveals a beautiful message: "Il m'aime passionnément," or "He loves me passionately," a message that can be customized depending on the client's preference.
15. Blancpain Tourbillon Diamants Timepiece.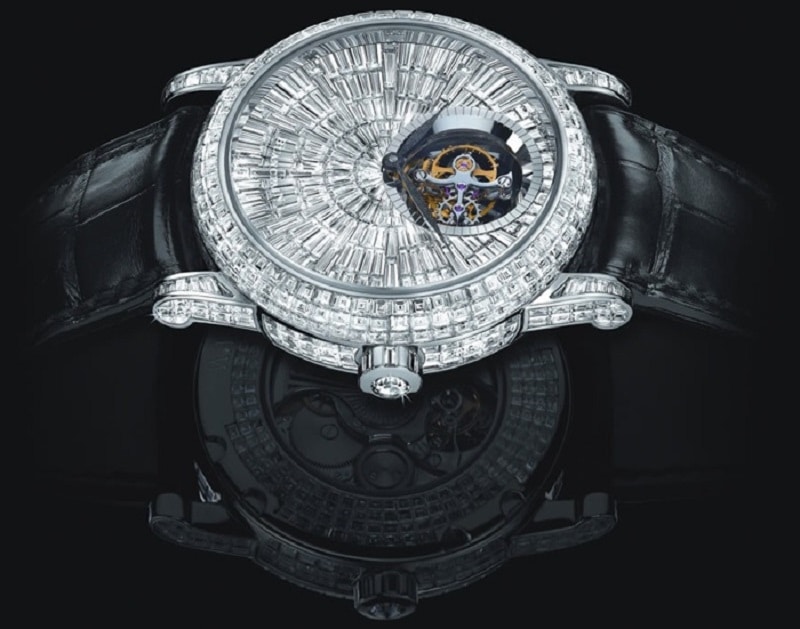 Apart from being capable of giving you some serious eyestrain, the mind-bogglingly opulent Blancpain Tourbillon Diamants watch also impresses with a bit of innovation as far as its decorations are concerned. You see, the watch's 40 mm white gold case features a distinct perfect round shape, and so many watchmakers would have chosen to decorate the piece using round precious stones such as round-cut diamonds. Not Blancpain, though.
The famed Swatch Group subsidiary beautified this lavish product using baguette-cut diamonds exclusively, 480 to be precise, all of which were set with great attention to detail by expert artisans. This is an unprecedented achievement that adds a touch of exclusivity and originality to an already valuable and gorgeous watch. The Blancpain Tourbillon Diamants is powered by a self-winding caliber 25A complemented by a tourbillon movement that flaunts a 7-day power reserve. Its case is water-resistant for extra reliability, while its movement includes no less than 239 parts.
The price? "Just" $1,8 million.
14. Eccentricity Watch by Cyril Brivet-Naudot.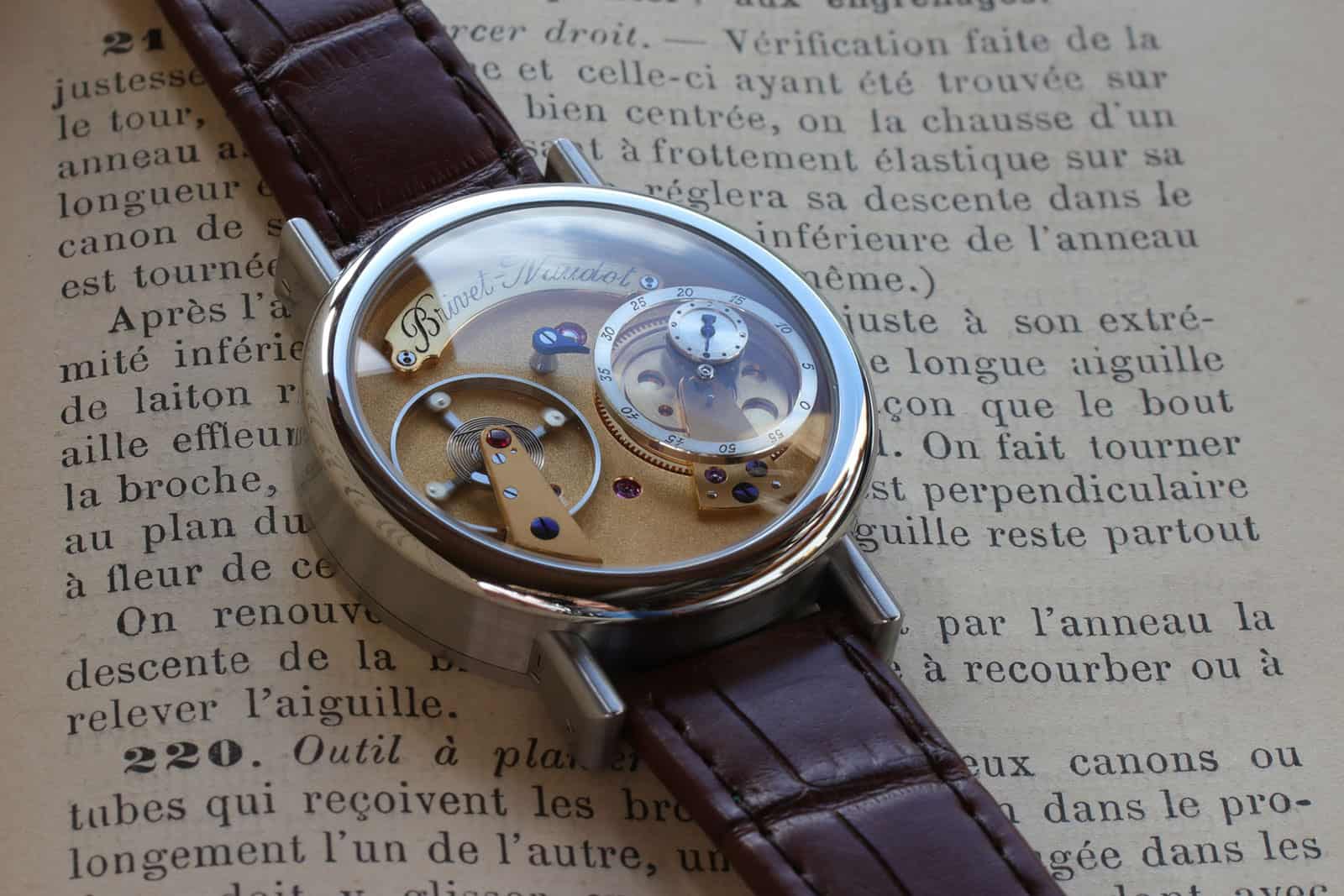 It's not every day that we get to witness the birth of a legend. It may be too early to tell, but Cyril Brivet-Naudot will probably become a heavy-hitter in the watchmaking world before long, especially if he keeps on creating masterpieces such as the Eccentricity watch.
This wonderful timepiece was created almost entirely by hand, without any CNC machining or advanced equipment. It boasts a 19th century feel about it, which further enhances its elegance and appeal.
Cyril Brivet-Naudot worked on this particular model for three years, and the result of his hard work is a watch with a unique, proprietary escapement. After all, if you're going to make it big in this industry, you have to bring some innovation to the table. The escapement that we're talking about reminds us of a spring detent escapement. The case measures 39mm, and it comprises a key-wound caliber with a power reserve of 40 hours.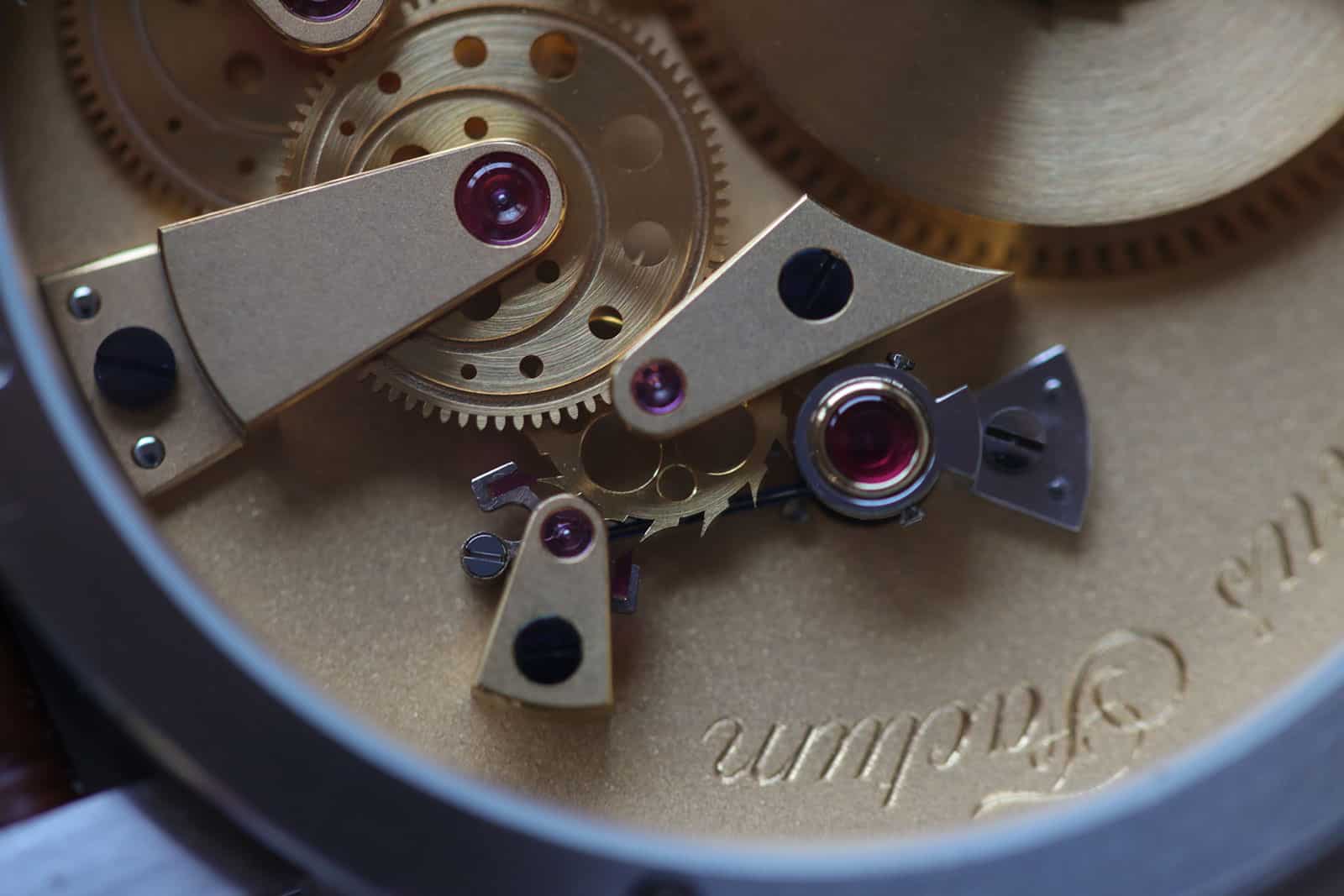 The dial is quite breathtaking in its own way, that's for sure. It shows off the time using a sub-dial at 3 o'clock, which comes with a blued steel hand as a minute marker. The minute ring rests on a sapphire disk, which rotates every hour. As for the hours, they can be seen on a sub-dial placed on the sapphire disc. The disc places the hours in a constant position relative to the minute ring. Pretty impressive, right? There's also a small hand close by, which acts as an hour indicator.
At this point, you might be wondering about the price. Considering that the Eccentricity watch doesn't have any diamonds or other precious stones, it can't really compete with other luxe timepieces. The case is made out of steel, and while that's a very durable and reliable material, it doesn't really scream "luxury." Pricing for Cyril Brivet-Naudot's first watch starts off at around $70,000. Whether it's affordable or not, we'll let you be the judge.
13. Jaquet Droz Charming Bird Watch.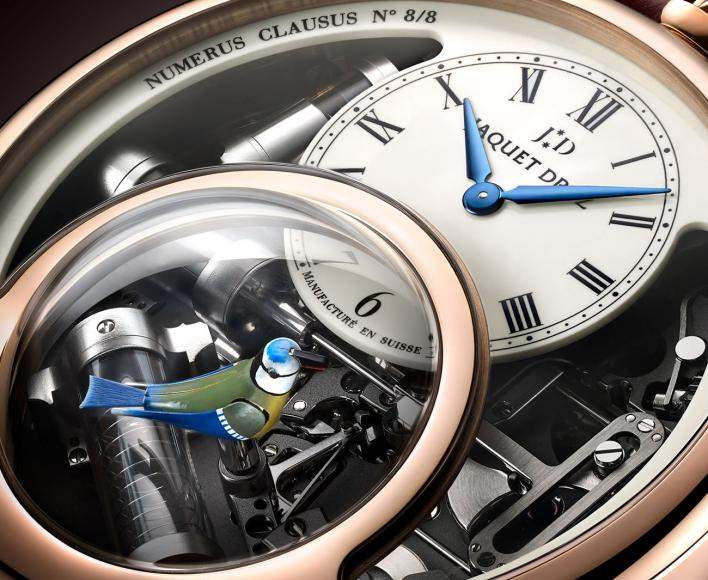 Some of you might not be familiar with the Jaquet Droz Charming Bird watch, so we'll give you a bit of a history lesson before reporting on the matter at hand. The luxurious Charming Bird was launched for the first time in 2013, and it won the Grand Prix d'Horlogerie de Genève two years later in 2015.
It is the first (and only) watch in the world to feature a singing bird on its dial, and this means that it is also one of the most originally-designed timepieces on the planet.
Jaquet Droz is a name that echoes throughout history when it comes to fine watchmaking. Pierre Jaquet Droz was manufacturing grandfather clocks with exquisite accuracy and complicated movements between 1738 to 1747. This is one of the few companies in the world to boast such a deep heritage when it comes to watchmaking. Therefore, we shouldn't be surprised that the Charming Bird is still unconquered in complexity and originality to this day.
Jaquet Droz has decided to unveil two new versions of the famed Charming Bird, one in red gold and the other in white gold. Each version is limited to just 8 units, but apart from the golden treatment, everything remained pretty much the same. The case still measures in at 47mm, and the dial still boasts the brand's signature figure-8 design. This means that the hours and minutes are showcased on a separate circle at 12 o'clock, while the bottom circle at 6 o'clock includes the singing bird sheltered by a sapphire crystal dome.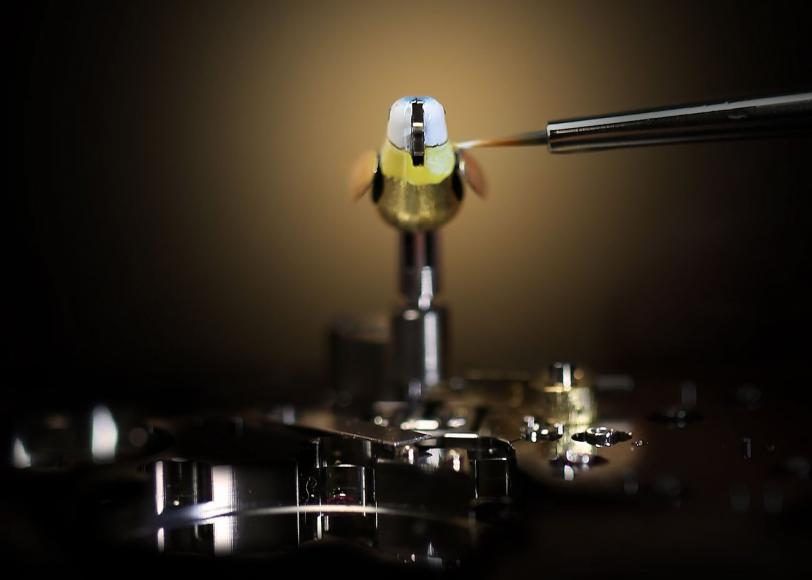 Consequently, the Jaquet Droz Charming Bird is animated by two separate movements. One powers the watch dial, while the other sends power to the bird automaton. Speaking of which, the small green and blue bird can move, flap its wings, and sing a pretty song. Since we're talking about looks, we should also tell you that the bird was painted by hand at the Jaquet Droz Ateliers d'Art. The movement that powers it can run for 40 seconds before needing a manual wind, which is quite impressive.
As for the melody itself, it's generated via air compression and three sapphire crystal tubes. The air comes out through a whistle in order to produce sound, and this unique approach is another thing that makes this timepiece special and sought after. Each watch costs $399,000, which is a bit cheaper when compared to the versions launched in 2016. If you were planning to get your hands on one, however, you're probably too late already. These special Jaquet Droz timepieces usually sell out in a heartbeat, which makes sense given their exclusivity.
12. Kalysta Snowflake Timepiece by Hysek.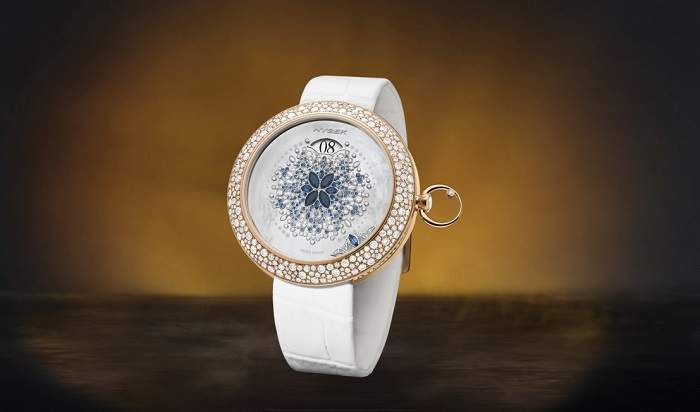 Hysek Watches is a highly respected Swiss watchmaker that traces its roots all the way back to 1997. The brand is slowly but surely gaining a foothold in the highly competitive Swiss watchmaking business, and its latest creation, the Kalysta Snowflake will surely aid in this endeavor. Mind you, the Kalysta line of watches for women has been around for a little while now, but the Snowflake edition represents a bejeweled, luxurious alternative for women who expect nothing but the best when it comes to Swiss wristwatches.
From an aesthetic point of view, Hysek Watches used a variety of advanced techniques in order to give these luxurious timepieces a textured look. For example, the company's artisans used star settings, which means that the precious stones adorning the watch are held in place by small grains of soldered metal. Moreover, we also observed bezel settings, which rely on a metal ring that supports the stone from below.
Apart from these advanced techniques, Hysek's experts also went for a delicate and luxurious design involving a snowflake pattern that sits nicely on top of the mother-of-pearl dial. The timepiece is adorned with a variety of precious stones, including marquise and round cut diamonds, all of which rest beautifully in concentric circles. In these circles, the larger stones sit at the center, while the smaller ones go outwards toward the edges. It's a very complex yet clean look that definitely draws the eye. Hats off to Hysek for this unique approach to watchmaking design.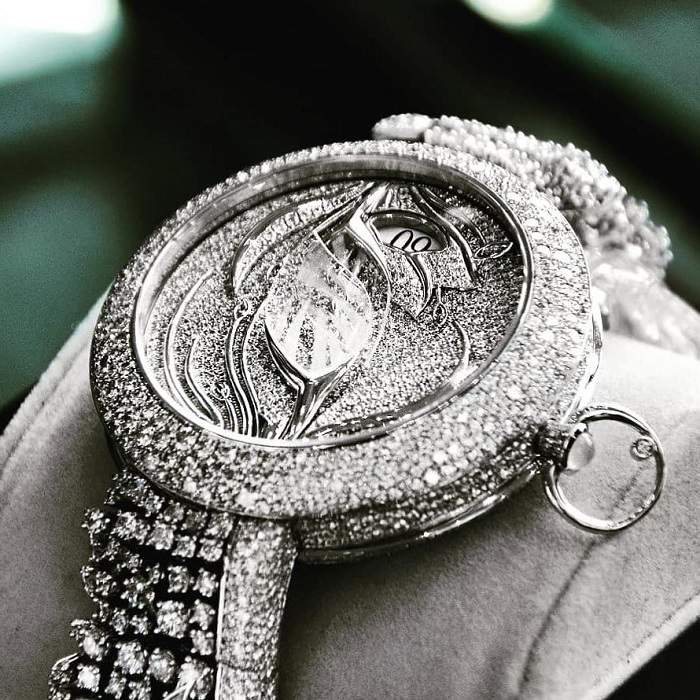 The titanium case measures in at 39mm in diameter and 11mm in thickness. The back is protected by a sapphire crystal, which contributes to the piece's water resistance rating of 30m or 98 feet.
The Kalysta Snowflake by Hysek Watches is animated by an HW61 manufacture caliber. This is an automatic movement with a power reserve of 39 hours, which is definitely decent for such a decadent watch. The crown is obviously a focal point, as it was designed to resemble the Moon. It also boasts a double diamond, which is a sublime adornment.
So how does the Kalysta Snowflake tell the time? Well, this is where things get a little complicated. It's easier once you actually see the watch in action, but we'll try to describe the process as best as we can. The watch shows off the hours using a window located at 12 o'clock. As for the minutes, they are indicated by a marquise stone that travels around the bezel. This is one of the most eye-pleasing ways to tell the time that we've seen in a long while. It's not overly-complicated, but not too traditional either. It basically encourages the wearer to admire that gorgeous marquise stone every time she wants to find out the time.
11. Jaeger-LeCoultre Reverso Tribute Duoface Tourbillon.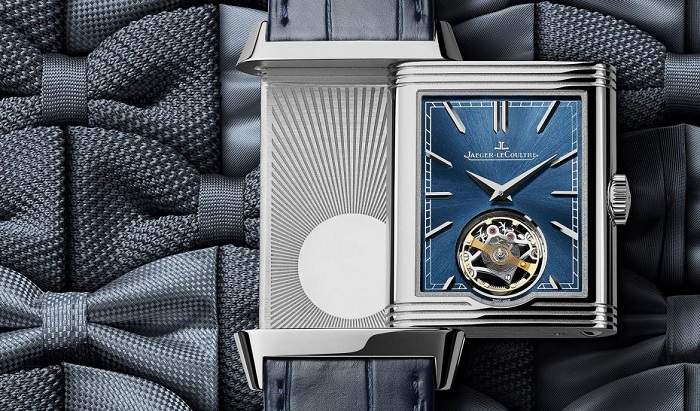 To be in the same industry for more than a century is an achievement in itself. However, Swiss watchmaker Jaeger-LeCoultre is closer to its 200th anniversary, as the company was founded by Antoine LeCoultre in 1833. For its 185th birthday, Jaeger-LeCoultre has released the Reverso Tribute Duoface Tourbillon – a special watch for a very special occasion. Even though its name says "Tribute" this is actually an original watch with its own unique design and movement.
The case is quite small by today's standards, as it measures in at just 27.4mm in width. Furthermore, since it's just 9.15mm thick, the case is smaller in every way when compared with the Reverso Classic Large Duoface. The Reverso Tribute Duoface Tourbillon by Jaeger-LeCoultre comes with a manually-wound JLC caliber 847. The main highlight is a sixty-second flying tourbillon, which offers a seconds display as well as the Duoface functionality. The Duoface part allows this single movement to showcase different time zones on each face. That's actually a pretty nice trick if you ask me.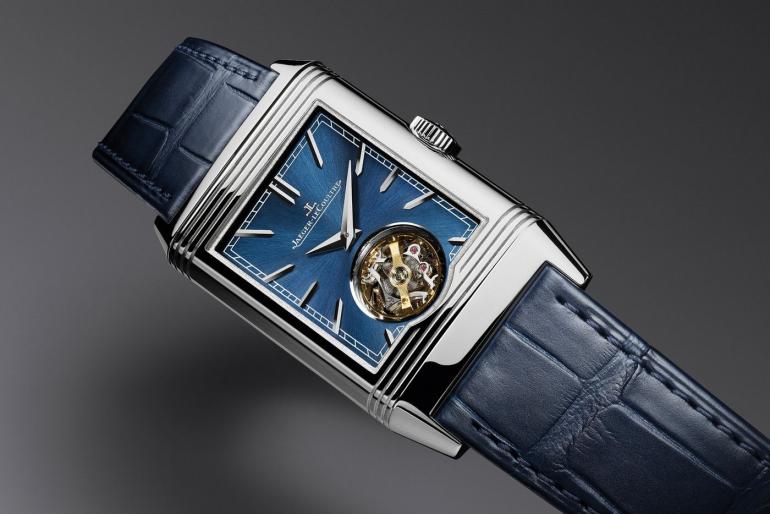 The main face impresses with a brushed blue dial, applied indices, and Dauphine hands. As for the second face, it boasts a silvered grained dial, as well as a night-and-day indicator and a small window that reveals the tourbillon bridge. Limited to just 50 units, this special Jaeger-LeCoultre watch straps to the wrist using a blue alligator strap. When it comes to pricing, you should be ready to spend as much as $123,000, which is fair given the watch's exclusivity. In a few years, this anniversary edition timepiece could end up fetching much more, which is why some of the world's richest individuals might buy one as an investment. For true fans of the brand, the purchase is a no-brainer. After all, Jaeger-LeCoultre only turns 185 once.
10. A. Lange & Sohne 1815 Tourbillon.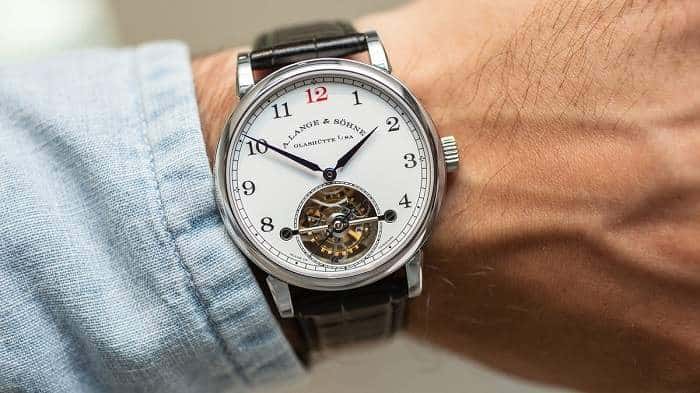 The 1815 Tourbillon is a rather understated luxury watch. That's not to say that it's not impressive, but A. Lange and Sohne have created so many other fantastic pieces over the years that this particular model fell behind in popularity. Still, while the Datograph Perpetual Tourbillon and the Tourbograph are exceptional in their own way, the 1815 Tourbillon is in the spotlight right now, and for a very good reason.
A. Lange and Sohne have created a special, limited edition version of this watch, one that boasts a unique, different dial. The piece still shows off its main attraction at the 6 o'clock mark, and the case still measures 39.5mm. This limited edition 1815 Tourbillon impresses with a silky smooth, crisp white enamel white dial that contrasts beautifully with the blue steel hands and black polished tourbillon bridge.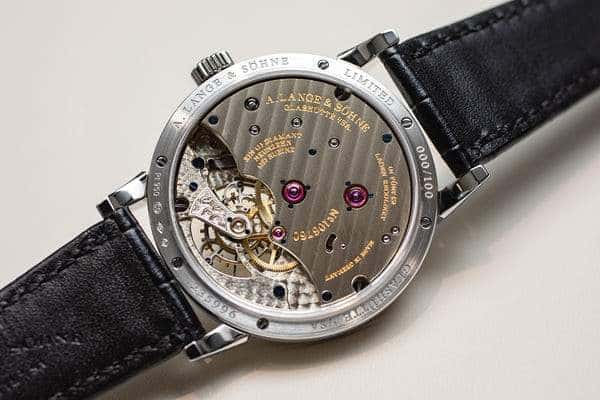 The 1815 Tourbillon is animated by an A. Lange & Sohne L102.1 hand-wound movement. This caliber can be admired in its entire splendor through the full sapphire case back. It offers a power reserve of 72 hours, as well as counters for hours, minutes, and seconds. Limited to 100 units, this timepiece would set you back $197,200, which sounds just about right for a premium watch created by a premium brand. But why did the company create this special version of the 1815 model anyway? Well, Anthony de Haas, Director of Product Development explained:
"The enamel dial accentuates the classic design, which is adapted from Lange's pocket watches with their Arabic numerals, chemin de fer minute scale, and blued steel hands. The basic idea was to build a credible bridge from the origins of watchmaking to the present."
9. Jaquet Droz Parrot Pocket Watch Repeater.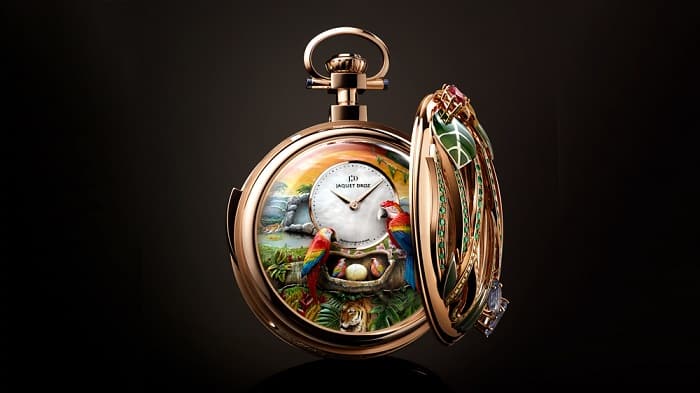 Marking anniversaries is no easy feat, even for companies such as Jaquet Droz. With 28 years of experience to back it up, this Swiss brand is a staple of high-end craftsmanship and attention to detail. We've featured many Jaquet Droz timepieces here on Luxefeed. We'll definitely carry on, but for now, we'll take a closer look at the unusual Parrot Pocket Watch Repeater. This unique pocket watch marks the 28th anniversary of Jaquet Droz, and it is as luxurious as it is complex. It dazzles the eye with a myriad of colors, just like a parrot would, but it does so in an elegant, timeless way. We already know that the Swiss brand loves to incorporate bird motifs into its creations. That's why the Parrot Pocket Watch Repeater is so fitting.
The watch's 18k rose gold case measures in at 58mm, and it flaunts numerous precious gemstones. Overall, this pocket watch incorporates 10 carats of precious stones, including emeralds, sapphires, rubies, and yellow diamonds. The piece required three years of hard work and dedication in order to be complete, and it bears the mark of every artisan technique at the company.
The timepiece honors each member of the macaw family of five. Moreover, the parrots are accompanied by a bird of paradise and two tigers. Engraved and painted by hand, the jungle relief scene comes in 18k gold. As for the time, it is displayed on a mother-of-pearl subdial. The back of the case impresses with a Grand Feu enamel painting of a macaw, while the dial cover features tropical foliage of vines made with Grand Feu enamel and gemstones.
As far as the movement is concerned, it incorporates 668 components, which is double when compared to a conventional minute repeater caliber. Among those 668 parts are 69 jewels, as well as long cathedral gongs for a plus of resonance.
8. Roger Dubuis Excalibur Pirelli Sottozero.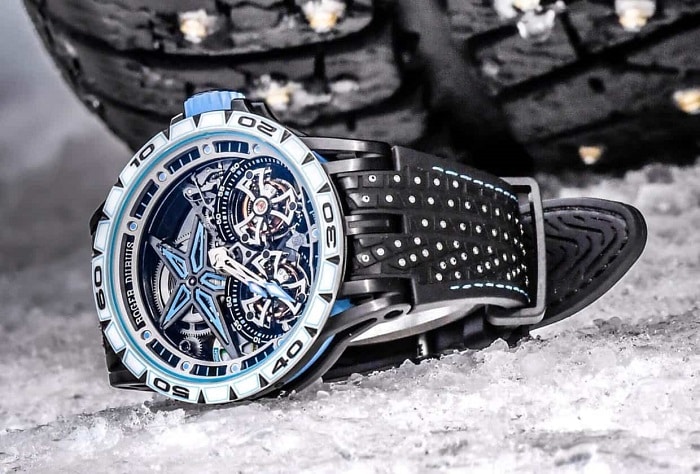 Ever wanted to wear a Pirelli tire on your wrist? Well, now you can, sort of. The Excalibur Pirelli Sottozero timepiece by Roger Dubuis is not your everyday luxury watch. Sure, it might cost as much as a diamond-encrusted timepiece, but it actually impresses with a relatively rugged design. It doesn't look bad at all, what with its double flying tourbillons and nicely colored power reserve indicator. However, as interesting as the watch itself may be, the strap manages to steal a great deal of attention.
Created in partnership with Pirelli, the strap has rubber inlays that form a profile similar to what we'd see on a Pirelli Cinturato and Pirelli Sottozero. The case of the Excalibur Pirelli Sottozero by Roger Dubuis measures in at 47mm. It was created using black DLC-coated titanium and blue rubber touches, and it houses a highly skeletonized movement, namely the caliber RD105SQ.
As for the dial, it boasts 18K white gold hands with blue transfer and white luminous SLN tips. The timepiece also comes with a rather impressive power reserve of 52 hours. More importantly, it flaunts a water resistance rating of 5 BAR, which undoubtedly improves its overall versatility.
7. Louis Vuitton Tambour Moon Mystérieuse Flying Tourbillon.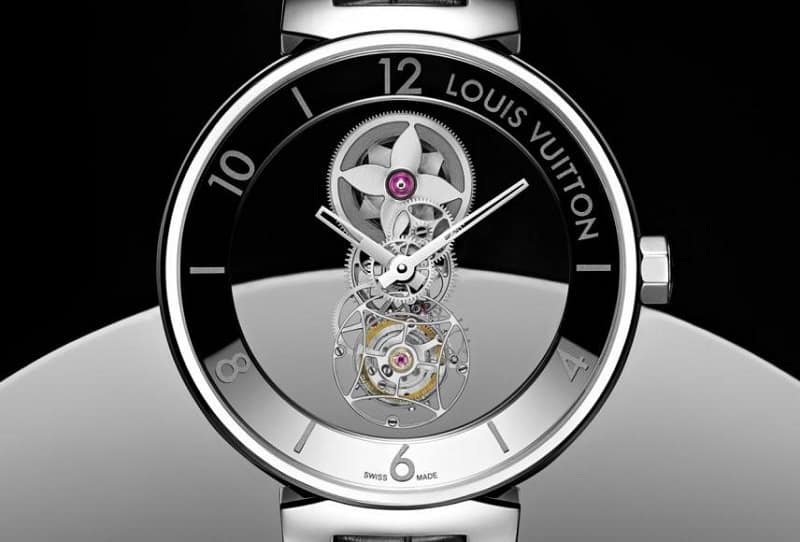 Louis Vuitton is a brand known for many things, but truly lavish timepieces are not really among them. Sure, we've seen perfumes, stylish handbags, and other accessories signed by this famed French Maison, but now, the brand has chosen to enter the luxury watch segment. And what an entry it is! The Louis Vuitton Tambour Moon Mystérieuse Flying Tourbillon is a watch like no other! It might look similar to other Swiss offerings on the market, especially since it features an open, minimalistic appearance. However, this piece is as intricate as they come, and it doesn't leave much to the imagination.
By blending the watch's movement with a flying tourbillon and arranging them in a vertical line, the intricacies of the Tambour Moon Mystérieuse Flying Tourbillon are revealed to us in their entire splendor. We can have a look at the entire mechanism, and while the concept is not exactly new, Louis Vuitton's watch manages to look fresh from every angle.
The manually wound LV110 caliber sits inside a 45mm platinum case, and it offers a very generous 8-day power reserve. The signature monogram flower is present on the dial, of course, for a touch of elegance and exclusivity. The strap is black alligator leather, and it looks as stylish as you would expect.
Last but not least, LV offers to engrave the owner's initials on the back of the tourbillon carriage. If that's not exclusivity, we don't know what is.
6. H. Moser & Cie. Endeavour Tourbillon.

It's not the flashiest or the most extravagant timepiece out there. However, those of you who can appreciate a clean yet luxurious look will instantly fall in love with this H. Moser & Cie piece. The H. Moser & Cie. Endeavour Tourbillon is a Swiss-made masterpiece, and yet, there's nothing to indicate its lavish and reliable nature. Its dial has no special adornments to speak of. Moreover, the indexes are absent altogether.
Still, it's that minimalism, that daring approach to watchmaking that makes this piece so special and sought-after. Boasting the brand's signature tourbillon, the Endeavour Tourbillon includes a 42 mm white gold case, a nude dial adorned with a deep blue colorway, as well as a hand-stitched kudu leather strap.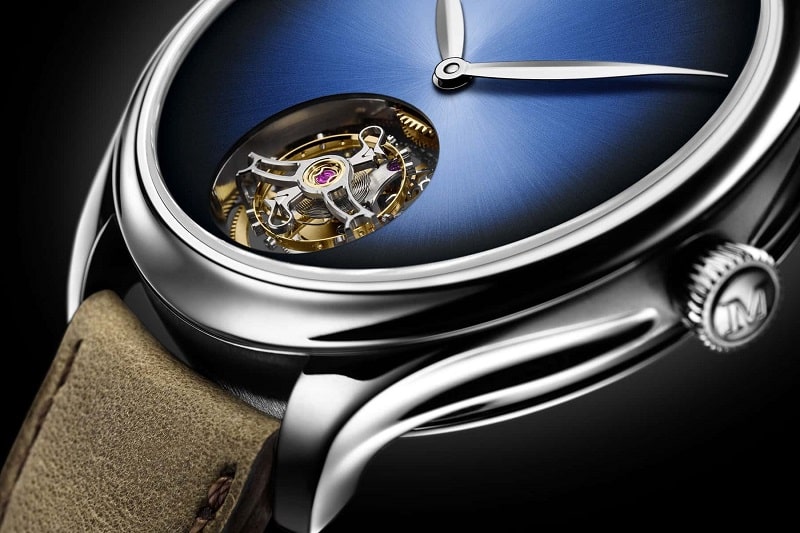 The case shelters an in-house ccaliberHMC 804 and its 18-carat solid red gold bi-directional rotor. The 3-day power reserve also deserves a mention, of course. A part of this intricate mechanism can be admired in its entire splendor through a circular opening located at 6 o'clock. The H. Moser & Cie. Endeavour Tourbillon Concept is part of a limited edition of just 20 pieces, making it one of the most exclusive H. Moser & Cie creations in existence.
As far as pricing goes, this luxe accessory would set you back EUR 65,800.
5. Bulgari Octo Finissimo Tourbillon Monete.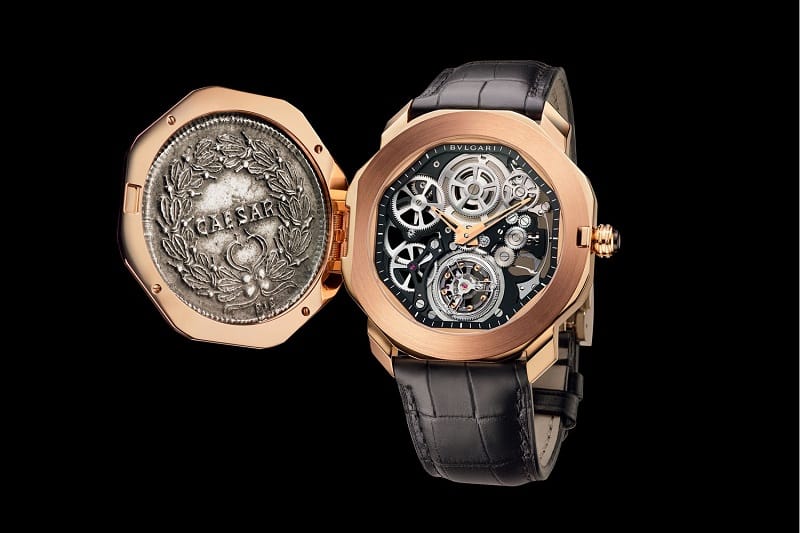 Bulgari (Bvlgari) is synonymous with luxury and sophistication, and as such, it's impossible to find a single product bearing the brand's name that isn't absolutely stunning in every way. Some of these products focus more on luxury than functionality, and others carry price tags that are simply obscene, but what we're about to present represents a perfect mix of historical heritage, lavishness, and pure elegance.
Meet the Bulgari Octo Finissimo Tourbillon Monete – a masterpiece of micro-engineering and design that honors the unique heritage of one of the world's most famous cities: Rome.
The watch is part of the Monete edition, and it shows off an eye-catching avant-garde look mixed with the instantly recognizable design cues of the Octo Finissimo. The case shelters a skeletonized BLV268 movement, which is officially the thinnest tourbillon movement in the world at the time of writing.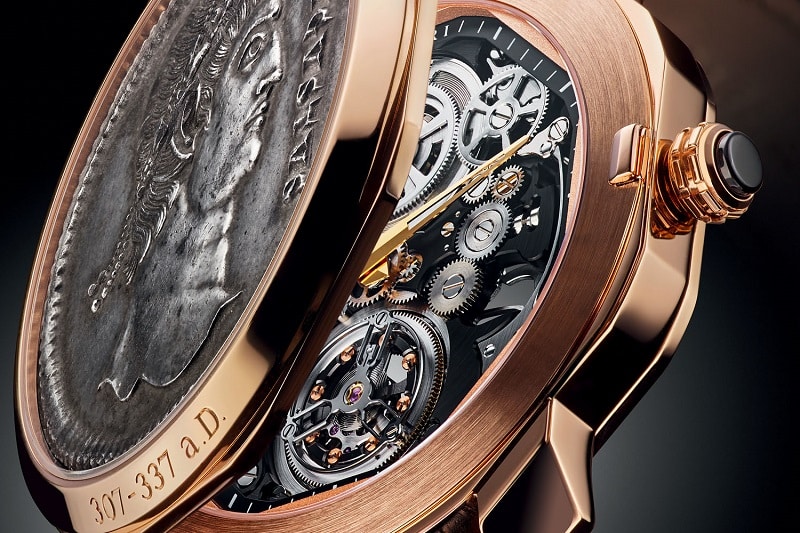 The true highlight of the Finissimo Tourbillon Monete comes in the form of an incredibly rare 4th-century Roman coin that takes on the role of a front cover. The front of the cover boasts a portrait of Emperor Constantine Augustus, while the back has the CAESAR name encircled by a laurel branch. As far as materials are concerned, this unique timepiece comes with an 18k pink gold case, and with an alligator strap complemented by a pink gold pin buckle. The 52-hour power reserve also deserves a mention, as does the water resistance rating of 30 meters or 98 feet. Price-wise, we're looking at about $466,000, which is a fortune in its own right by modern standards.
4. Jaeger-LeCoultre Master Gyrotourbillon 1.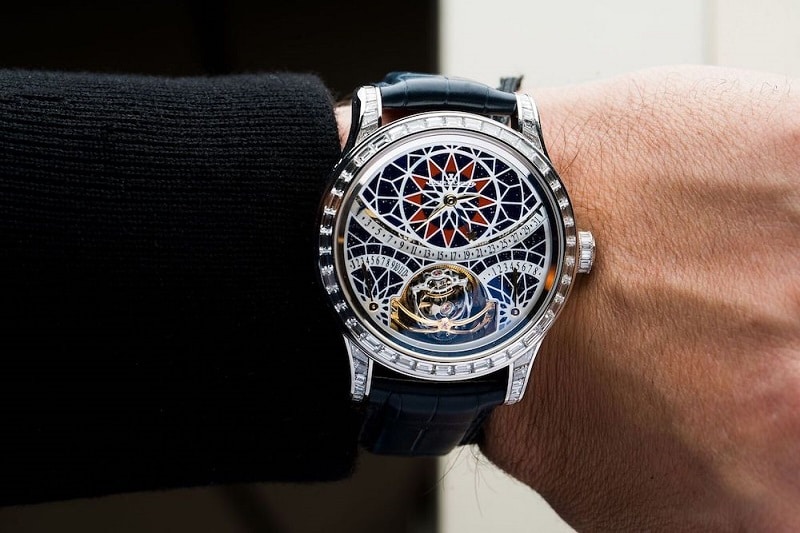 The very first Master Gyrotourbillon 1 timepiece by Jaeger-LeCoultre was unveiled for the first time back in 2004, and it is still regarded as one of the most impressive Swiss complications ever made. Now, the piece has received a fresh edition, one that comes with a series of improvements when compared to its predecessor, namely a gorgeous dial with marquetry of semi-precious gemstones, as well as a deep blue shade and a few mineral inclusions to keep things interesting.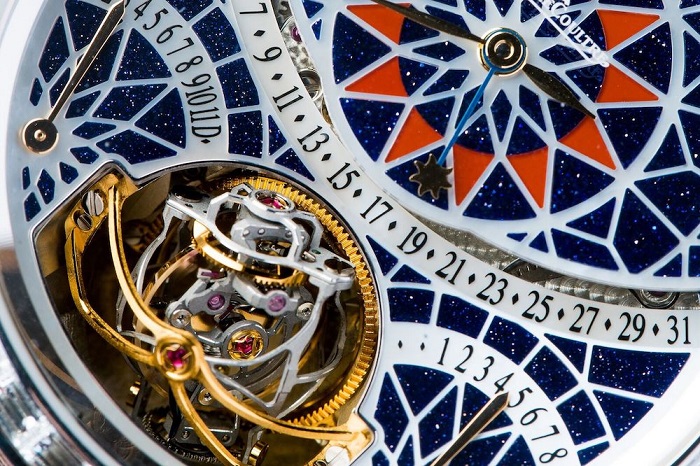 The luxurious platinum case is framed with 114 Baguette cut diamonds that add up to a total weight of 6.7 karats. The Master Gyrotourbillon 1 is undoubtedly one of Jaeger-LeCoultre's most outstanding creations to date, but if we know anything about this particular Swiss watchmaker it's that it will surely outdo itself in the near future by unveiling something even more breathtaking. And we'll be here to tell you all about it.
3. Jaquet Droz Tropical Bird Repeater Watch.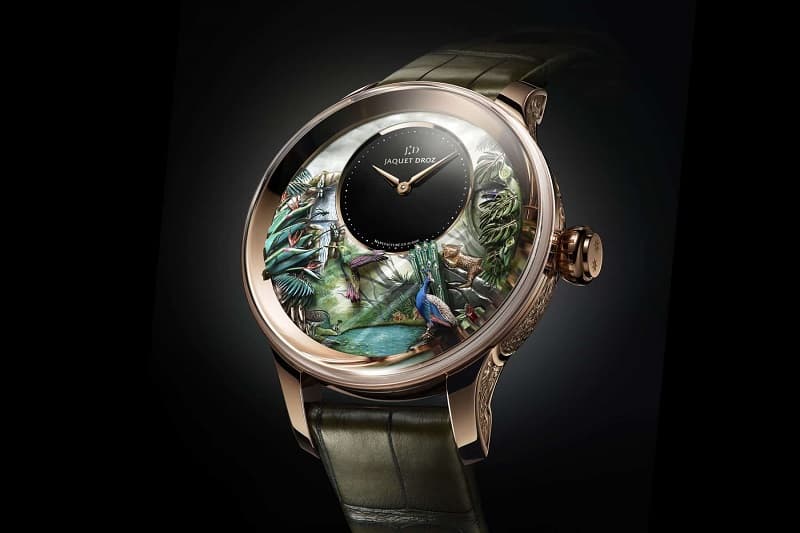 What is it about luxury watches that make them so sought after and appreciated? Depending on your lifestyle choices, you might not need to wear one on a regular day out, but as a fashion accessory, they're irreplaceable. Blending the best of both worlds when it comes to functionality and artistry, the Jaquet Droz Tropical Bird Repeater is unlike anything we've ever seen before. Sure, it's difficult to remain original in this day and age, especially with so many other luxury watchmakers out there.
However, Jaquet Droz has managed to take the world by storm once again. And this time, the brand has decided to honor a symbol of delicacy and beauty: the singing bird. Jaquet Droz has been creating lovely "bird" watches for five years now. In order to mark the fulfillment of these five years, the company has turned to the humble hummingbird for inspiration. The result is breathtaking.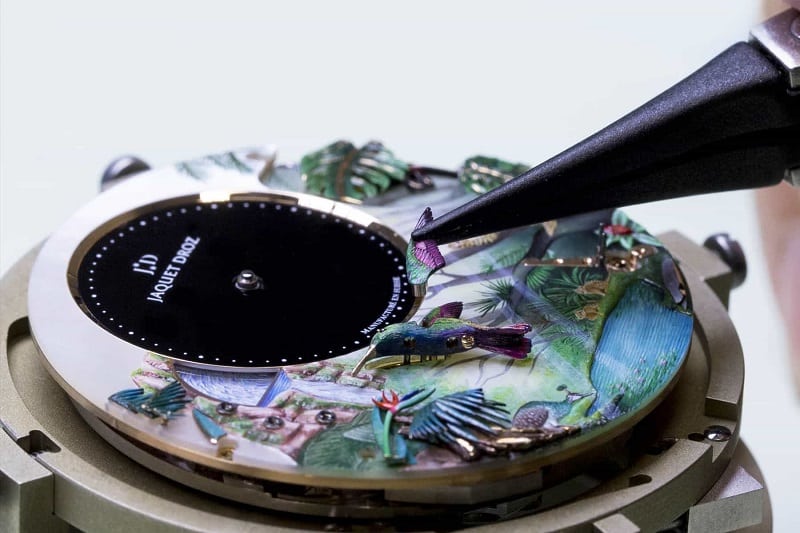 Vibrant colors, gold elements that have been hand-sculpted, handmade engravings and paintings, all come together to form a unique display of elegance and opulence. The case measures 47mm and was put together using 18k 5N rose gold. As for the dial motifs, they represent the beautiful Garden of Eden in its entire splendor. And since this is an automaton watch, it boasts seven different animations for up to four different scenarios. Each animation can last up to 12 seconds, and the bird's wings flap 40 times per second. There's even a trio of dragonflies with Super-Luminova wings that immediately catch the eye.
Everything is animated by a Jaquet Droz RMA89 calibre which comprises a silent wheel regulator, a power reserve of 60 hours, and 86 jewels. Limited to just eight units, the Jaquet Droz Tropical Bird Repeater is accompanied by a rolled-edge hand-made dark green alligator strap and an 18k red gold folding clasp.
2. HYT H4 Neo Watch.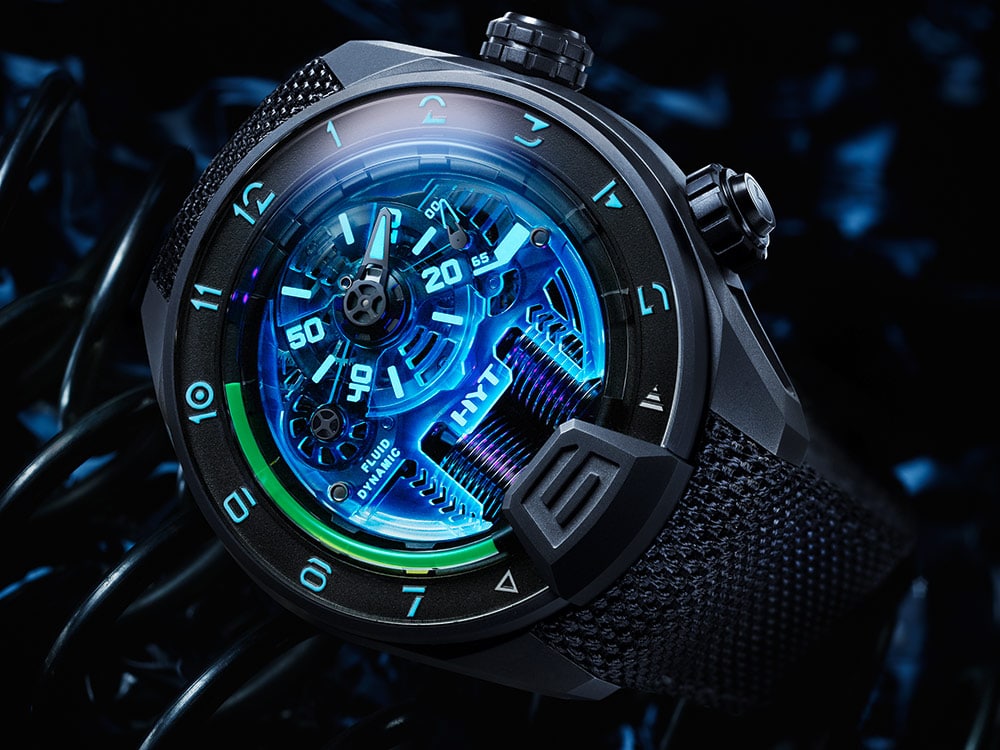 HYT, the Neuchâtel, Switzerland – based watchmaker is synonymous with creativity, uniqueness, and luxury, and that's not something that can be said about every company out there. Some brands decide to go with classic designs when it comes to their creations, but HYT's experts have always thought out of the box, and the results of their ingenuity are widely considered some of the best timepieces in the world.
One of the latest masterpieces signed by HYT is the HYT H4 Neo, a glorious watch that was inspired in its design by the highly appreciated HYT H4 Metropolis. This piece stands out among its peers' thanks to 2 purple LED lights located behind the 6 o'clock position, which animate the entire mechanism. The HYT H4 Neo boasts two crowns, with the second one transforming the wearer's touch into power by leveraging a micro-generator. This generator powers a pair of purple lights, which allows the user to tell the time in low-light conditions with exceptional ease.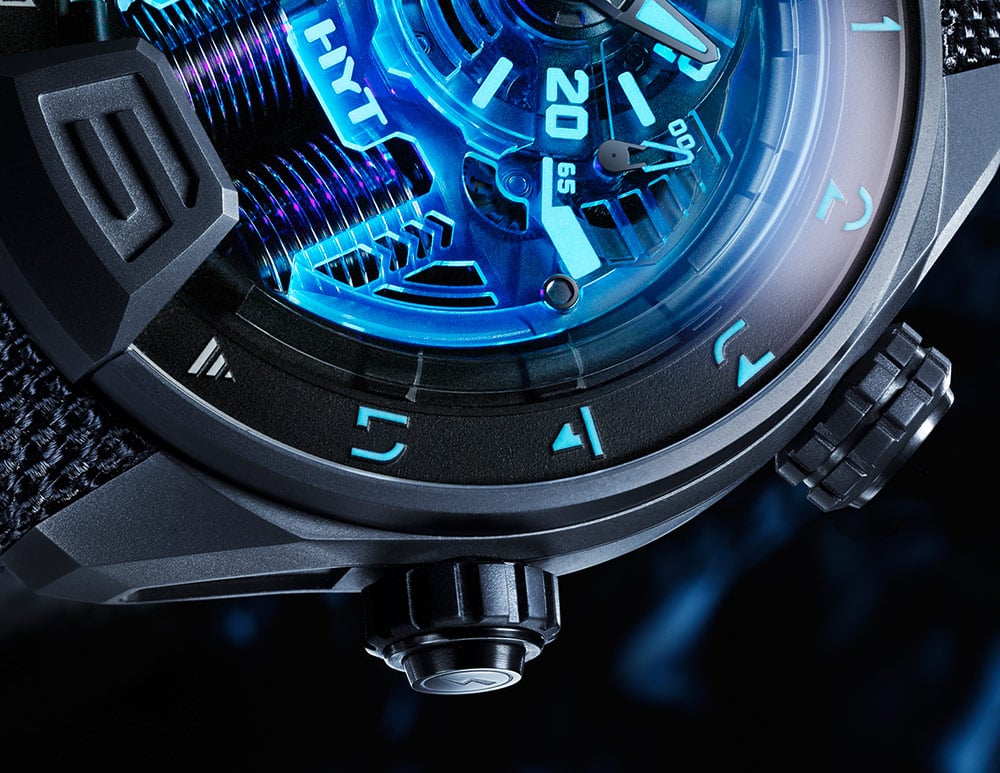 The case measures 51mm in diameter, and it features a curved sapphire crystal and a screw-down sapphire case-back. Inside, the caliber relies on the brand's signature micro-liquid technology, with the bespoke skeletonized movement being completely visible behind the transparent dial. The strap is definitely something to write home about, as it is completely water-resistant, fire-resistant, and hypoallergenic. Other highlights include water-resistance of 50 meters or 164 feet, a power reserve of 65 hours, and an enormous price tag of $95,000. It's also worth mentioning that the HYT H4 Neo will be limited to just 15 units worldwide, which means that we've just presented one of the most exclusive and sought-after HYT watches in existence.
1. Chopard Imperiale Joaillerie Watch.
Chopard always draws inspiration from some of the most iconic parts of the world when it creates its luxurious watches, and in the case of the new Chopard Imperiale Joaillerie, that place was South America and the Inca civilization. The dial cover of this masterpiece is adorned with beautiful brilliant-cut diamonds and turquoises, and it is fastened onto a gorgeous 38mm Fairmined 18kt white gold case. The front and the rear side of the watch are protected by sapphire crystals, and the case ensures a water resistance of 50 meters or about 164 feet.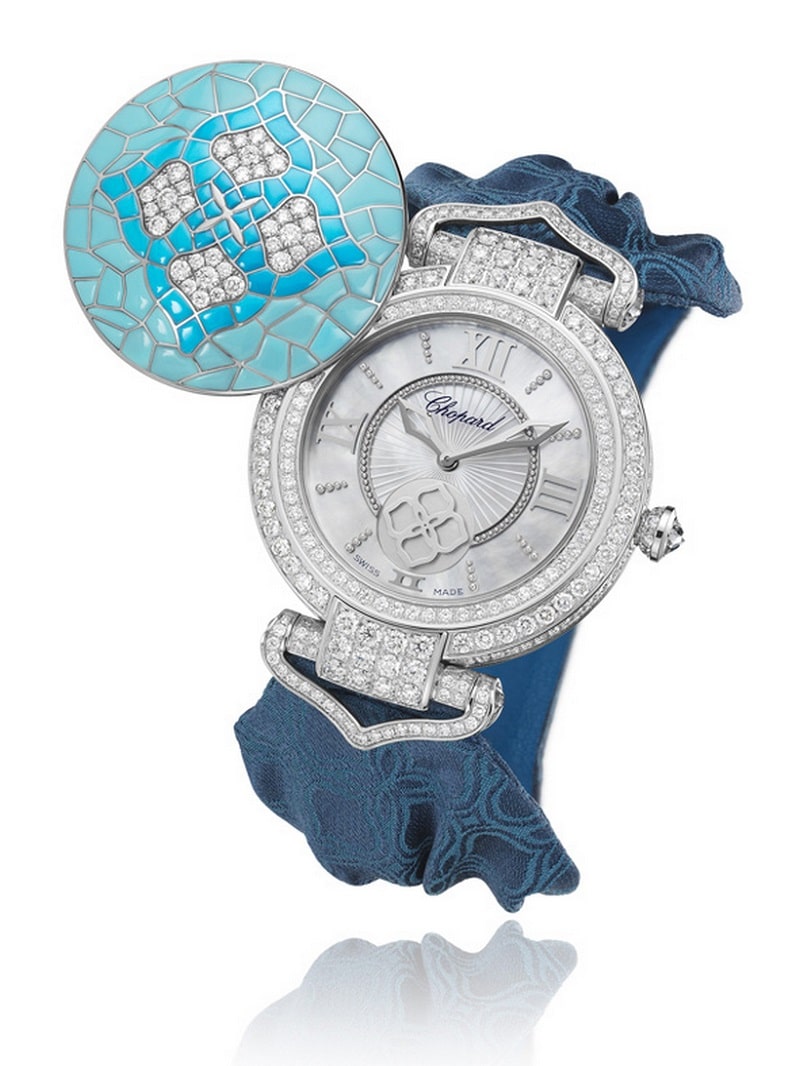 The crown also deserves a closer look, as it was also created using 18k gold and boasts its own diamond decorations. The timepiece's power comes from a Swiss automatic Chopard in-house caliber L.U.C 96.12-L, which features a power reserve of 65 hours. The bridges of this lavish masterpiece flaunt the renowned Côtes de Genève finishing, while the dial is finished in mother-of-pearl and comes with a sunburst guilloché decoration. As for the straps, they are made using blue or turquoise damask, or turquoise alligator leather depending on the owner's preferences. Model Ref. 384628-1001 by Chopard is undoubtedly one of the company's most exquisite creations to date, but sadly there's no news regarding a potential price tag at the time of writing.