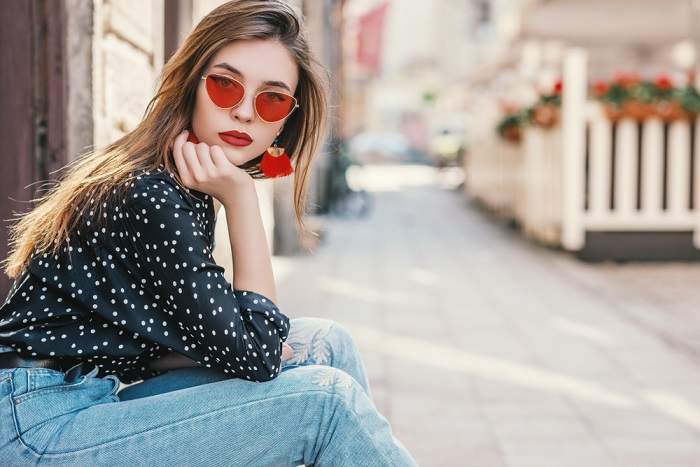 Style is luxury – here are six basics that you can wear up or down.
Every woman's closet should have a few basics that can be worn in every setting—from weekday wear to night out attire. We're taking a look at 6 basics that can be dressed up or down with the right accents to complement them.
1. A versatile pair of shoes.
Shoes are often a point of weakness for fashionable ladies—you can never seem to have enough of them. But you really don't need to have a Carrie Bradshaw-style shoe closet to achieve a refined, fashionable look that can go from day to night. A pair of flat pointed toe shoes is really all you need to make your shoe collection complete. If you'd describe your style as more bold or inventive, opt for a printed flat. Or, if you're going for a more professional, refined look, you may want to choose a basic flat that complements the rest of your closet.
Dressed up
Dress up a pair of flats for an elegant look:
Feminine midi dress.
Or an edgy pantsuit.
Dressed down
For a more casual look, opt for these accessories:
Cuffed distressed denim jeans.
Or, casual cotton top with an ankle length printed skirt.
2. High waisted pants.
High waisted pants are a must-have in 2019. From the office to happy hour, to a night out on the town, a pair of colored high waisted pants can do it all.  Plus, they are super flattering for all body types! Just be sure to buy neutral colors that fit into your capsule wardrobe—like tobacco, black, or denim.
Dressed up
Pair your colored or neutral high waisted pants with these items for a dressed-up evening look:
Dressed down
Or, go for a more relaxed daytime look with these basic items:
Crisp white tee
Simple gold necklace
Sunglasses
3. A little black dress or jumpsuit.
Jumpsuits just might be the little black dress of our time, and we're here for it. Whether you're going for a daytime wine tasting in the Valle de Guadalupe or a night out in the clubs of New York City, a jumpsuit is a perfect sidekick to any adventure.
Dressed up
Take on a night on the town with precision and a pop of color:
Leather jacket
Bold lip color
Elegant jewelry
Dressed down
Pair your little black dress or jumpsuit with these accessories for Sunday brunch with the girls:
4. Basic Tees.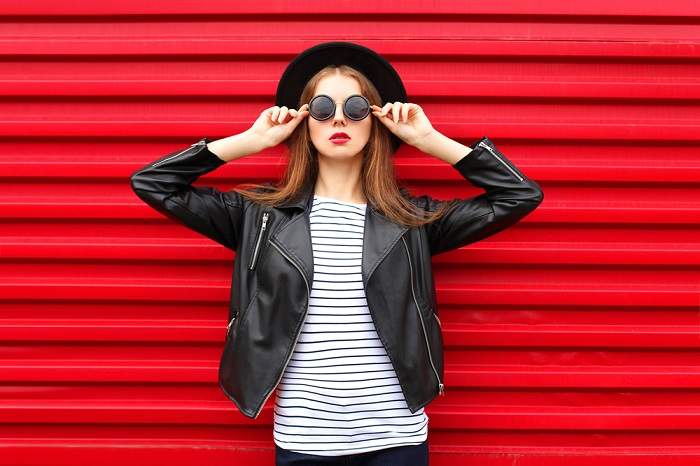 Every girl needs a few basic tees in their closet to act as a foundation for each outfit. Choose neutral colors like black, white, and browns to match with anything else in your closet.
Dressed up
Basic tees work for the office, too! Just pair with these items to dress up your classic shirt:
Structured trousers
Pointed heel
Blazer
Jewelry
Dressed down
For a comfy, casual cruise at the beach, complete your look with these accessories:
Boyfriend jeans
Sandals or flats
Cuff bracelet
5. Button up shirt.
One or two button up shirts are really all you need to account for all of your professional looks. Pick a printed one to incorporate a little personality into your standard office outfits. Or, wear with a pair of light jeans for a slightly elevated daytime look.
Dressed up
Looking for a feminine date night get up? Try out this look:
A pencil skirt or fitted pants
Simple accessories such as a luxury watch
Dressed down
Or, grab a cup of coffee with your date sporting this simple look:
Jeans or denim shorts
Sunglasses
6. Denim jacket.
Denim jackets have been a staple and signature piece in every "effortlessly cool" style icon since before we can even remember. No matter which shade of denim you get, vintage or new, you can work a denim jacket into any look. Choose a relaxed, roomy fit for more casual events, and a structured one to complete a look for going out or working at the office.
Dressed up
Achieve the punk rock look of your dreams by wearing this:
Blocked heels
Embellished clutch
Dressed down
Go see some live music wearing this outfit:
Band Tee
Black jeans or different color denim jeans
Leather backpack
In conclusion
You don't need an unlimited budget and walk-in closet to be your own favorite style icon. Simply follow these tips to take your basics from dressy to dressed down.