The world is luxurious, the world is fun. Finding the best luxury resort for a perfect holiday is no easy task, however. There are so many to choose from, so many to take into consideration. Sometimes it all can seem a bit overwhelming. Fortunately for you, we're here to give you some incredible suggestions. You really can't go wrong with either of these incredible resorts, as they were all designed with comfort, luxury, and fine taste in mind.
Whether you're looking to spend some time in Europe, Asia, Africa, or America, the following list definitely includes something to your liking. Make sure to check your bank account before booking, however. These are also some of the most expensive resorts in the world, but as we always say: luxury comes at a cost, and there's nothing wrong with that.
20. Anantara Dhigu Resort & Spa (Maldives).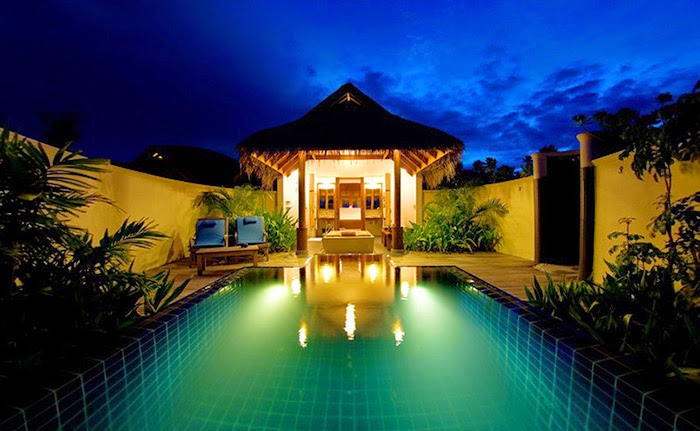 Maldives: a tropical Heaven on Earth nestled between the magnificent Indian Ocean and the beautiful blue Arabian Sea. This island nation comprises a double chain of no less than 26 atolls, many of which flaunt their own luxurious resorts that tempt visitors with hospitality, comfort, and irreproachable service. One such resort is Anantara Dhigu Resort & Spa – a symbol of luxury, wellness, and elegance that can be found on Dhigufinolhu Island, within the South Malé Atoll. Just 35 minutes away by boat from the Malé International Airport, this outstanding resort is easily accessible, but it wasn't its accessibility alone that allowed it to become a world-class vacation destination.
With no less than 110 over water suites and beach villas, this place offers exquisite accommodation options for its fortunate visitors, especially since each and every single one of its rooms features high-end amenities and facilities that are meant to support a lavish and carefree lifestyle. Once they settle in, guests are free to engage in numerous entertaining activities such as snorkeling, diving, island hopping, or surfing. Those who wish to burn even more calories can always do so at the state-of-the-art gymnasium. However, relaxation-seekers are invited to engage in morning Yoga and meditation sessions or spend some time at the Anantara Over Water Spa where they can enjoy refreshing and relaxing treatments performed by professional staff members.
When it comes to dining, the Fudan Fusion Grill offers delicious steaks and seafood, while the Terrazzo entices with mouth-watering Italian dishes. Snacks and cocktails can be ordered from the Aqua bar, but there are numerous other dining options available at the nearby Anantara Veli Resort & Spa, which can be found on a nearby island within the same atoll.
Another thing that makes this resort such a popular place is that it offers great facilities for children. The Dhoni Kidz Club allows the young ones to enjoy arts and crafts activities, island exploration sessions, and much more. Furthermore, children who are 6 years of age or younger can dine free of charge during their stay at this amazing resort.
19. Laucala Island Resort (Fiji).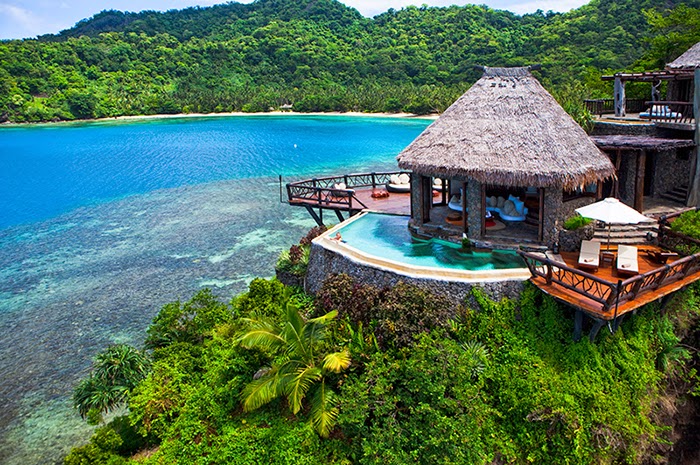 Fiji is an island country that is well known for its natural beauty and exquisite resorts, which is why it is widely looked upon as one of the top traveling destinations in the world. It's not difficult at all to understand why this place is so popular, especially once you find out that it is the home of numerous coral reefs and superb white beaches, which means that it boasts incredible diving spots and offers amazing sunbathing opportunities.
Diving and sunbathing aside, Fiji's islands benefit from tropical weather all-year-round, and so their resorts are open nonstop throughout the seasons. Speaking of luxe establishments, the Laucala Island Resort is undoubtedly the most popular resort in the country, and you are about to find out why.
So what are you looking for when you scout for vacation destinations? If it's a private resort that's covered with coconut plantations and other forms of natural vegetation, then Laucala is your best bet. Accommodations include 25 villas that boast fabulous living conditions and high-end amenities throughout, including private infinity pools and large patios.
If you're one of the active types, you'll be glad to know that there are plenty of things to do and enjoy at Fiji's Laucala Island Resort. Highlights include rain forest tours, diving trips, and quad bike adventures. Oh, did we mention that this place is owned by Red Bull's co-founder? Yeah, you're not going to get bored here, not even one little bit.
18. Sheraton Maldives Full Moon Resort & Spa.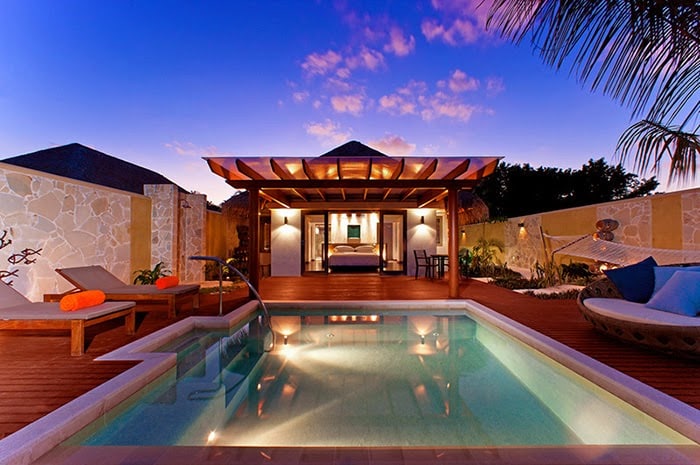 We featured resorts from the Maldives before and we're definitely going to do so again because that place is nothing if not heavenly. Today we're going to enjoy a short stop at the Sheraton Maldives Full Moon Resort & Spa, which is actually one of the most picturesque and luxurious establishments in the entire island nation. Located just 15 minutes away from the Malé International Airport, this accessible resort is a synonym for comfort, wellness, and tranquility, which is why you should definitely include it in your list of potential traveling destinations.
Accommodations include 20 ocean pool villas and no less than 156 guest rooms, all of which boast high-end amenities and high-quality furnishings. As far as relaxation is concerned, aside from taking in the sun at the pristine beaches, you can always visit the resort's own Shine Spa for Sheraton, where highly skilled staff members stand ready to pamper guests with refreshing, and rejuvenating treatments for the body and soul.
Fine dining can be enjoyed at one of the seven restaurants, where expert chefs prepare mouth-watering dishes based on international recipes. According to your own preferences and needs, you can enjoy casual dining sessions or more formal ones. Sheraton Maldives Full Moon Resort & Spa also includes a diving center, a kid's club, a fitness center, a tennis court, and a freshwater swimming pool. Needless to say, it's quite impossible to get bored at this paradisiacal establishment, but you don't have to take our word for it. Just pack your bags and give it a try!
17. Eden Lodge (Madagascar).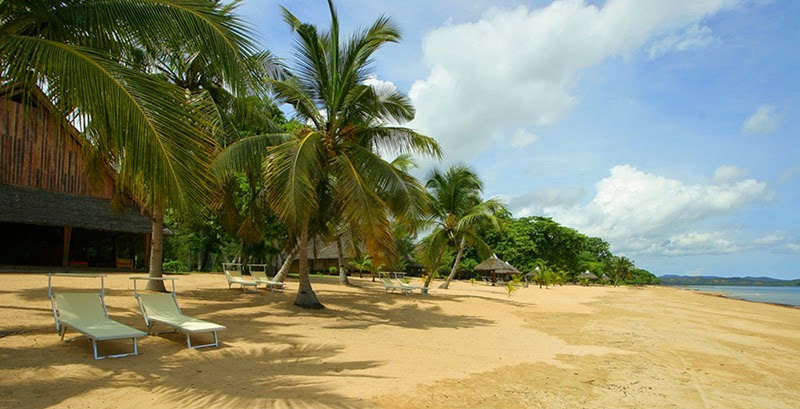 If you watched the animated Madagascar movies, then you're probably well aware of the fact that this unique, picturesque, tropical paradise is teeming with natural beauty and represents the home of numerous wildlife species. Actually, this huge yet isolated island off the southeastern coast of Africa is home to several plants and animals that can't be found anywhere else on Earth, including the Didiereaceae plant and the adorable lemur.
Tourism in Madagascar wasn't always as popular as it is today, but thanks to the efforts of the government's country over the last few years, this place has become one of the most appreciated eco-tourism destinations on the planet, and its popularity grows year after year. In terms of accommodations, numerous lodges and resorts dot the coastline and the high peaks of the island, but one of the most impressive and luxurious establishments is definitely the Eden Lodge.
Placed no more than 30 minutes away from the pristine Nosy Be beach, the Eden Lodge can be found at Baobab Beach and is flanked by lush virgin forests and very old baobab trees. If you were looking for a completely remote place that features no roads, no cars, and no urban sounds of any kind, then your search has come to an end.
This paradisiacal resort sits on its own island that is inhabited only by a handful of people, and it includes no more than 8 lodges that feature unique designs. These lodges were inspired in their design by luxurious tents and bungalows, and they feature a plethora of high-end amenities such as king-sized beds, power showers, and high-quality Dyson fans. During your stay, you would be able to engage in numerous entertaining and relaxing activities such as sailboarding, kayaking, or forest tours, but you could also take lessons in traditional fighting styles or savor unparalleled pampering at the lodge's own spa.
Needless to say, you'll want for nothing during your stay at the Eden Lodge in Madagascar, so if you're thinking about visiting a remote, exotic place that promises to meet and surpass all of your expectations, feel free to include the outstanding island of Madagascar on your travel list. You won't regret it, not even one bit.
16. Enchanted Island Resort (Seychelles).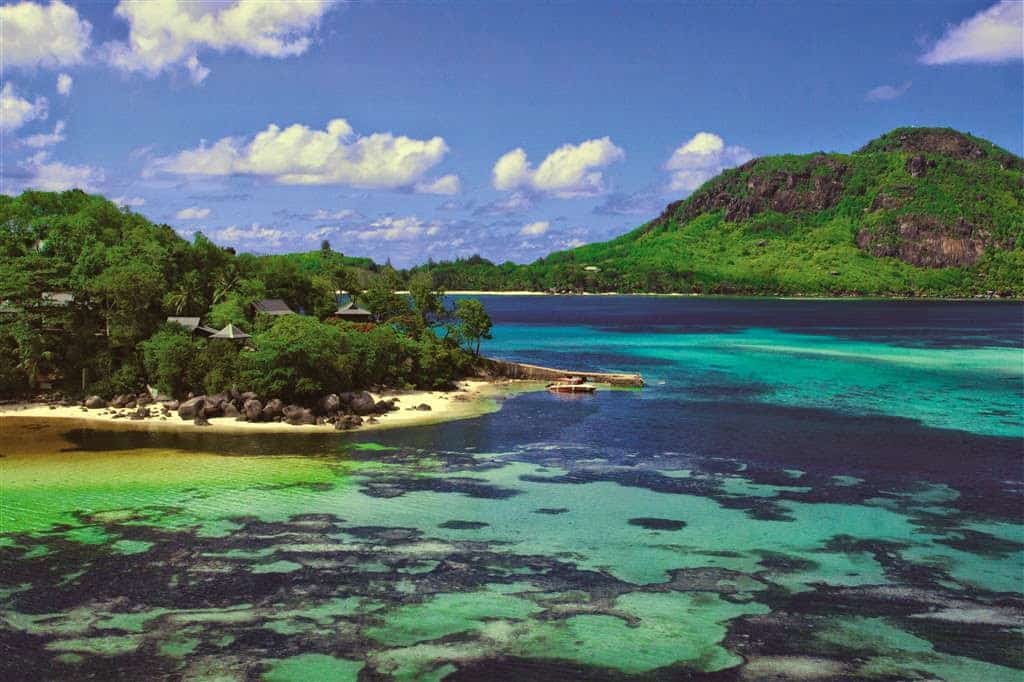 When we think of Seychelles, many of us picture fantastic views of crystal clear waters, fine warm sands, and the gentle caress of the breeze, and that's a very accurate depiction indeed.
The famous 155-island Republic of Seychelles includes some of the most appreciated resorts on the Globe, and even though many of them are purely breathtaking, there are some that definitely manage to distinguish themselves from the rest.
One such a place is the dreamy Enchanted Island Resort, which can be found on Round Island, in close proximity to Mahe's coastline. This luxurious haven of relaxation and wellness includes 10 fabulous villas that feature their own private walkways as well as direct access to a nearby pristine beach. Spending some time at this wonderful resort is guaranteed to equal a memorable experience since this lovely place includes everything that one could possibly need and want for. Amenities include outdoor rain showers, private decks, infinity pools, and four-poster beds, but we should also mention the Castaway Restaurant and Castaway Bar, each featuring Creole cuisine delicacies and delicious drinks respectively.
After enjoying a refreshing dip in the swimming pool or a relaxing sunbathing session at the beach, those who are inspired enough to spend a vacation here can always opt to visit the resort's spa, which tempts with its own showers, terraces, steam rooms, 2 treatment pavilions, and an outdoor tub.
Highly accessible, the Enchanted Island Resort can be reached easily via a boat trip from Mahe Island, which happens to host the Seychelles International Airport. Have a quick look at the following images and admire this paradise for yourself!
15. Lindis Luxury Lodge (New Zealand).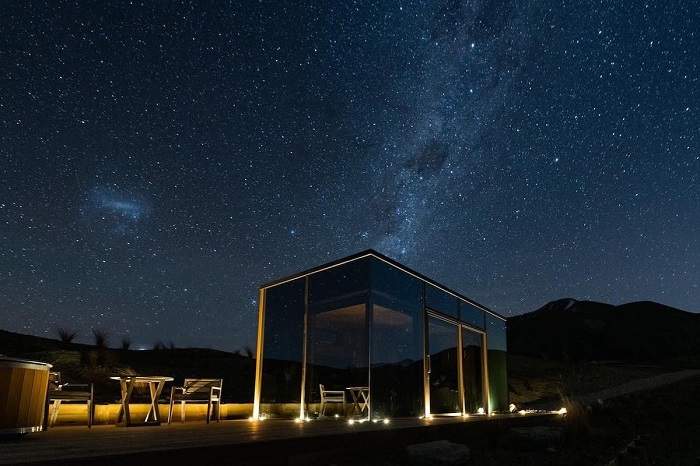 It's easy to focus on the bad nowadays, but it's important to remember that good and beautiful things also make their way into this world every single day. While it's true that there are plenty of places in the world that are well-suited for stargazing, this new spot that opened up recently in New Zealand is particularly hard to beat. I'm talking about the Lindis Luxury Lodge – a fine establishment that seems to live up to its name.
Numerous lodges and hotels include the world "luxury" in their name, and that's a pretty good marketing tactic if you want your clients to picture plush beds, candlelit dinners, and marble-clad bathrooms. Gazing at the starts is not a particularly luxurious experience at its core, but when your surroundings match the lavish palaces of royalty, it suddenly becomes something truly memorable and almost transcending, if you will.
The ingenious thing about this resort is that it features five individual, independent suites, each sitting on their own private spot in the Ahuriri Valley in New Zealand's South Island. Naturally, there's not much light pollution around, and the suites sit on a relatively elevated location. However, these suites are not exactly the best if you're a fan of stargazing. That's why the resort recently opened up three unique mirrored glass pods. Now we're talking!
Around each pod, there's a conservation park, as well as beech forests and mountains. The pods are secluded in a way, in the sense that they're out of sight from the main building. Some might say that they are remote, which is why Lindis decided to make them as sustainable as possible. Each pod comes with its own backup generator, geothermal heat pumps, LPG boilers, top-notch insulation, and rainwater harvesting systems.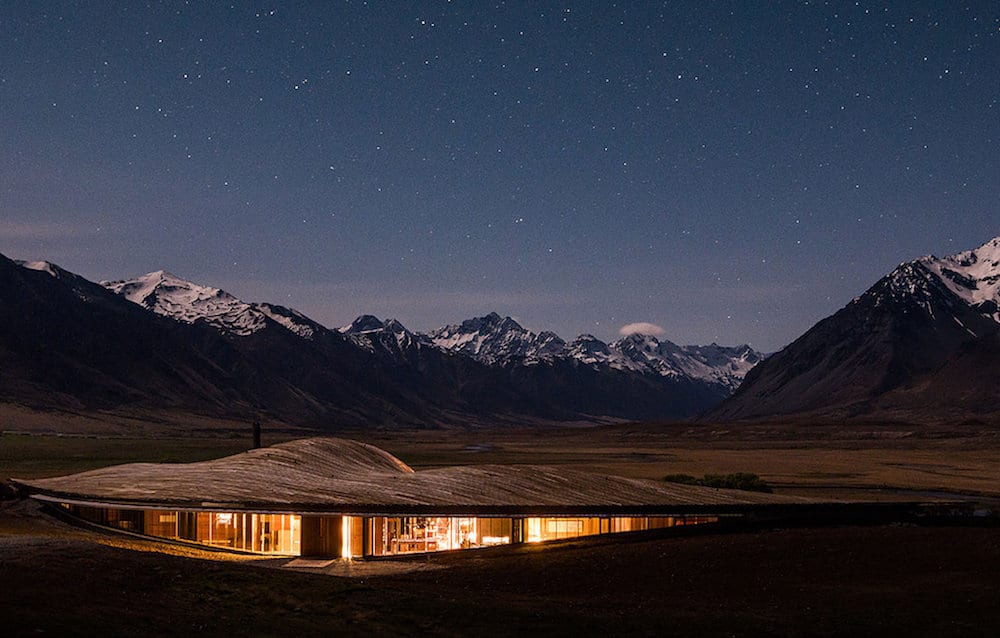 The pods are part of a five-star luxury resort, so obviously they would include a generous list of amenities. You'll have to discover the complete list yourself, but I will say that king-sized beds, outdoor seating areas, private outdoor bathrooms, and fine linens are all part of the package.
Apart from these conveniences, you can also enjoy activities such as horseback riding, e-biking (yes, that's a thing), and fly fishing. The resort gives off a clear eco-friendly vibe, so fishing is likely well-regulated and available only during certain times of the year. The food is top-notch, as it should be, and it is prepared using fresh ingredients by world-class chefs.
While stargazing is often associated with amateur astronomy, you don't really need a telescope to admire the unique beauty of the stars. It's one of the most romantic and memorable activities if shared with the right person and in the right setting.
The Lindis Luxury Lodge also offers lavish master suites and regular suites for its customers, but the pods are the most cost-efficient and romantic choice if you ask me. Be prepared to spend at least $1200 for a night in a pod, though, because luxury definitely doesn't come cheap, not in this case at least.
14. Shipwreck Lodge (Namibia).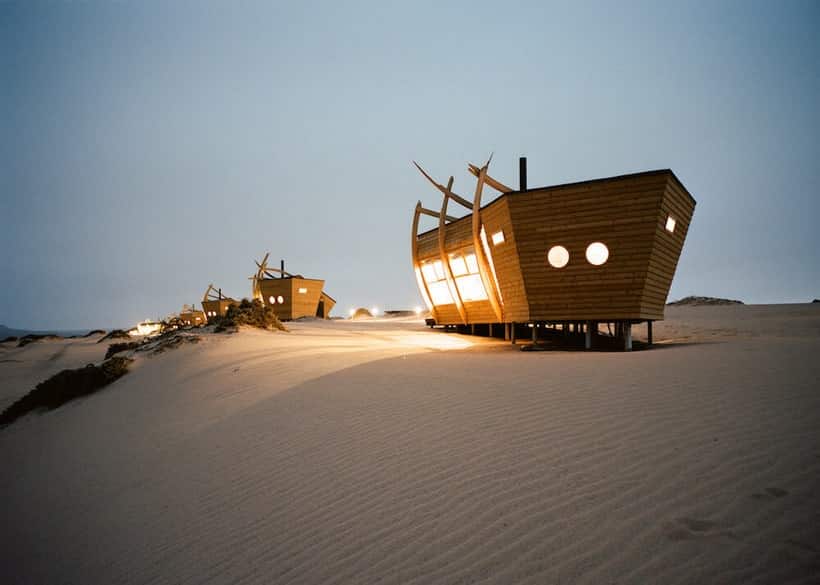 In our day and age, finding a luxurious retreat is as simple as typing a few words into your browser. There's plenty of them, and they're all expensive, glamorous, and comfortable, but many of them offer similar facilities and experiences. This can get old. It can get old for those of you who travel often, and especially for those of you who value originality and uniqueness above all else. The Shipwreck Lodge is not your usual luxury retreat, and that's exactly why we're going to have a closer look at it.
Operating under the banner of Natural Selection, the Shipwreck Lodge is located in the northwest part of Namibia. Ask anyone who knows a thing or two about safaris and they'll tell you that this country is one of the world's top traveling destinations for fans of adventure and wildlife spotting. Still, that's not entirely what the Shipwreck Lodge is all about. As its name suggests, this establishment mimics the various shipwrecks that dot the Namibian Skeleton Coast.
This place bears many different names, including "The Land God Made in Anger" or "The Gates of Hell." Presently, it is famous for harboring various remains of shipwrecks caught by offshore rocks and fog over the years. In the old days, the coast got its name from the skeletal remains of whales and seals – a testament to the whaling industry that was so popular in those days.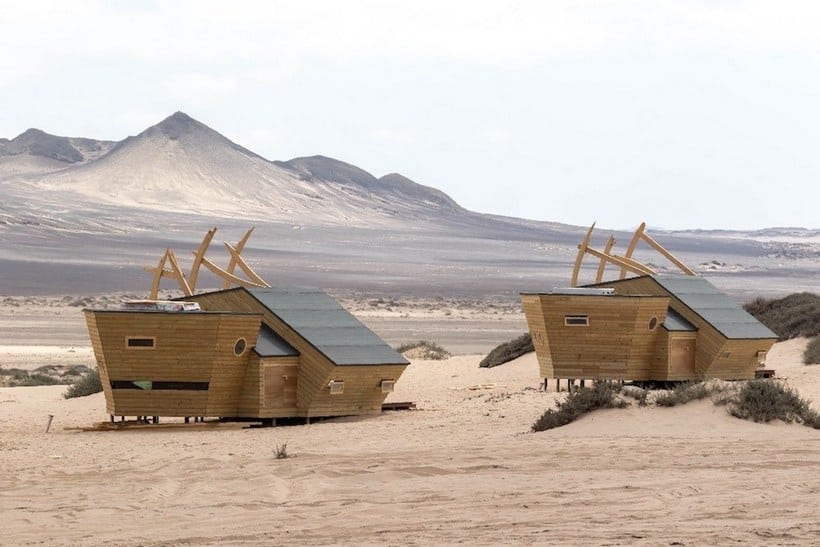 The Lodge is a part of the Skeleton Coast National Park, which traces its roots back to 1971. The park comprises two different sections, namely a northern one and a southern one. Its main attractions include 4×4 trips and safaris, but there are many other activities that you can engage in during your stay.
As for the Shipwreck Lodge, it contrasts nicely with its relatively unwelcoming surroundings, as it ensures an incredibly luxurious stay for all of its guests.
Luxurious and eco-friendly, the cabins resembling shipwrecks were created using wood and wooden nails. Power comes from a series of solar panels, while the stoves are also fueled by wood. Since this is a resort, after all, it also includes a restaurant at its center, which offers delicious meals and great views. When it comes to accommodations, there are ten rooms in total, including eight twin or double rooms, and two cabins. The cabins also support extra beds, just in case you're planning to bring your children with you.
During your stay, you'll be able to explore the nearby dry riverbeds and interior dunes, learn about the history of the shipwrecks, and see the unusual plants and lichens that thrive on the foggy coast.
13. Domes Miramare Corfu (Greece).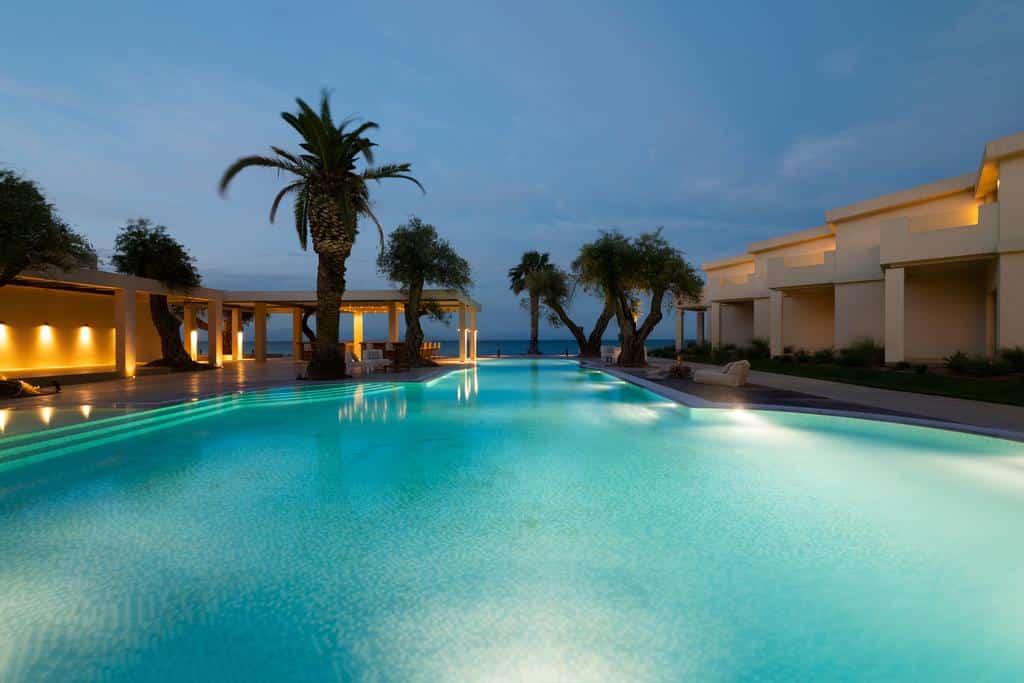 Greece's Corfu Island is the home of a luxurious new resort operating under the Luxury Collection banner. Domes Miramare Corfu rests on a beautifully renovated property that was originally built in the 1960s for the Onassis family. The result of the renovation process is breathtaking, and you should definitely go and see it for yourself. Starting with July 14th, the hotel will operate under the Domes Resorts brand, while Luxury Collection will take over from August 31 onwards.
Domes Miramare Corfu incorporates 113 rooms, suites, and villas, each envisioned by Kristina Zanic Design Consultant. Among the most impressive amenities, we should mention the marble bathrooms with bespoke pastel-tiled washbasins, as well as the large beds, generously-sized windows, and tasteful furnishings.
The Pavillion Suites are some of the most outstanding housing options. That's mainly because they enjoy access to private gardens and private pools. Each and every room has its own terrace, though, as well as Wi-Fi access, air conditioning, wardrobes, and flat-screen TVs. During your stay, you'll be able to work out a good sweat at the gym or enjoy some delicious meals at the local restaurant. The breakfast options are particularly noteworthy, as they include a buffet, as well as American or vegetarian options.
Domes Miramare Corfu sits just 13km away from Mon Repos Palace, while the Serbian Museum is just 15km away. The Ionio University is not far off either, just in case you want to visit one of Greece's finest examples of Higher Education.
12. RIMBA Jimbaran Bali Resort (Indonesia).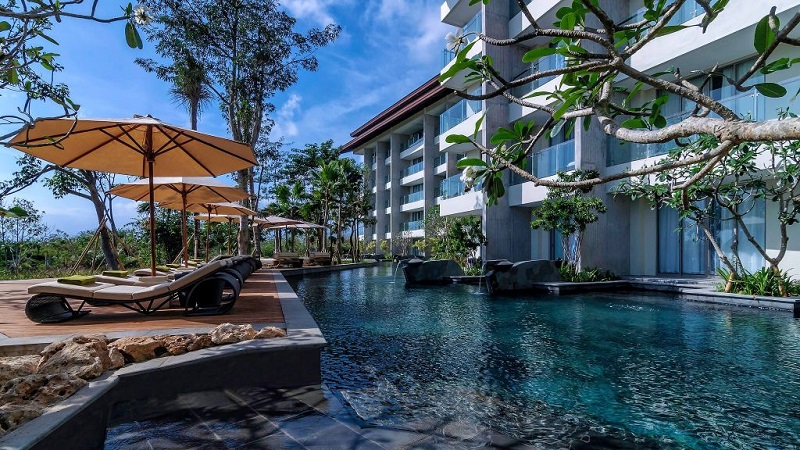 Indonesia, the Emerald of the Equator – a beautiful country known for its many volcanoes, temples, and numerous islands, is the home of a plethora of luxurious resorts that will make you want to stay there forever. One such a place is the RIMBA Jimbaran Bali resort, which was named after the Indonesian word for "forest." The establishment is encircled by lush vegetation, and its rooms offer breathtaking views of romantic sunsets.
During your stay, you'll enjoy access to one of the six multi-level pools, and you'll be able to explore the establishment's gardens, as well as the nearby traditional fishing village. Being one of Indonesia's largest and most beautiful retreats, RIMBA Jimbaran Bali includes 282 rooms and suites, each flaunting amenities such as marble bathrooms, L'Occitane toiletries, and complimentary Wi-Fi. Dining can be savored at one of the 17 restaurants and bars, with the Unique Rooftop Bar & Restaurant being the most impressive.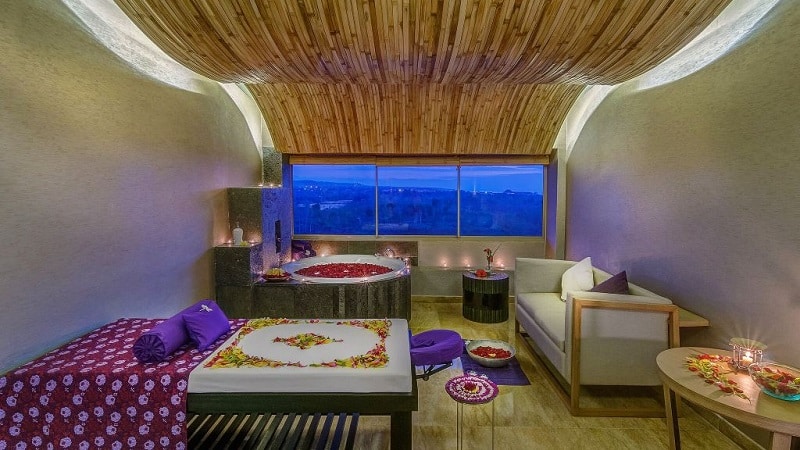 You could also spend some time at the local spa, go on a shopping spree, or just enjoy some time on a sun lounger with a delicious cocktail in hand. All you have to do is book a room and get ready to experience the best life has to offer in this paradisiacal place.
11. Shumba Camp (Zambia, Africa).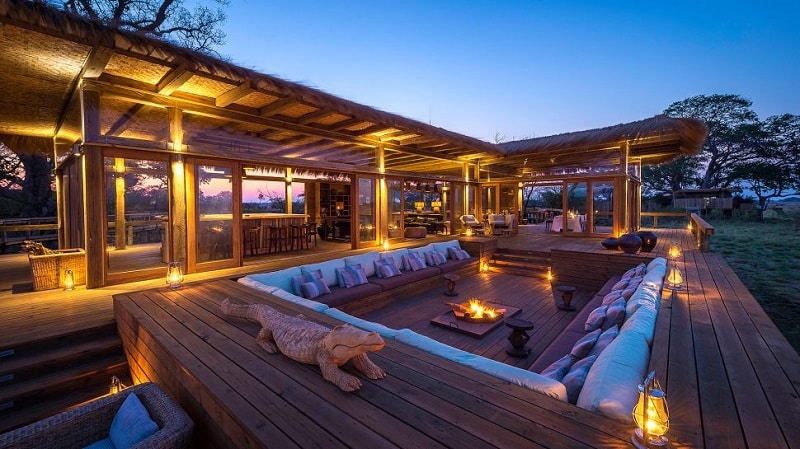 Experiencing all that Zambia's Kafue National Park has to offer might take a while, as this paradisiacal place is filled with wildlife, trails, and sightseeing spots. However, if you do decide to spend some time over there, you might as well choose a luxurious setting as your home base, something like Shumba Camp, perhaps? You see, this wonderful safari retreat has everything that you could possibly want, including high-end amenities, spacious rooms with en-suite bathrooms, and plenty of animals that go about their daily lives just a few steps away. When it comes to dining, all meals are usually prepared over open fires, and guests can savor them on nicely decorated viewing decks that afford picture-perfect views of the surroundings.
When it comes to the actual safari experience, you can always rely on the local guides of Shumba, who organize unforgettable trips into the African land every day. During these excursions, you'd be able to get a closer look at the local lions, cheetahs, wild dogs, hippos, and elephants. This place is truly something to write home about, which is why we wholeheartedly recommend it as a vacation destination.
10. São Lourenço Do Barrocal (Portugal).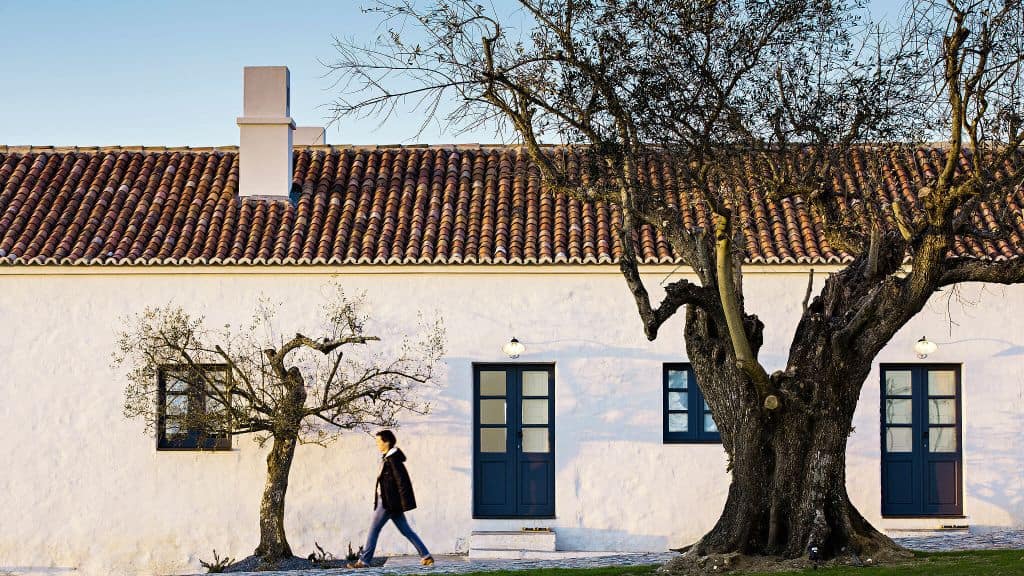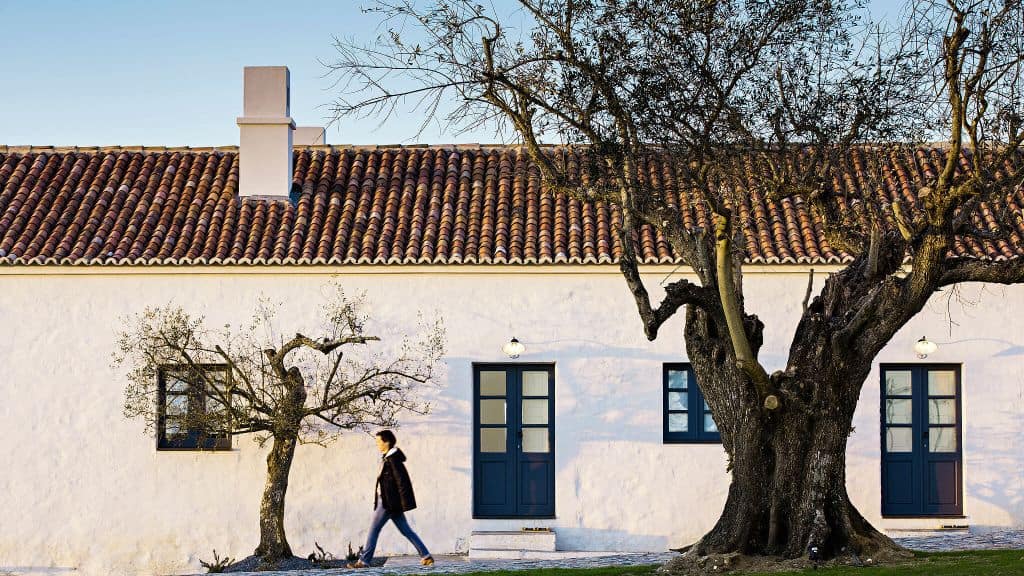 Day-to-day activities can get tedious, but we put up with them because we know that we'll be able to go on vacation sooner or later. However, choosing that perfect vacation spot can be challenging, especially if you're planning a trip to Europe. Today we're going to suggest a stop in Portugal, in the foothills of medieval Monsaraz, to be precise. That's where you'll find São Lourenço Do Barrocal, a luxurious yet unpretentious retreat that rests on a picturesque estate. The estate in question has been under the management of the same family for about 200 years, which means that it boasts an incredible historic heritage. Heritage aside, São Lourenço Do Barrocal will meet all of your expectations when it comes to comfort and wellness.
Since we're talking about a resort in the countryside, you won't be disturbed y noise and commotion. However, you'll be able to relax, take in the sights, learn about the local customs, and sample some very fine wines. There's an environmentally conscious farm shop on-site, as well as an outdoor pool and the Susanne Kaufmann spa. Dining-wise, the local restaurant serves mouth-watering dishes prepared using local ingredients.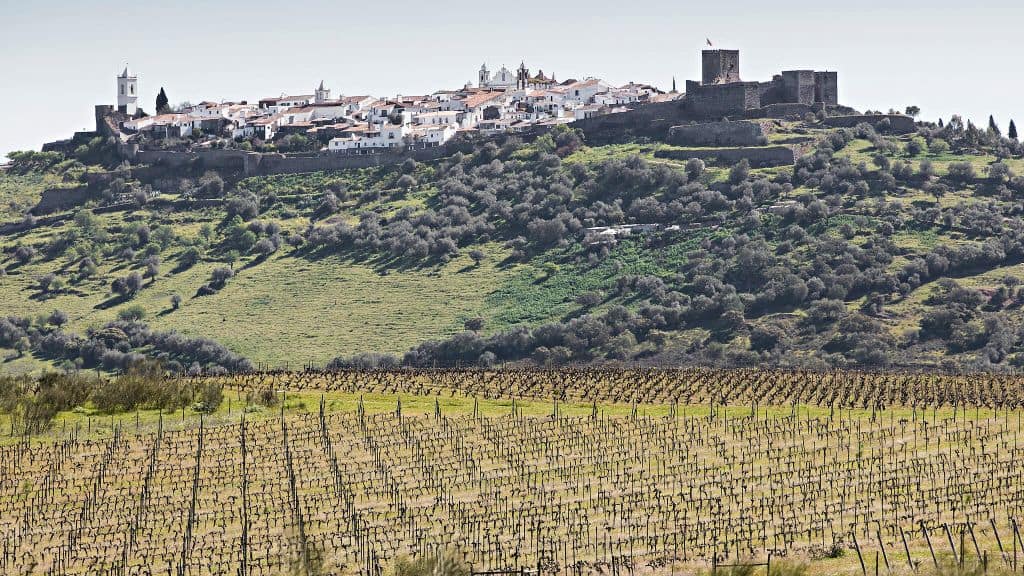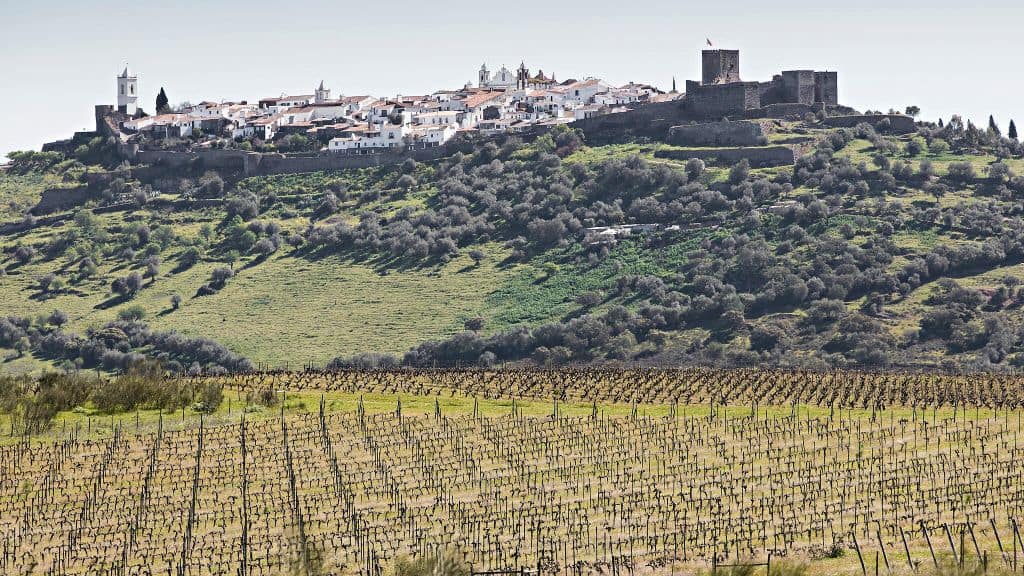 Those of you who are passionate or at least curious about horses will definitely want to give horseback riding a try. There are eight horses available for this activity, each eager to show you around the estate. Accommodation-wise, São Lourenço Do Barrocal offers a selection of 40 rooms complemented by a few cottages and suites. The decor elements give off a rustic vibe, which goes perfectly with the choice of materials and finishes. Inside, you'll find terracotta floors, whitewashed walls, comfortable beds, and classic furnishings.
For pricing, availability, and reservations, feel free to visit the retreat's own website!
9. Dreamy andBeyond Kichwa Tembo Camp (Kenya).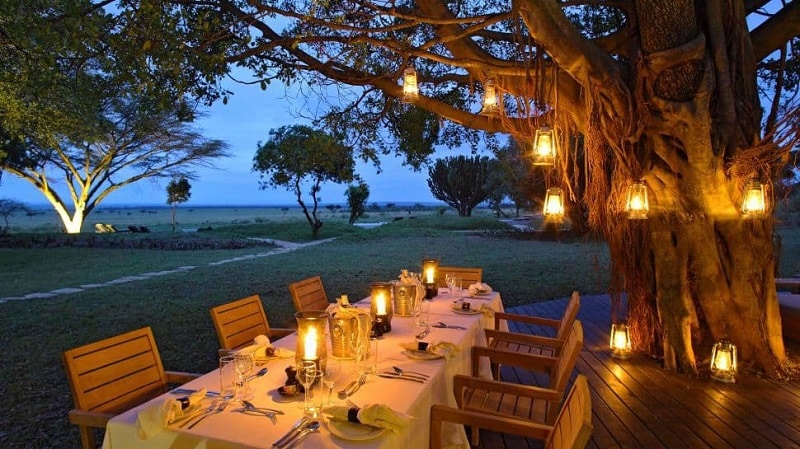 Set your sights on Kenya for your next holiday? We understand. After all, being situated on the coast of the Indian Ocean, this country is one of the world's top destinations, especially among those who want to enjoy the unique perks nature has to offer. Boasting a rather unusual name, andBeyond Kichwa Tembo Camp offers a blend of natural beauty, man-made luxuries, and superb colonial design, all of which come together to create memorable moments.
Big game safaris are one of the resort's main highlights, but we shouldn't forget about the retreat's environmentally-conscious principles, which will surely appeal to most guests. The luxurious amenities that we mentioned before include an outdoor swimming pool, a spa, a gymnasium, and an on-site restaurant. Accommodation-wise, you'll be treated to your own lavish tent. A typical morning at andBeyond Kichwa Tembo Camp includes a delicious coffee, a healthy breakfast, and a trip to your favorite safari spots in an open 4×4 vehicle. Come nighttime, you'll be able to savor mouth-watering dishes on a china-and-silver-laid table, under the stars.
andBeyond is a lodge unlike no other. There are 12 classic tents to choose from, as well as 20 superior tents, and 8 superior view tents. Modern conveniences such as Wi-Fi are included, just in case you don't want to disconnect from the world completely. Other important highlights comprise a Safari Shop, an interactive kitchen, a vegetable garden, and a Tusker Bar.
It's also worth noting that children of all ages are welcome on site. Parents can opt-in for the WILDchild program at extra cost, and childminders are also available, should the need arise. The resort is located on the border of the Masai Mara, which is reachable via two scheduled flights per day. Once you get off the plane, you're just a 30-minute drive away from paradise.
8. Saffire Freycinet Eco-Resort (Australia).

It's true that some eco-resorts choose to forgo luxury in favor of a minimal environmental footprint, but others do manage to achieve a blend of comfort and eco-friendliness. One such resort is Saffire Freycinet – a corner of paradise located in Tasmania, Australia. Eco-tourism is gaining more ground as the years go by, and rightfully so, as more and more people are becoming concerned with humanity's impact on good old planet Earth. As for Saffire Freycinet, the resort boasts incredible sustainability, all in an effort to restore its surroundings after prolonged abuse.
To be more specific, the area used to serve as a caravan park and backpackers' accommodation. In time, the retreat's presence will likely reverse the damage, all while allowing its visitors to experience memorable vacations in one of Australia's most picturesque places.
Accommodations include 20 exquisite suites in the main building. The organic roof of this building reminds us of a bird in flight, and it was put together using curved Tasmanian wood. Moreover, large windows afford fantastic views of the nearby coast and low-lying brush. Other environmentally sustainable efforts comprise incredibly efficient hot water usage, natural cycle airflow systems, LED lighting, insulation, and double glazing.

During your stay, you'll be able to spend some time at the Spa or enjoy culinary delights at the local Palate Restaurant. The restaurant ensures multi-course degustation menus complemented by fabulous wines, to say nothing of the panoramic views that can undoubtedly enhance the experience. Saffire Freycinet has received quite a few accolades over the years, including the No.1 Luxury Hotel in Australia, and the No.1 Best Service in Australia.
7. Huma Island Resort & Spa (Philippines).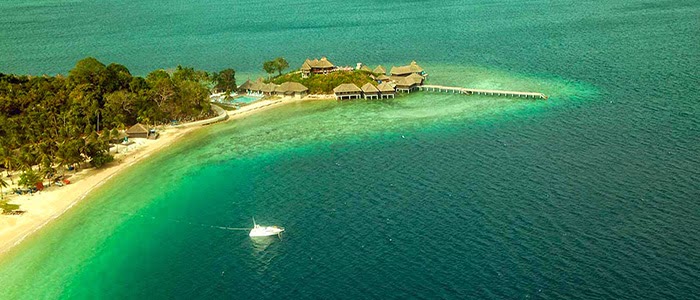 It's never really easy to choose a suitable holiday destination, especially when you have so many offers to pick from and so many things to see and to experience. However, if you're looking for endless sunbathing sessions under the clear blue sky, delicious cocktails with colorful umbrellas, and glistening blue waters to swim in, then you should definitely consider spending some time at a luxurious resort somewhere on a remote island.
The Huma Island Resort & Spa can be found on an island in the Philippines called Busuanga, and while it offers all of the aforementioned services and attractions, it also impresses with one of the world's most incredible diving sites. The underwater world that surrounds the island is filled with old Japanese shipwrecks and airplane remains, which now represent intricate parts of the ecosystem.
The abundance of marine life that inhabits the nearby waters is also staggering, which means that divers would always have something new to experience and admire each and every time they would decide to take a trip under the waves. Accommodations include no less than 81 beautifully decorated and lavishly appointed villas, many of which were built on stilts right on the surface of the water.
The amenities found inside include Jacuzzis and private bathtubs, not to mention the large beds and premium linens. Facilities at Huma Island Resort & Spa include a fitness center, a library, special rooms for children, and the sublime Ayurveda Spa, which boasts with glass floors that ensure exquisite views of the waters below. Is this Paradise on Earth or what?
6. Ser CasaSandra (Mexico).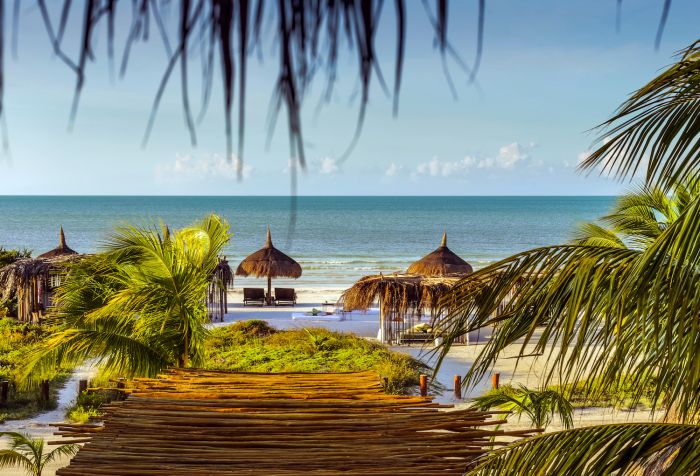 While Mexico might not be the first thing that comes to mind when you're thinking about a relaxing vacation, the truth is that this country boasts plenty of noteworthy tourist destinations. When it comes to luxury resorts, Tulum was once the destination of choice for many travelers, but now, many of them are looking at Isla Holbox in particular. Since this island has very little cars, it is a haven for people looking for a nearly unspoiled piece of Paradise.
You can arrive at Isla Holbox only by ferry boat or seaplane, and once you're there, you can forget about your day-to-day worries. Walking barefoot to and from the beach is a daily occurrence, but you can also enjoy snorkeling and cycling here. With pink flamingos dotting the surrounding landscape, this place is a fairytale come true, but you really have to see it in person in order to appreciate it fully.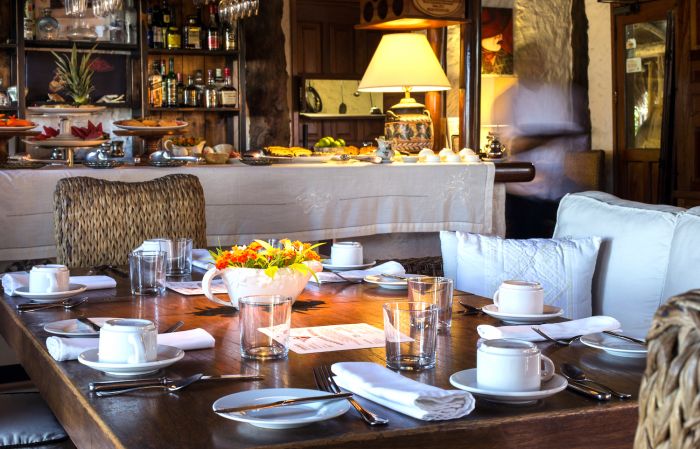 Ser CasaSandra offers 18 rooms and suites complemented by a private villa. While the rooms are beautifully decorated, they don't include TVs or telephones, which isn't necessarily a bad thing. Indeed, if you're looking to distance yourself from your daily worries, you should probably turn off your phone and stay away from screens in general. However, if you truly must, you do have Wi-Fi access. The Master Suite (or the Honeymoon Suite) is spacious and welcoming. It also flaunts the highest privacy level, which is always nice to have.
Dining-wise, Ser CasaSandra's restaurant, Esencia, is a true treat for the senses. Master chef Roberto Solis creates amazing dishes as part of his New Yucatan Cuisine program. To be more precise, he blends the Yucatan Peninsula and Mayan traditions with contemporary touches. The result is truly breathtaking.
5. Namale Resort & Spa (Fiji).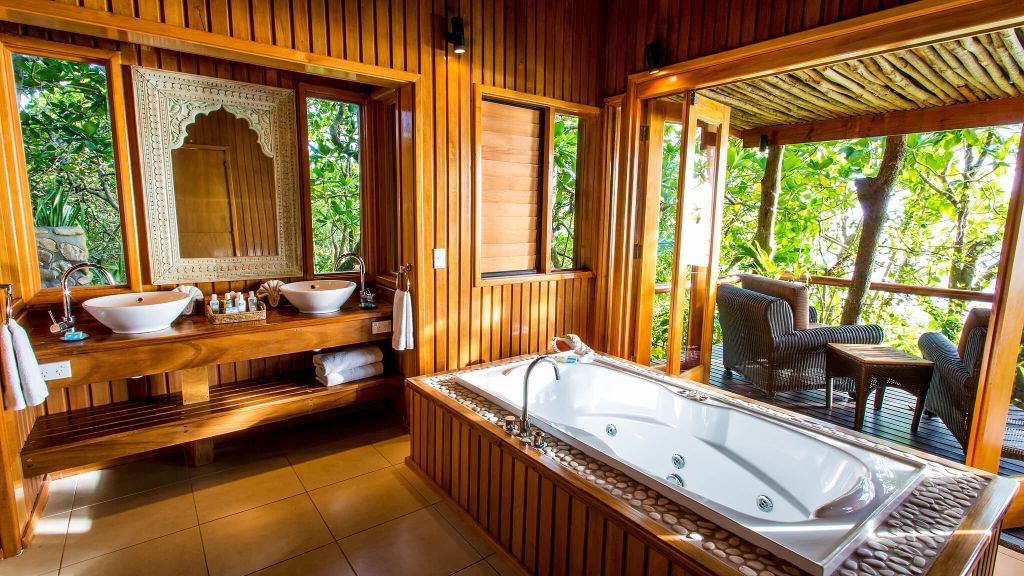 Vacations: it's what we're all looking forward to, whether we're dreaming of climbing up the tallest mountains, sunbathing at the beach, or just enjoying memorable moments of peace and serenity in the company of our loved ones. If Fiji is on your list of potential holiday destinations this year, we're here to suggest the exquisite Namale Resort & Spa – a paradisiacal place surrounded by turquoise waters, fine beaches, and volcanic rocks.
This adults-only boutique resort offers a plethora of activities, including horseback riding, relaxing at the spa, taking in the breathtaking sunsets with a cocktail in hand, or diving in the Koro Sea and admiring its many wonders. Those of you who are fans of golf will definitely be glad to know that the property includes a nine-hole golf course. When it comes to dining, however, the Namale Resort & Spa includes two luxurious restaurants that offer mouth-watering dishes prepared by expert chefs.
The establishment spreads over 525 acres, and it comprises 19 bures and villas equipped with high-end amenities such as air conditioning systems, and comfortable beds. For more information regarding this dreamy place, or if you just want to book a room in advance, feel free to visit the resort's own website right here.
4. Silky Oaks Lodge (Australia).
Australia is currently one of the most appreciated tourist destinations in the world. Whether you're looking for sunbathing, surfing, shopping, golfing, or fishing, you'll be able to find a resort that suits your needs with a simple search on the web. For example, the Silky Oaks Lodge in Queensland is a truly unique place to visit, as it is able to deliver an unparalleled connection with its surroundings.
Man-made luxury is fantastic, there's no doubt about it. However, mixing contemporary luxuries with a sublime natural ecosystem will always deliver the best results. Silky Oaks is located right on the edge of the Mossman Gorge in Australia's Daintree Rainforest. This makes it a perfect destination for those of you looking for peace and relaxation.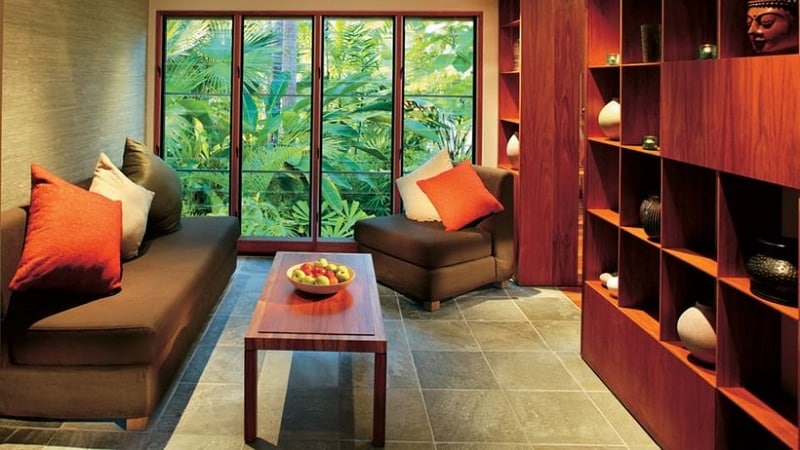 You won't find many shops and markets here. However, you will be able to admire the local wildlife in its natural habitat. This includes bandicoots, possums, and various lizard species. When it comes to accommodations, the resort offers two choices: Riverhouses and Treehouses. You can't go wrong with either, really, as both are able to deliver a comfortable and relaxing experience. As far as activities are concerned, they include swimming, mountain biking, rainforest walks, canoeing, and sunbathing. However, you could always just kick back in your hammock, cold drink in hand, while listening to the unique sounds of the rainforest.
3. Banyan Tree Chongqing Beibei (China).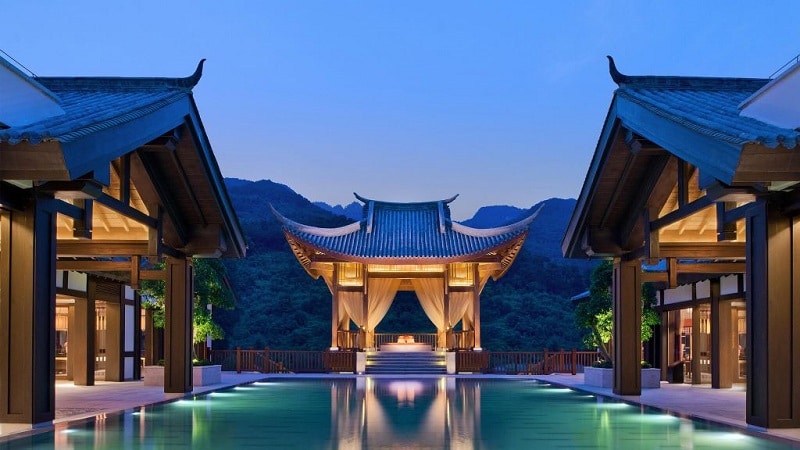 China is one of the most amazing countries in the world, and we're not just talking about its economy and productivity. Outside of its enormous cities, this place includes some of the most idyllic holiday destinations, some of which offer a perfect blend of luxury, natural beauty, and fantastic service. One such a place is Banyan Tree Chongqing Beibei – a fantastic resort that opened its doors for the first time in 2013.
In case you'd like to explore this picturesque corner of China, this resort will serve as a perfect base, as it is located near the Jinyun Mountain Natural Reserve. Breathtaking waterfalls, old temples, and tall peaks are all within grasp, but you could always spend your time within the retreat itself.
Accommodations include 96 rooms and suites tucked among lush foliage, each boasting unique Chinese decor elements as well as amenities such as natural hot spring pools. This place also offers access to curative waters from a very old spring, which can be enjoyed in the form of treatments at the local spa. You could always hit the resort's yoga studio in order to clear your mind, not to mention the on-site restaurants, which offer mouth-watering dishes based on Chinese and international recipes.
2. Milaidhoo Island (Maldives).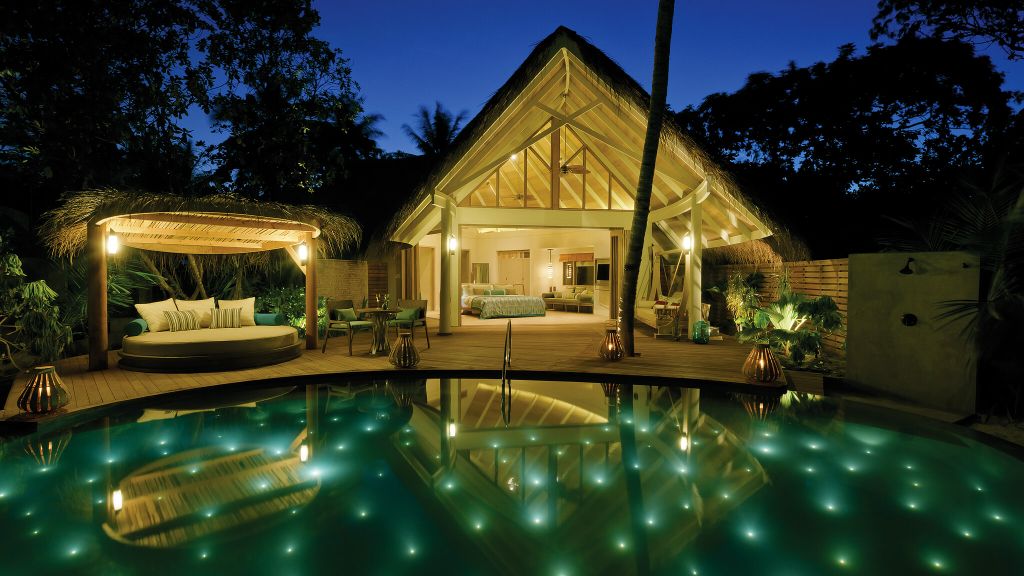 We've covered quite a few luxury travel destinations here on Luxefeed, and while it's clear that they're all mesmerizing, the ones concerning the Maldives are certainly in a league of their own. Today we're going to tell you a bit about Milaidhoo Island Maldives, which is synonymous with luxury, relaxation, and natural beauty. It is located within the Baa Atoll UNESCO World Biosphere, and it stands ready to impress with exquisitely blue waters, lush vegetation, fine sandy beaches, and lavish accommodations.
During your stay, you'll be able to engage in activities such as snorkeling, swimming, sunbathing, as well as visiting the nearby coral reef and experiencing its unique wonders. The accommodations that we mentioned before include no less than 50 land and over-water villas that boast bespoke art pieces, sun decks with private freshwater pools, and breathtaking views of the ocean.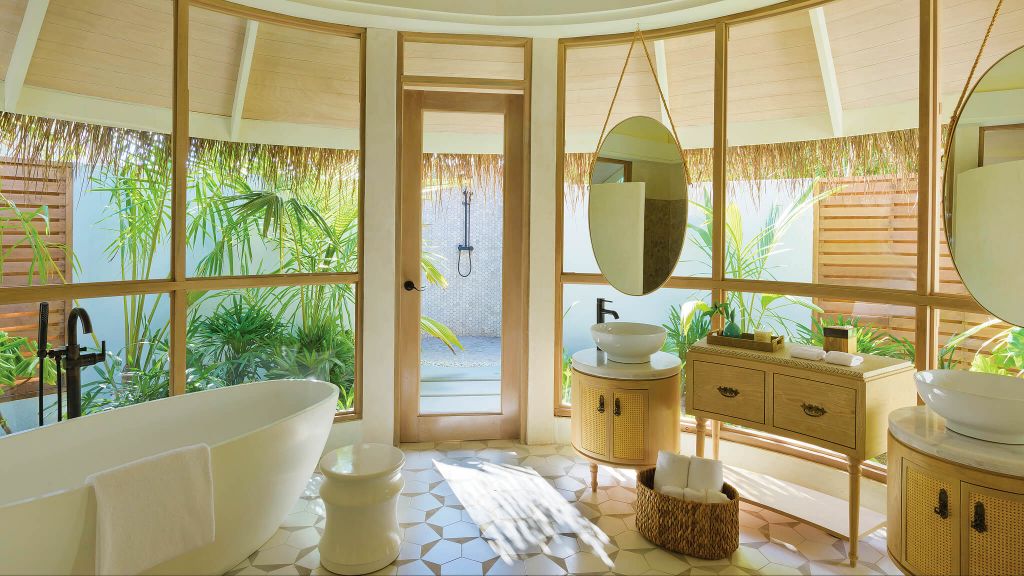 However, we should definitely mention the over-water spa at Milaidhoo Island Maldives, which tempts with refreshing treatments for the body and soul, as well as the complimentary yoga and meditation classes, which can be enjoyed at the resort's open-air over-water pavilion. Dining can be savored at one of the establishment's three restaurants, with the Signature Restaurant being the most prominent.
That's because it serves a mix of seafood, meat, and vegetarian specialties that can be shared with loved ones while taking in magnificent sunsets and ocean views. Fishing, diving, dolphin cruises, and spotting whale sharks or manta rays are just some of the resort's highlights.
1. Ritz-Carlton Laguna Niguel Resort (California, USA).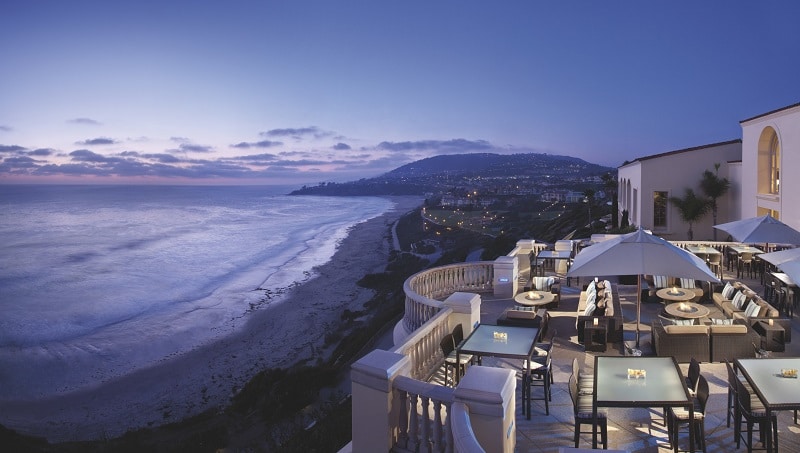 Looking for a dreamy place to spend your vacation at? You don't have to look far if you live in California, as this particular state is the proud home of one of the most luxurious hotels in the world: the Ritz-Carlton Laguna Niguel. Located in Orange County, on Dana Point, this stunning corner of paradise boasts an incredible mix of luxury and elegance that has the potential to impress royalty.
Accommodations include 396 luxurious rooms with high-end amenities and high-quality finishes that contribute to a comfortable and welcoming ambiance. I'm not exaggerating one bit when I say that you'll want for nothing during your stay here, and this only makes sense as I'm talking about a Ritz-Carlton establishment. Most rooms benefit from staggering views of the 150-foot laguna that acts as a home for this fine hotel, but the ENO and 180blu bars also afford the same gorgeous views.
Other available activities include 15 Ambassadors of the Environment eco-adventures led by professional naturalists. During these trips, you will be able to explore the laguna and its surroundings while learning about the local plant life and wildlife. As far as dining goes, the Raya pan-Latin restaurant led by Chef Richard Sandoval promises to deliver mouth-watering dishes based on sustainable seafood and local produce.
Have a look at the following images for a glimpse of what you can expect to experience at the Ritz-Carlton Laguna Niguel hotel.