Here are the most valuable football cards in the world.
While not nearly as popular in Europe or other parts of the world like they are in the United States or Canada, football cards are still incredibly valuable and sought-after even in this digital age.
These collectible trading cards usually depict National Football League players, and they include some of the player's main statistics. There are some special cases, though, in which the card features authentic autographs. As you can probably imagine, those are quite rare, and also quite valuable. These days, most football cards have their own serial numbers, which means that they are part of limited editions. This exclusivity also contributes to their worth, but in order to pay a few tens of thousands of dollars on a football card, you'd have to be a very dedicated fan indeed.
Below you will find our top 10 most valuable vintage football cards. Some of them cost as much as a nice car, while others are worth as much as a house.
10. 1948 Leaf Chuck Bednarik Football Rookie Cards – $30,000.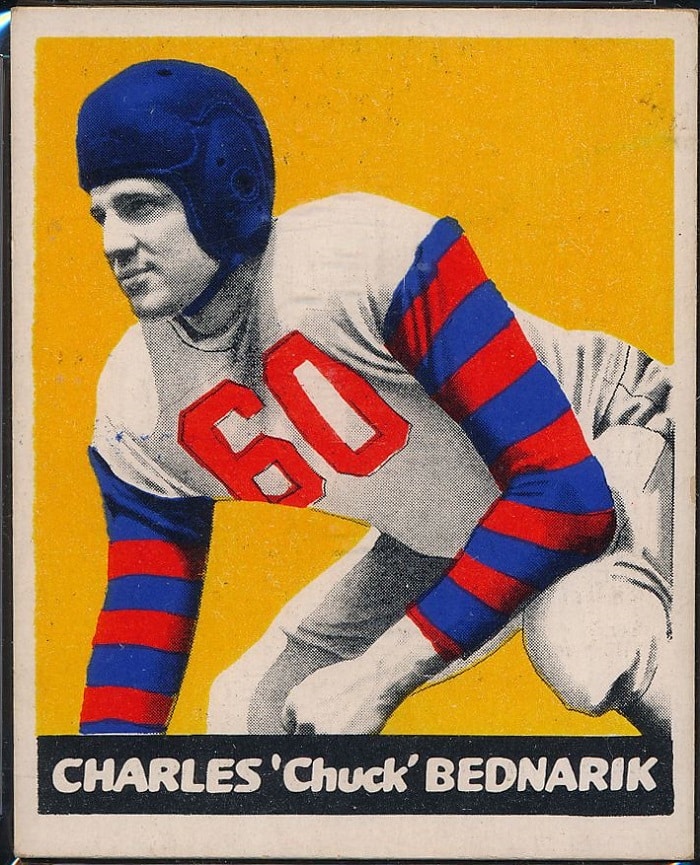 As part of the renowned 1948 leaf set, the Chuck Bednarik Rookie Card is one of the most sought-after football trading cards in the world. It has an estimated worth of about $30,000, and it shows off the renowned defender against a crisp yellow background. Also known as Concrete Charlie, Chuck Bednarik is regarded as one of the most devastating tacklers in the history of football.
He played for the Philadelphia Eagles from 1949 to 1962, and he entered the Pro Football Hall of Fame in 1967.
9. 1998 Playoff Contenders Ticket Peyton Manning Rookie Football Card (Autograph) – $42,500.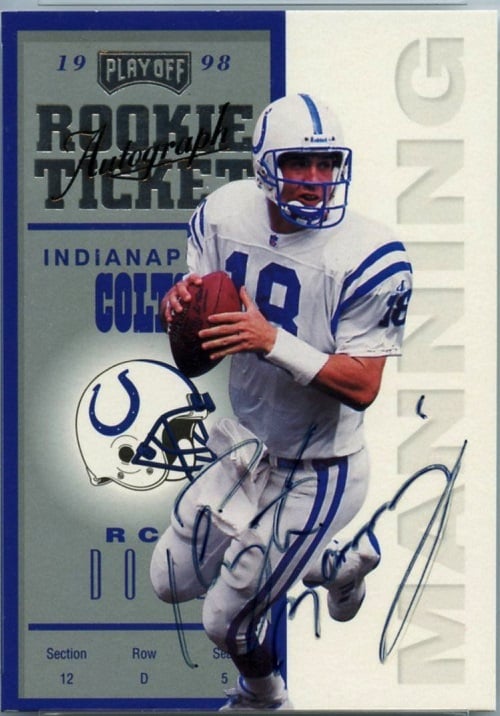 Surely, you must be familiar with Manning's accomplishments if you're reading this. The man is responsible for some amazing numbers as he managed to win the Super Bowl with two different teams. This awesome card shows off Manning in his rookie days, and it is definitely worthy of its price tag. After all, Manning is the most popular player of his time, and he'll never be forgotten by true fans of the sport.
It's also worth noting that this football card boasts Manning's autograph, and that's not something you see every day. When it comes to card values, autographed cards usually sell for much more when compared to their regular counterparts. Sports collectors are particularly interested in them.
8. 1948 Leaf Bobby Layne Rookie Card – $45,000.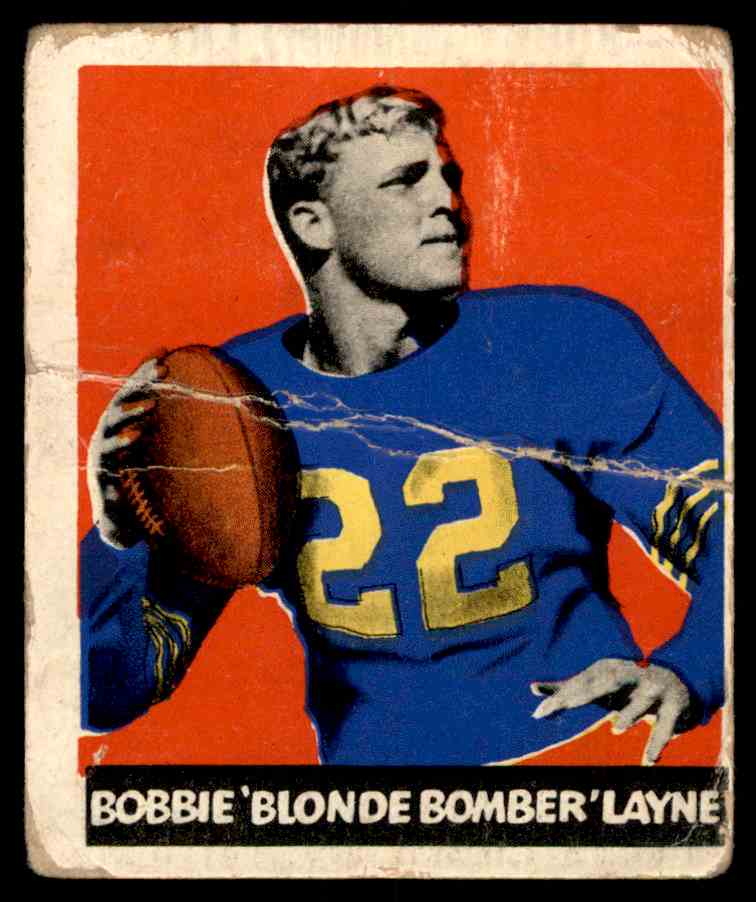 What makes this particular football card special is its variety and inaccuracy, weird as it may sound. First of all, there are two different versions of it, one of which shows Bobby Layne wearing yellow pants, and one with red pants. Moreover, even though he spelled his named Bobby, Leaf went with Bobbie instead.
The player's "Blonde Bomber" nickname is also showcased on the card, which is currently worth about $45,000.
7. 1948 Leaf Sid Luckman Rookie Card – $46,500.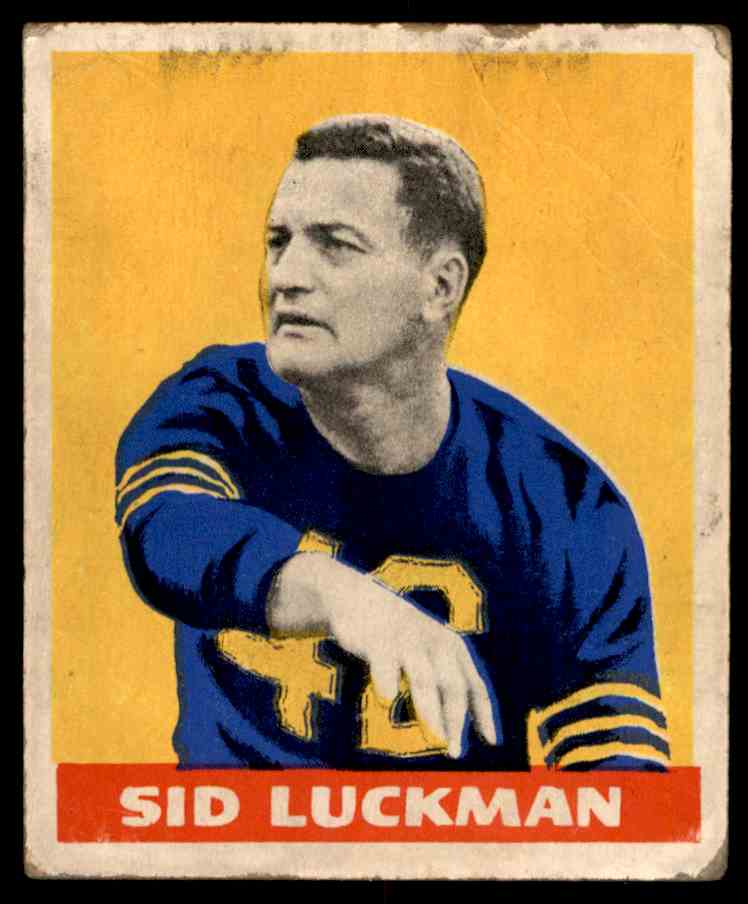 As we've come to expect from the Leaf set, the Sid Luckman rookie card features a bold colorway as well as Luckman himself as he's tossing the ball towards a receiver. The one thing that stands out when it comes to this football card is that it is that Luckman appears in only one design. Many other cards from the same set have different looks, but this one is rather unique, which makes it special.
6. 1933 Goudey Sport Kings Jim Thorpe – $85,000.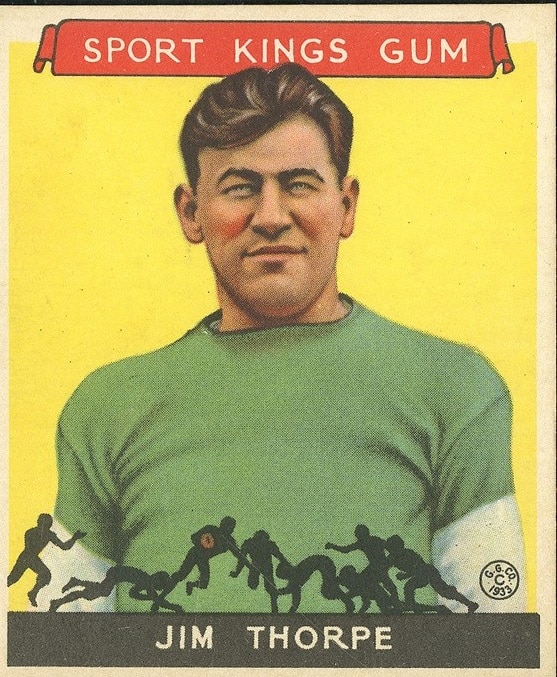 Even though the original 1933 Goudey Sport Kings was a rather eclectic set, we'll still count the Jim Thorpe card as a genuine football card. The set included a variety of players from different fields, and as you well know, Jim was an ace at many different sports. The card depicts the American athlete and Olympic gold medalist as a football player, and there's nothing wrong with that, as Jim played 52 NFL games for six teams from 1920 to 1928.
Definitely one of the world's most valuable football cards, the 1933 Goudey Sport Kings Jim Thorpe was worth $85,000 last time we checked.
5. 1957 Topps Bart Starr Rookie Card – $125,000.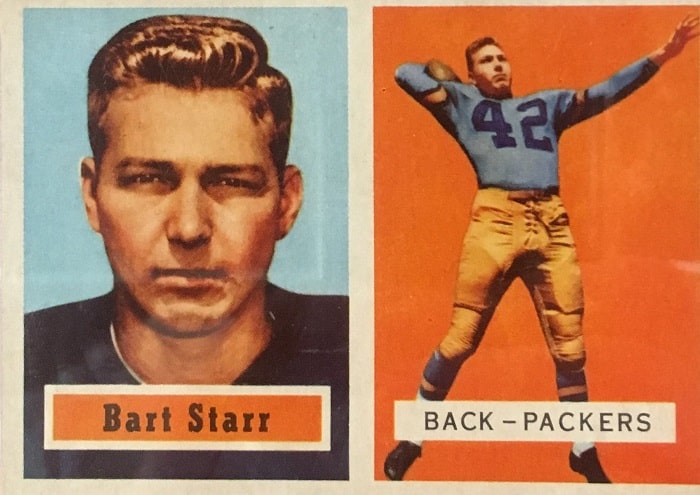 We're halfway through our top 10 of the world's most valuable sports cards, and we've reached a truly expensive piece of memorabilia. We're talking about Bart Starr's 1957 Topps football rookie card, which would set you back around $125,000.
The card includes a headshot of the Green Bay Packers quarterback alongside a mid-air shot as he gets ready to release the ball. You're basically getting two cards in one for this price, which is still out of reach for most football fans. Like we mentioned above, the Topps rookie card costs as much as a nice car. However, it could mean the world for a true collector.
4. 1957 Topps Johnny Unitas Rookie Card – $140,000.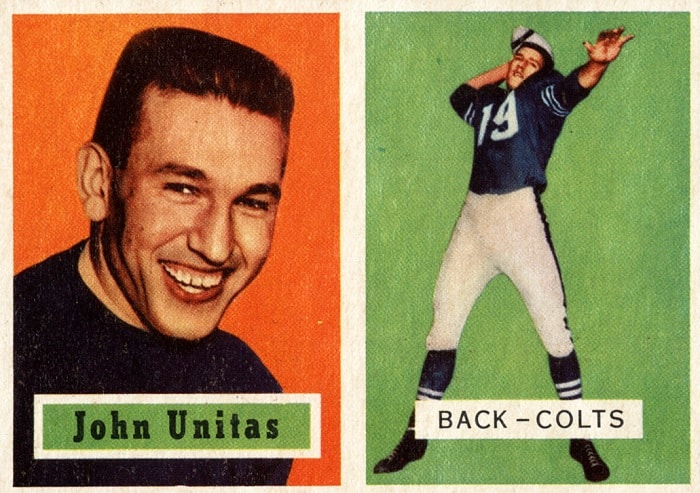 Yet another football card with a dual-plane design, the 1957 Topps Johnny Unitas Rookie card is not exactly the rarest in the world. That's because it was a part of a double-printed second series, which included many examples. The thing is, it's very hard to come by this particular item with perfect centering and great print. Therefore, a high-grade example could cost as much as $140,000.
3. 1965 Topps Joe Namath Rookie Card – $150,000.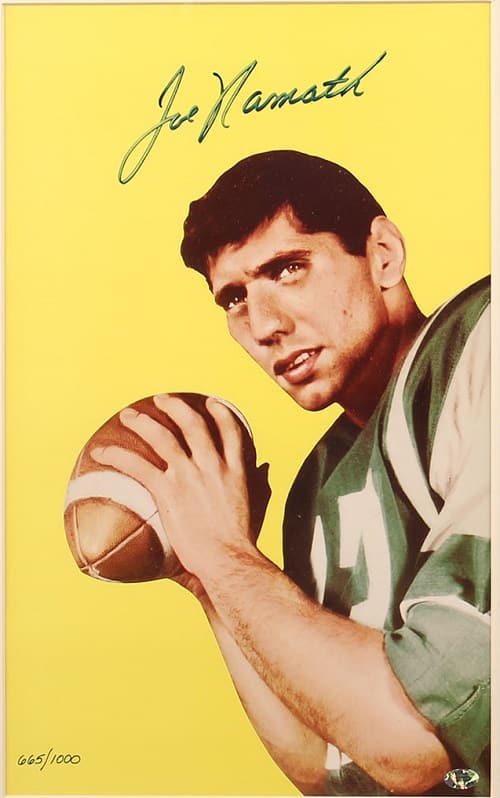 Definitely one of the most valuable football cards in the world, and also one of the most popular, the 1965 Topps Joe Namath rookie card just had to make our list. The card measures in at 2 1/2″ x 4 11/16″, which makes it quite a bit larger when compared to similar sports cards.
Apart from the standard version, this piece also has a "butterfly variation" that shows off a print mark on the back of Joe's hand. This doesn't diminish the overall worth of the item in most cases, which is definitely good news for collectors and card auction organizers.
2. 1958 Topps Jim Brown Rookie Card – $225,000.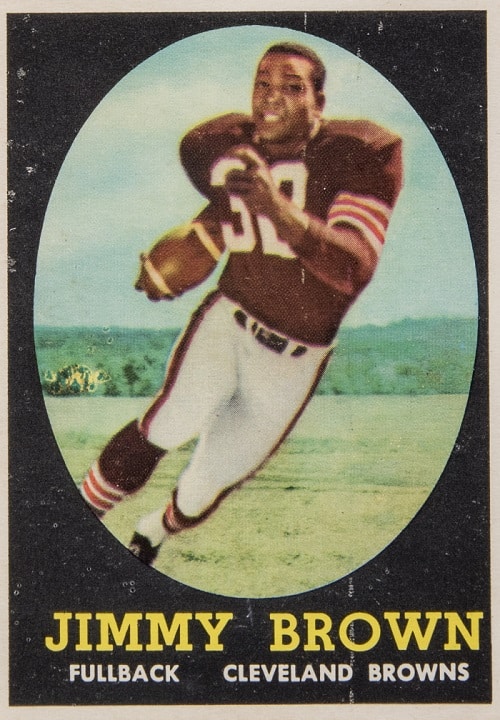 One of the world's most renowned fullbacks, Jimmy Brown, is shown in his entire glory on this outstanding 1958 Topps rookie card. As with John Unitas' card, this one can earn quite a bit of money as long as it flaunts perfect centering and no print defects. At the time of writing, Jimmy Brown is 82, and he is considered the greatest football player of all time.
1. 1935 National Chicle Bronko Nagurski Rookie Card – $750,000.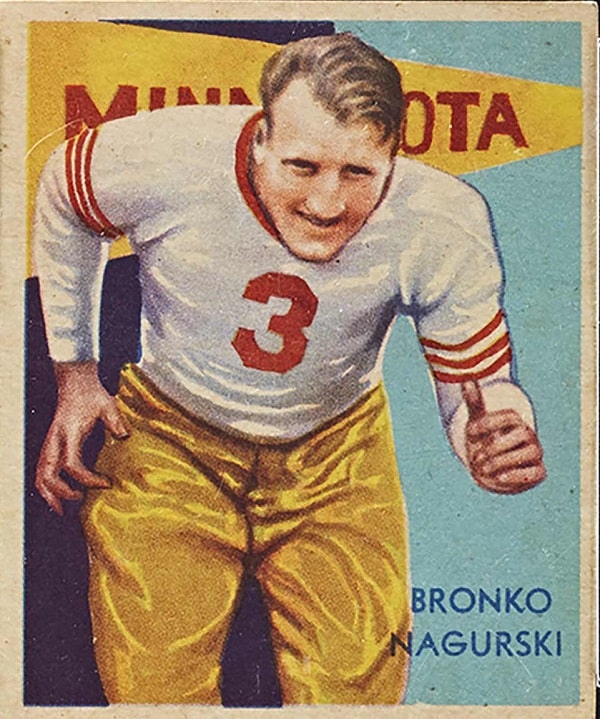 From 1930 to 1937, the Chicago Bears had Bronko Nagurski on their side – a Canadian-born American football player that became well-known for his size and strength. The player's 1935 National Chicle rookie card bears no.34 out of the set's 36 cards. This makes it notoriously rare to get a hold of. Therefore, this is the most valuable football card in the world right now, with a price tag that comes surprisingly close to $1 million: $750,000.
Paying that much for a "mere" football card might seem crazy for some. However, there are plenty of collectors out there that would gladly pay even more for it.