Those of you who love manicures know very well just how important it is to own a quality nail dryer or nail lamp. The best nail dryers on the market are not particularly expensive yet they play a very important role: they make sure that your nail polish is dried up completely in just a few minutes. While this might not sound like much, just imagine going to sleep with your nail polish half-dried and waking up with smudges all over your bedding.
Actually, most nail polish requires up to 24 hours to dry completely if left to its own devices. A nail dryer will speed up this process to just a few minutes. This makes the nail dryer a must-have if you do your own nails, or if you perform this service for others.
The problem is, there are many nail dryers to choose from and it's hard to tell which ones will actually deliver on their promise. Our recommendations take into account a number of factors, including the product's size, its power output, and the type of bulbs/LEDs or fans that it relies on. We've put together this list of the best nail dryers you can get this year in order to help you choose one that suits your needs best. While some of these products will be affordable to just about everyone, some of them will be a bit on the expensive side. We'll find out together what makes them stand out and if their prices are actually justified.
It's also worth noting that some nail dryers were designed for regular lacquer polish, and so they feature a fan-based design. They basically blow air directly onto your nails in order to speed up the polish drying process. However, other nail dryers come with UV lamps that were specifically designed to dry semi-permanent or gel polish that wouldn't dry up naturally just from coming in contact with air. Some LED-based nail dryers also work with regular nail polish. Don't worry, we're going to include all types on this list for your convenience.
Best nail dryers for regular nail polish.
1. Makartt Air Nail Dryers for Hands and Feet.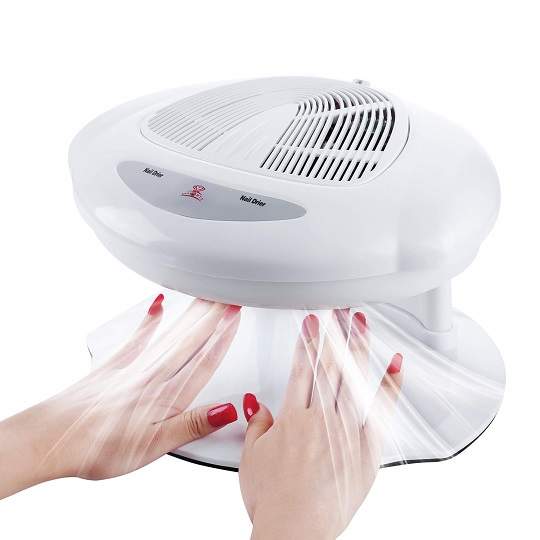 Kicking off our list is the Makartt Air Nail Dryer – a relatively simple yet highly efficient solution to drying your nails quickly and efficiently. The product is graded as "Salon Quality," and it certainly gets the job done thanks to its unique ventilation design and useful features.
For instance, there's both a warm and a cool setting, with the warm one being the most efficient for drying up nail polish. However, the cool setting uses less power, and it would actually work better if you work in a particularly hot environment. Other highlights include automatic double sensors, which means that the fans will turn on automatically when you place your hands in the drying area.
The Makartt Air Nail Dryer is only effective with conventional nail polish, but since it doesn't have any UV lamps, it's perfect for those of you looking to avoid UV light. The product has an operating power output of 400W, and it measures 11.8 x 10.6 x 7.5 inches. This makes it ideal for both manicures or pedicures. The weight is 4.2 pounds, which means that it's not particularly difficult to transport.
2. Estala UV Lamp Nail Dryer for all types of polish.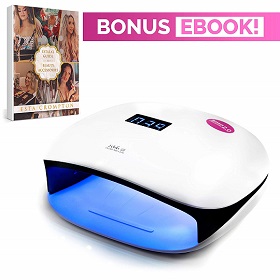 The Estala UV Lamp is a relatively modern-looking nail dryer that would fit right into any professional nail salon or even in your own home. What makes this product stand out among its peers is that it works very well with gel-based manicures but also with conventional nail varnish.
Versatility is further improved by a double-power button, which enables curing speeds up to twice as fast as other portable dryers. There's also an LCD display that shows the curing time, as well as an auto sensor light that will turn the lamp on and off whenever you put your hand in or take it out. The official power output is 48W.
Thanks to a unique design based on evenly distributed LED beads, the lamp will leave your nail art looking shiny and fresh. Ordinary fingernail polish also dries up quickly and receives a beautiful shiny finish. You can use this lamp with basic polish, nail tips, shellac nail polish, nail gels, and acrylic nails.
Obviously, you can use the Estala for pedicures as well, as its dimensions are quite accommodating: 8.2 x 8.5 x 4.2 inches. With a weight of just a bit over 1.5 pounds, this is also an incredibly portable and storage-friendly nail dryer.
3. Polder Nail Station 3-in-1 Dryer and Storage.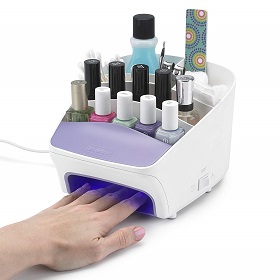 The Polder Nail Station has everything that you could possibly ask from a nail drying kit. Apart from the lamp itself, you also get a convenient storage space for your nail polish, cleaning agent and files. There are 7 built-in compartments available, with enough space for 10 polishes and other tools.
When it comes to drying options, you have two main settings, namely a strong fan for regular nail lacquer and a UV-light setting for gel polish. The product also incorporates an automatic sensor – all you need to do is put your hand inside the tunnel and the fans or UV-lights automatically turn on. The Polder Nail Station three-in-one dryer and storage measures 7L x 9W x 5H, and it comes with a 4-foot wall plug. The official power output for the UV light is 5W, by the way.
4. Yapinndo LED Nail Dryers for all nail polish.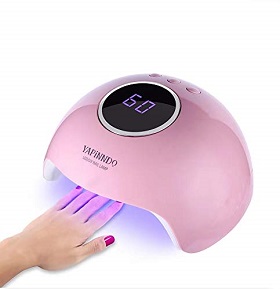 The Yapinndo LED Nail Dryer is one of the most portable nail dryers on the list, and also one of the best-looking ones. It boasts a modern design with a pink colorway and a large LCD timer at the top. Moreover, it features a USB port, which means that it can be used pretty much anywhere and powered even by portable power banks.
The timer that we mentioned before has three settings for 30s, 60s, and 90s. Furthermore, a smart infrared sensor detects your hand and automatically turns the lamp on or off each time you use it. Curing is ensured by 12 individual lamp beads which are distributed evenly on the inner surface. Overall, the power output adds up to 36W, which means that your nails will dry up in no time at all.
The Yapinndo LED nail lamp is suitable for all types of nail polish, whether we're talking about conventional varnish or gels. Another aspect worth mentioning here is the low tag. Highly affordable, this nail lamp offers plenty of power and versatility, which makes it an ideal pick for any home-based salon.
5. Mlfyho LED Nail Dryers for Gel and Regular Polish.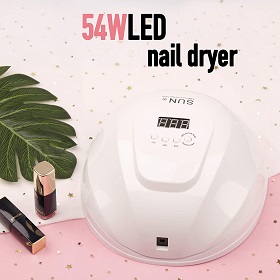 This nail dryer also works very well with both regular polish and gel polish, all thanks to a clever UV system based on 36 dual light source LEDs. This lamp comes with two different power settings, namely 48W and 54W, but the best part about it is that it's large enough to fit both hands at the same time. That's a real time saver!
The timer works for 10s, 30s, 60s, and 99s, while the auto sensor makes sure to turn the lamp on and off whenever you place your hands inside or take them out. Feel free to use this product for base coat, top coat, hard gels, color gel, builder acrylic, sculpture gel, and regular nail polish. Product dimensions are 8.7 x 8.1 x 3.6 inches, which makes it ideal for both home use and professional use.
The best thing about it is that it has a relatively high power output while giving off harmless purple light. The slightly larger design makes it ideal for both manicures and pedicures. The price is relatively affordable as well.
Best nail dryers for gel polish.
1. Sunuv LED Nail Dryer for gel polish.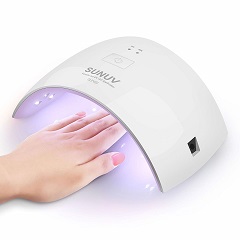 When it comes to nail dryers designed specifically for GEL polish, it's hard to find a better offering than this one from SUNUV. Not only is this nail lamp compact and modern-looking, but it also offers a decent power output of 24W. While this might not be the highest power output out there, it does ensure that the lamp doesn't overheat and thus it has a longer lifetime.
At the time of writing, this is the no1. best-seller nail dryer on Amazon, and we can definitely see why. The SUNUV SUN9C can cure almost all nail gels out there, which is impressive since the light it puts out is very close to white light. The average lifetime you can expect to get from this product is 50,000 hours. That's a lot of manicures! Unfortunately, since most modern nail dryers use LED-based designs, replacing the bulbs after they wear out is no longer an option.
The advantage of LEDs is that they last considerably longer. So long, in fact, that you won't ever have to change them – you'll probably just replace the entire lamp after a while anyway just because you'll want something newer and better. Affordable and highly efficient, the SUNUV SUN9C is definitely one of the best nail dryers you can get right now.
2. Terresa Fast Nail Dryer for Gel.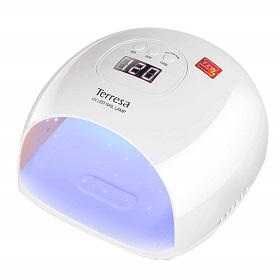 This offering by Terresa is one of the highest-powered nail dryers on our list. It boasts 72W of power, which is enough to dry out your gel manicure in just a few minutes. According to the manufacturer, this lamp will dry out your nails in just 10 seconds, which means that it would shorten your curing time by up to 70% when compared to other similar products.
If this is indeed the case, this is officially the fastest-drying lamp on our list. Moreover, since you can fit your entire hand inside every single time, you'll save even more time as you won't have to cure the thumb separately. The lamp has LED lights even on the sides, which is why the thumb nails will get just as much light as the other ones.
The timer runs for 30, 60, or 120 seconds, but you probably won't need to use it for more than 30 seconds for a casual manicure. There's also a memory function available that makes things even more comfortable. Product dimensions are 10.2 x 8.3 x 4.3 inches, and the shipping weight is just 1.6 pounds.
3. Abox Star2 Professional Nail Dryer Lamp for Gel Polish.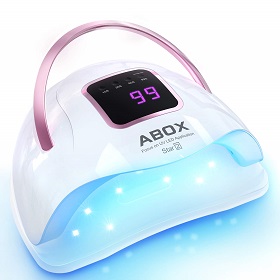 What makes a nail dryer perfect, anyway? Is it the design, the power, the portability or the versatility of it? It's probably a mix of the four, and the ABOX Star2 Professional nail dryer definitely ticks all the right boxes. It comes with 36 LEDs and a 4-time setting, as well as a total power output of 72W. This means that you can get a dry manicure in 10 to 30 seconds depending on the gel type.
Since the LEDs are distributed evenly across the lamp's inner surface, they cure the gel evenly on all sides of the nail. Star2 is also very gentle with your skin and eyes, which is important if you plan to use this product in a professional setting. The design is generous enough to fit five fingers or toes without any issues.
Cleaning is made easy thanks to a removable base, while the handle at the top improves portability. This is definitely an ideal gift for any major holiday, whether we're talking about birthdays, Valentine's Day, Mother's Day, or Christmas.
4. MelodySusie UV Led Nail Lamp for Gel Nails.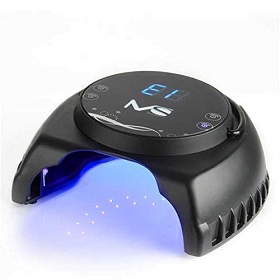 Another great gel curing lamp is the MelodySusie – a sleek and elegant-looking 60W UV LED nail lamp that's well-suited for all gel polishes out there. This nail dryer comes with 32 individual LED light beads that form a 365/405nm dual light source. The lamp will work just fine with UV gel, UV resin, builder gel, polygel, rhinestone gems glue, OPI, Gelish or CND Shellac.
The timer has four settings: 15s, 30s, 45s, and 60s. There's also an Auto Sensor, as well as a large LCD screen that shows the timer information. The lamp measures in at 9.4 x 9.2 x 3.7 inches and weighs in at just 4.19 pounds. Its beautiful black design makes it ideal for any modern salon or personal manicure corner.
While this is definitely one of the pricier items on the list, it's also the most unique-looking and one of the most powerful ones. We'd definitely recommend giving it a try if you're looking for a reliable lamp that can dry up any gel on the market in a few seconds.
5. Aokitec Professional Fast-Dry Lamp for gel nail polish.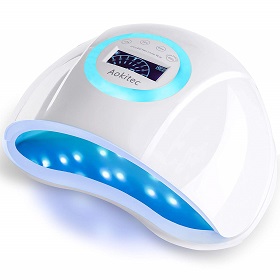 What we have here is a fast-dry nail lamp that means business. Aokitec has been at the forefront of pioneering when it comes to professional nail dryers. Their products often incorporate less-harmful UV light when compared to other offerings, and the Aokitec Professional Nail Dryer is no exception. This lamp packs a whopping 90W of power, which means that your gel will dry up in just a few seconds every time.
The LED beads are arranged to cover a spectrum of 180-degrees in order to make sure that each part of your nail dries up evenly. These lamps are long-lasting despite their increased power output, with an expected lifespan of 50,000 hours. Aokitec also offers a one-year warranty.
Other highlights include a digital pointer display and an RGB LED toplight. The timer has four different settings, namely 10s, 30s, 60s, and 99s.
Final words.
Finding a perfect nail dryer or nail lamp can be a challenge, but we hope that we managed to make things easier for you. Whether you plan to use one of these lamps for personal or professional use, rest assured that they will perform admirably as these are some of the most appreciated nail dryers on the market right now.
Moreover, you can always get one of these for yourself or for a dear friend or loved one. Just a thought: as far as Valentine's Day gifts go, nail dryers will always be popular.