Yachts represent luxury at its highest level, but even so, not all yachts and tenders are created equal. When it comes to the world's most luxurious yachts, they include features and amenities that were designed to cater to the world's most pretentious individuals. Bedrooms with queen-sized beds and glass chandeliers just don't cut it anymore. The world's elite expects plush king-sized beds, crystal chandeliers, powerful engines, and even helipads. The yachts that you're about to admire are the best of the best in their class, meaning that we're not going to include large superyachts exclusively.
In some cases, motor yachts offer that perfect blend of comfort, speed, and versatility. Ideal for shorter trips or weekend getaways, these yachts are synonymous with freedom without compromise. Now that we're done with introductions, let's have a look at the world's most luxurious yachts and superyachts.
20. Sirena 64 Yacht.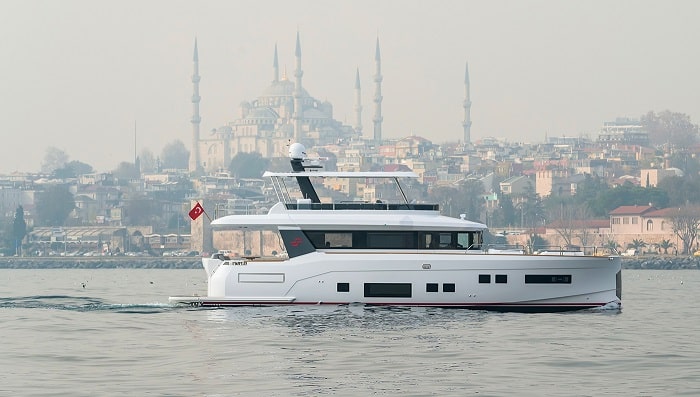 Created by a Turkish shipyard named Sirena Yachts, the Sirena 64 yacht is a chic long-range cruising vessel that measures in at 68 feet or 20 meters. Obviously, this isn't the largest yacht in the world, that's not necessarily a bad thing, as some customers are simply looking for smaller, more nimble, and lighter yachts for their cruising needs.
The interior layout sketched out by Spadolini Design Studio includes several large living spaces, including the bow with its luxe Jacuzzi, and the flybridge area. As far as accommodations are concerned, Sirena 64 offers two en-suite staterooms for guests, while the owners benefit from their own 258-square-feet master suite, which is complemented by a full-beam bathroom. There's also an optional cabin for 2 crew members on board, which means that eight people can be accommodated on board this vessel at any given time.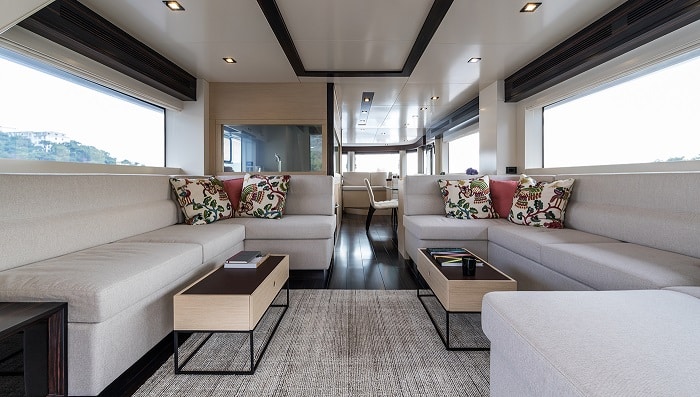 Light and airy, the yacht boasts high-quality light-colored fabrics and furnishings, as well as dark wood floors and ceilings for a touch of contrast. The lower decks benefit from LED illumination, which complements the natural lighting provided by the windows. The flybridge measures 410 square feet, and it was designed with entertainment in mind. There's also a teak swim platform at sea level, a private dining area, and several sunbeds.
Sirena 64 further benefits from a semi-displacement GRP hull and a pair of CAT C12.9 engines that enable a top speed of 27 knots. The yacht is priced at about $1.6 million, which is definitely not an overwhelming sum in the yachting world.
19. Arcadia Yachts Sherpa.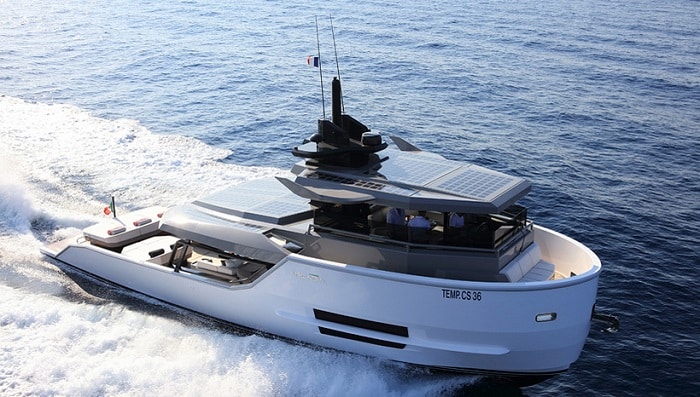 While fully solar-powered vessels are still a bit far into the future at the time of writing, we're happy to report that forward-thinking companies such as Arcadia Yachts are taking steps in the right direction. What we have here is the Arcadia Yachts Sherpa, which measures 55-feet in length and is available in various configurations that are designed to suit its owner's needs to the letter.
The name "Sherpa" is related to the Nepalese people that inhabit the most mountainous region of the Himalayas, and it is a fitting, graceful name if you ask us. The vessel's versatility is proven by two superstructure configurations, one of which includes an open deck perfectly suited for cargo transport, while the other offers a saloon deck. No matter the choice, Sherpa's lower deck can include one, two, or three cabins, but we should also mention the galley, bridge, and dining area.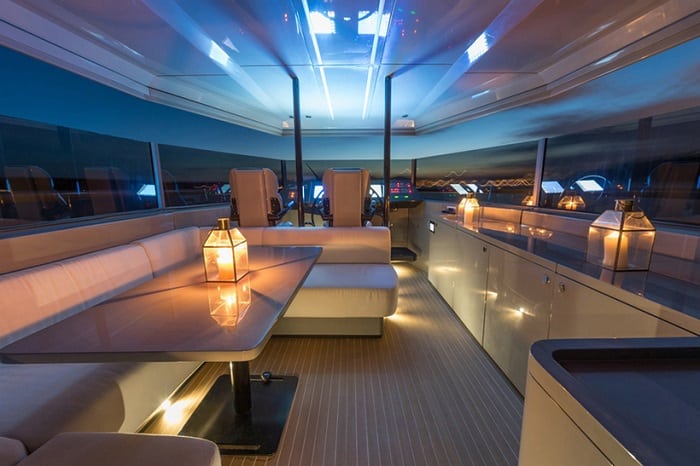 Yes, Arcadia Yachts has decided to implement solar panels into its new creation, panels that harness the power of the sun to animate all of the vessel's onboard systems. The panels are built-in directly into the superstructure, by the way. Thanks to a selection of lightweight materials, the yacht can reach a respectable cruising speed of 20 knots, while the top speed sits at 25 knots.
The Arcadia Yachts Sherpa is the proud winner of two awards at World Yachts Trophies, namely "Most innovative yacht from 50 to 80 feet", and "Boat of the Year in the motor yacht category."
18. Sanlorenzo SL96 Special Edition Superyacht.
Built specifically for the Chinese market by the renowned Italian shipyard Sanlorenzo, the Sanlorenzo SL96 superyacht is in a league of its own when it comes to comfort, spaciousness, and lavishness. This contemporary masterpiece measures 96 feet in length and was designed by the CEO of Sanlorenzo China Holding himself, Traugott Kaminski.
Flaunting 3 decks in total, the Sanlorenzo SL96 offers a high degree of privacy for its fortunate owners, and that's because the Chinese prefer to use their superyachts for business endeavors or formal entertaining opportunities. Therefore, the yacht was designed in such a way that it would allow the crewmembers to go about their business without disturbing the owners and their guests in any way.
Speaking of the crew members, it's worth noting that their accommodations can be found at the front part of the lower deck, and they include 2 cabins for up to 4 members. These cabins feature their own showers and ensuite toilets, which means that the crew would always look respectable and would be ready to provide irreproachable service as needed. As with many other Sanlorenzo superyachts, the SL96 is highly customizable and built specifically according to its owner's preference. For this particular vessel, Traugott Kaminski designed vast open spaces that are flooded with natural light thanks to floor-to-ceiling windows.
Accommodations for the guests involve 4 cabins for up to 10 people. The owner's suite flaunts high-end amenities as well as walk-in showers for 2 and double vanity units, but the VIP cabin is definitely quite impressive as well. The "regular" guests would find more than adequate sleeping arrangements in 2 guest cabins that feature a pair of single beds as well as a pull-down bed each.
As you would expect from a yacht of this caliber, the Sanlorenzo SL96 includes only the finest materials in its composition, materials such as marble, leather, and European wood. As far as entertainment is concerned, the flybridge includes its own Jacuzzi, a dining table, a flat-screen TV, a special teppanyaki cooking station and a comfortable lounging area.
The active types will be glad to know that the vessel can also carry 2 jet skis as well as a large tender boat in its lower deck. We invite you to have a look at the following images in order to admire this glorious superyacht yourself.
17. Mangusta Oceano 42 Superyacht.
What we have here is a superyacht that was designed to inspire. Its spacious decks, luxurious living arrangements, and exceptional power output make it ideal for relaxing cruising trips all over the world, but honestly, we would expect nothing less from Mangusta, which is an Overmarine Group Brand since 1985. The Mangusta Oceano 42 measures 141 feet in length, or just about 42 meters, and its unique three-deck design was envisioned by Maurizio Balducci.
Boasting a full-aluminum displacement, which is a first for this particular company, this yacht is as elegant as it is imposing, and since it is powered by a pair of MTU 12V 2000 M72 engines, it can reach a cruising speed of 11 knots while offering a generous range of 5,000 nm. The top speed is 15 knots, by the way.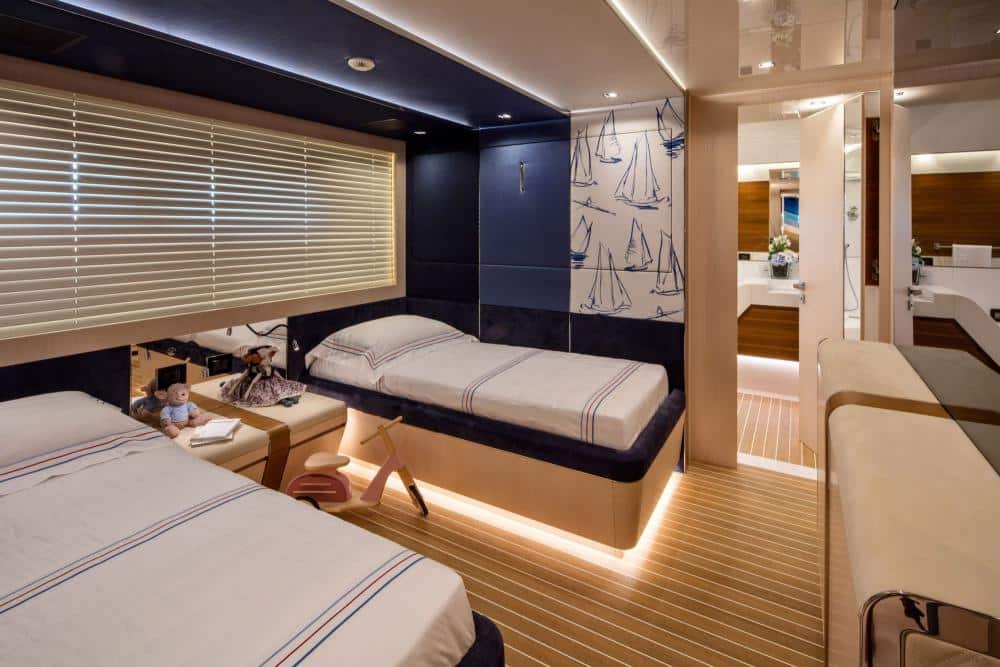 All that aside, it's time to have a look at some of its most important features, including the social U-shape area, the open sunbathing deck space, and the bar. There's also a beach club and a bridge deck that comes with its own private breakfast area and wind-free zone, which offers perfect opportunities for relaxation. The foredeck is an open space that comprises an infinity pool and a series of large sun pads.
Accommodation-wise, there are two double cabins and two twin cabins for guests, while the owner benefits from his own lavish cabin. For the crew, the Mangusta Oceano 42 offers three twin cabins, and there's also a separate cabin reserved for the captain.
16. Aria.S Superyacht.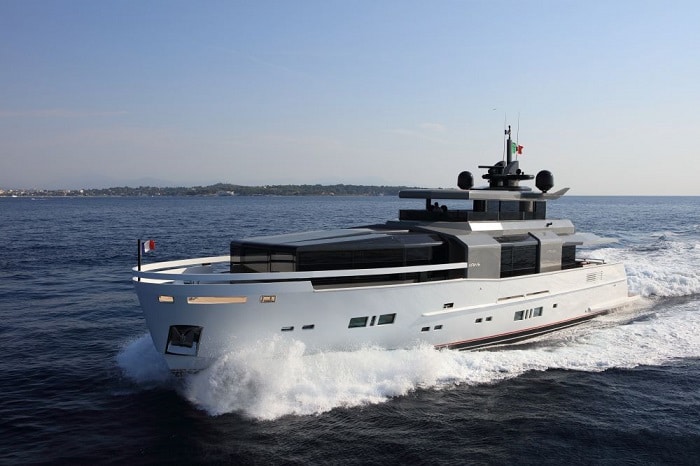 Representing the very first vessel from Arcadia Yachts' 100 series, the Aria.S superyacht is as luxurious as it is eco-friendly. Usually, yachts need to use up a lot of fuel in order to be able to ensure the comfort of their passengers, to say nothing of the speeds they need to achieve in order to reach their destinations in a timely manner. However, Aria.S actually includes a series of photovoltaic cells on top of its superstructure, which ensures a total output of 5 kW – plenty of power for all of the vessel's electrical systems and equipment.
The modern and sleek shape of the yacht's body was sketched out by Arcadia Yachts in collaboration with Francesco Guida Design and the National Physical Laboratory Of England. When it comes to amenities, we should mention the Skydeck with its Arcadia Wheel, and the L-shaped lounging area that offers perfect opportunities for relaxation and fun. The low-profile interior design complemented by sliding doors give off a functional, minimalistic vibe, while the main decor elements include shades of red and gray.
Hopefully, we'll be able to present more vessels such as this in the near future, as we believe that eco-friendliness should eventually find its way to some of the world's most important industries, whether we're talking about yacht building, motorcycles, cars, and even aircraft.
15. Invictus 280SX Yacht.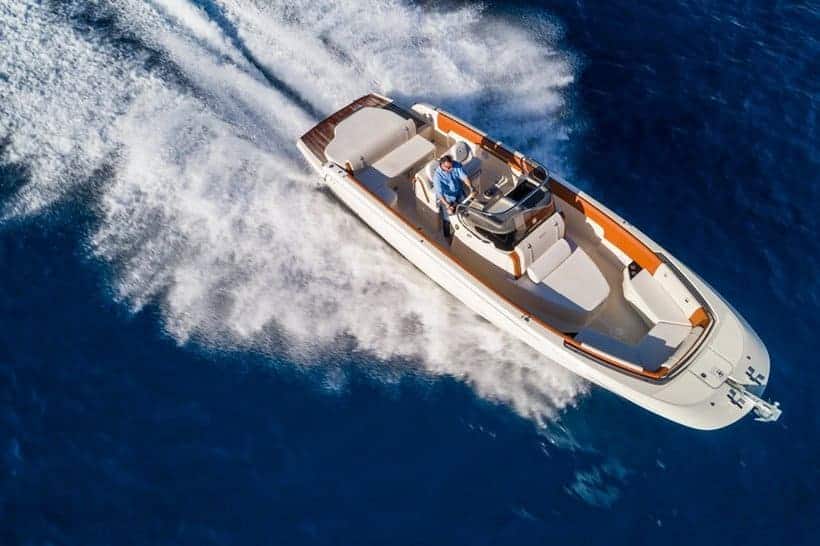 The highly appreciated SX series from Invictus Yachts has just received a new member. We're talking about the Invictus 280SX, of course, a beautiful vessel equipped with contemporary technologies and classic comforts. Designed with performance and leisure in mind, the 280SX measures in at  8.70 meters, which is just a bit over 28 feet. Its impressive performance comes courtesy of a 350-horsepower engine, which is able to deliver a top speed of 38 knots. However, while cruising at 21 knots, this little yacht will offer a perfect balance between speed and range.
The back of the vessel houses a swimming platform, while the front area includes a generously-sized cockpit. We say generously-sized because it is large enough for up to six people, which is quite impressive considering the overall length of the boat. At the console area, the owner is treated to an L-shaped sofa, while an auxiliary C-shaped sofa covers the bow.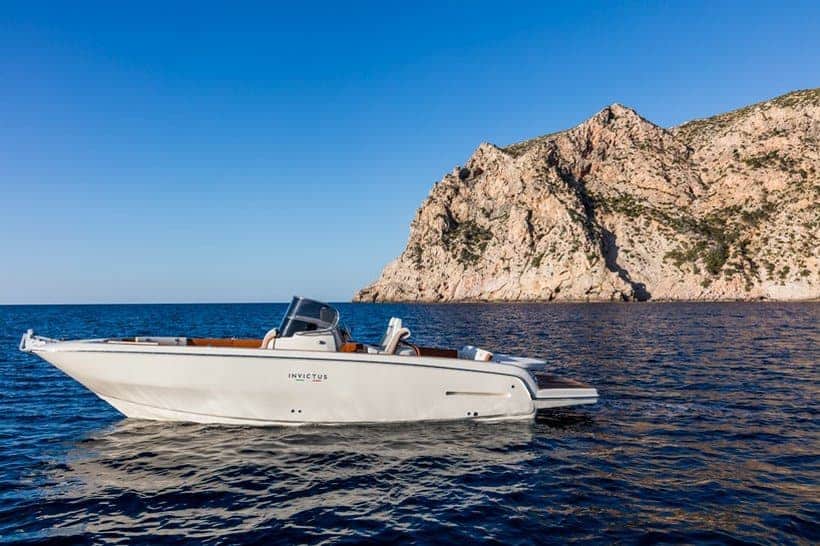 While the standard configuration should prove adequate for most clients, you can always customize the Invictus 280SX according to your own tastes and preferences.
14. Invictus 370GT Yacht.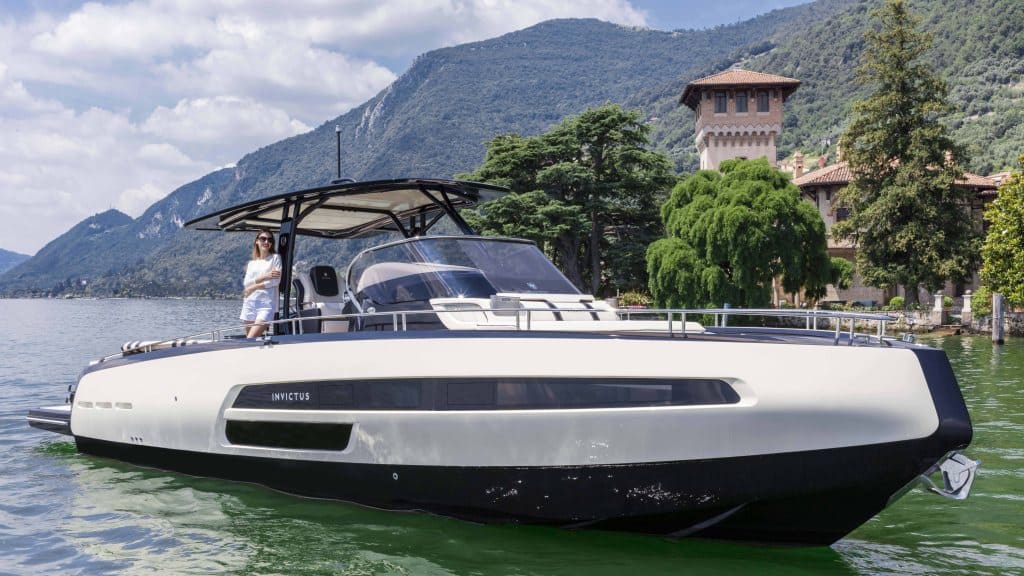 We've covered quite a few massive yachts here on Luxefeed. However, it's time to take a closer look at a smaller vessel, but one that's impressive nonetheless. We'll give credit where credit is due: Invictus 370GT impressed us with its clean design, outstanding performance, and stylish interiors, but we were most impressed by its ability to meet multiple roles.
To clarify, this yacht saw the limelight for the first time in 2016 at the Cannes Yachting Festival. Even though it works just fine as a luxury vessel for casual cruising, Invictus 370GT can also fill the role of a chase boat or tender for a larger yacht.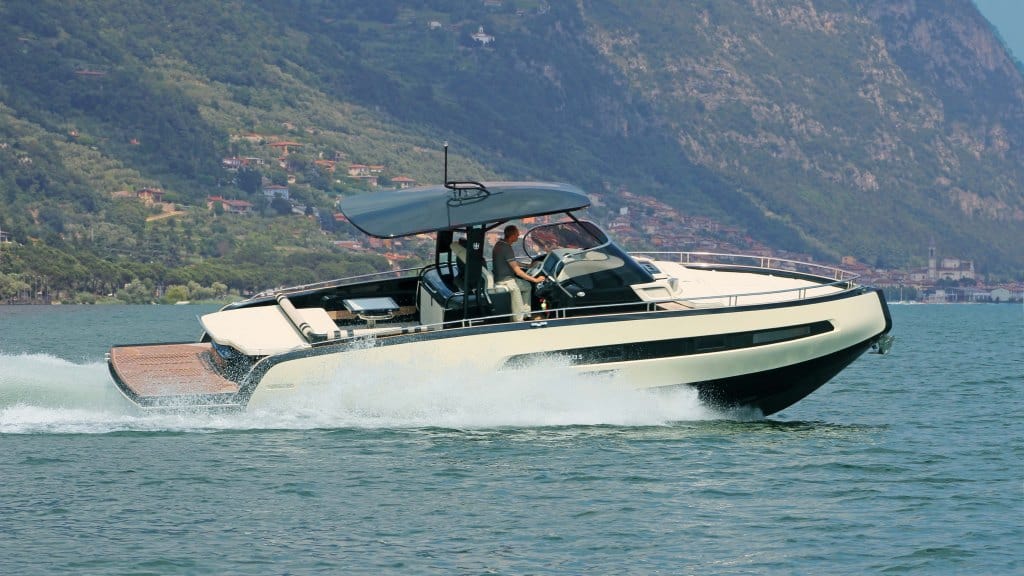 Invictus 370GT bears the signature touch of Anna Fendi. As such, it features unique design motifs inspired by leather goods and customized travel cases. Since we're on the topic of interiors, the owner's cabin is of particular interest. That's because this particular space actually resembles a classic travel case. Bespoke tableware and a mirrored forward bulkhead with nickel elements somehow remind us of another one of Fendi's projects, the Villa Laetitia hotel.
Exterior highlights comprise a reverse bow, ivory caulking, teak decks, and a stunningly beautiful sculpted hull.
13. Q30 Electric Yacht.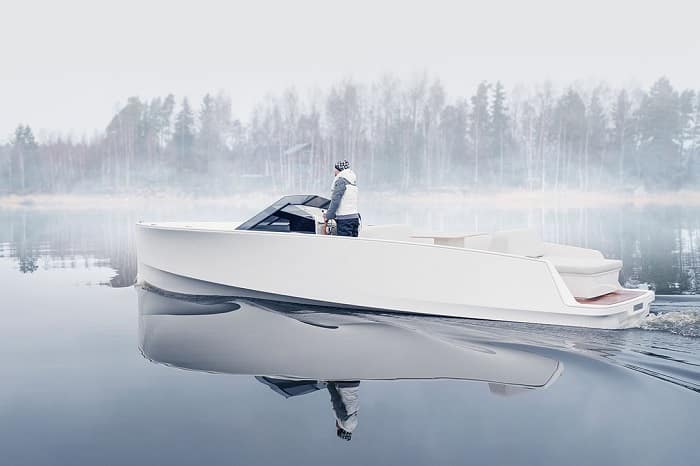 What makes the Q30 electric yacht stand out? Most modern-day yachts boast imposing designs that mirror their impressive performance capabilities. However, when it comes to eco-friendliness, they're not exactly the greenest of the bunch. It's true that the world's top yacht makers have equipped their latest creations with eco-friendly features, which help minimize their impact on the environment. Still, nothing truly compares to an actual electric yacht.
The good people over at Q Yachts are introducing their Q30 electric yacht, which boasts complete independence from fossil fuels. It is a sleek, simple-looking vessel with a crisp white design that will still turn a few heads whenever it makes an appearance.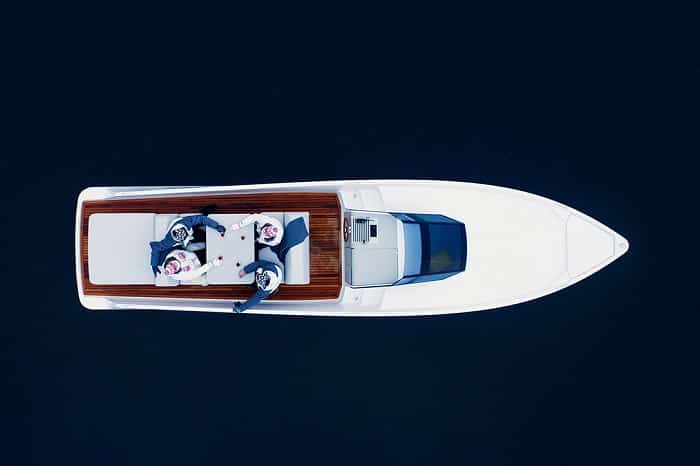 The Q30 features an Ocean Volt system, which is basically an electric motor capable of delivering 20kW of continuous power. The motor is 100% emission-free, and it is incredibly quiet. This improves the owner's comfort while also making sure that the local fauna remains undisturbed. The motor gets its juice from a 30kWh lithium battery pack, which can be upgraded to a 60kWh pack upon request.
The Q30 electric yacht measures 9.3 meters, and it can reach a top speed of 15 knots. However, its cruising speed is somewhere at around 9 knots. At this speed, the overall range reaches 42 or 80nm depending on the battery pack.
12. Damen SeaXplorer 77 Superyacht.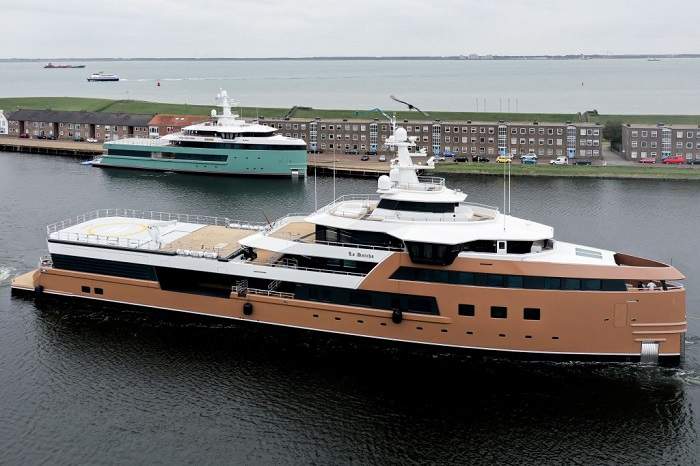 Superyachts are designed to be impressive from the ground up, whether we're talking about their exteriors or their interiors. And while it's true that it's probably hard to find a dull superyacht in the world, some of them are undoubtedly more amazing than others. The 77-meter Damen SeaXplorer77 is a great example, as everything about it just screams "extravagance."
It bears the brand of a Dutch shipyard that's well-known for its quality vessels. The SeaXplorer77 belongs to an anonymous buyer, but one thing is obvious: the client wanted it to be as large as possible. He definitely got his wish from what we see, as this vessel can house not one but two helicopters.
As its name suggests, the Damen SeaXplorer77 is perfect for braving the world's most unwelcoming waters. It excels in remote areas, and since incorporates two helidecks and two hangars, it provides access to these areas with ease. Rose Damen, commercial director of yachting for the Dutch company, explained:
"It not only has a fully certified helideck for safe landings, but it also has a standby surface for a backup helicopter. Both helicopters can fit in the below-deck hangar, so they're protected from the elements."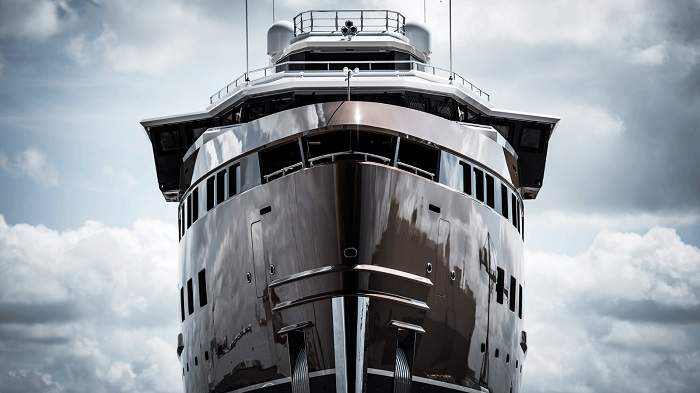 Just in case you're curious, these two helicopters will be Airbus ACH125 models. Other noteworthy highlights comprise a dive and submersible center, jet skis, snowmobiles, and a separate ski room. When it comes to accommodations, the vessel is large enough for 12 guests and a crew of 25. It's not particularly slow either, as it can reach a very respectable cruising speed of 14.5 knots.
11. Riva 110' Dolcevita Yacht.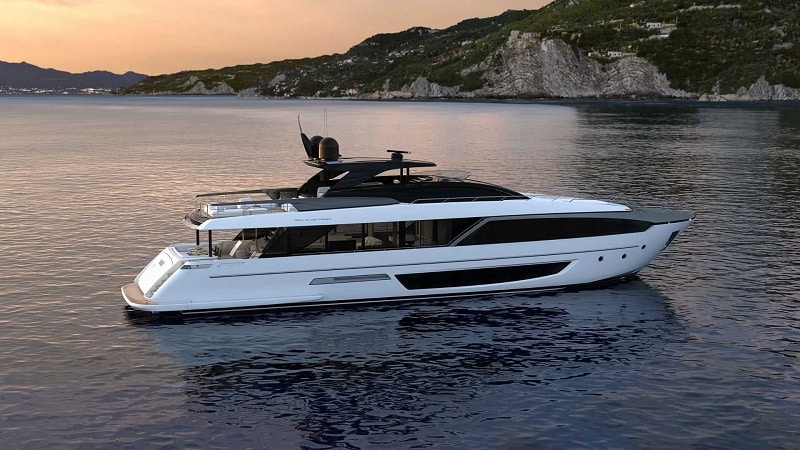 Those of you who are familiar with the Ferretti Group will undoubtedly appreciate Riva, one of the group's brands and one of the world's best yacht makers. Riva recently launched a very special vessel at the Yacht Club de Monaco. It is one of its larger yachts, and it bears the name Riva 100′ Dolcevita. A lovely title, wouldn't you agree?
When it comes to power, we're looking at two MTU 12V 2000 M96L engines. This powertrain ensures enough juice for a top speed of 24 knots. However, if the range is truly important to you, a cruising speed of 22 knots will ensure the best of both worlds when it comes to speed and fuel efficiency.
The unique design of the Riva 110' Dolcevita is the hard work of the engineering department of the Ferretti Group alongside Officina Italiana Design and the Strategic Product Committee. Inside, there's enough room for 20 guests, as well as a plethora of high-end conveniences.
Alberto Galassi, CEO of the Ferretti Group, had a few words to say about this splendid 33-meter masterpiece:
"For the largest Riva ship, we have chosen the name of a time that is still endowed with sparkle and charm. The Dolcevita is a truly Italian style indication, the happy combination where good construction and the good life come together. Cruising on this amazing 33-meter yacht is an aesthetic and emotional experience."
10. Benetti Air Yacht (Benetti Queen M).

One of the most iconic yachts to grace the world's seas, the Benetti Queen M, has received a complete refit in 2013. The yacht in question was launched back in 1998, and even then, it set new standards in the world of luxury on seas. Measuring in at 50 meters, the superyacht also received a brand new name, which signifies new beginnings and a breath of fresh air. The Benetti Air is now a contemporary charter yacht, which means that you could take it out for a spin provided you had the cash for it. Small enough to brave the waters of bays and anchorages, Benetti Air is also large enough to host large groups in lavish conditions.
The yacht's improvements include a complete exterior revamp, as well as redesigned interiors. The nautically inspired main saloon is just one of the most noteworthy highlights, but we should also mention the welcoming and luxurious cabins and the full-beam private apartment located on the upper deck. There are five cabins available in total, which are enough for up to 10 guests. On-board toys include a flyboard, diving gear, a Seadoo watercraft, Seabobs, kayaks, and even fishing gear.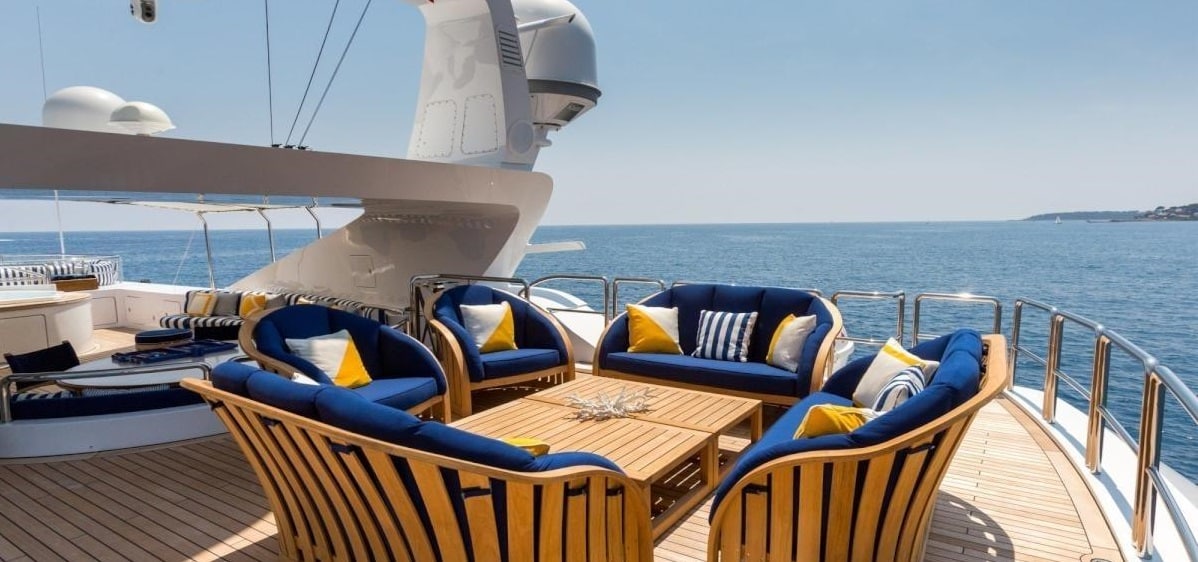 Of course, you could always kick back and enjoy the view from the Jacuzzi, or sip on some delicious cocktails at the wet bar and raised lounge. In order to be able to enjoy these amenities, you'll have to fork out $210,000 per week. All things considered, that's not a bad deal at all.
9. Wajer 55 S Motor Yacht.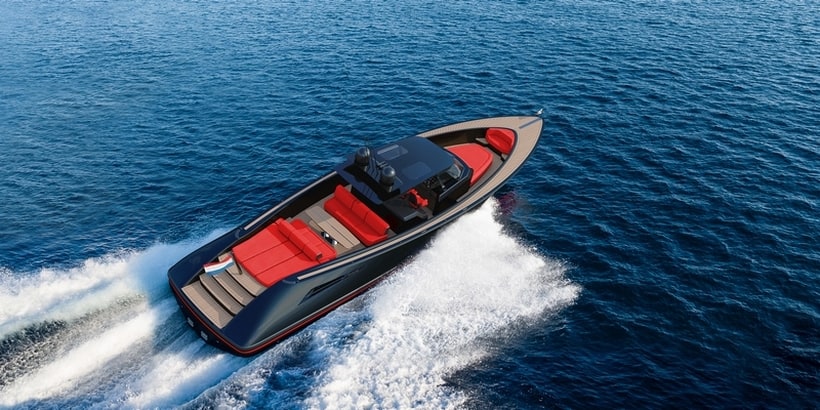 Not everybody can afford a lavish superyacht, that's true. But maybe, just maybe, not everybody needs one. If you're more of a watersport fan, you'll definitely be better off with a sleek and powerful motor yacht. In comes the Wajer 55 S, a dashing vessel created by Dutch shipyard Wajer Yachts.
Powered by a trio of 435-hp Volvo Penta IPS600 engines, this boat's top speed surpasses 40 knots, which is enough to impress even the most demanding enthusiast. Power aside, the Wajer 55 S is equipped with a plethora of amenities, which is quite impressive for its size. Its outdoor galley, for example, includes a grill, an icemaker, and a refrigerator. Therefore, you'll definitely be able to enjoy the view and relax after you've put those engines through their paces.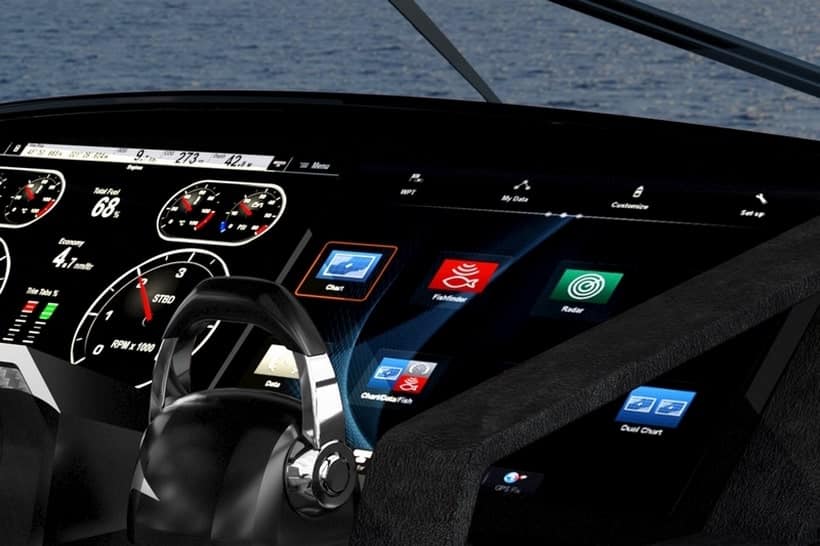 Well, it's a comfortable experience, that's for sure. That's all thanks to a set of forward-facing Stidd captain's seats and a pair of useful Garmin touchscreens. When it comes to finishes, we should mention the hardtop roof, which comes with a set of removable panels. Once removed, the extra space enhances the lounging area, but the panels can also serve as protection from the sun if the need arises.
Overall, the Wajer 55 S motor yacht ticks all the right boxes when it comes to performance and comfort. It's hard to imagine anyone finding a serious flaw in this particular vessel, and that says a lot!
8. Sunseeker 76 yacht.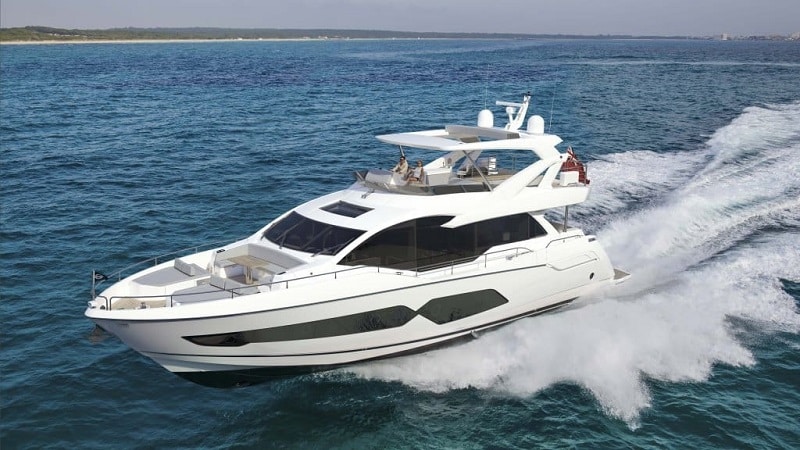 We've featured our fair share of Sunseeker yachts here at Luxefeed. There's a good reason for that too. The British yacht builder is one of the most respected in the world, and we definitely enjoy presenting their newest creations, as they're always in trend when it comes to design and practicality. Sure, a yacht needs to be luxurious, but it also needs to be quick and comfortable.
The Sunseeker 76 yacht ticks all the right boxes, and even though it measures just 76 feet in length, it's definitely large enough to make you feel like royalty. You'd be hard-pressed to find a more impressive foredeck social area on a 76-foot yacht. Moreover, the back of the flybridge could house a hot tub with ease, but these are just a few of the vessel's main highlights. This yacht boasts an open-plan main deck, as well as wenge hardwood flooring and silver-oak interior woodwork. Then there's the chef's galley, the two large lounging areas, 360-degree windows, and a modern helm station that meets the most demanding requirements when it comes to equipment and performance.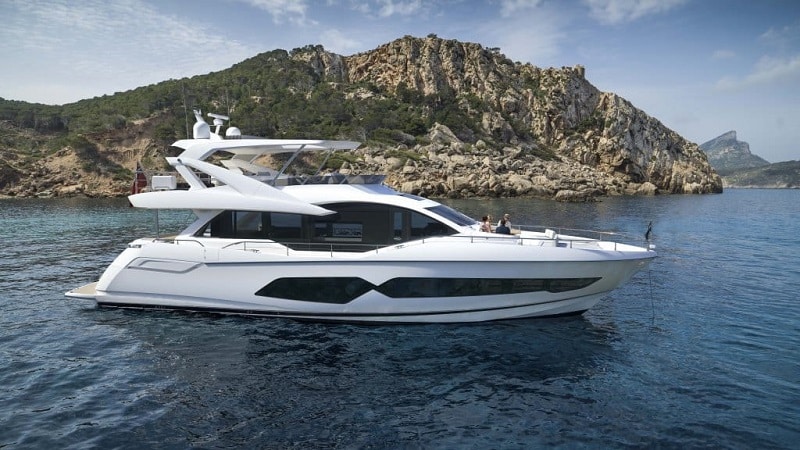 Speaking of performance, the vessel is powered by a pair of 1,550-hp MAN engines that ensure a respectable top speed of 32 knots and a range of 400 nautical miles. During your stay, you could always relax on the two large sunbeds, or at one of the three large outdoor social areas, each equipped with tables and lounges. The Sunseeker 76 yacht was built for wellness and relaxation, and it is undoubtedly one of the best vessels in its class.
7. Azimut 55 Yacht.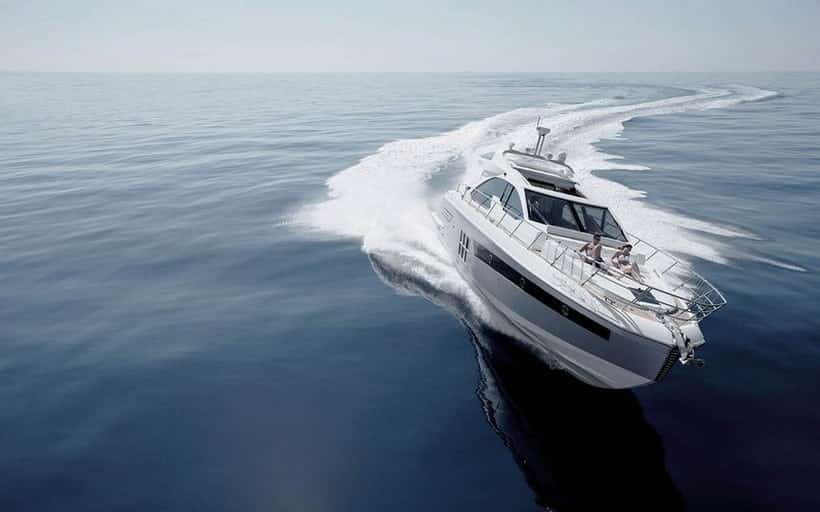 It's true that it's not the largest yacht in the world, but Azimut 55 is arguably one of the most impressive vessels of 2018 at the time of writing. That's because it offers a fantastic mix of high speeds, maneuverability, and lavishness. This small yacht is scheduled to make a debut at Boot Dusseldorf this year.
With a rather large and spacious flybridge, the vessel offers a secondary living area at its rear, which is sheltered from prying eyes. However, the main deck was designed specifically for social activities, which is why it includes a sun lounging area in the bow. Shading is provided by a large bimini top, while the backrest is versatile enough to serve as both a sun lounger and a chaise longue.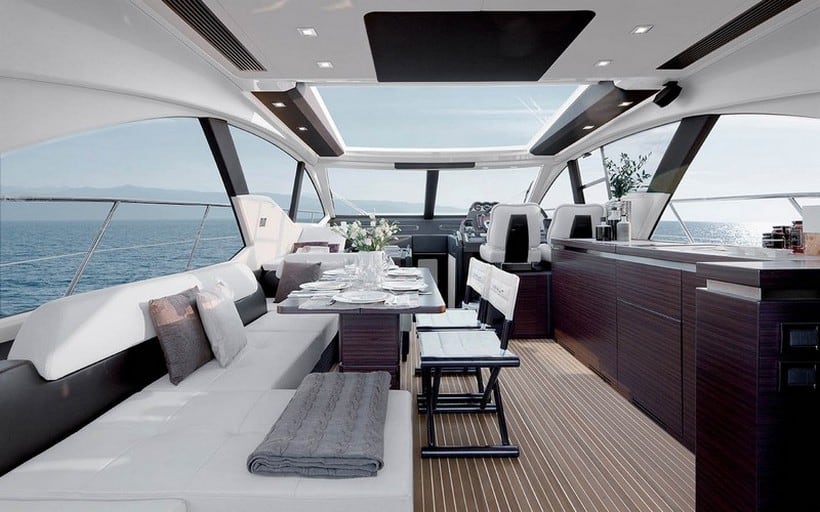 Azimut 55 was put together using high-end materials, that's for sure. These include grey zebrawood and dark oak, bronze, and steel, while a glossy black lacquer adds a final touch of luxuriousness. The main accommodations are located on the lower deck. That's where we'll find two double cabins at the bow, as well as a full-beam owner's cabin with rectangular windows. Performance-wise, Azimut 55 is powered by 800 hp MAN engines, which guarantee a top speed of 31 knots.
6. Elements Motor Yacht.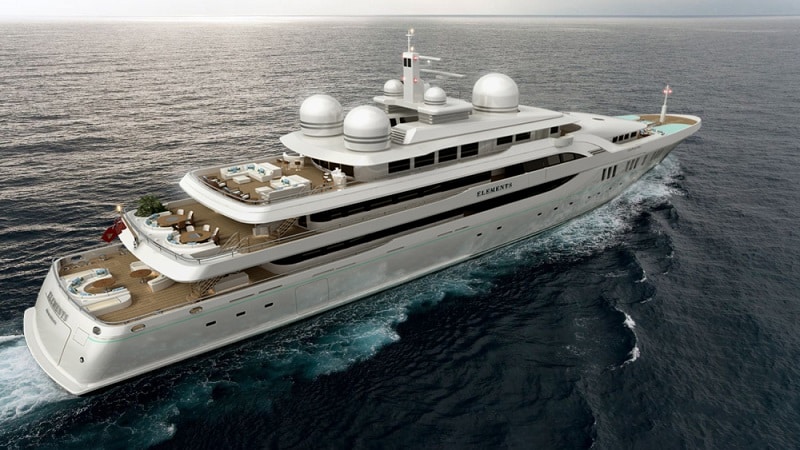 The living standard for ordinary people nowadays rivals with that of the old Kings. However, the luxury world is constantly evolving, and with it, so is the yachting industry. Nothing spells lavishness quite like an expensive and imposing superyacht. The Elements Motor Yacht is a step ahead of the competition, and you're about to find out exactly why.
First of all, this vessel measures 262 feet in length, which is about 80 meters. It's not the largest yacht on the seas by any measure, but it's large enough to make its owner feel like royalty. Its unique architecture was envisioned by Alfa Marine, and its interior layout is spacious enough for up to 24 guests and a crew of 19. Sketched out by Cristiano Gatto, the interiors are clad with expensive materials such as fine leathers, plush linens, and the finest woods.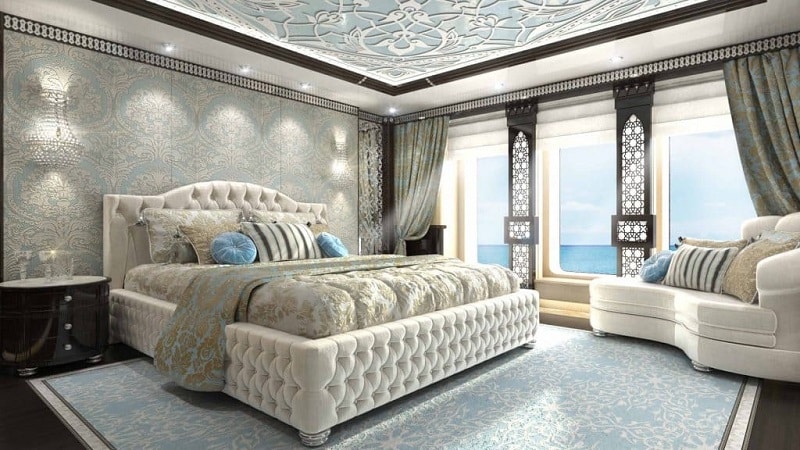 Accommodations comprise a superb master suite complemented by four double staterooms, a pair of VIP staterooms, four regular twin cabins, and a smaller twin cabin.
The Elements Motor Yacht is animated by a pair of MTU 16V 4000 M63L diesel engines. The engines ensure a top speed of 18 knots, while a pair of stabilizers make sure that everything stays on your plate while the yacht is anchored. Onboard, the owner and his guests will enjoy access to a plethora of conveniences. These include a spa pool, a beach club, a hammam, a cinema, and an elevator that connects the four decks.
5. Dynamiq GTT 115 Superyacht.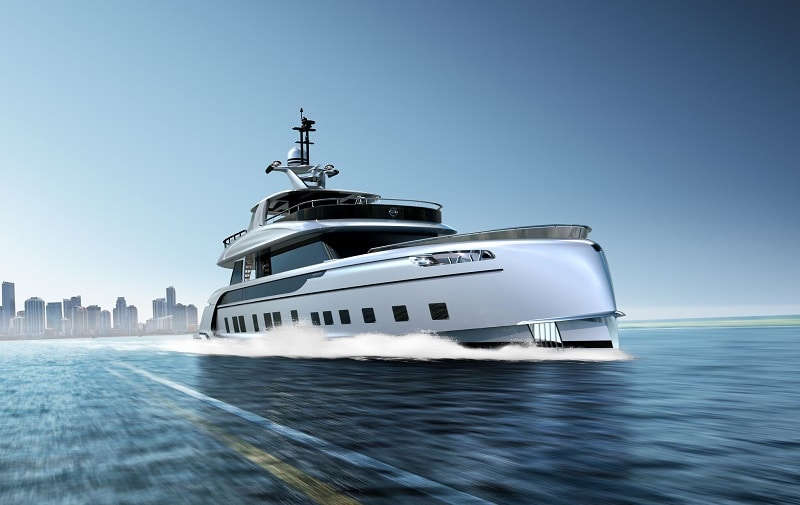 Some time ago, we told you about the GTT 115 hybrid yacht project. You know, the one that was designed by Design Studio Studio F. A. Porsche and built by Dynamiq. Well, it looks like this monumental vessel has finally hit the waves, and we're proud to present the very first official images of it.
As you can see, the yacht meets and surpasses the most excessive requirements in terms of luxury and lavishness. The fine choice of materials for the interior is definitely something that we'd expect from Dynamiq, especially given the Porsche collaboration. Measuring in at 35 meters in length, the GTT 115 will be a part of a limited edition of just 7 units. Therefore, yachting enthusiasts from all over the world will be racing to get their hands on one of these vessels.
It's definitely worth noting that this particular model includes features that were never seen before in the yachting world. These include the first superyacht on the market infused with the design spirit of Studio F. A. Porsche, the first to blend a top speed of 21 knots speed with Transat range, and the first yacht equipped with two engine rooms in this size category. Moreover, this is the first yacht that can be configured and ordered completely online.

Speaking of which, if you're interested in owning one, you should know that there's only one place where you can configure it. Fortunately, all you have to do is visit Dynamiq's official configurator for the GTT 115. Powered by a duo of MAN diesel engines, the yacht boasts 3,250 horsepower, but we should also mention the 20.8 kW electric motors. These motors might not seem like much, but they can enable a top speed of 6 knots alone, while the diesel engines ensure a 21-knot speed.
Priced at €12,5 million, the Porsche-designed GTT 115 hybrid yacht by Dynamiq is definitely intimidating, but it's also worth every penny.
4. Gio Chi Thè Superyacht by Codecasa.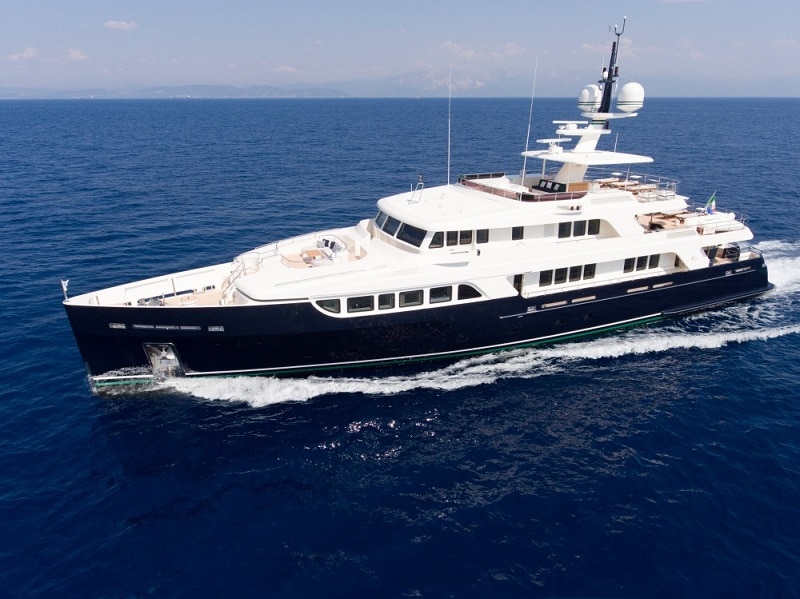 The Italian shipyard Codecasa has been around since 1825, but after it unveiled its Vintage Series about six years ago, it started on a true path to greatness. As the years passed, so did the shipyard's renown, especially since its experts strived to design and create purely exceptional, classic-looking vessels that are as gorgeous as they are expensive.
Codecasa's Gio Chi Thè Superyacht represents the pinnacle of years of research and development, as it offers an ideal combination of contemporary technologies, an elegant layout, and a traditional look. Some of its most impressive highlights include spacious outdoor areas that provide ideal opportunities for relaxation and entertainment, particularly the sun deck. This area comes with its own Jacuzzi and built-in sun pads, while the Portuguese deck is perfect for socialization and fun.
As far as accommodations are concerned, we're looking at two double bed cabins and two twin cabins that were outfitted with modern amenities and colorful decor elements that help create a warm, welcoming ambiance. The master suite comes with its own private office, and it distinguishes itself from the other cabins with a luxurious flair.
Power-wise, the Gio Chi Thè superyacht boasts a pair of Caterpillar 3512C that ensure a  top speed of 16.5 knots as far as light displacement conditions are met. The generous cruising range of 4,000 nautical miles can be achieved at 11 knots, though, which is still respectable for a 43-meter (141-foot) vessel.
3. Eco-Friendly Arcadia 85S Yacht.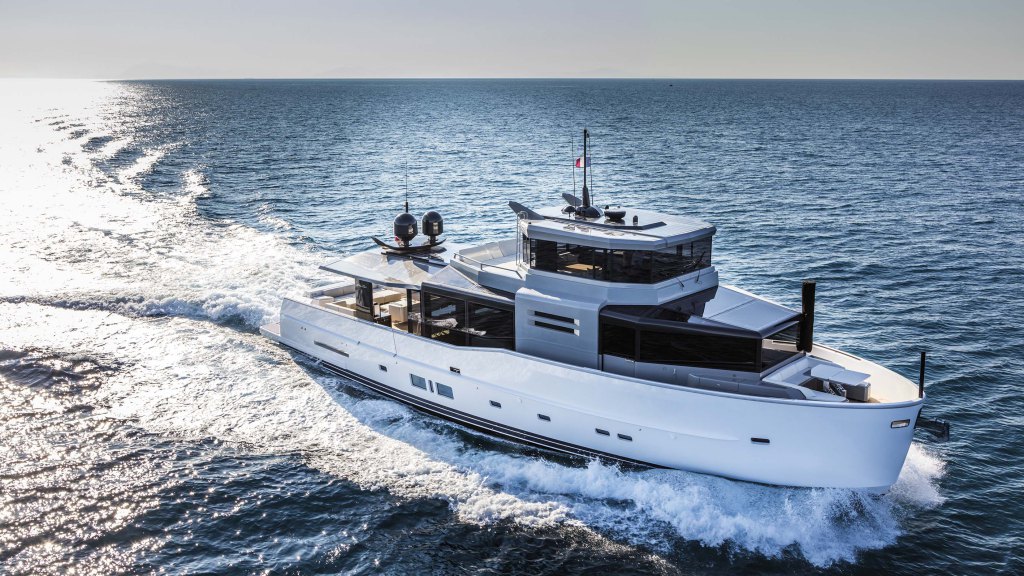 If you're looking for a luxurious and eco-friendly yacht, you should definitely check out some of Arcadia Yachts' offerings. Our suggestion for the day is represented by the Arcadia 85S yacht, which offers a perfect mix of comfort, sleek looks, and eco-friendly technologies.
Keep in mind that we're not talking about electric propulsion here, as the 85S is powered by two 730-hp MAN diesel engines. Since we're on the subject, the engines ensure a top speed of 18 knots, while a 12 knot cruising speed is enough to guarantee a range of 850 nautical miles.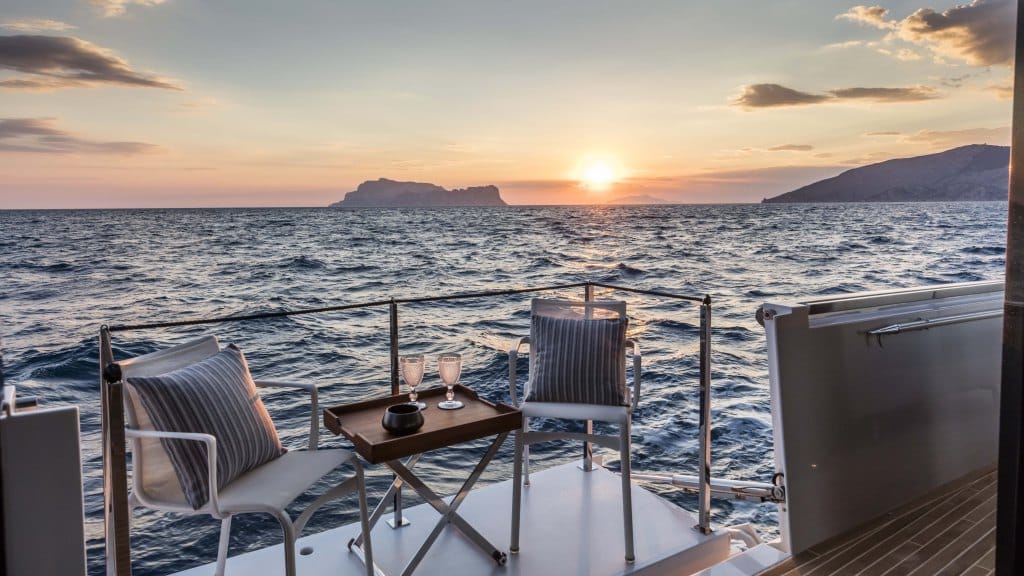 Set to be unveiled during the 2017 edition of the Cannes Yacht Festival, this new Arcadia masterpiece is a clear improvement when compared to the original 85 models. Accommodations include a lavish 345-square-feet master suite, a VIP double cabin at the bow, and two twin cabins. There's also enough space for a two-person jet ski and a 14-foot tender, but we should definitely mention the sky deck, the open-plan saloon, the small winter garden, and the exceptional dining area.
So where's the eco-friendliness coming from? Well, that part is taken care of by the 400 square feet of electric solar panels, a high-end set of lithium batteries, and a few skylights. The solar panels offer a power output of 3.5 kilowatts, which ensure plenty of juice for the yacht's systems, including the water pumps, refrigerators, and audio/video equipment.
2. Sanlorenzo SX88 Yacht.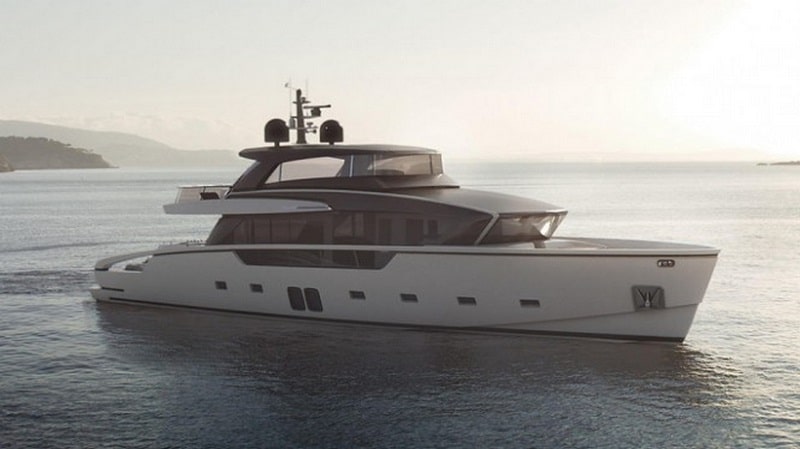 What makes a yacht perfect anyway? Most of them are luxurious and comfortable, and modern ones are able to traverse the oceans without a care in the world, which means that yacht builders need to get creative when they design and build these exquisite vessels nowadays.
Today, we're going to focus on a fantastic 27-meter motor yacht named Sanlorenzo SX88, which was unveiled for the first time in September during the 2017 Cannes Yachting Festival. Boasting a GRP hull and a carbon fiber superstructure, the vessel comes with exquisite interiors envisioned by an Italian designer named Piero Lissoni. Naturally, the buyer has the final word when it comes to decorations and materials, which means that each Sanlorenzo SX88 is quite unique in its own way. As for the exterior, it was sketched out by Officina Italiana Design, and it involves a semi-displacement hull created with performance in mind.
The best part is that this vessel was built to have very little impact on the environment. Keep in mind that it can reach a top speed of 23 knots, but precise details about the powertrain are vague at the time of writing. Described as a "Copernican revolution," this masterpiece blends the most important elements of an explorer yacht and a flybridge yacht into a very promising package.
Consequently, more than six hulls of the SX88 range have already been sold. Keep an eye out on Sanlorenzo's official website for updates and more information regarding this upcoming range.
1. Heesen Maia Yacht.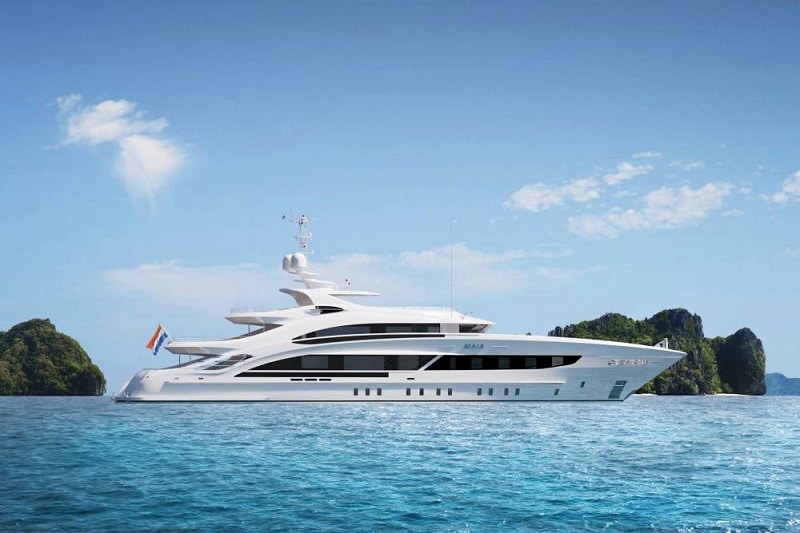 Dutch shipyard Heesen Yachts has created a truly monumental superyacht dubbed Maia – a name inspired by a shining star in the Taurus constellation. The vessel in question measures 50 meters or 164 feet in length, and it boasts a full displacement design that will soon amaze yacht lovers from all over the world. The project is still in construction, but its exterior layout envisioned by Clifford Den is almost complete, while the interiors sketched out by Reymond Langton will surely be something to write home about.
Up to ten guests will find exquisite accommodations onboard the Maia, all thanks to its five lavish staterooms, including a sumptuous master suite that's packed with high-end amenities. The main highlights onboard comprise a beach club with a sauna and a bar, and plenty of space for tenders, just in case the guests are feeling adventurous.
The Heesen Maia yacht is powered by a pair of MTU engines, which ensure a range of 3,800 nm at 12 knots. The top speed, however, is reached at 15 knots, which is definitely not bad at all for a 164-foot vessel. No word on pricing just yet, but you can always keep an eye on Heesen's own website just in case some information pops up. Below you will find a complete list of specifications for this unique project.