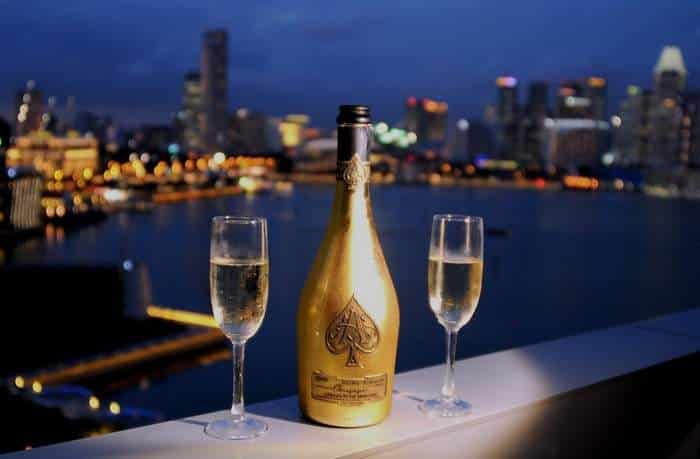 These are the world's most expensive alcoholic drinks.
How much does a luxury buzz cost? Generally-speaking, a fine bottle of whiskey or vodka will set you back several hundred dollars, but there are exceptions to this rule, exceptions that break all barriers. Alcohol has been around for a very long time now, as it was probably discovered around 10,000 BC. People have been enjoying the taste and effects of alcoholic drinks since before the dawn of civilization, and today, we're manufacturing them on a massive scale.
While it's always a good idea to drink responsibly and in limited quantities, sometimes you really don't have a choice, especially when an entire bottle of spirit costs as much as a fine car. Today we're going to have a closer look at the most expensive alcohol, and we'll see exactly why it costs so much, and how you can get your hands on it. Truth be told, sometimes the price of a particular alcoholic drink has less to do with the drink itself and more with the bottle or packaging. Still, when we're talking about very old drinks, the price is largely justified by production cost, storage, and the ingredients.
The following list includes some of the world's most expensive whiskey, rum, gin, vodka, tequila, cognac, and wine.
10. The Cambridge Distillery's Watenshi Gin ($2,700).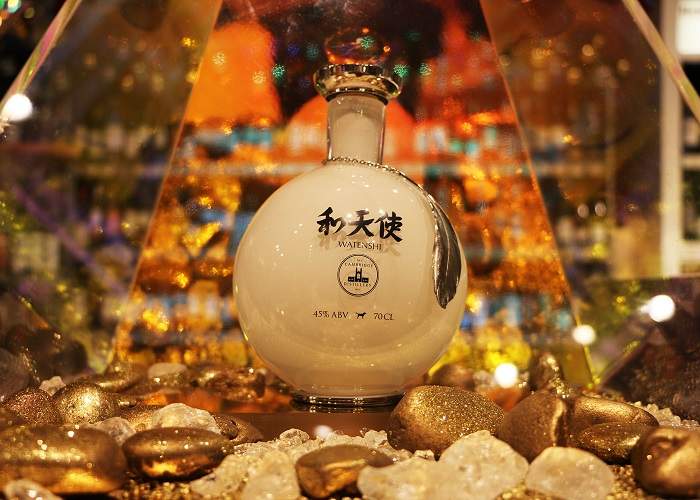 Back in 2015 at the China Wine and Spirits Awards, the Cambridge Distillery Japanese gin brought home the "Gin of the Year" award, and that's definitely no small feat. However, Master Distiller William Lowe wanted to create something even more innovative and breathtaking, and so he decided to brew a special edition of this Japanese Gin, namely Watenshi or Angel's Tears.
As one of the most expensive alcohol in the world, the Watenshi Gin is distilled at half the pressure found on top of Mount Everest, and at a temperature lower than that recorded on the coldest day at the South Pole. The result of this unique distilling process is a highly intense and refined gin, which is definitely worthy of its $2,700 price tag. Moreover, with just six bottles of Watenshi ('The Japanese Angel') in each batch, this is also one of the most exclusive gins in the world.
As for the decanter bottle, it is hand blown in Cambridgeshire, and it was designed by London based duo Loris&Livia. The bottle also boasts silver adornments courtesy of jeweler Antoine Sandoz.
9. Cuervo Aniversario Anejo Tequila ($3,200).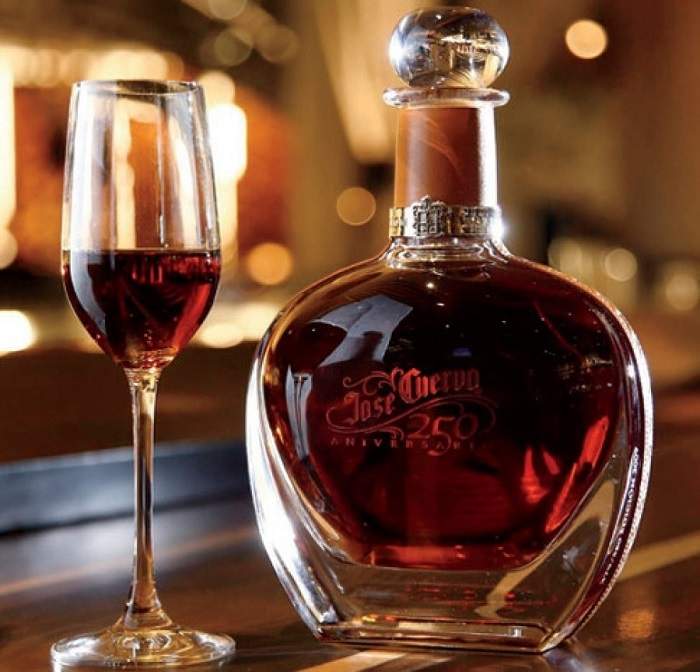 Tequila brand Jose Cuervo took root on 27 May 1795, which is 223 years ago! This makes it one of the oldest alcohol brands in the world and one of the most respected, as its products are often praised for their unique taste and refinement. Granted, tequila is not the most pretentious alcoholic drink out there, but Jose Cuervo tequila is on a completely different level. These days, the company is family-owned by the Beckmann family of Mexico – the true descendants of Don Jose Antonio de Cuervo himself.
The Jose Cuervo Aniversario Anejo Tequila is in a league of its own. It is a limited-edition Tequila aged in toasted new American oak barrels for at least three years. Afterward, it sits for 10 months in sherry casks from agave, where it achieves that sweet spot of 40% alc/vol.
A bottle would set you back $3,200, which is not cheap by any measure.
8. El Dorado Grand Special Reserve 50th Anniversary Rum ($3,500).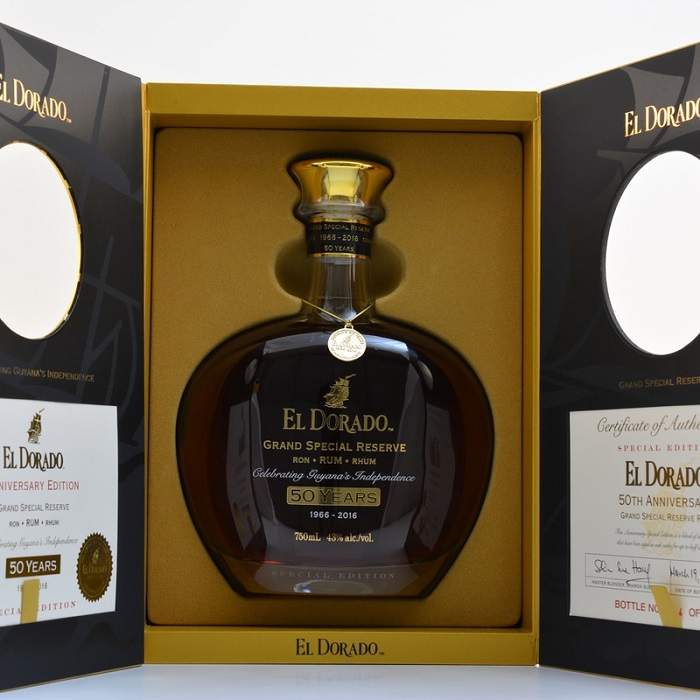 We're moving on to another special edition drink, but this time around we're focusing on the exquisite El Dorado Grand Special Reserve Rum. El Dorado is a rum brand produced by Demerara Distillers in Guyana. According to the brand's owners, the tropical climate of Guyana somehow enhances the exchanges between the oak wood from the barrels and the spirit, which results in a unique flavor.
The El Dorado Grand Special Reserve is a very special rum indeed, as it celebrates Guyana's independence from the United Kingdom gained in 1966. The bottle contains a mixture of rums aged between 33 and 50 years. To be specific, 65% was distilled in 1966, 25% between 1966 and 1976, and 10% in 1983. The rum comes in a crystal decanter, and it flaunts notes of coffee, orange peel, and dark chocolate.
Only 600 bottles of this anniversary rum were ever produced, and one would set you back $3,500.
7. Glenfiddich De Luxe Whiskey ($9,600).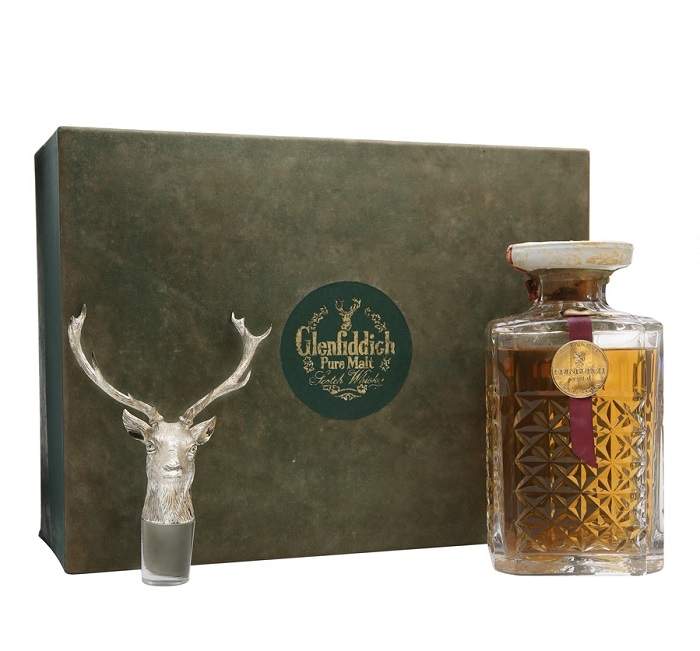 Glenfiddich whiskey is a Speyside single malt Scotch whiskey produced by William Grant & Sons in Dufftown, Scotland. The name stands for "Valley of the Deer" in Scottish Gaelic, and it is represented by the Stag logo present on the packaging of each batch. Generally known as the best-selling single-malt whiskey in the world, Glenfiddich also received the most awards at the International Spirits Challenge.
In 1886, William Grant founded the Glenfiddich Distillery in Dufftown, Scotland. and the first Glenfiddich single malt whiskey ran from the stills on the day of Christmas in 1887. Glenfiddich "De Luxe" is a pure malt whiskey that is accompanied by a silver Stag decanter. The 75cl bottle was produced in the 1980s, which means that it is quite old and should be handled with care.
Then again, when you spend $9,600 for a bottle of whiskey, you should definitely be careful with it, as a simple mishap could result in a very expensive spill.
6. Highland Park 1964 Orcadian Vintage Whiskey ($9,800).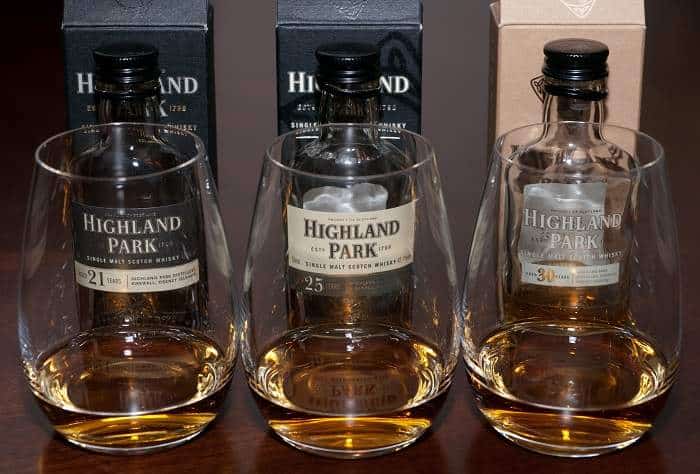 The Highland Park distillery opened its doors in 1798 in Kirkwall, Orkney, which makes it the northernmost distillery in Scotland, and one of the oldest to boot. It was founded by Magnus Eunson, and its whiskey is largely appreciated today in all corners of the world. In 1984, national newspaper The Scotsman gave it a 100% rating, and Michael James Jackson, the whiskey reviewer, described Highland Park as the "greatest all-rounder in the world of malt whiskey."
The Highland Park 1984 Orcadian Vintage was bottled in 2009 from two refill hogsheads. The packaging involves a heavy oak box with Viking design marquetry wood inlays complemented by a handcrafted silver amulet as a front centerpiece. This special edition of Highland Park received just 290 bottles, each priced at $9,800.
5. Macallan 30 Year Old Sherry Oak Whiskey ($12,800).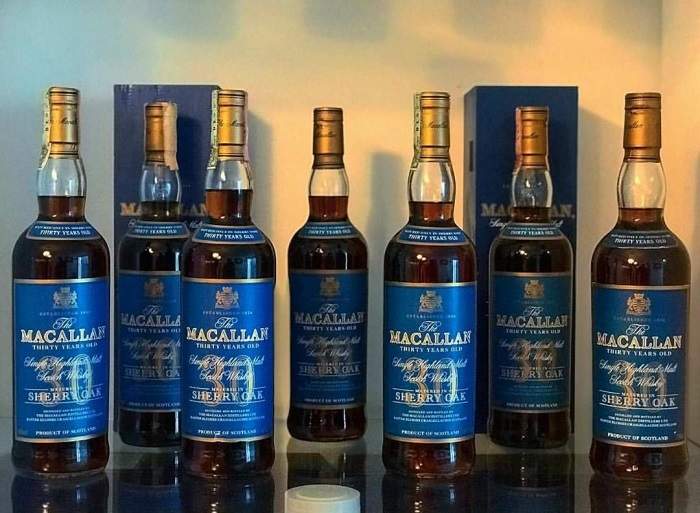 Macallan is perhaps the world's most prestigious whiskey brand, and the 30 Year Old definitely deserved a spot on our list. The Macallan distillery is located in Craigellachie, Moray, and it was founded in 1824. Back in the early days, all Macallan whiskey was only matured in oak sherry casks sourced from Jerez, Spain. However, in 2004, the brand launched its Fine Oak series, which allowed its whiskey to mature in oak casks and sherry ones.
The Macallan 30 Year Old is arguably Macallan's most expensive and prestigious whiskey. This particularly expensive liquor was created right before the introduction of the Fine Oak. This means that it is also the last 30yo before Macallan modified their bottle shape and packaging.
The $12,800 price tag seems largely justified, all things considered, wouldn't you agree?
4. Glenfarclas 1953 Queen's Coronation Decanter ($15,400).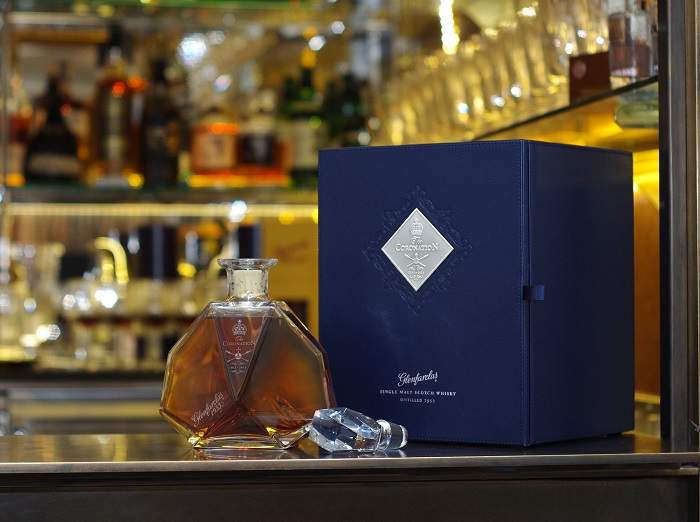 You can visit the Glenfarclas distillery in Ballindalloch, Scotland, where it's been since it was founded in 1836. Using water sourced from the Ben Rinnes, Glenfarclas boasts a capacity of around 3.5 million liters (924,602 gallons) of spirit per year. At any given time, there are about 68,000 casks maturing on site, all kept in traditional dunnage warehouses and ranging in age from 1953 to the current year.
The Glenfarclas 1953 Queen's Coronation Decanter is a very special single malt scotch whiskey that was created to commemorate the 60th anniversary of the
Coronation of Queen Elizabeth II in June 1953. The whiskey inside the decanter spent almost six decades maturing in a single oak cask in the distillery's cellars. As such, the price for a single bottle is no less than $15,400.
3. Remy Martin Louis XIII Jeroboam Cognac ($29,000).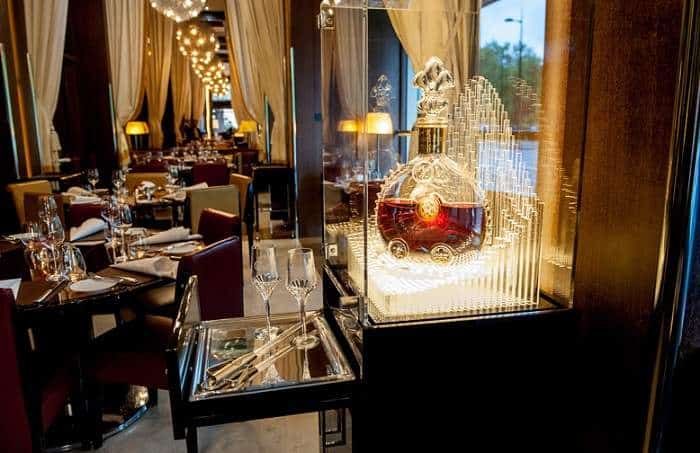 At no.3 on our list of expensive drinks, we've decided to include a very fine cognac, namely the Remy Martin Louis XIII Jeroboam Cognac. Priced at $29,000, this expensive alcohol is released in limited quantities each year, and it is reserved for only the most distinguished connoisseurs. The decanter could easily be considered a work of art, as each piece is created by a team of nine crystal craftsmen working together at Cristallerie de Sèvres.
It's also worth noting that the Jeroboam offers four times the capacity of a regular Louis XIII. The product is always transported in a sturdy wooden box for improved protection, and the drink itself is only sampled using a pipette. Speaking of the cognac itself, it offers a unique blend of jasmine and passion fruit complemented by notes of ginger, nutmeg, iris, prune, and fig, all of which eventually evolve into sandalwood and honey.
2. Dalmore 62-year-old Single Malt Whiskey ($165,000).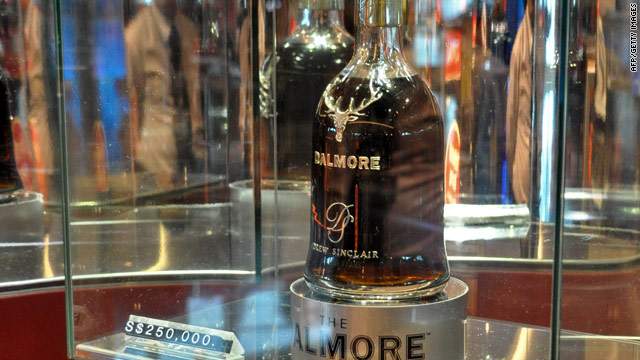 We've almost reached the end of our list of the most expensive liquor, but we still have two exceptional alcoholic beverages to present. The Dalmore 62-Year-Old is one of them, of course. The Dalmore distillery rests on the banks of the Cromarty Firth overlooking the Black Isle in Alness, Scotland. Owned and operated by Whyte and Mackay Ltd, the Dalmore lineage goes back to 1263, but the distillery itself was founded in 1839 by an entrepreneur named Alexander Matheson.
The Dalmore 62-Year-Old Single Malt is widely regarded as the world's most expensive whiskey, with a single bottle costing as much as $165,000. The bottle in question was part of a limited run of just 12, and it was purchased from the Singapore airport in 2011. It's definitely not uncommon for Dalmore whiskeys to sell for enormous amounts, especially given their rarity and uniqueness.
If you'd like to buy a Dalmore 62-year-old today, you could find it in stock at various online retailers such as WhiskyBase.
1. 1945 Romanee-Conti Wine ($558,000).

Last but not least, the most expensive alcohol on our list is actually a bottle of wine that was recently put under the hammer by Sotheby's. The wine in question is a 1945 Romanee-Conti, which far exceeded its original price estimates by selling at $558,000.
Romanee-Conti is a highly respected vineyard that's able to produce about 3,500 bottles of wine per year. The bottle that we're talking about came from the personal collection of Robert Drouhin, who also managed to sell a few other bottles for ridiculous prices at the same auction.
---
As a final note, we wanted to inform you that we sourced our information for this top 10 from reputable online retailers such as TheWhiskyExchange, which means that you can actually buy these expensive alcoholic drinks yourself, as long as you can afford them. The only item that isn't obtainable anymore is the world's most expensive wine at no.1, as that particular bottle was sold at auction.
As you may have noticed, we didn't include the Billionaire Vodka by Leon Verres or the Diva Vodka, even though these drinks reportedly cost around $3,7 million and $1 million respectively. We couldn't find any reliable information on where to buy these drinks or if they're even available anymore, which is why we decided to skip them.
However, if you have any information that could help us expand this top, feel free to let us know and we'll update it accordingly.