What are the world's most expensive women's shoes?
Expensive women's shoes are in high demand these days, and the title of the "World's Most Expensive Shoe" jumps from pair to pair as the years go by. Sure, some brands out there create bespoke high heels for the world's richest ladies, including the likes of Jimmy Choo or Christian Louboutin, but we're not really interested in commercial footwear today.
Instead, we're going to have a look at the truly expensive pairs, the ones that come adorned with precious stones and precious metals. Some of these shoes include countless gems, while others were created entirely using gold or platinum. This means that they carry price tags of hundreds of thousands of dollars or even millions in some cases.
Many of the most expensive women's shoes were created by Stuart Weitzman. However, you'll soon find out that the absolute priciest pair of heels in the world has nothing to do with this renowned American designer. In order to find out what are the ten most expensive women's shoes, we decided to compile a list that shows off each pair's history, materials, and manufacturer. All you have to do is figure out which pair you admire the most.
10. Contessa Wafer Stilettos – House of Borgezie ($130,000).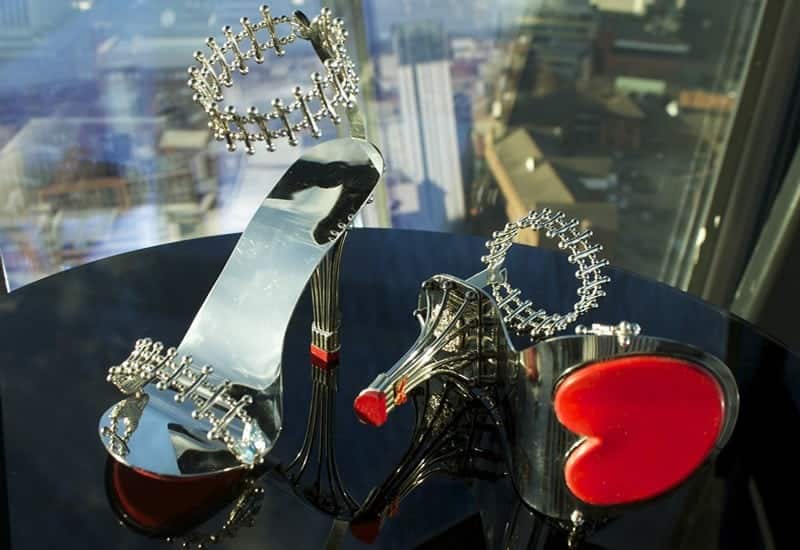 Even though they are the cheapest pair of shoes on our list, the Contessa Wafer Stilettos are anything if not luxurious. They're probably the only shoes in the world that are backed by a 1000-year warranty, which means that they can pass down to future generations as heirlooms. Designed by  Christopher Michael Shellis, the Contessa Wafer Stilettos bear the hallmark of the House of Borgezie, and they cost no less than $130,000.
The silver version of the shoe actually costs "just" $11,000, but what you're looking at right now is the platinum variant, which required 18 months of research and development in order to be complete. The heels don't feature any precious stones or diamonds, but they're definitely out of reach price-wise.
9. Kathryn Wilson Charity Pumps ($400,000).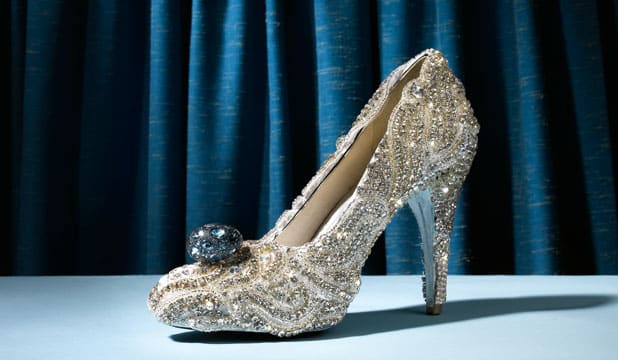 Arguably New Zealand's most famed shoe designer, Kathryn Wilson managed to rise to the position in a little over a decade, all thanks to her incredible skill and attention to detail. She created these unique pumps for a charity auction, and she worked closely with Sarah Hutchings from Orsini Fine Jewellery in order to cover them in white diamonds. The pump was put under the hammer in Auckland in order to support the Ronald McDonald House.
It was purchased for $500,000 by an unnamed buyer, and it probably sits in a vault somewhere alongside other exquisite valuables. There weren't any other sightings of the Kathryn Wilson Charity Pumps after the auction, but something tells us that they'll surface again sometime in the future, and they'll probably command an even greater price.
8.Diamond Dream Stilettos – Stuart Weitzman ($500,000).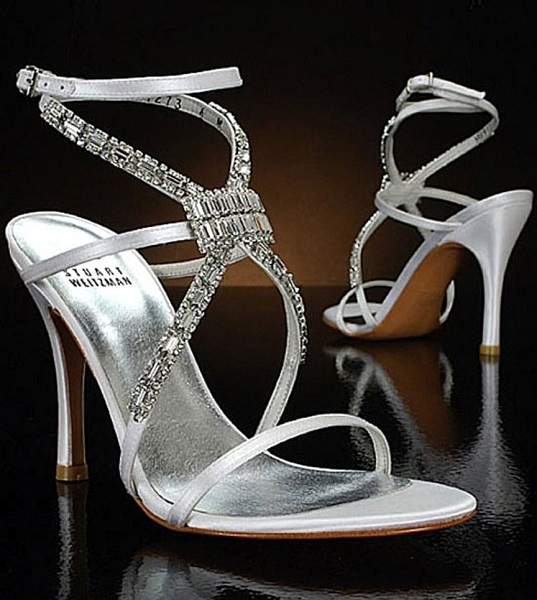 It's true that they might look a bit fragile, but the Diamond Dream Stilettos by Stuart Weitzman were definitely up to the task when they carried Anika Noni Rose down the red carpet in 2007. These heels flaunt 1,420 diamonds arranged in two interlinked bands of diamond-encrusted circles. Overall, the diamonds amount to 30 carats, and they were sourced by Kwiat.
Priced at $500,000, the Diamond Dream Stilettos also feature a simple silver band across the toes, which adds to their delicate and glamorous nature.
7. Marilyn Monroe Shoes – Stuart Weitzman ($1 million).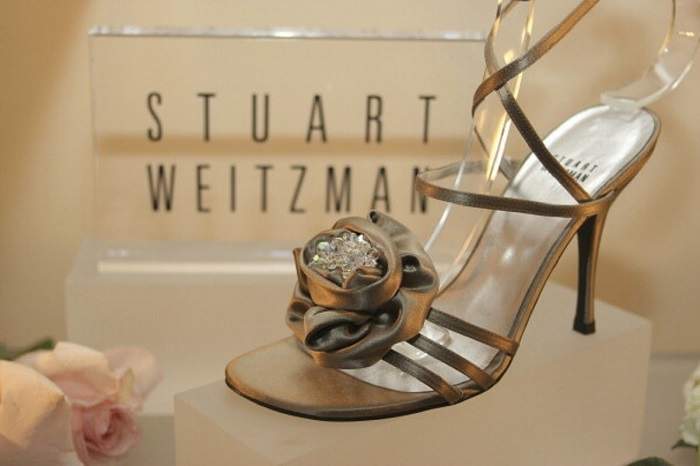 Being able to wear a piece of history should always be considered a privilege and an honor. Indeed, actress Regina King must have felt quite honored as she wore this exquisite pair of heels at the 2005 Oscars. The heels were adorned with a pair of earrings that once belonged to Marilyn Monroe herself, and that's not something that you see every day. In truth, these aren't the most luxurious shoes on our list, as they only impress with the satin rose housing the famed earrings.
They're still worth a cool $1 million, as they were auctioned off after the red carpet event as part of the Celebrity Rags 4 Charity Riches auction. For the auction, Weitzman replaced Marilyn's earrings with a set of replicas, but that didn't seem to bring the price down too much.
6. Platinum Guild Stilettos – Stuart Weitzman ($1.09 million).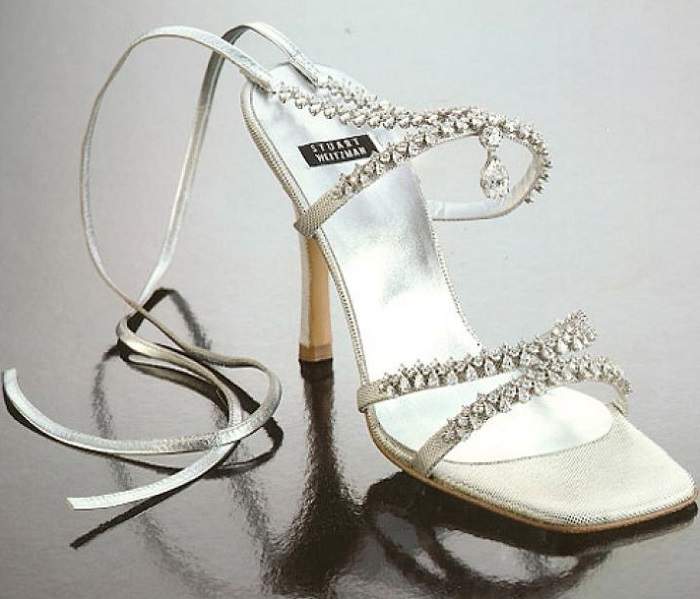 The Platinum Guild Stilettos by Stuart Weitzman are undoubtedly some of the most luxurious shoes in the world, but they're also quite versatile. They flaunt 464 diamonds supplied by jeweler Kwiat, and they were designed for Laura Harring to wear during her big night at the Oscars. Valued at $1.09 million, the Platinum Guild Stilettos impress with a generous selection of round and pear-shaped diamonds, which can actually be removed and worn as regular jewelry.
To be fair, these shoes were probably worn only a few times at special events. However, the jewelry that adorns them saw many more nights out, all thanks to a little bit of ingenuity on Stuart's part.
5. Cinderella Slippers – Stuart Weitzman ($2 million).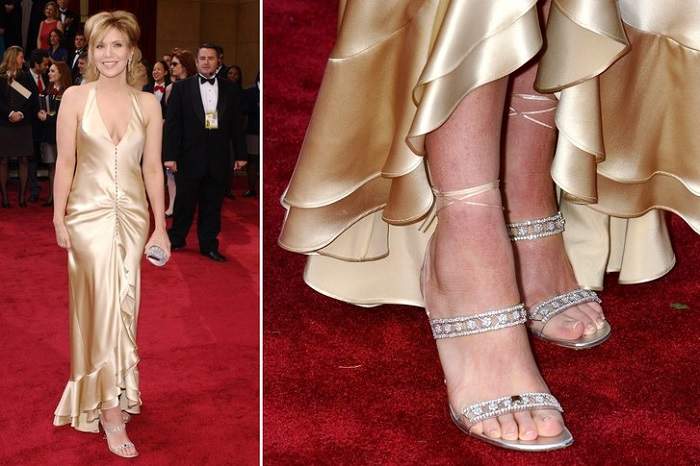 Everyone's heard about Cinderella and her famous glass shoes, and many designers have tried to replicate the classic design described in the popular tale. However, Stuart Weitzman, who's famed for creating the world's most expensive women's shoes, has decided to go with a different approach for his Cinderella Slippers.
These heels are worth $2 million, and they were put together using high-quality Italian leather. As for decorations, Stuart used 565 Kwiat diamonds set in platinum, as well as a 5-carat amaretto diamond that acts as a centerpiece for the right shoe. The 4-inch pair of heels was worn by Alison Krauss at the 2004 Oscars. Apart from the diamonds themselves, the clear design of the shoe allows it to stand out in a minimalistic yet luxurious way.
4. Rita Hayworth Heels – Stuart Weitzman ($3 million).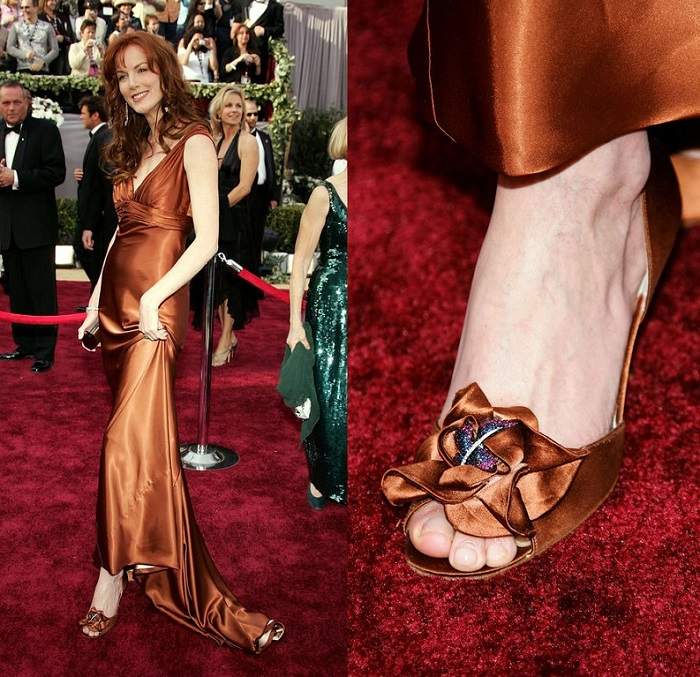 Inspired by a very special pair of earrings favored by the late Rita Hayworth, these unique shoes by Stuart Weitzman were worn at the 2006 Oscars by Kathleen York. They were created using rust-colored satin, which is not particularly luxurious by today's standards. However, they also boast some lavish precious stones, including sapphires, diamonds, and rubies, all of which are bundled in a satin ruffle at the toe.
Priced at $3 million, the Rita Hayworth heels by Stuart Weitzman are currently in the possession of Princess Yasmin Aga Khan, which means that they won't be hitting the shelves anytime soon.
3. Ruby Slippers – Harry Winston ($3 million).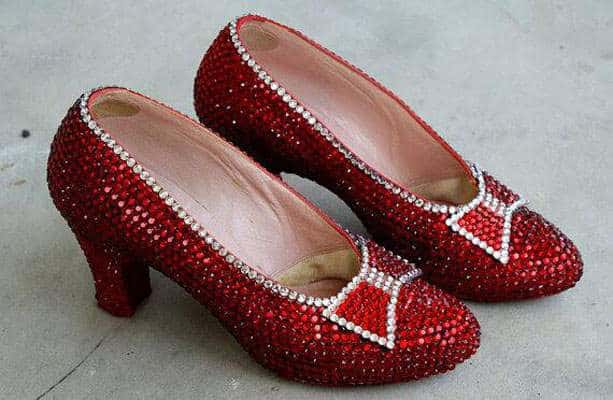 Just like Cinderella's slipper, the shoes from The Wizard of Oz played a key part in the storyline, and they even contributed to the film's overall success. While this particular recreation by Harry Winston might not be able to teleport Dorothy back to Kansas, it definitely earned its place in the history books. The pair was created in 1989 by Ronald Winston in order to mark the 50th anniversary of The Wizard of Oz.
The House of Harry Winston worked for two months in order to place each one of the 4,600 rubies entirely by hand, and the result is a lavish pair of shoes worth no less than $3 million. Apart from the 1,350 carats of rubies, the shoes also comprise 50 carats of diamonds.
While the $3 million price tag is undoubtedly out of this world, the original pair worn by Judy Garland in the film might fetch even more at auction, even though those shoes were only decorated with red sequins.
2. Diamond-Studded Heels – Debbie Wingham ($15 million).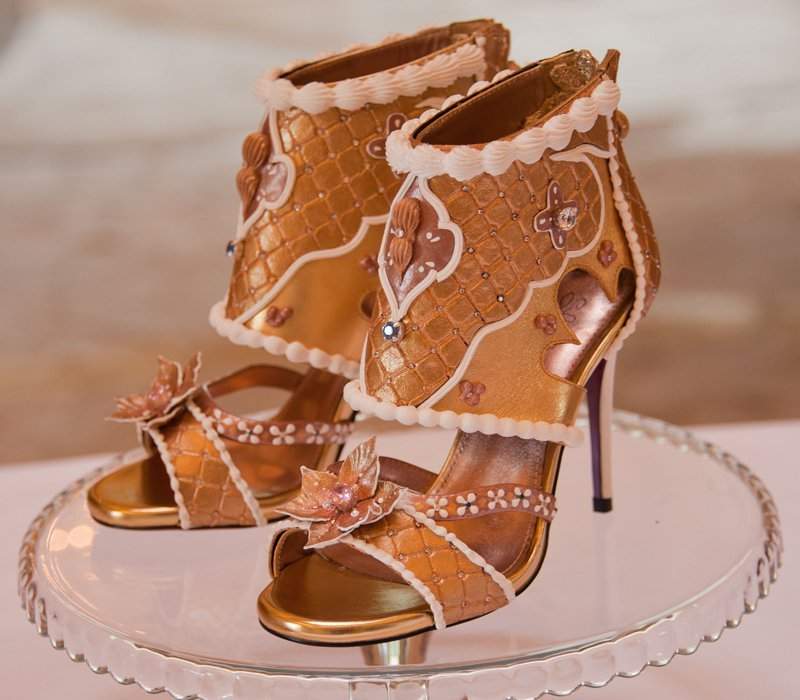 Boasting a blooming fashion career that started at the age of 13, Debbie Wingham is one of the world's most appreciated and expensive designers. Before creating this exquisite pair of heels, she revealed the world's most expensive dress in 2012, as well as the world's priciest abaya in 2013. In 2015, she created the most expensive cake in the world for a wealthy client in the UAE, which was as delicious as it was decadent.
The shoes above were the most expensive in the world for almost a year, as they featured a price tag of $15 million. The price is justified by a series of lavish adornments consisting in 1000 diamonds set in platinum and complemented by 24K gold-thread stitching. Moreover, each shoe includes twin three-carat pink diamonds, as well as one-carat blue diamond.
The world's most expensive heels by Debbie Wingham were created in partnership with Chris Campbell for a very rich and anonymous client.
1. Passion Diamond Shoes – Jada Dubai ($17 million).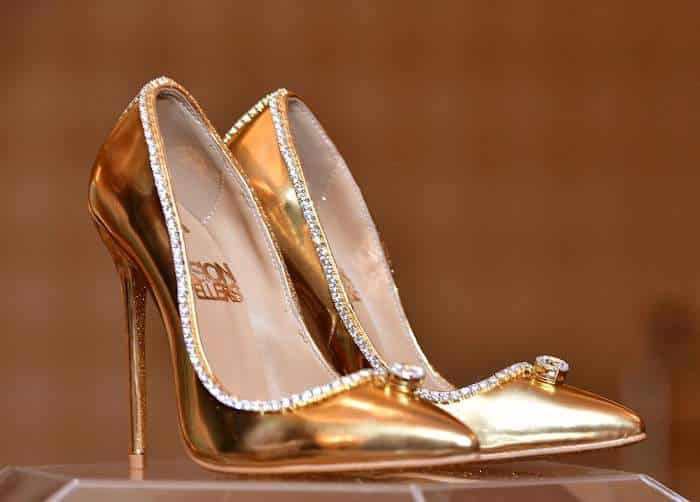 The world's most expensive women's shoes were unveiled at the world's most luxurious hotel, namely the 7-star Burj Al Arab on September 26, 2018. Dubbed the Passion Diamond Shoes, they were created by Jada Dubai in collaboration with Passion Jewellers, and they feature 236 diamonds around the outer rim, as well as two 15-carat D-flawless diamonds as centerpieces.
Priced at $17 million, these are undoubtedly the most expensive women's shoes in the world right now, surpassing the Debbie Wingham heels by a large margin. The pair that you're admiring right now was created as a prototype with a EU36 size, but future clients will be able to customize their Passion Diamond Shoes according to their own measurements. The golden logos that you can see inside are quite thin, which means that they don't affect comfort in any way.
The co-founder of Jada Dubai, Maria Majari, said that they wanted to use very rare diamonds for this unique project, as it represents their second major breach into the world of luxury.