We've all spent some time at a hotel or two in our lives so far, but how many of us were able to truly experience luxury at its highest level? For this privilege, we'd have to spend a night or two at one of the world's most luxurious hotels. These fine establishments were created for those of us who dwell on every detail. The most pretentious of us, sure, but also the richest. Spending a $500 or more a night to stay in a lavish suite might seem expensive and uncalled for, but just wait until you see the level of lavishness that these hotels have to offer.
18. Kempinski Hotel Hybernska (Prague).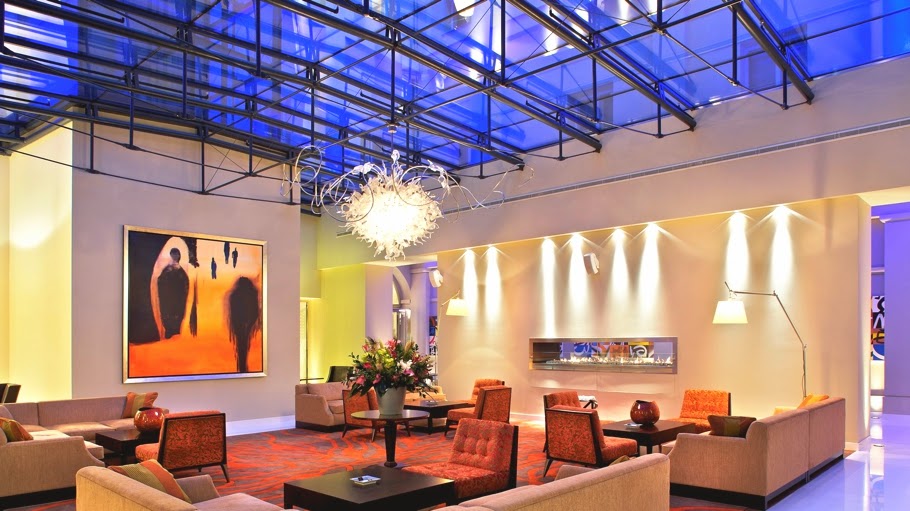 Prague – The Golden City, The Rome of the North, and the City of a Hundred Spires is the capital of the Czech Republic and also the country's largest and most significant city. This is the sixth most popular tourist destination in Europe after London, Rome, Paris, Berlin, and Madrid, and it offers an endless array of attractions, especially from a historical and architectural point of view. That's because Prague suffered little damage during World War II, which allowed it to retain most of its historical heritage. There are other things to do in this city apart from visiting old buildings, of course, such as going on shopping sprees, enjoying fine meals at high-end restaurants, or visiting incredible museums.
However, you will need somewhere to stay during your trip, and while Prague is filled with a generous amount of hotels and villas, we're here to recommend the best of the best: the Kempinski Hotel Hybernska. This wonderful hotel can be found at the very heart of the city, in close proximity to the Municipal House and the Wenceslas Square. This is an award-winning establishment that operates within a renovated building from the 15th century.
Accommodations include 75 rooms that boast an astonishing mix of classic and contemporary design elements complemented by fabulously comfortable living conditions. Once inside the hotel, potential guests can spend some time within the lobby lounge and savor homemade cakes and pralines by the fireplace or under a stunning glass atrium.
The most impressive accommodation choice is represented by the Presidential Suite, which boasts eye-watering views of Prague as well as a terrace that includes a Jacuzzi. The suite comprises 2 en-suite bathrooms as well as 2 bedrooms, a contemporary kitchenette, a living room, and a large dining table that can seat 16 people.
17. Jumeirah Bilgah Beach Hotel (Baku, Azerbaijan).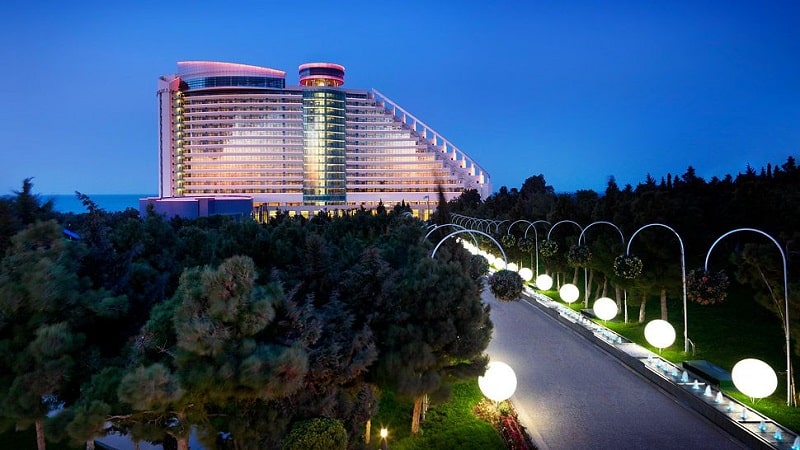 As the capital and largest city of Azerbaijan, and commonly known as the largest city of the Caspian Sea, Baku is a top-tier holiday destination that includes one of the most spectacular beach hotels in the world. We're talking about the Jumeirah Bilgah Beach Hotel – a five-star paradise that offers the perfect blend of luxury, extravagance, and fun.
The hotel includes a total of 176 rooms and suites, as well as 14 three-bedroom independent cottages located throughout its grounds. Located in close proximity to the Bilgah Beach on the Caspian Seashore, this is officially the very first international luxury city resort Azerbaijan, and so it has a lot to live up to. It flaunts several bars and restaurants, a private beach, a water park, a tennis court for the active types, and even a bowling alley. Come night, guests can enjoy the unique atmosphere of the hotel's nightclub, which is bound to make pretty much any vacation a memorable one.
16. Hotel Royal Hoi An (Vietnam).
Even though Vietnam is not the most popular country in the world when it comes to tourism, there's absolutely no reason to ignore this corner of the world if you're looking to spend some quality time with your loved ones. The Vietnam destination that we had in mind is the magnificent Hotel Royal Hoi An, which is located next to the picturesque Thu Bon River in the Old Quarter of Hoi An – one of Vietnam's most beautiful towns and UNESCO World Heritage sites. What makes this hotel special is that it was inspired by a beautiful love story that dates all the way back to the 16th century.
Perfectly suited for regular vacations, this amazing establishment is also the host of numerous events throughout the year, including weddings and high-profile meetings. Accommodations include Deluxe Rooms, Grand Deluxe Rooms, Royal Deluxe Rooms, Deluxe Suites, and lavish Presidential Suites, all of which are packed with high-end amenities that allow guests to savor the finer things in life during their stay.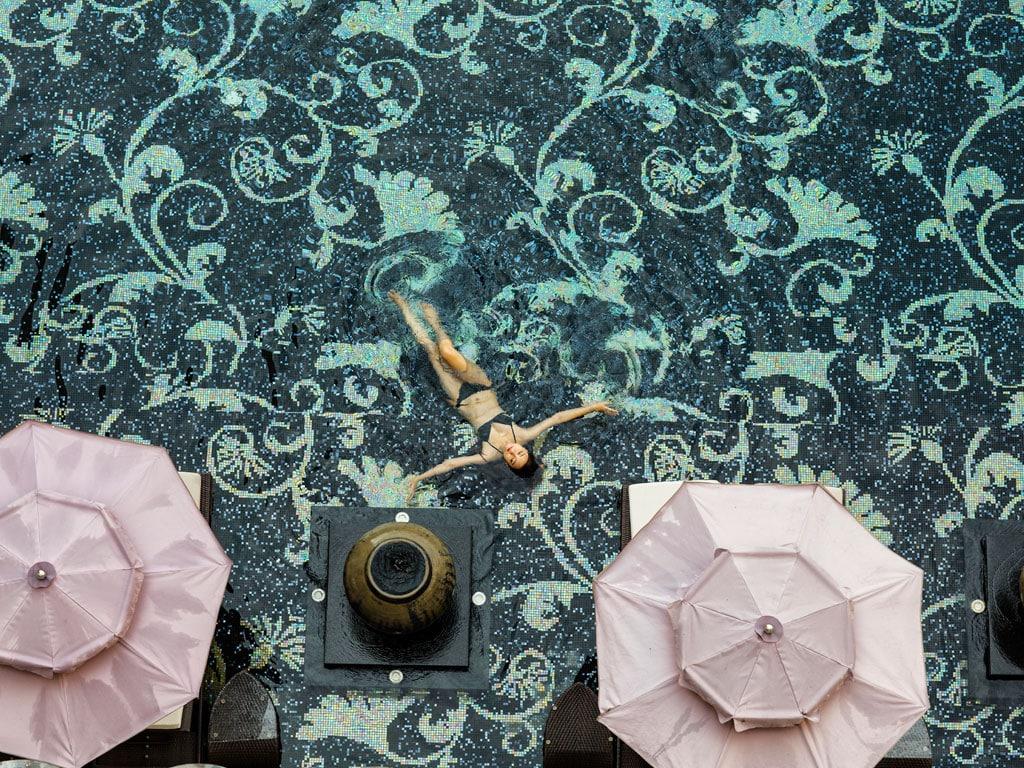 When it comes to dining, there are a few restaurants and cafes available, including the Japanese Wakaku restaurant and the FaiFo Cafe. Apart from dining, the Woosah Spa stands ready to provide memorable moments of relaxation, while the hotel's gym will help you burn off some extra calories and keep in shape day after day. You should also take the time to visit the Boutique Shop before you leave. After all, it would be a real shame to leave without getting a few souvenirs for your friends back at home.
15. Haymarket by Scandic Hotel (Sweden).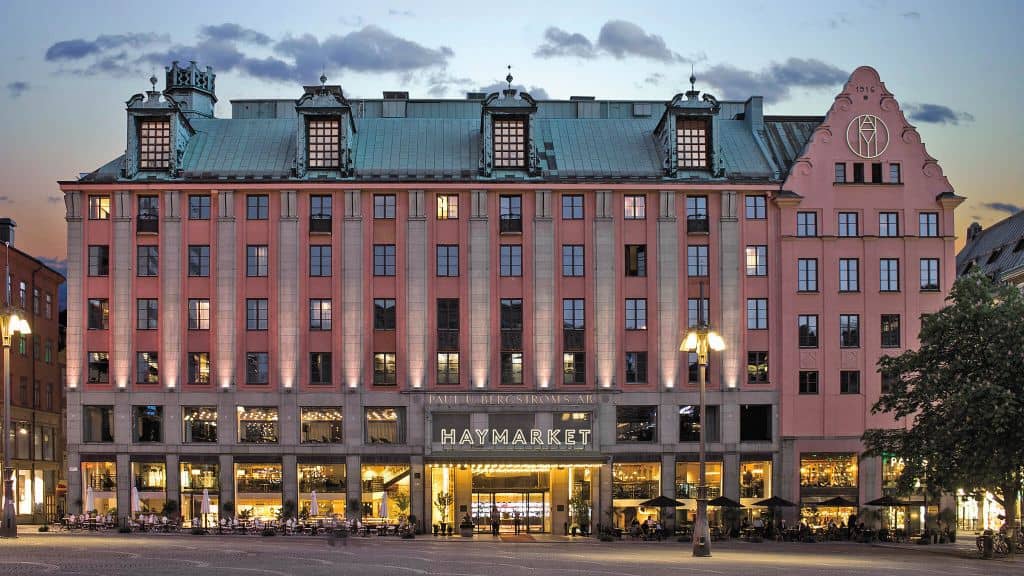 Sweden might not be as popular as other European countries when it comes to tourism, but it still includes some pretty amazing hotels and resorts. When it comes to Stockholm, this great city houses an incredible hotel named Haymarket by Scandic, which impresses with an intriguing blend of classic aesthetics and modern amenities. The establishment is a part of the historic 1916 PUB department building, and it boasts an instantly recognizable Art Deco look.
As far as accommodations go, it boasts 405 rooms and 16 suites, each offering an ambiance worthy of the Roaring Twenties. This 1920s feel was achieved with the help of velvet couches and high-quality textiles, as well as marble countertops and rose gold faucets.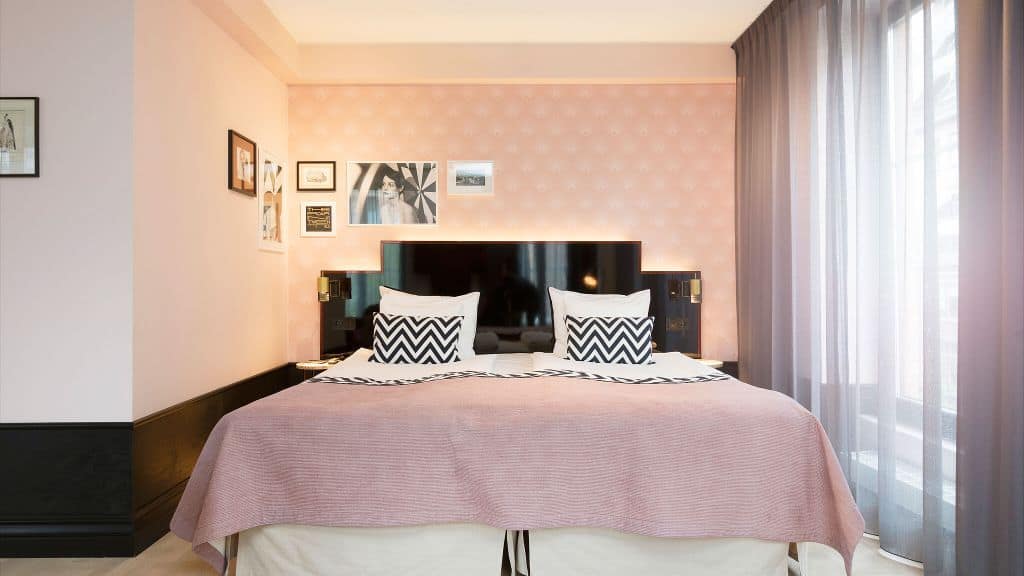 When it comes to dining, Haymarket by Scandic flaunts three unique restaurants complemented by an on-site bar. Paul's brasserie provides a delicious selection of International dishes. However, the American will take you back to simpler times in terms of atmosphere and menu choices. Alternatively, you could also try out the hotel's concierge services. The staff can take care of dinner reservations or point you in the right direction if you want to try out some of Stockholm's main tourist attractions.
14. Morpheus Hotel In Macau.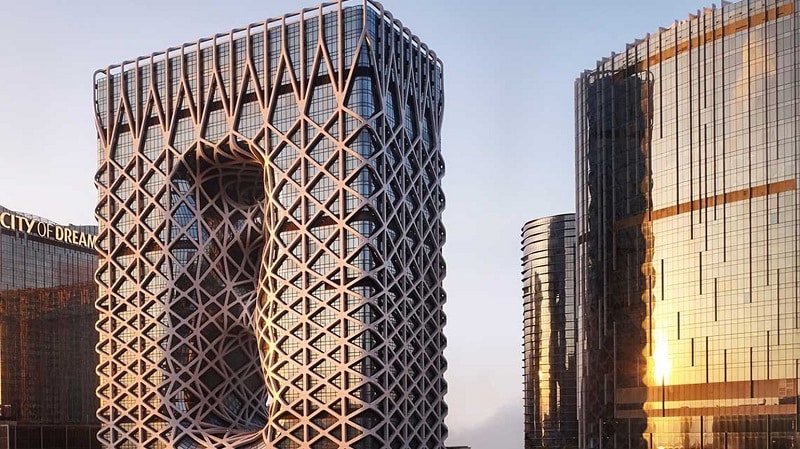 It's hard to find a better-known architect than Zaha Hadid, and rightfully so, as her legacy is perhaps one of the most inspiring and eye-catching on the Globe. One of the latest structures completed by Zaha Hadid Architects is a hotel, which will tempt Macau's visitors with remarkable luxuries and delights.
The Morpheus Hotel is a part of Melco Resorts and Entertainment's City of Dreams. The "City" incorporates establishments such as casinos, other hotels, and shopping venues, and it is likely Macau's main tourist attraction. Penned down by Zaha Hadid herself, the complex flaunts 770 rooms as well as three pool villas and six duplex villas. With an estimated worth of $1.1 billion, the hotel is one of the most visually stunning pieces of architecture to dot the skyline of Macau. So what makes this structure so special apart from its unique looks? Well, it appears that we're looking at the very first free-form exoskeleton-bound tower in the world.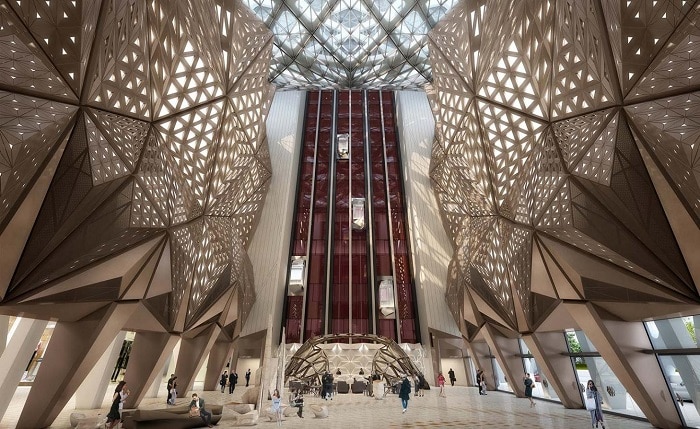 The main heart of the structure comprises a series of bridge-like structures that welcome guests to a dining and lounge space. Moving up to the upper floors, we'll find the VIP gaming facilities as well as the villas that we mentioned above. The interiors of the hotel reminded us of superyacht accommodations, which is definitely not a bad thing. The roof is home to a partially-covered swimming pool that affords breathtaking views of the city.
When it comes to dining, you should definitely spend some time at the Pierre Hermé Paris Lounge, or at one of the hotel's three restaurants. There's even a Chinese restaurant on site, which serves delicious regional dishes.
13. Hotel Epoque Bucharest (Romania).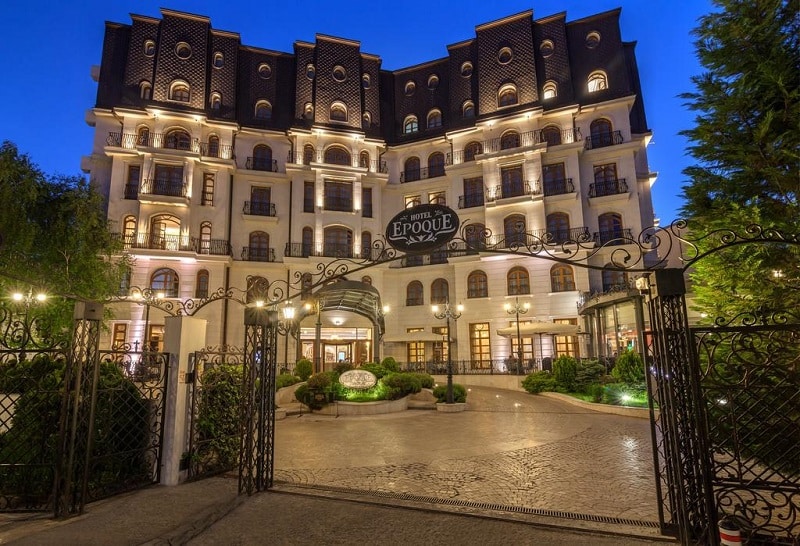 Romania's capital, Bucharest, is not one of the most luxurious cities in the world, but it is one of the most vibrant, welcoming, and interesting places to visit in Eastern Europe. As a former hub for communism, the city includes many old buildings with rich historical roots. Boasting a classic exterior design complemented by lavish, contemporary interiors, Hotel Epoque Bucharest is undoubtedly one of the capital's finest establishments.
Located in proximity to the Old Town, and Park Izvor, the hotel offers superb living conditions for its fortunate guests. As far as accommodations are concerned, they include junior, executive, and VIP suites, which range from 431 to 1,184 square feet in size. The fabulous Epoque suite is undoubtedly the most impressive, all thanks to its two bedrooms, king-sized beds, two bathrooms, a kitchenette, a living room, and a spacious terrace. Overall, the Epoque suite can accommodate up to six guests.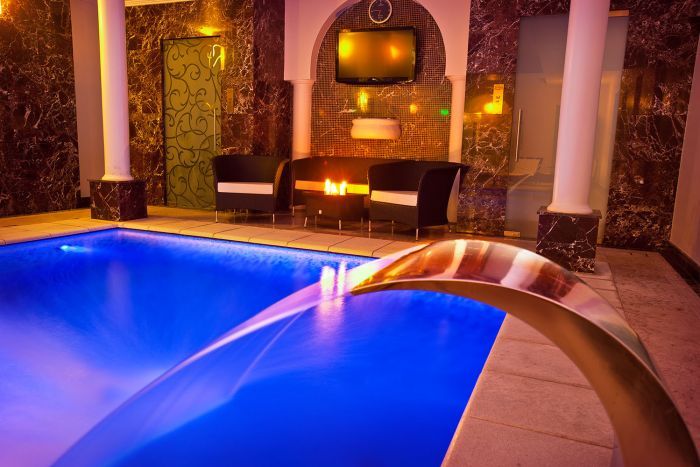 When it comes to dining, the hotel includes its own restaurant named L'Atelier. Overlooking the entrance driveway and garden, the restaurant offers enough seating for 30 people, and its menu comprises traditional dishes as well as international delights. Octopus fricassee with aromatic herbs, black Angus ribeye with Béarnaise sauce and potatoes, and onion soup with aged Emmental cheese are just some of the menu's highlights.
Hotel Epoque's basement hosts an indoor heated swimming pool with hydromassage and water jets, as well as a dry sauna, a fitness room, a steam room, and a spa.
12. Camlux Hotel (Hong Kong).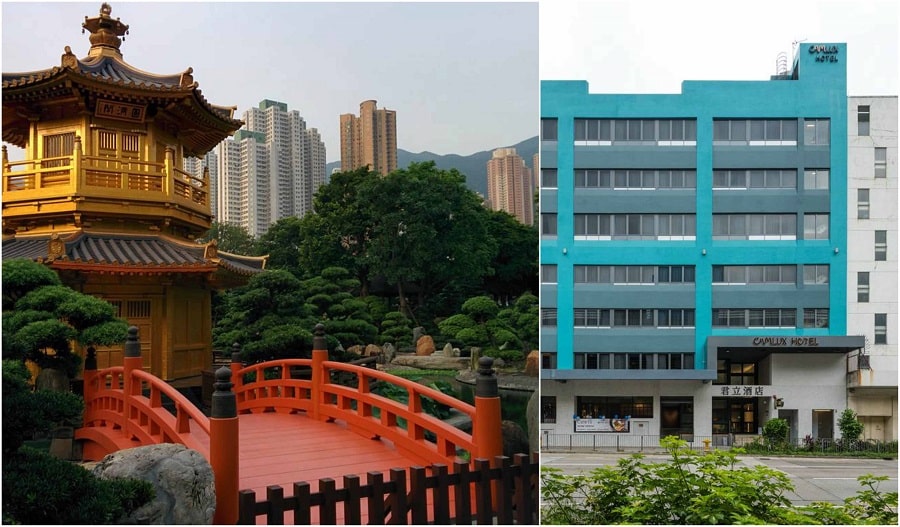 If you're not familiar with the wonderful city that is Hong Kong, you might not know about the international business hub that is presently emerging from the city's old industrial district. That's ok though because we're here to tell you all about an exceptional hotel that has opened its doors in Kowloon Bay, which is located on the eastern side of the Kowloon Peninsula and north of Hong Kong Island. The Camlux Hotel is noteworthy for a number of reasons, but the most important one is that it operates within a former factory.
Consequently, the hotel gives off a slightly industrial vibe, particularly when viewed from the outside. The old Camel brand that used to operate within its walls still retains some of its old spirit, but other than that, the Camlux Hotel is a modern and luxurious testament that even an old factory can become a place for relaxation, wellness, and comfort with a little bit of work and dedication.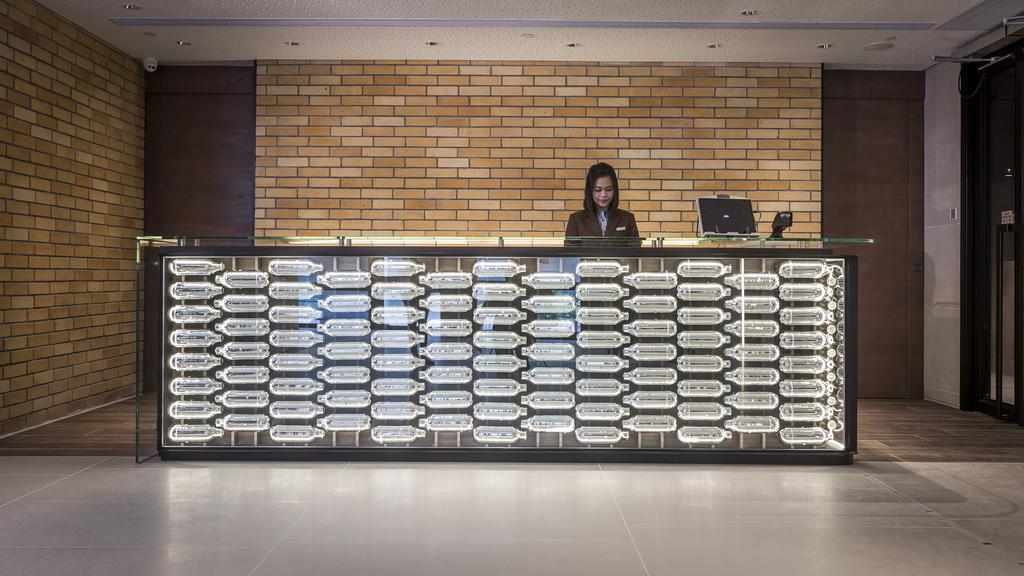 Going into specifics, we can tell you that this retro-contemporary six-story hotel boasts no less than 103 Cosy Rooms, 2 Studio Rooms, 70 Comfy Rooms, and 10 Family Rooms, each ranging in size from 22 to 32 square meters. Some of the most noteworthy amenities include complimentary Wi-Fi access, Smart TVs, beautiful views of the city, and lavish bathrooms.
The Camlux Hotel also comprises a fully equipped gymnasium that's open 24 hours a day, a conference room, dry cleaning services, luggage storage, and limousine service.  We should also mention Cafe 15, which can be found on the Ground Floor and serves outstanding international dishes and refreshing drinks. Camlux is situated right near the Kowloon Bay International Trade and Exhibition Centre, and it is just a stone's throw away from the Kowloon Bay MTR Station.
11. Six Senses Duxton (Singapore).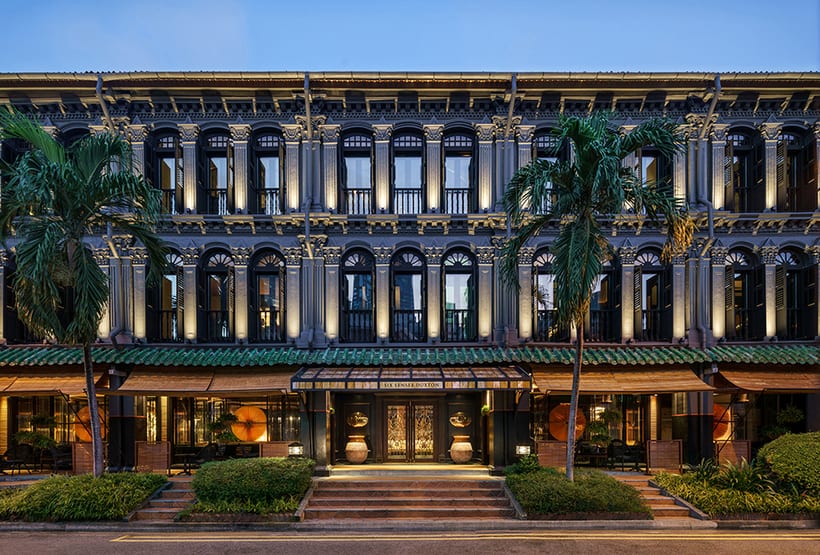 Singapore enjoys great popularity due to its thriving economy and impressive urban landscape. Therefore, it's not at all far-fetched to assume that it includes some of the most luxurious resorts and hotels in the world. A fine example is Six Senses Duxton – a lavish haven of wellness and comfort that has just recently opened its doors. The hotel is located in Singapore's Tanjong Pagar district, at 83 Duxton Road to be precise.
Its design embodies wonderful European, Malay, and Chinese elements, especially when it comes to the lobby. Since a hotel's lobby offers a first impression for guests, it incorporates golden fans, Chinese screens, and a beautiful calligraphy wallpaper. As charming as Singapore is, you probably won't want to leave this hotel until you absolutely have to. Fine dining is served at the Yellow Pot, where you'll be able to savor innovative Chinese cuisine. The restaurant's bar offers delicious drinks as well, such as unique cocktails and fine spirits.
As far as accommodations are concerned, Six Senses Duxton comprises just 49 guestrooms. These are divided into several categories, namely Nutmeg, Shophouse, Opium, and Pearl. The most impressive choice is the two-story Duxton Duplex Suite, which has its own restored original spiral staircase.
As a final touch, we'd like to mention the hotel's dedication to eco-friendliness. These efforts concern water in particular, as Six Senses Duxton produces its very own Six Senses drinking water. This might not sound like much, but it helps raise awareness of the numerous negative effects associated with plastic bottles and imported water. Moreover, each guest receives two chilled 30ml glass bottles each day, which comprise tinctures formulated by Professor Zhang.
Overall, Six Senses Duxton is undoubtedly one of Singapore's most delightful destinations. Whether we're talking about business trips or leisure affairs, you should definitely consider booking a room here.
10. Electra Palace Thessaloniki (Greece).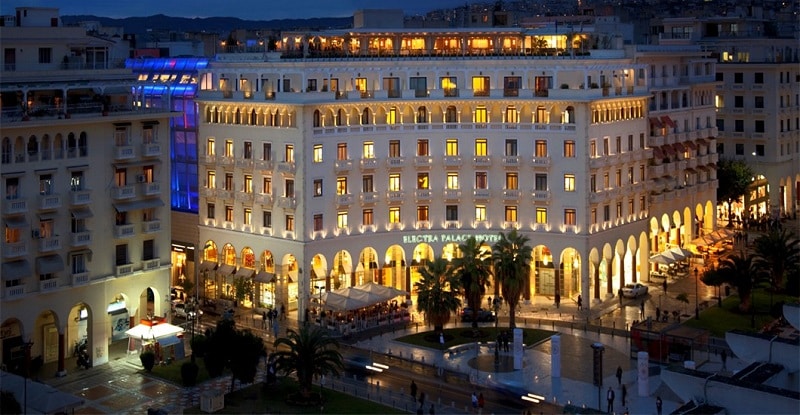 Thessaloniki, also known as Thessalonica or Salonika, is Greece's second-largest city, and as such, it is often visited by tourists from all over the world. Consequently, the city includes some of the world's most amazing resorts and hotels, with Electra Palace Thessaloniki being a crown jewel among them. What makes this hotel stand out among all others, apart from its privileged location, is that its creators spared no expense when it comes to its interior arrangements.
Once inside, you'll be greeted by a neoclassical-inspired design with plush carpets, wooden floors, wood paneling, marble inlays, chesterfield sofas, ornate furnishings, and many other luxurious touches. As far as accommodations are concerned, there are many types of rooms available at Electra Palace Thessaloniki, including Classic Rooms, Premium Guest Rooms, Superior Rooms, Executive Rooms with city views, Executive Rooms with sea views, Junior Suites, Superior Suites, and the lavish Executive Suites.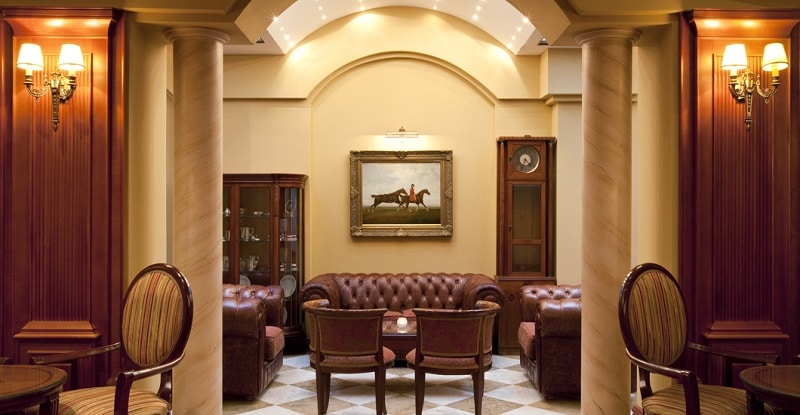 Dining-wise, there's the Orizontes Roof Garden that offers Mediterranean cuisine, while the Excelsior Bar tempts with delicious drinks and a breathtaking ambiance. Apart from dining, guests can enjoy a relaxing swim in the hotel's swimming pool, or spend some quality time at the spa or fitness center.
9. Hotel Amanbagh in Rajasthan (India).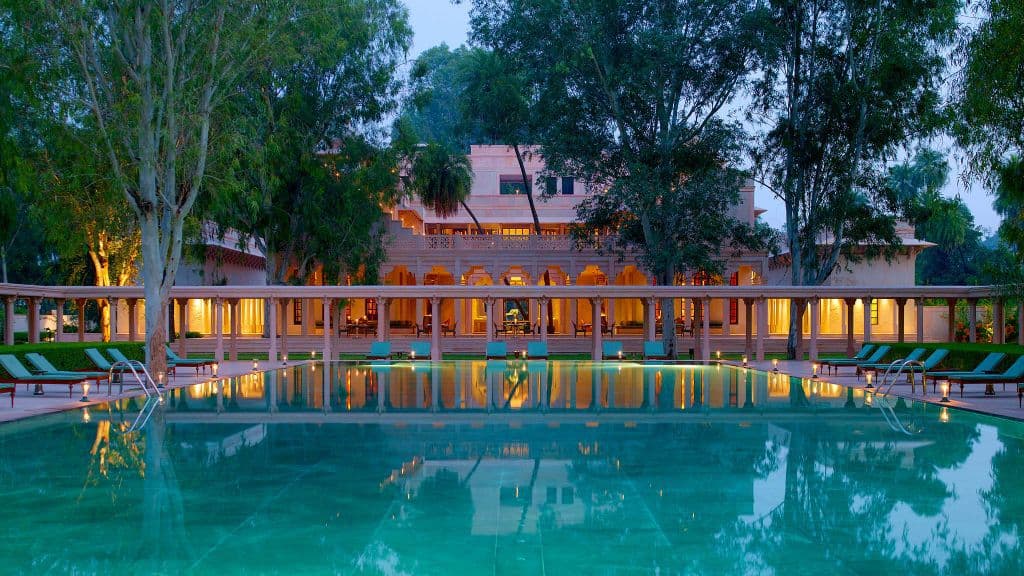 One of India's most luxurious hotels, Hotel Amanbagh certainly resembles a lavish palace, but that's not the only thing that allows it to stand out. This high-end establishment is located in Rajasthan, India, in a lovely valley that offers exceptional, natural views. The hotel operates within a historic building, which used to be the personal hunting lodge of the Maharajah of Alwar. The building's architecture is beautifully preserved to this day, and it signifies a tribute to the Moghul dynasty.
Once you arrive, you instantly notice the nicely maintained lawns, the palm trees, and eucalyptus trees that dot the valley. The hotel itself impresses with pink marble floors, domed ceilings, and king-sized beds, to say nothing of the various Moghul decor elements.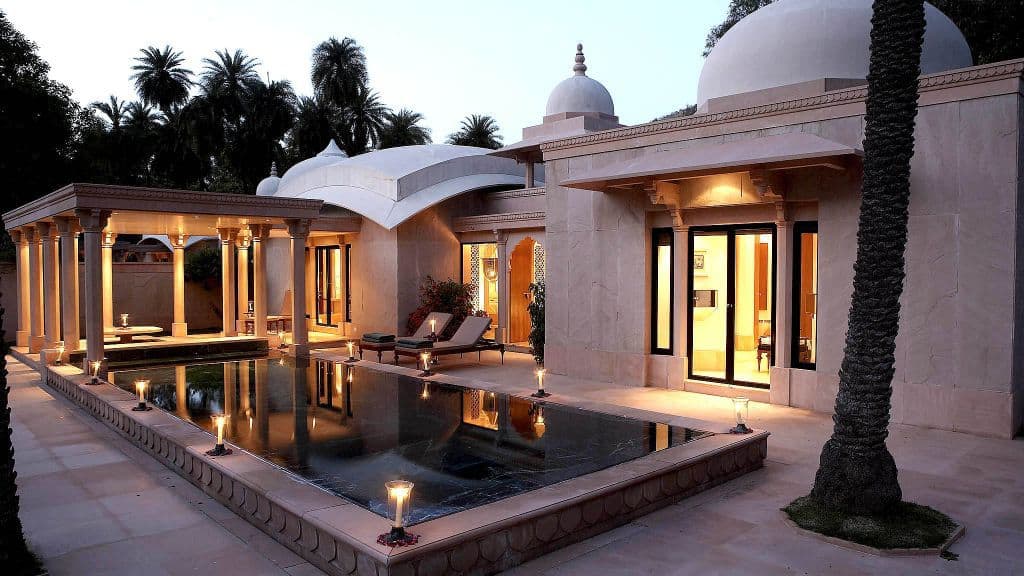 During your stay, you can always explore the nearby Rajasthan countryside by camel cart or on horseback. You can also ride elephants, rent a bike, drive around, or enjoy a relaxing boat ride.
Truly, there are plenty of things to do at Hotel Amanbagh, and boredom is completely out of the question. Nearby, there are quite a few old forts, temples, ancient mosques, and various ruins. Sunset safaris are available too, of course, and if you feel like going on a shopping spree, you can always visit nearby Jaipur. As far as dining goes, the restaurant at Hotel Amanbagh offers a mix of Western dishes and delicious Indian cuisine. Alfresco dining poolside is always a fine choice as well.
8. Esplanade Zagreb Hotel (Croatia).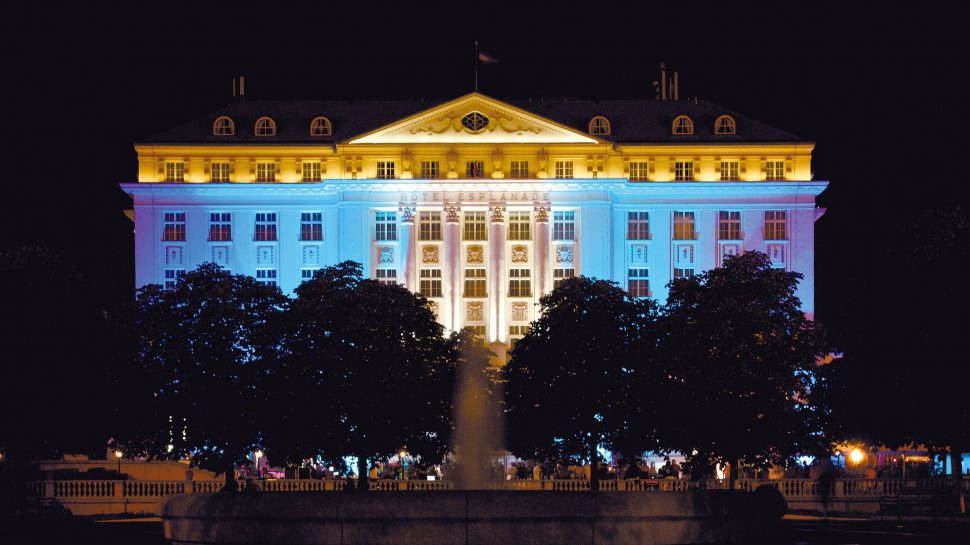 Croatia really is one of Europe's most beautiful countries! It has a rich historical heritage, amazing geography, and some of the most luxurious and expensive hotels. A few years ago, we told you a bit about Dubrovnik, a fantastic holiday destination that was also used as a filming set for Game of Thrones. Today, we move on to Zagreb and its Esplanade Zagreb Hotel, which temps with irreproachable service, amazing restaurants, luxurious rooms, and views that would take your breath away.
The establishment even includes a skating rink and a casino, which means that entertainment is pretty much guaranteed. Another thing that makes Esplanade Zagreb special is the fact that it also represents a very important landmark. Yes, the building is an Art Nouveau masterpiece that's located in the city's core, surrounded by museums, shopping spots, and art galleries. As for the rooms, there are 208 in total, and they range in size from 320 to 1,900 square feet. Each offers its own selection of luxe conveniences, including plush beds, high-quality furnishings, complimentary internet (the fast kind), and marble bathrooms.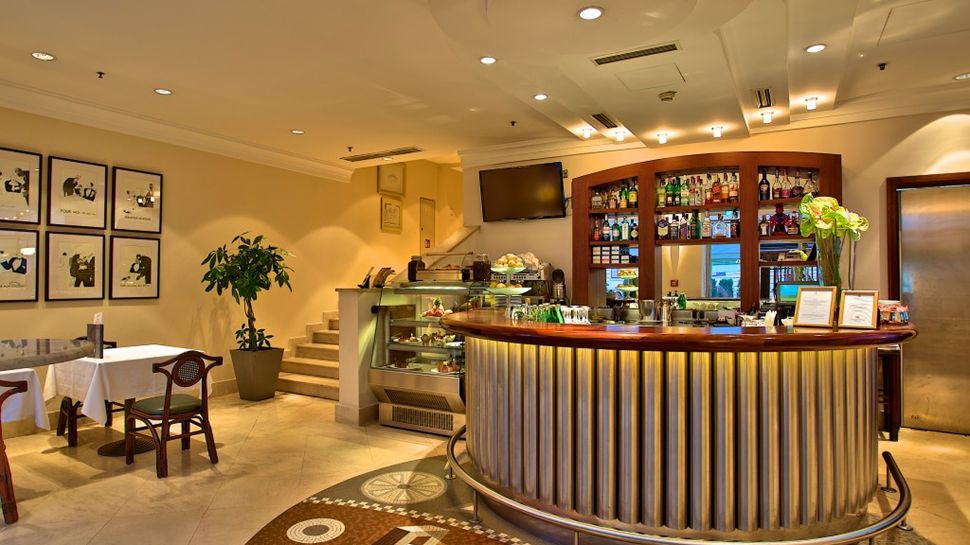 The casino is open every day from 8 pm to 4 am, but you could always spend some time at one of the hotel's restaurants, including Zinfandel's Restaurant and Le Bistro. If you want to enjoy a taste of Zagreb's nightlife, the Esplanade 1925 Lounge and Cocktail Bar await on the Oleander Terrace.
7. Fairmont Empress Hotel In Vancouver Island (Canada).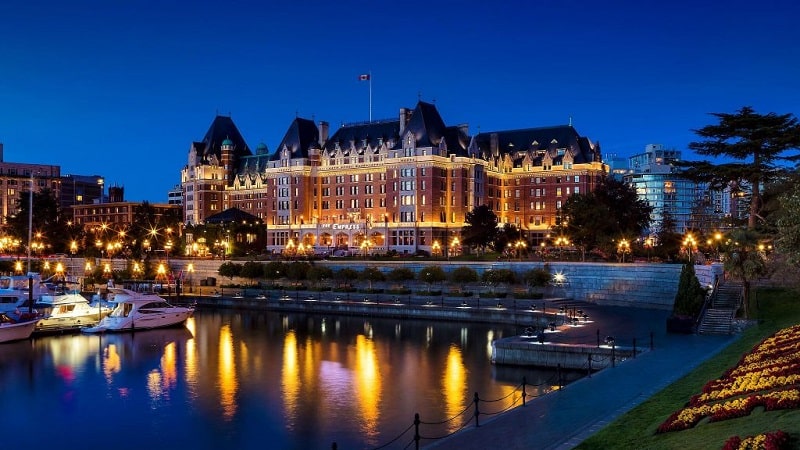 Add Canada on your list of vacation destinations for this year and get ready to enjoy one of the most breathtakingly luxurious experiences at one of the world's most lavish hotels. We're talking about the Fairmont Empress Hotel in Vancouver Island, which boasts a remarkable classic design balanced out by contemporary accommodations, high-end amenities, and views that will leave you in awe.
Sitting on the shores of Inner Harbor since 1908, the building has been masterfully restored not too long ago, and it now features an indoor swimming pool, an elegant lobby, and a modern health club. The rooms also received some attention as well, and they're ready to satisfy the needs of the most pretentious individuals.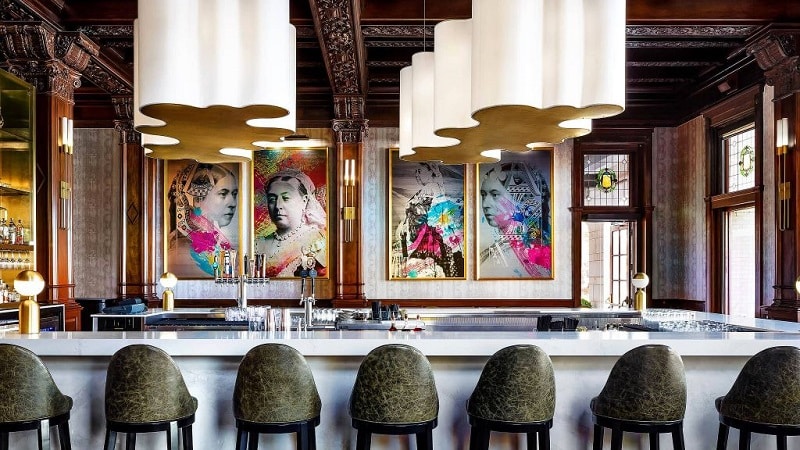 The hotel's Fairmont Gold floor includes a private lounge and a bar, and a concierge team is always on-site to make sure that guests will want for nothing during their stay. As for the Willow Stream Spa, it offers guests the opportunity to burn off some calories at the fitness center, or just to work out a good sweat in the sauna. Dining-wise, we should mention the Bengal Lounge, which impresses with its own curry buffet, while delicacies can be savored at the Empress Room.
All in all, the Fairmont Empress Hotel in Vancouver Island is undoubtedly one of Canada's most exquisite hotels, and you should definitely give it a try next time you find yourself up there.
6. Conrad Manila Hotel (Philippines).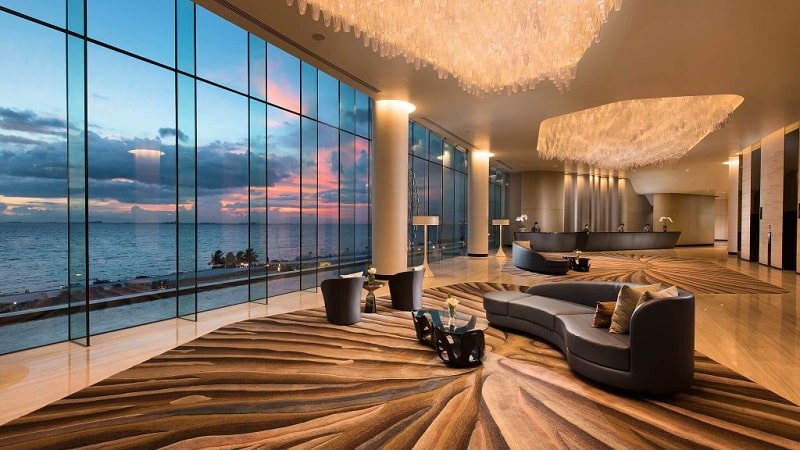 Nestled right in the heart of the Central Business District in Manila, the capital of the Philippines, Conrad Manila is an exceptional hotel that was designed to cater to the needs of those of you who enjoy the finer things in life. Since its rooms offer breathtaking panoramas of the Makati waterfront and the yachts resting in the Manila Bay, the hotel boasts a yacht-like appearance itself, which is just one of its many highlights.
Inside, there are no less than 347 hotel rooms and suites, all of which were inspired in their designs by the colonial heritage of the Philippines. They also feature contemporary decorations and a generous selection of high-end amenities that would meet and surpass all of your expectations.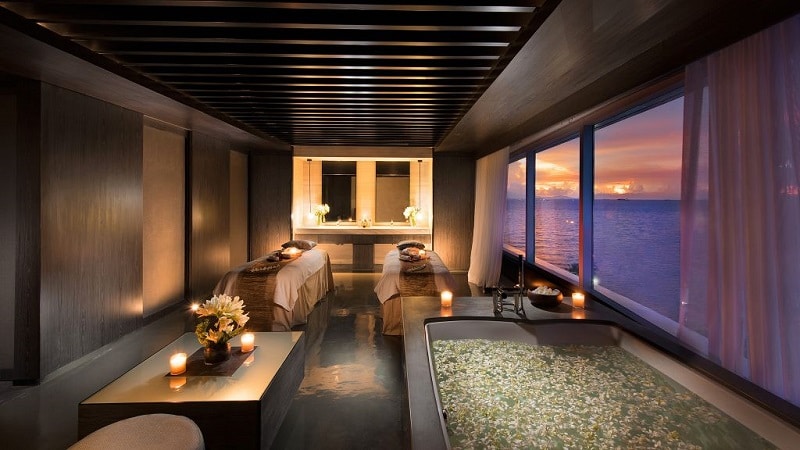 Those who choose to visit Manila for business will be glad to know that Conrad Manila incorporates numerous meeting rooms, a pair of exhibit spaces, and executive lounges. Guests will also be able to spend some time at the local gym and spa, and there are also quite a few high-end stores in the hotel's basement, which provide fantastic opportunities for shopping sprees. It's hard to find a flaw in this luxury hotel and judging by what we've seen so far, it's not far-fetched at all to name it Manila's most amazing hotel.
5. Terelj Hotel (Mongolia).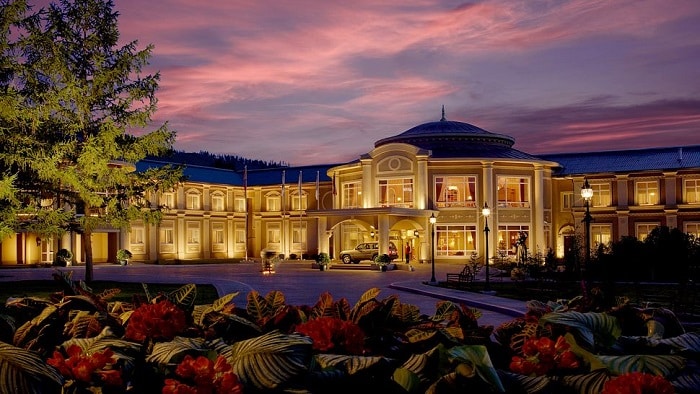 Situated right within China to the south and Russia to the North, the landlocked sovereign state of Mongolia is one of the most picturesque places in East Asia. For those who are accustomed to the finer things in life, this country offers a generous selection of high-end hotels, and today we're going to focus on the amazing Terelj Hotel, which is located at the center of Mongolia's Gorkhi-Terelj National Park. During your stay, you'll be able to learn a few things about Mongolian culture, and you'll also be able to experience some of its most interesting aspects.
In close proximity to the Terelj River, the hotel provides amazing panoramas of its surroundings, but you won't spend your time there simply admiring the views, as there are plenty of other activities available. A fine example is horseback riding, which offers perfect opportunities to explore the establishment's grounds.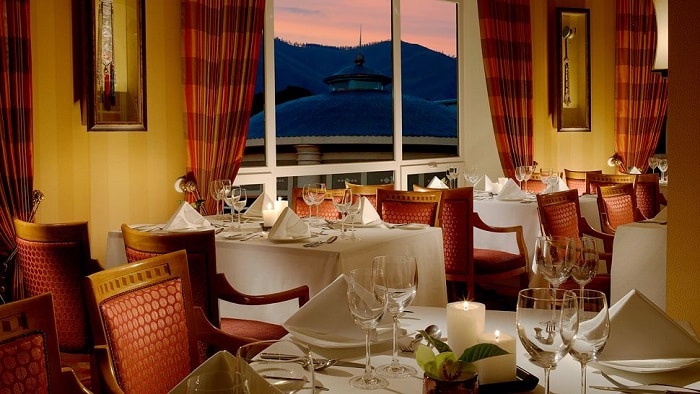 The rooms impress with antique furnishings, local art elements, and marble floors, to say nothing of the high-end amenities, comfortable fabrics, and unique decors. When it comes to dining, the Terelj Hotel offers plenty of local and Western-based delicacies, including a Mongolian barbecue with a French twist.
And after an engaging day spent exploring and taking in the local sights, you can always head back and spend some time at the Tea Lounge, Cocktail Lounge, or Cigar Lounge. Doesn't sound bad at all, does it?
4. Gran Hotel Son Net in Mallorca (Spain).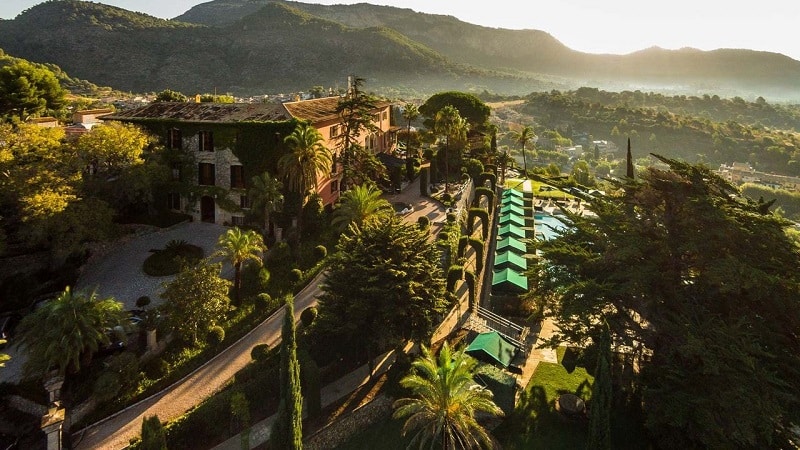 The island of Mallorca is often considered one of the most idyllic holiday destinations in the world, and it's certainly one of Spain's most renowned islands. This place is the home if quite a few luxe hotels and resorts, but today we're going to focus a bit on the magnificent Gran Hotel Son Net, which is actually a fully restored 17th-century estate that was transformed into a lavish boutique hotel. As such, the establishment impresses with a unique aristocratic charm complemented by modern conveniences and views that will bring tears to your eyes.
Gran Hotel Son Net overlooks a picturesque little village named Puigpunyen, and it affords breathtaking panoramas of Mallorca's Galatzó Mountain. The rooms are incredibly comfortable and spacious, and they include high-end amenities and facilities such as marble bathrooms, large TVs, heated towel racks, and bespoke linens. That's not even the best part, as the hotel offers complete access to the Zen Zone Beauty Center, which offers amazing treatments for the body and soul.
Foodies will definitely want to spend some time at the Oleum gourmet restaurant located within the main building, while the El Gazebo restaurant provides exceptional outdoor dining opportunities.
3. Sivory Punta Cana Boutique Hotel (Dominican Republic).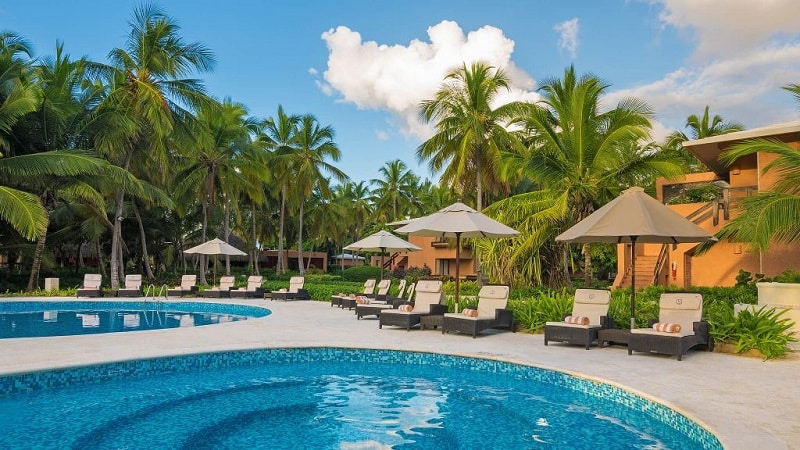 This magnificent hotel is located on the northern coast of Punta Cana in the Dominican Republic, and it aims to provide unforgettable moments of relaxation and fun for those who are inspired enough to spend some time on its grounds. We're talking about the Sivory Punta Cana Boutique Hotel – a true Paradise on Earth if you will. The establishment offers few but incredibly luxurious suites, all of which boast high-end amenities such as wine coolers, hot tubs, and couple's showers.
During your stay, you'll be able to sit back in your lounging chair on the private beach and just take in the breathtaking panoramas, but you could also spend your time savoring delicious delights at one of the three restaurants available on-site. The hotel even includes a wine cellar that houses more than 8000 bottles of wine.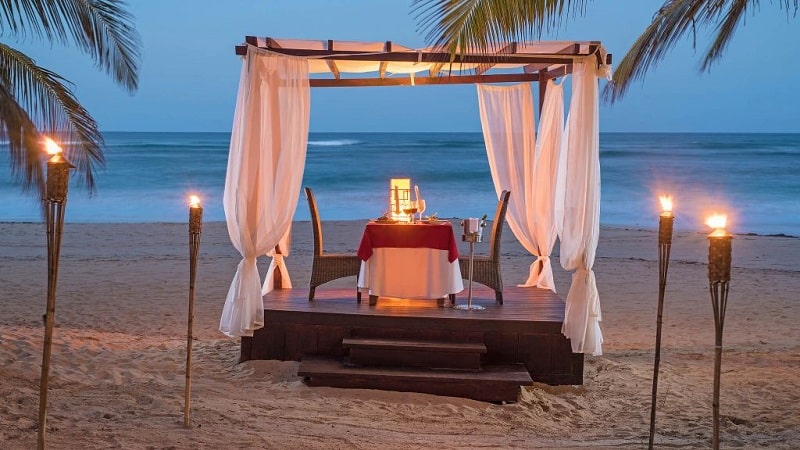 There are several plans available, as with most high-end resorts, and those who really want to enjoy the best life has to offer should probably go with the Sivory Plan. This is an all-inclusive "A La Carte" option that offers 24-hour room service, an afternoon tea, and delicious wines stacked in a mini-bar. If you're sold, you can always go ahead and book a room right now. It's never too early to plan for a summer holiday, right?
2. Kempinski Hotel Berchtesgaden (Germany).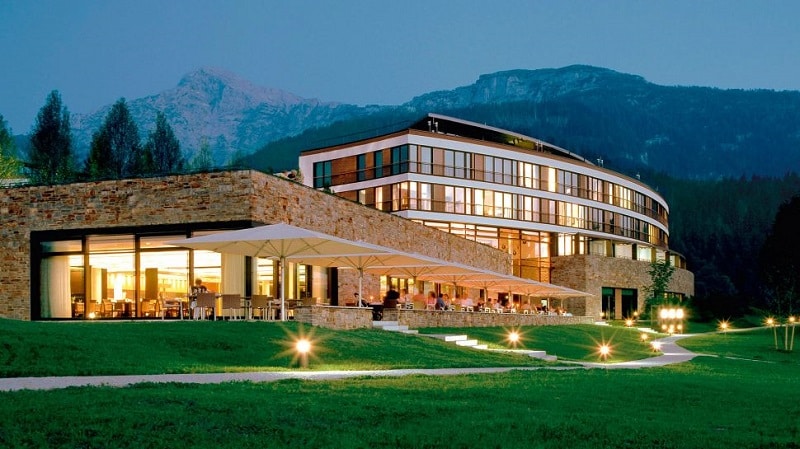 While it's definitely true that no country out there is perfect, Germany is definitely better than most, not just because it has an impressive economy, but also because it is an incredibly picturesque place. Among its numerous resorts and hotels, we decided to focus a bit on the Kempinski Hotel Berchtesgaden, which is located near a small Bavarian town named Berchtesgaden.
Offering exceptional views of the Alps, this hotel includes 126 rooms and 12 suites in total, and that's not even the most impressive part. During your stay, you'll enjoy access to four gourmet restaurants, including a Michelin-starred one named Le Ciel, which serves mouth-watering specialties created with great care by expert chefs. However, if you want to enjoy some local meals and brews, you can head over to Bayernstube Schalander.
And after a day of enjoying great food and engaging activities with your loved ones, what could be better than spending some time at the establishment's panoramic-view spa? The spa includes a heated outdoor swimming pool, a heated indoor pool, a Finnish sauna, a steam room, and an alpine herbal sauna. Those of you who are looking for a bit of adrenaline-pumping fun can always try out paragliding while golfing enthusiasts can have a go at the highest golf course in Germany, which is just nearby.
1. Hacienda Temozon Luxury Hotel (Mexico).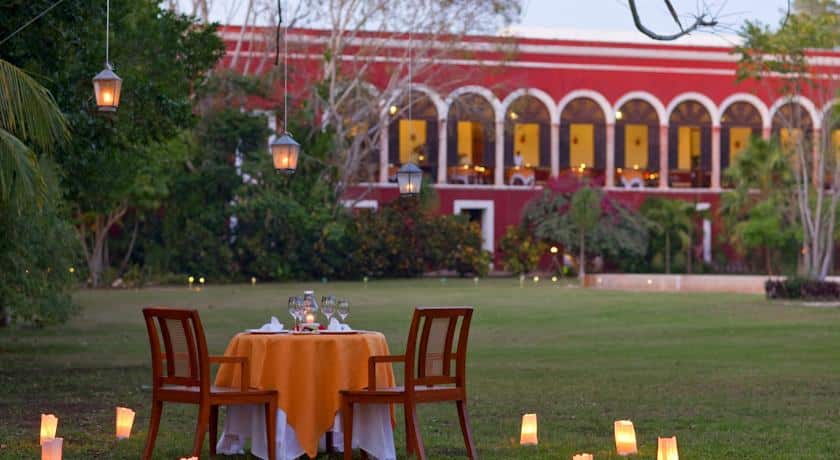 You don't always have to travel to far and exotic places in order to experience the best things life has to offer. Mexico, for example, is a top-tier holiday destination, particularly for those of you who appreciate the country's unique historical heritage. Among Mexico's numerous luxe hotels and resorts, Hacienda Temozon stands out by offering a blend of authentic Mexican culture and unmatched lavishness.
Located in close proximity to Mayan ruins and the colonial Merida, this restored colonial mansion from the 16th-century will take your breath away. Featuring 28 beautiful rooms named after their original purposes, such as Pharmacy Room or School Room, provides amazing accommodations, but its 18-foot ceilings with exposed beams, tropical hardwood furnishings, and traditionally crafted iron beds mustn't be left out. There are three room types available, including Superior Double Rooms, Junior Suites, and Deluxe Double Rooms with two double beds.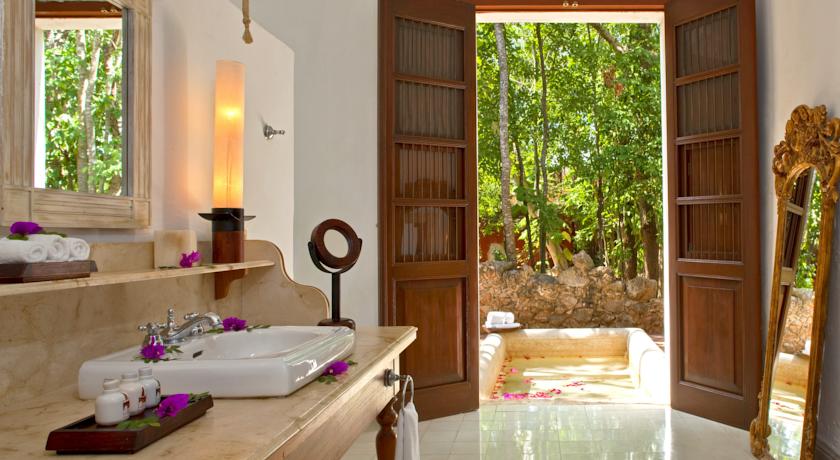 Other highlights include plunge pools, a fantastic restaurant that overlooks the main gardens, and engaging activities such as horse riding and tennis, which promise to keep the active types happy during their stay. Front desk services include concierge, baggage storage, ticket service, a tour desk, and 24-hour service.