The Best Maldives Resorts for a Luxe Getaway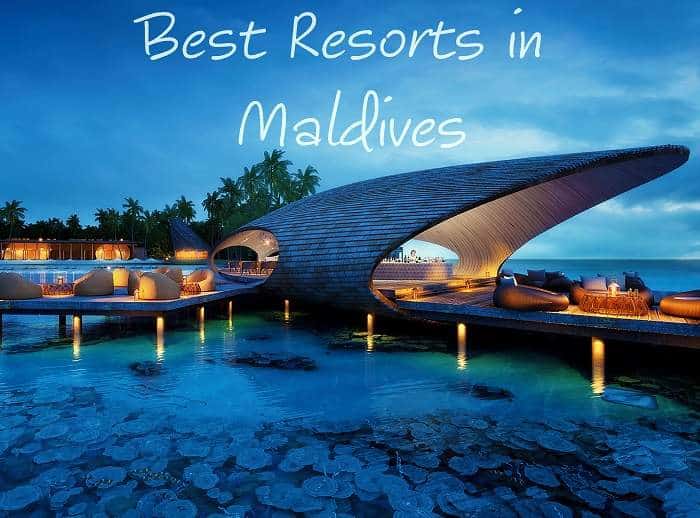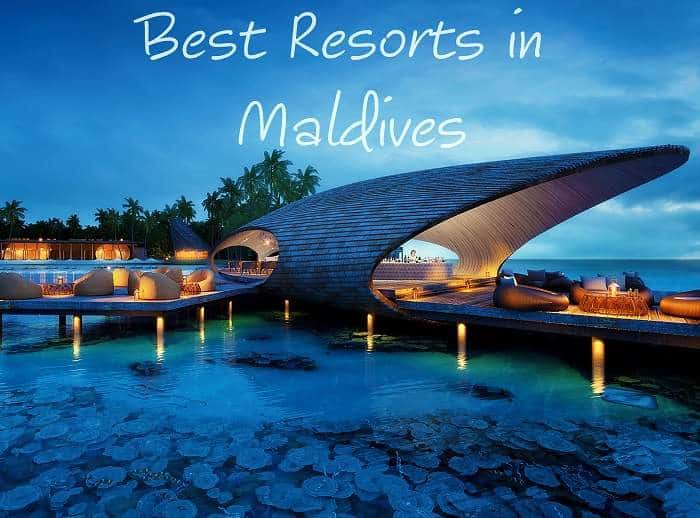 A walk through Paradise: 15 outstanding Maldives resorts.
In truth, this is a difficult question to answer, as pretty much every luxurious resort in the Maldives is special in its own way. Depending on your own luxury travel needs, you'll find that some might be more to your liking than others, but since there are so many luxury establishments in this South Asian sovereign state, picking one is not an easy task if you're not well-informed.
We took a closer look at 15 of the best Maldives resorts, and we analyzed each one in detail so that you might be able to make an informed decision. Below you'll find details regarding location, accommodation, pricing, and main activities.
Quick note: In order to help out with pricing, we looked up available rooms for August, and we inquired about 5 to 7-day vacations for two adults. Pricing is affected by multiple factors, including the time of the year, as well as the number of people and the desired accommodation option.
Therefore, you should always check the availability of your rooms yourself by visiting the resorts' own websites. Don't worry, we included these websites as well at the end of each review. Finding a hotel in the Maldives has never been easier!
Let's get started, shall we?
15. COMO Maalifushi.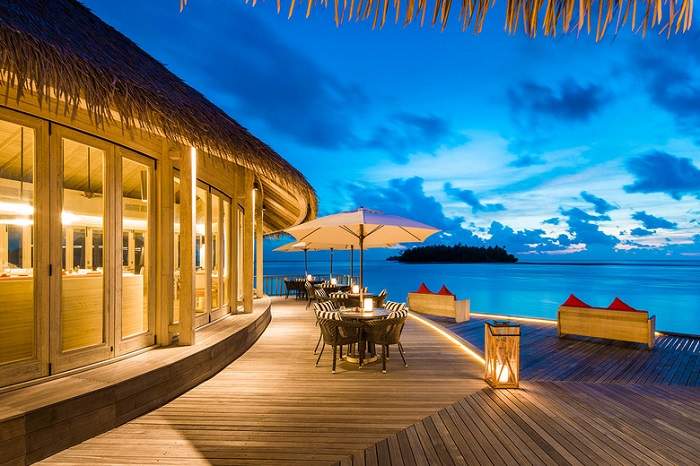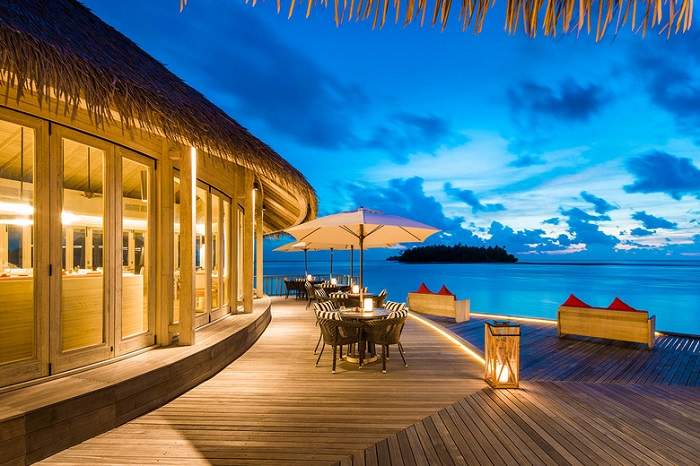 We'll start off our list of the best Maldives resorts with COMO Maalifushi, which is the only resort in the nation's Thaa Atoll. This means that you'll be able to enjoy utmost privacy here, alongside the exceptional conveniences that come with the territory for a Maldives resort. Whether you're into diving or surfing, you'll definitely be able to practice your hobbies here. This resort is ideal for both families and couples, by the way.
Accommodation:
COMO Maalifushi offers a wide selection of rooms and suites. These include Garden Rooms, Beach Suites, Beach Villas, Two-Bedroom Beach Suites, Two Bedroom Beach Villas, Two-Bedroom Beach Houses, the Maalifushi Beach Villa, Water Suites, Water Villas, and the exquisite COMO Residence. Available living spaces range from 72 square meters all the way up to 408 square meters, but then the prices increase quite a bit as well.
Dining and Wellness:
When it comes to dining, you'll be able to choose from different restaurants such as TAI, MADI, or THILA. However, private dining arrangements can also be explored upon request. As for wellness, the COMO Shambhala experience blends Asian-based therapies, nutrition, exercise, and yoga into a complete package that nurtures the body and soul.
Pricing:
A Beach Suite at COMO Maalifushi will set you back $795 per night, while a Water Suite would cost $980 per night. More expensive options include Two Bedroom Beach Houses at $1,505 per night, as well as the lavish COMO Villa at a whopping $5,040 per night.
14. Gili Lankanfushi Maldives.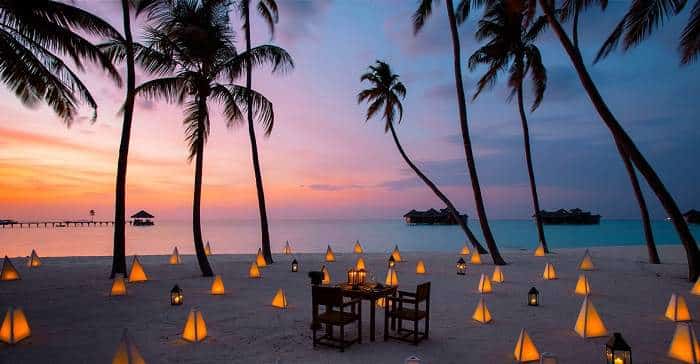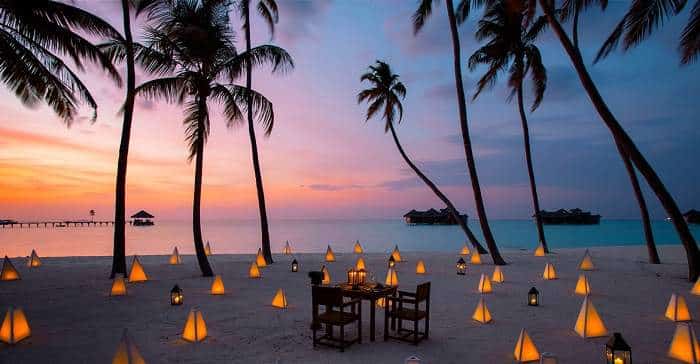 "Arrive on the shores of barefoot luxury. Right here, where time stands still."
Indeed, this might very well be Heaven on Earth for many of us, as the sheer beauty of the island and its lush vegetation are enough to make your heart skip a beat. The resort is located on Lankanfushi Island, North Malé Atoll, and it represents an ideal destination for couples or families.
Accommodation:
Available rooms include Family Villas, the Gili Lagoon Residence, the Gili Lagoon Villa, The Crusoe Residence, Villa Suites, and six Luxury Private Villas. There's no wrong choice here, but for families, we'd recommend a stay at the Luxury Villas, as they include a generous selection of amenities such as air conditioning, master bedrooms, rooftop terraces, and semi open-air bathrooms.
Dining and Wellness:
There are several dining options available at Gili Lankanfushi. Fine examples comprise the Kashiveli restaurant, Fini Foni, the Overwater Bar, or the By The Sea service. As for wellness, you should try the Gili Wellness Journey, which is divided into four different treatments:
1-Day Ayurvedic Remedies.
2-Day Meera De-Stress Away.
3-Day Meera Revitalising Recovery.
5-Day Meera Detox Retreat.
Pricing:
For six nights and two adults, a complete stay with breakfast would normally set you back $11,000. Honeymooners would be able to celebrate their love for $9,300, while the Gili Wellness Package costs about $9,400.
13. Four Seasons Resort Maldives at Kuda Huraa.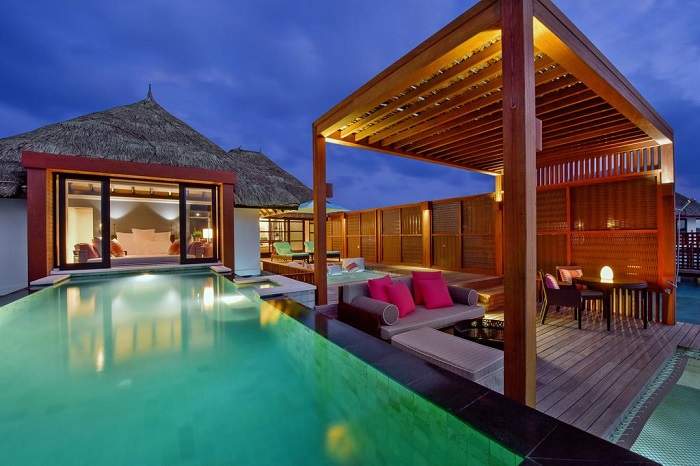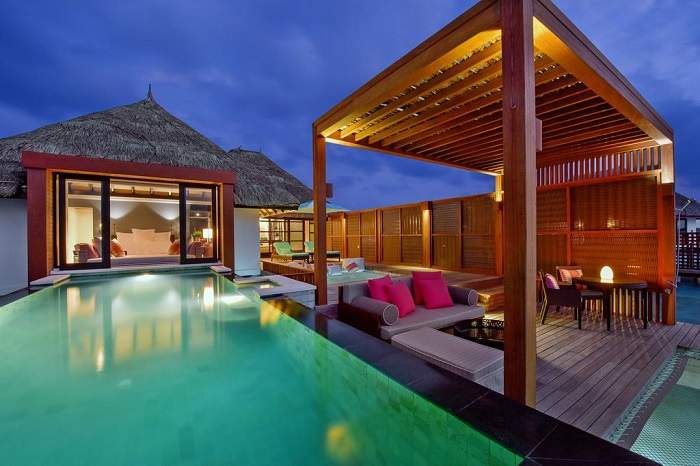 Luxury is pretty much a given whenever the Four Season name pops up. In the Maldives, the brand has established a strong presence, and Kuda Hurra contributes to that presence and builds upon it. This fine establishment can be found in the North Male Atoll, and it truly delivers on its promise of an unforgettable getaway. Let us tell you why you should choose Kuda Huraa as your next holiday destination.
Accommodation:
The living arrangements are divided into two main categories, namely Bungalows and Speciality Suites. The bungalow selection is quite generous, as it comprises the Sunset Family Beach Bungalow with pool, Beach Pavilion with pool, Sunset Beach Bungalow with pool, Sunrise Water Villa with pool, and Sunrise Beach Bungalow with pool.
As for the specialty suites, you have the following options: Sunset Three-Bedroom water suite, Two-Bedroom Royal Beach Villa, Sunset Two-bedroom water suite, Sunrise Two-bedroom water suite, and Sunrise Three-Bedroom water suite.
Dining and Activities:
During your stay, you should take the time and indulge in the luxurious experience of a pool island dinner under the stars. There are also quite a few spa treatments available, diving trips, seaplane island-hopping tours, and sunset fishing opportunities. You'll never be bored during your stay here, that's for certain.
Pricing:
An average stay at a Beach Pavillion with Pool will set you back $1,188 per night for two adults. In order to check out the rates for other types of accommodations, you'd have to place a call at (960) 66 00 888 and make an inquiry.
12. One & Only Reethi Rah.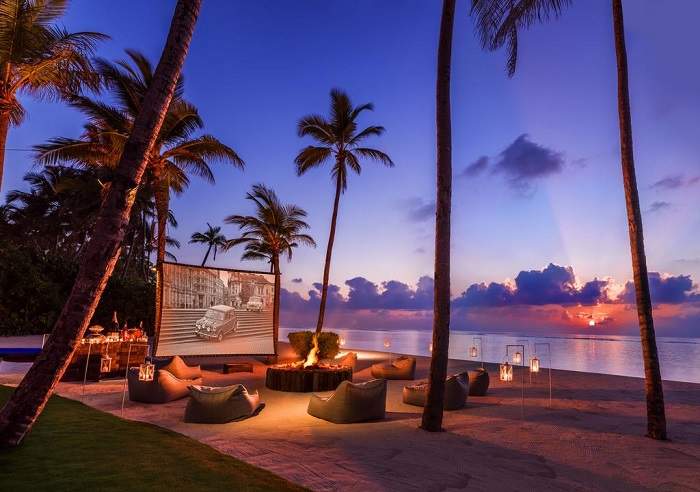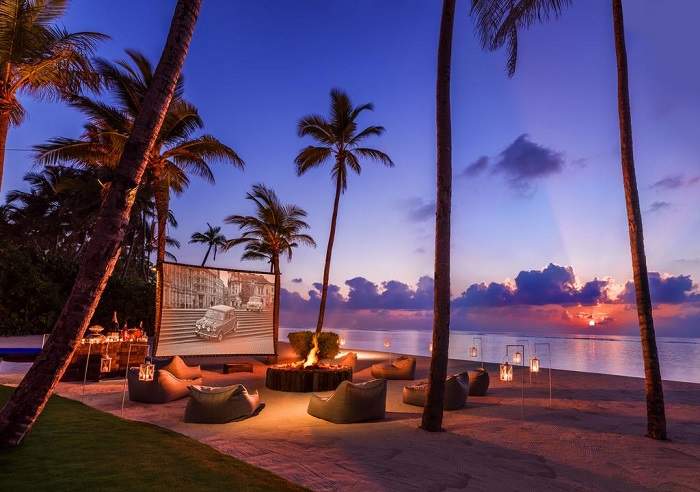 "Unprecedented privacy. Transcendent luxury. A superb all-villa resort in the Maldives."
The motto above pretty much sums up what this particular Maldives resort is all about. A closer look reveals an unprecedented level of attention to detail, as well as impeccable service all-around. Welcome to One & Only Reethi Rah – one of the best five star Maldives resorts in the North Malé Atoll!
Accommodation:
The resort's housing options rely entirely on villas, which are divided into Beach Villas and Water Villas. There's also the option to stay at the Grand Sunset Residence, which ensures access to the island's largest stretch of private beach. This particular accommodation is one of the most luxurious in the Maldives, as it ensures breathtaking views, amazing interiors, and outstandingly generous outdoor living areas.
Dining and Activities:
The restaurants at One & Only Reethi Rah offer mouth-watering dishes prepared with incredible care by expert chefs. There are four restaurants on-site, namely Botanica, Reethi, Tapasake, and Rabarbaro. Private dining arrangements are also available, and they are complemented by the Villa Breakfast and In-Villa Dining packages.
Activity-wise, apart from water sports, diving, swimming, and excursions, you might want to spend some time at the local Artist Studio or hone your skills at wall climbing and tennis.
Pricing:
We used the resort's official website to check out the pricing situation. Staying at a Beach Villa King for five nights would cost $6,600, while a Two-Villa Residence with its own swimming pool could set you back $17,000. It all depends on how deep your pockets are, and how big you want your room to be.
Suffice to say, this isn't a cheap beach resort, but you wouldn't want it to be cheap anyway, right?
11. Park Hyatt Maldives Hadahaa.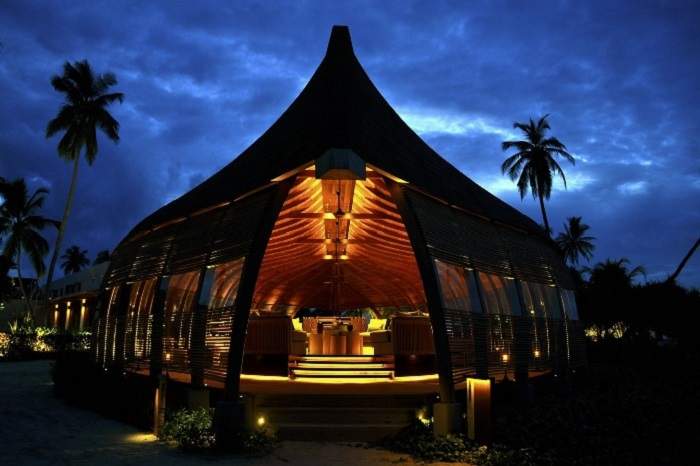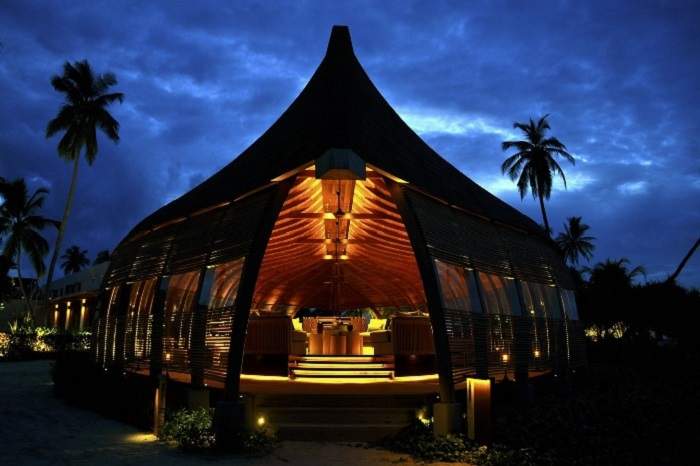 This stunning resort is located on a paradisiacal place on North Huvadhoo, which happens to be one of the largest natural atolls in the world. Some of the main highlights of Park Hyatt Maldives Hadahaa include a 360° house reef, an azure lagoon, and a natural white beach. When it comes to living arrangements and available activities, this place will meet and surpass all of your expectations.
Accommodation:
This luxury spa resort offers 50 villas in total, with 36 located on land and 14 over the ocean. No matter your choice, each villa is just a stone's throw away from the beach, and they all feature private decks. Some of them even have private plunge pools, if that's your cup of tea. Conveniences comprise floor-to-ceiling windows and doors, as well as plush beds, and lovely decor elements.
Some of the main accommodation options at Park Hyatt include Park Pool Villas, Park Villas, Deluxe Park Pool Villas, Park Water Villas, Two-Bedroom Park Pool Villas, and Sunset Water Villas.
Dining and Activities:
The Dining Room is a modern à la carte dining restaurant that serves breakfast, lunch, and dinner in exceptional comfort. Alternatively, you could spend some time at the Island Grill, or at The Drift, The Bar, and The Dhoni. Private dining is also accepted, and room service is available 24-hours a day.
As for activities, we should mention kayaking, dolphin watching, snorkeling, cruising into the sunset, or enjoying a relaxing massage at the local spa.
Pricing:
The most affordable option for you would be to stay at a Park Villa, in which case you'd spend about $488 per night. However, the Park Sunset Water Villa would set you back $945 per night, so it's all about choosing what's best for you and your budget.
10. Paradise Island Resort.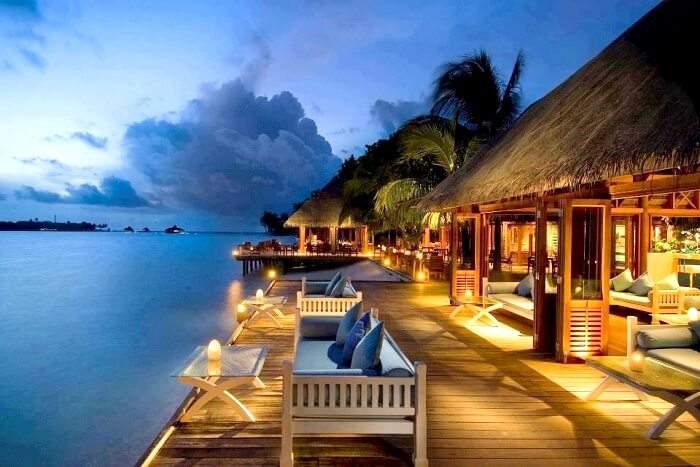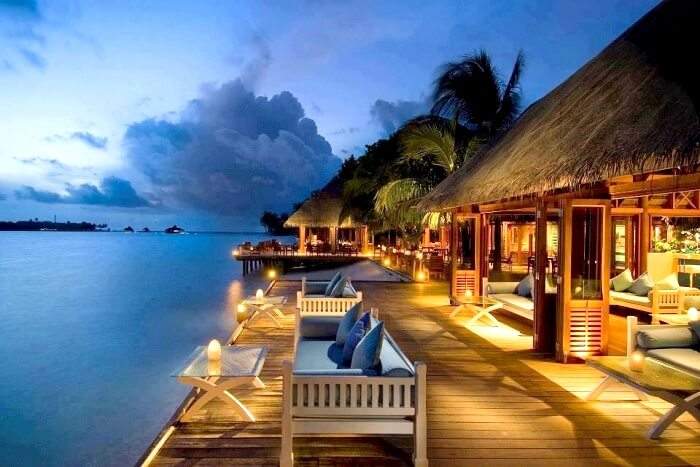 You'll be able to find the Paradise Island Resort on Lankanfinolhu in North Male' Atoll. This place is beautiful beyond words, no doubt about it, but then again, every resort in the Maldives is. Therefore, Paradise Island needed to stand out among its peers, and thanks to its exceptional service and irreproachable accommodations, it managed to earn multiple awards. These include the 2013 and 2014 Trip Advisor Certificate of Excellence, as well as the World Luxury Hotels Award in 2013.
Accommodation:
There are several housing options, and they're each great in their own way depending on the size of your party. For up to 3 people, you get the Superior Beach Bungalow, while two people will find adequate living arrangements in one of the Water Villas or Haven Villas. Larger parties of 4 can stay at the Haven Suite, while six people can be accommodated in the Ocean Suite.
Dining and Activities:
At Paradise Island Maldives, you'll enjoy access to six restaurants and five well-stocked bars. Fine examples comprise Ristorante al Tramanto, the Lagoon Restaurant, and the Athiri bar. As for activities, water sports are definitely recommended: windsurfing, catamaran sailing, canoeing, jet-skiing, waterskiing, and parasailing. You can also spend some time at the spa, where professional staff members perform a plethora of exceptional treatments.
Pricing:
Usually, you'd have to send in a special booking form specifying your arrival and departure dates, as well as the number of people in your party. However, we found an alternative website that showed off various special deals, with some offering 7 nights for $1100 per person. Therefore, this is probably one of the most affordable Maldives resorts on our list.
9. Niyama Private Islands Maldives.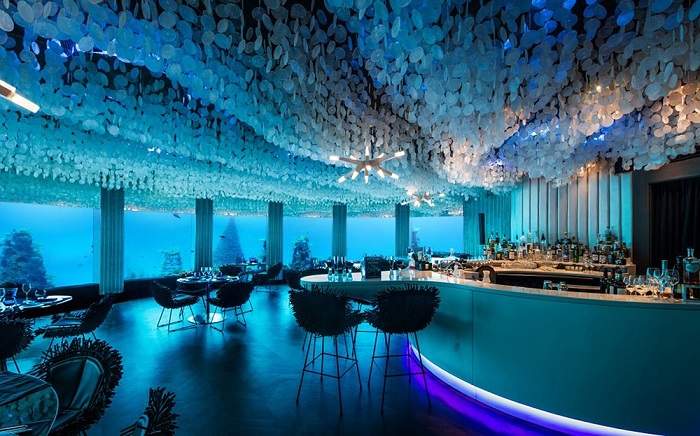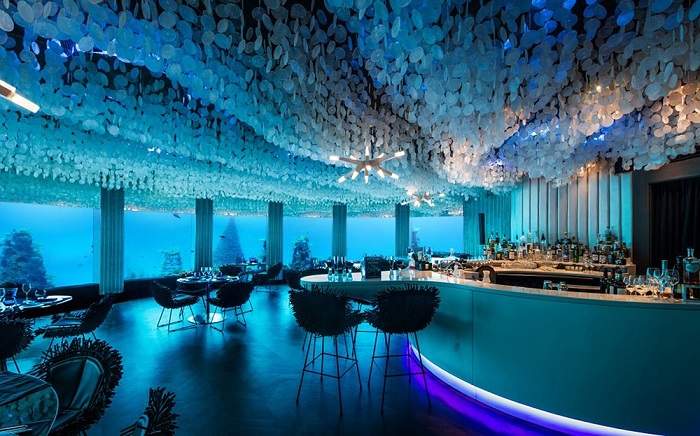 Moving on to no.9 in our list of the best Maldives resorts, we're going to take a closer look at Niyama Private Islands. This fine resort spreads across two twin islands named Play and Chill, each offering its own set of delights and pampering.
At Play, you'll stay at villas set on white sands and partake in activities designed for honeymooners, active couples, and families. At Chill, you'll find the Drift Spa, and you'll be able to sample some of the island's most delicious culinary treats.
Accommodation:
There are many housing options available at Niyama Private Islands, but we'll do our best to mention the ones that stand out the most. We'll start off with the most affordable Beach Studio and then move up the chain to the Beach Studio with Pool, Water Studio with Pool, Family Beach Suite with Pool, and One Bedroom Water Pavillion with Pool. The rest of the options become gradually more expensive, especially the over-water Crescent, which offers enough space for up to 14 adults and 8 children.
Dining and relaxation:
All-day dining is savored at the BLU Restaurant or at EPICURE. For fine dining, head over to Edge, but if Asian cuisine is more to your liking, the Nest restaurant is definitely the better choice. What we really liked is the Subsix underwater playground, which is often the host of Champagne breakfasts, subaquatic lunches, and weekly glow parties. Runner-ups include the Dune Al-Fresco lounge, the Tribal signature concept, and the grab-and-go Deli. In-room dining is also available if you want to eat in complete privacy.
As for activities, we already mentioned the Drift Spa, but we should also tell you about the various swimming opportunities, whether we're talking about swimming with hammerhead sharks, dolphins, or other marine life. You could also accompany marine biologists, snorkel, surf, and even adopt your own coral. Yeah, that's a thing now.
Pricing:
Pricing at Niyama Private Islands Maldives depends largely on your room choice and stay package. The package can include several meals or just a breakfast, as well as various other services such as spa treatments or honeymoon activities. At any rate, the most affordable option involves staying at a Beach studio, which costs $555 per night. However, a more lavish Deluxe Water Studio with a pool would cost you $1,000 per night.
8. Six Senses Laamu.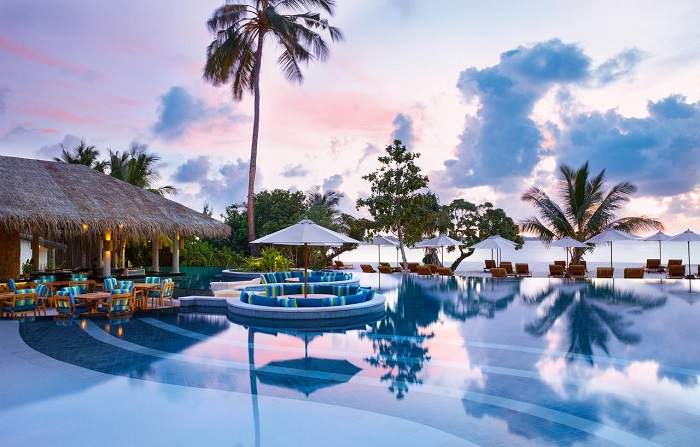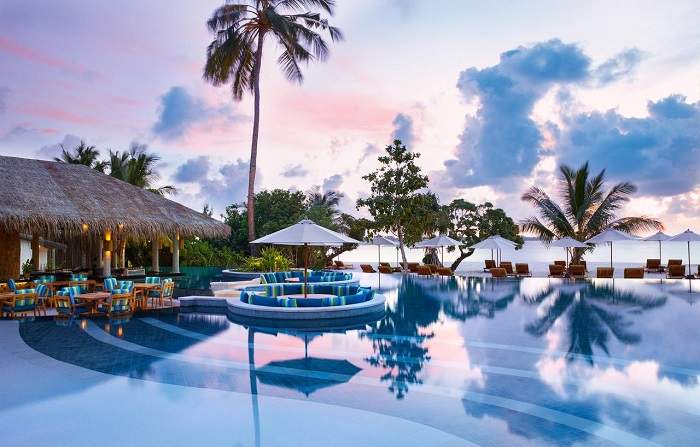 You've arrived at Six Senses Laamu – the only resort in the Laamu Atoll, Maldives. You just got off the plane that you took from the Male Airport, and you're on a boat that's taking you to your villa. On the way, you're admiring the breathtaking scenery, the turquoise waters, and the dolphins that are swimming below. Sounds like a pretty good vacation to us. Make sure to send us a postcard!
Accommodation:
Six Senses Laamu offers Lagoon Beach Villas and Ocean Beach Villas with or without swimming pools, as well as Ocean Water Villas, Lagoon Water Villas, Laamu Water Villas, and a large Family Villa with an infinity pool. Main amenities include private beach access, private gardens, flat-screen TVs, Bose entertainment systems, and Wi-Fi access.
Dining and Experiences:
So what's there to do at Six Senses Laamu? Diving is always a popular choice, as are various watersports such as surfing, windsurfing, wakeboarding, and catamaran sailing. You can also explore the nearby Hithadhoo Island, enjoy a private picnic on a desert island, or savor a Barbecue dinner on the Sandbank.
Speaking of dining, the resort includes six bars and restaurants, most of them sitting majestically above the water. A blend of meals and dishes based on local recipes will definitely meet and surpass your expectations.
Pricing:
This resort falls in place with the ones we described before when it comes to pricing. However, it seems to be a bit more expensive in certain months. Since we'll focus on August, we found Lagoon Beaches going for $631 per night as the most affordable offer. The most expensive option is a Two-bedroom Ocean Beach Villa that provides 730 square meters of living space for $3,336 per night.
7. Jumeirah Vittaveli Maldives.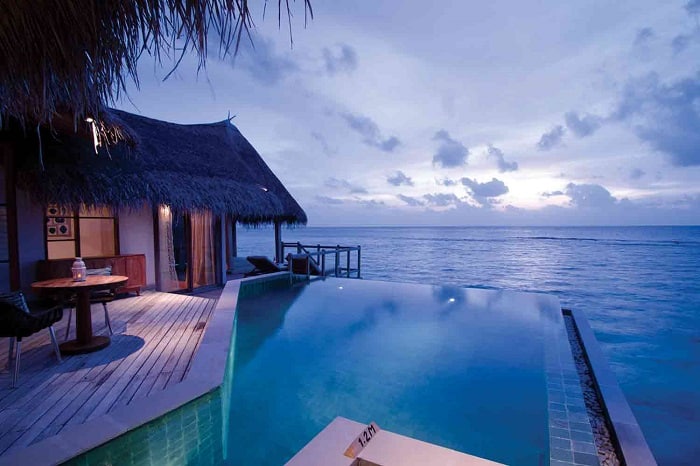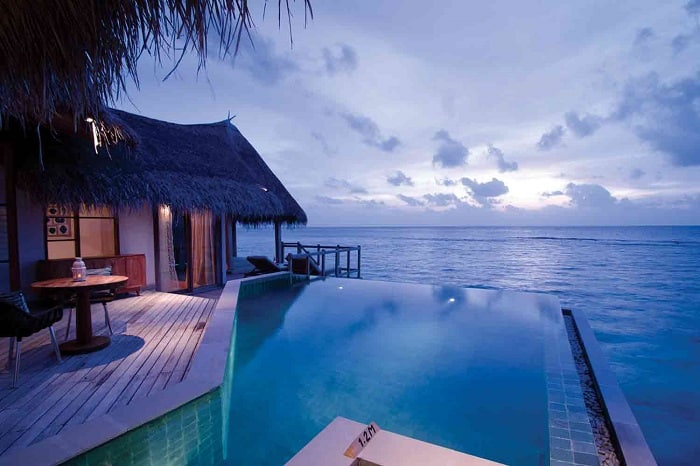 Jumeirah and the Maldives have a reputation for offering some of the world's most luxurious vacations. Jumeirah Vittaveli Maldives is a magnificent place that can be reached after a short 20-minute boat ride from Male. This is where you'll find 89 villas and suites, each boasting their own swimming pools and beach access. The 5-Star PADI dive center is also located here, as well as the award-winning Talise Spa and Talise Fitness centers.
Accommodation:
If you're looking for affordable luxury, the Overview Beach Villa with pool Sunrise is probably your best bet. This villa can house two adults and two children below the age of 12. Three adults will fit in perfectly as well. However, the 5-bedroom Royal Residence is on a completely different level. This place offers 3,500 square feet of living space, as well as two private pools, a gym, a spa, and a full-scale restaurant. The Royal Residence can house up to 14 guests.
Dining and activities:
At Jumeirah Vittaveli, we suggest taking advantage of the numerous snorkeling and diving opportunities, as the island is home to a colorful house reef. There are five wreck dive sites that are just waiting to be explored, but the house reef can also be explored using a semi-submarine.
As for dining, there are four restaurants and bars, including the Indian restaurant Swarna, the romantic Fenesse, the all-day dining Samsara, or the MU Beach Bar & Grill.
Pricing:
We had a quick look at pricing for you, and we found Beach Villas with Pool Sunrise options at $780 per night, as well as expensive Two Bedroom Beach Suites with Pool that go for $2,146 per night. The Royal Residence was not available when we inquired, but you should probably get in touch with the resort yourself in order to get more information.
6. Adaaran Prestige Ocean Villas.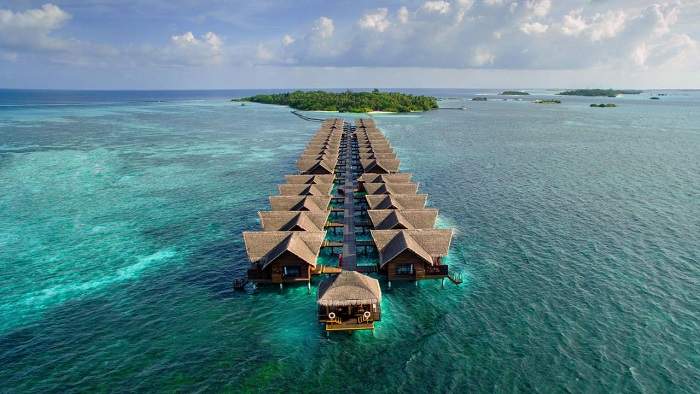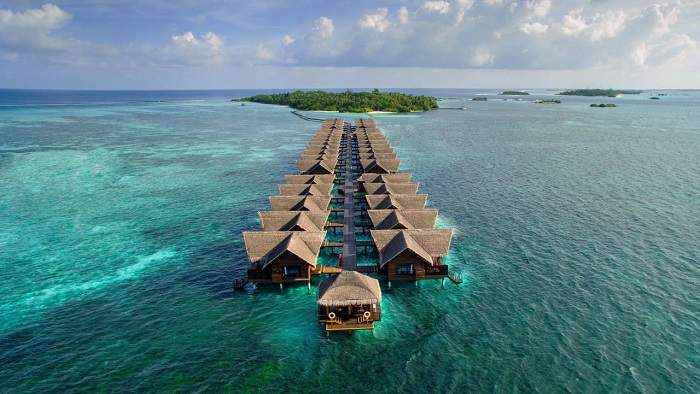 This award-winning Maldivian resort offers much more than just exquisite accommodation and gorgeous views. That's because it rests on the Island of White Gold, which is located in the North Male Atoll. We're talking about Lhohifushi Island, which is known for its greenery and rich flora. The resort occupies 83 acres of land, but it does so in a non-obtrusive way as it blends with its surroundings.
Accommodation:
As the name suggests, you'd be staying at the Prestige Ocean Villas, which offers a plethora of amenities such as plush king-sized beds, air conditioning, minibars, espresso machines, wooden ladders for the Sun Deck, as well as Wi-Fi. You could savor some drinks from the Mini Bar, but extra charges will apply. However, using the Espresso Machine is probably free of charge.
Dining and activities:
Make sure to stop by the Hiyala Bar or the Sunset Restaurant for the absolute best drinks and most delicious meals on the island. Moreover, should you opt for the All-Inclusive Plan, you'd enjoy breakfast at the Breeze Restaurant, lunch and dinner at the Sunset Restaurant, as well as snacks, biscuits, and cookies.
So what's there to do around here? Well, various excursions are being organized each week, as well as the Male Tour and the Kuda Bandos trip, which involves visiting a nearby uninhabited island. Sunset fishing is also available, as well as a Sunset Photo Cruise.
Pricing:
Usually, Sunrise Ocean Villas go for $470, but we managed to find a deal for $352 at the time of writing. Therefore, a five-night treat would cost $1,762, which is not bad at all for a Maldives vacation. Still, many delights cost extra at Adaaran, so make sure to analyze your budget carefully.
5. Adaaran Select Meedhupparu.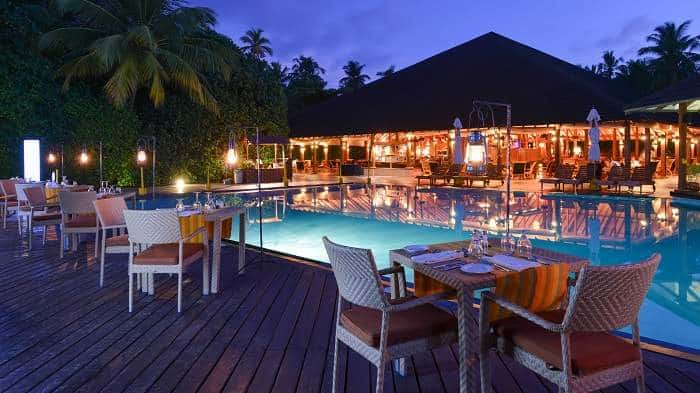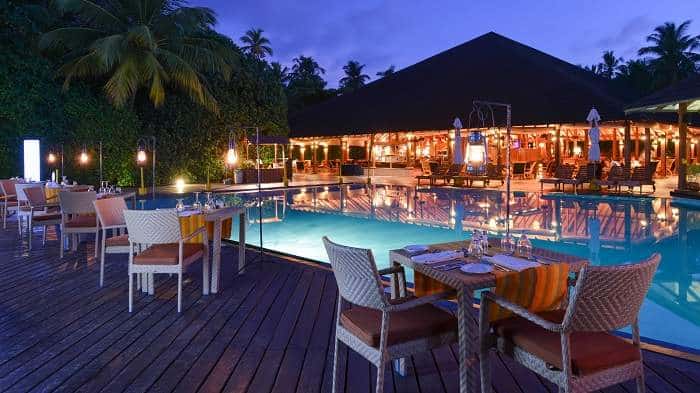 Undoubtedly, one of the best Maldives resorts out there is Adaaran Select Meedhupparu. The name rolls off the tongue nicely, right? Humor aside, this island is known for its tranquility and beauty, and the resort builds on this exceptional atmosphere in order to deliver a truly memorable experience. You will find the island in the Raa Atoll, 136 km North of Male.
Accommodation:
There are two main options available from what we can gather, namely Beach Villas and Sunset Beach Villas. Beach villas come with air conditioning systems, satellite television, telephones with IDD, tea and coffee makers, in-room safes, and minibars at an extra charge. Sunset Beach Villas offer the same conveniences, but their positioning is slightly better, as they afford amazing sunset views.
Dining and Activities:
The main restaurant at Adaaran Select Meedhupparu includes various dishes and flavors depending on the day. Each dish is prepared with great care using fresh fruit and fresh meat. However, there are some vegetarian meals on offer as well, all of which are made with fresh produce.
The Premium all-inclusive package ensures a Sufura breakfast, lunch, and dinner, as well as Cafe Mass a la Carte, Thavaa a la carte, and beach barbecue events.
Pricing:
We had a quick peek at pricing for this resort, and we found a great deal that offered a 5-night stay at their Beach Villas for just around $900. We also found prices ranging from $1200 to $1400 for five nights in August, which puts this resort in a very good spot as far as price to luxury ratio is concerned.
4. Kurumba Maldives.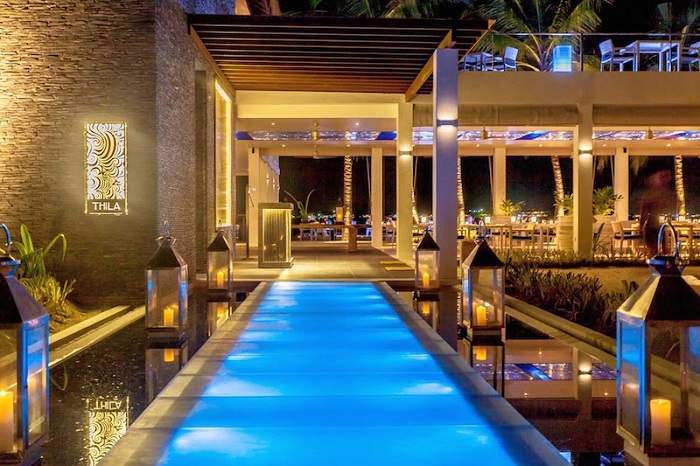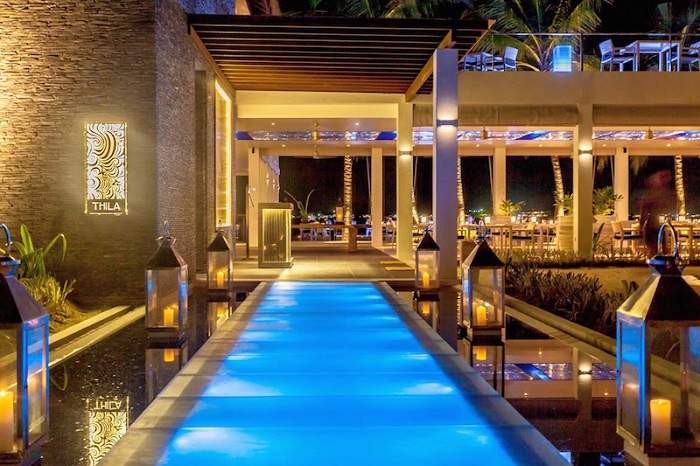 Another worthy contender on our list of the best Maldives resorts is Kurumba Maldives – a resort "full of surprises, fun activities, lively entertainment, and smiling faces," at least according to its official motto. We've no reason to doubt these words, as Kurumba is a well-known haven for guests of all ages. Yes, children are actually welcomed here, and that's no small feat.
Accommodation:
We did some digging around and found out that Kurumba Maldives offers eight different accommodations. These are the Royal Kurumba Residence, the Presidential Pool Villa, Deluxe Pool Villa, Beach Villa with Jacuzzi, Garden Pool, Villa, Beachfront Deluxe Bungalow, Deluxe Bungalow, and Superior Room.
Each option caters to a different number of guests, and that's why some are larger and more luxurious than others. There's no wrong choice either way, as all rooms flaunt exceptional amenities and modern facilities.
What can we do for fun around here?
Island dining – an unforgettable experience that will make you want to stay here forever. Whether you'll choose to savor your meal at Al Qasr, Thila, Hamakaze, Vihamanaa or Isola, or Kandu, you'll never leave on an empty stomach. We'd actually suggest visiting each of these restaurants during your stay, as long as time permits it.
As for experiences, you can engage in water sports, go scuba diving, snorkeling, and even renew your wedding vows. Kids can stay at the Majaa Kids' Club, and teens can enjoy exciting activities through the Majaa Teens program.
Pricing:
Kurumba Maldives is an incredibly popular resort, but it's definitely not the most expensive one in the world. We found an offer for $1400 for five nights at a bungalow, which is quite a good deal considering the resort's reputation. They'll even throw in breakfast for that price, which is always nice to have.
3. Kanuhura Maldives.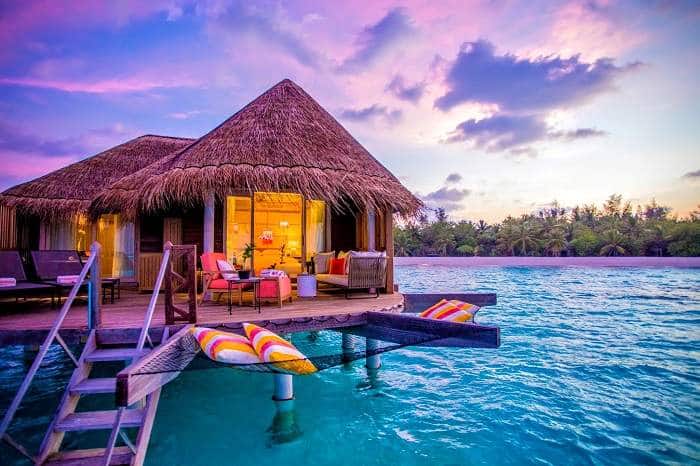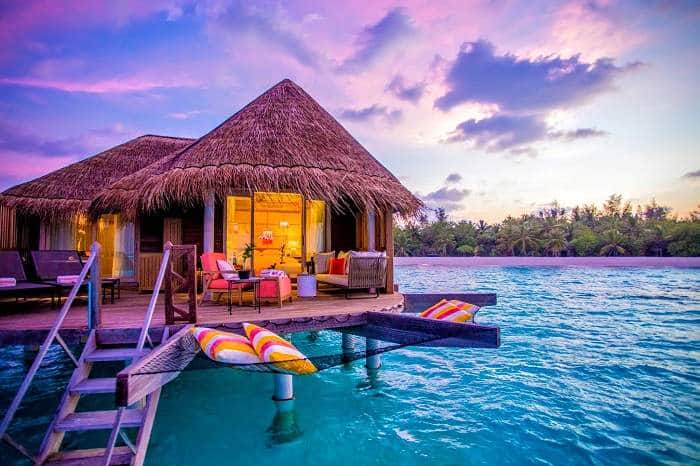 Planning a stay at Kanuhura? You're in for a real treat! This establishment incorporates three private islands, two of which are completely deserted. That doesn't mean that they're not interesting, though. Actually, those two islands are often the highlight of various exploration trips or other fun activities. Signature experiences, turquoise waters, and barefoot luxury. Yeah, this is one of the best Maldives resorts for sure, but let's find out exactly what makes it stand out from the rest!
Accommodation:
As usual, we'll start off with the resort's housing arrangements. At Kanuhura, these comprise Beach Bungalows, Beach Villas, Beach Pool Villas, Water Pool Villas, Grand Beach Pool Villas, Family Beach Pool Villas, Sanctuary Pool Villas, and a few more. What's interesting here is that some accommodations come with private verandas, open-air showers, and privacy walls.
It's pretty clear now that you'll want for nothing during your stay here. Yes, all of this luxury will cost you a pretty penny, but it will all be worth it in the end.
Dining and Activities:
At Kanuhura, water sports are always available, but you can also admire the local wildlife in its natural habitat, go fishing, or participate in various fitness routines. Dining-wise, the resort prides itself on gastronomic excellence, achieved with the help of restaurants such as Bottega, Veli, A Mano, and Drift Beach Grill.
Pricing:
For two adults and no children, the best rates at the end of August revolve around $560 per night at Beach Bungalows. Beach Villas and Water Villas are a bit more expensive at $600 and $700 per night, while the priciest option is the Sanctuary Pool Villa at nearly $6,000 per night.
2. Taj Exotica Resort & Spa, Maldives.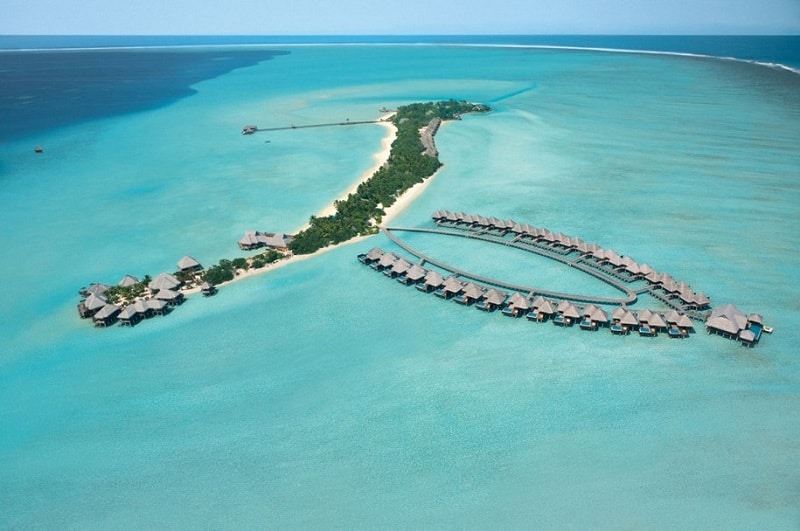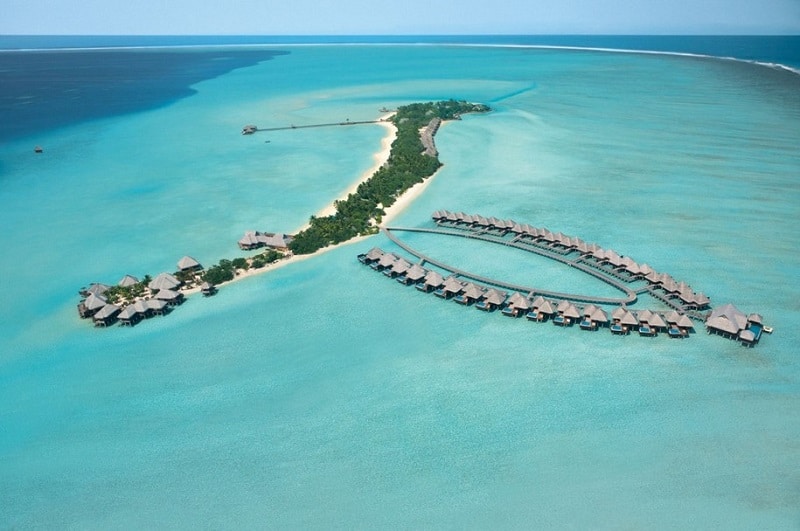 We're nearing the end of our list of the 15 best Maldives resorts but bear with us a bit longer because the last two suggestions are quite spectacular. Taj Exotica Resort & Spa, for instance, will impress you with its pristine beaches, romantic views of the Indian Ocean, and impeccable living arrangements. Truly, it represents tropical luxury at its finest, and we hope that you're fortunate enough to afford a vacation here. If that's the case, let's see exactly what makes this retreat special!
Accommodation:
The retreat boasts a generous selection of villas and suites, each more impressive than the next. Highlights include Lagoon Villas, Premium Villas with swimming pools, Deluxe Beach Villas, and One Bedroom Beach Villa Suites. If you truly want to splurge, then the Rehendi Presidential Overwater Suite is the way to go. This suite enjoys access to its own private swimming pool, naturally.
Dining and Experiences:
Taj Exotica is ideal for meetings, events, and personal leisure. No matter if you're here for business or pleasure, you'll want to enjoy a perfect meal at the 24-Degrees Restaurant, the Deep-End Restaurant, or the Poolside Bar and Restaurant. We shouldn't leave out the Equator Bar, as it serves some of the most delicious drinks in the Maldives.
Moving on to Signature experiences, guests are able to renew their wedding vows here, or savor unforgettable moments of relaxation at the Jiva Grande Spa. Other popular activities include scuba diving and wildlife-spotting.
Pricing:
Taj Exotica is not a cheap place for a holiday, that's for sure. The Lagoon Villa Ocean will set you back $800 per night, while the Deluxe Lagoon Villa Ocean costs $950 per night. These are just the starting prices, as a Beach Villa Suite with two bedrooms and an ocean view costs almost $5,000.
1. Dusit Thani Maldives.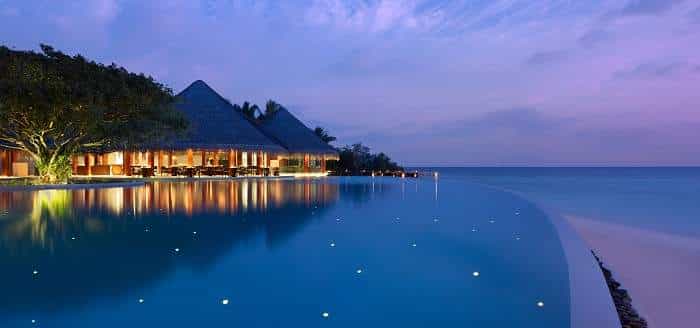 As we're preparing to flip the final page in our list of the best Maldives resorts, we do hope that we've managed to help you in your vacation planning endeavors.
Our last suggestion is Dusit Thani Maldives – a heavenly place surrounded by beaches with white sands. It is located on Mudhdhoo Island in Baa Atoll, which is the first and only UNESCO World Biosphere Reserve in the Maldives. The retreat is reachable by seaplane from the capital city of Male, or via a 25-minute domestic flight. Alternatively, you can take a speedboat from Dharavandhoo Airport, which will take you there in just 10 minutes.

Accommodation:
Dusit Thani offers a wonderful mix of beach and over-water villas and residences. Each room impresses with Thai interiors complemented by traditional Maldivian architecture elements. You'll be able to enjoy panoramic views of the landscape while appreciating the generous selection of available amenities.
Standard room conveniences feature spacious work desks, complimentary internet access, daily bottled water refills, Bose surround systems, pillow menus, and outdoor rain showers.
Dining and Facilities:
Whether you're looking to sample traditional Thai delights or international buffets, you'll be able to satisfy all of your cravings here. The resort's Borderless Dining concept allows visitors to dine privately in exquisite settings around the island. The local Chef is Cameron Steele, and he brings more than 19 years of culinary experience to the table, no pun intended.
As for facilities, we'll mention the Fitness Trail, Sunset Cruises, cycling opportunities, Yoga Pavillions, Island Shop, Fitness Center, as well as Hot and cold Jacuzzi/Sauna/Steam Rooms. There's also a marine center on-site, which offers Turtle Quest Snorkeling, Coral Reefs Garden Snorkeling, Manta Snorkeling at Hanifaru Bay, Scuba Diving tours, and more.
Pricing:
Pricing is nothing out of the ordinary, but it's not cheap by any standards. You'll have to spend $420 per night as a base price in a Beach Villa, but we'd definitely suggest spending a bit more for an Ocean Villa with pool at $657 per night. The most extravagant option is the Two-Bedroom Private Beach Residence, which costs $3,319 per night at the time of writing.