Modified motorcycles are luxurious, not because they flaunt expensive materials, but because they're unique. Much like renowned works of art that fetch millions at auctions, these awesome two-wheelers only increase in value as the years go by. They were created by renowned bike builders such as Deus Ex Machina and Rough Crafts, and they offer the best of both worlds when it comes to power and great looks.
Many of these modified motorcycles are much more comfortable to ride when compared to their stock counterparts. They're also more powerful, and unquestionably better-looking. Let's have a look at some luxurious motorcycles that have been modified. Let us know which one is your favorite once you reach the end!
9. Rough Crafts' Harley-Davidson Dyna Urban Cavalry Motorcycle.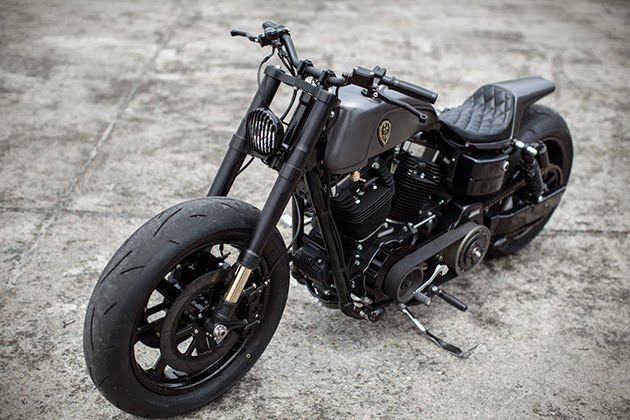 In our humble opinion, there's really no such thing as a bad Harley Davidson bike, especially since there are so many tuning companies out there that can repair and improve even the most beat up and broken models. The bike that we're going to present today was probably not broken, to begin with, since we're talking about a Harley-Davidson Dyna Street Bob – one of the most reliable and appreciated motorcycles of the 1980s and 1990s.
The bike is called "Urban Cavalry" and was created by a company called Rough Crafts under the supervision of Winston Yeh. As you can see for yourself, this is no ordinary Dyna as it boasts a series of eye-catching, contemporary improvements that allow it to easily stand out among its peers.
The main modifications involved the addition of a titanium exhaust system complemented by Satya Kraus Kawasaki forks and a Roaring Toyz swingarm. The standard brakes were swapped for a custom-built system based on six-piston calipers complemented by composite rotors. As far as power is concerned, the Dyma Urban Cavalry boasts a 1689cc engine as well as a BDL open belt drive that ensures extra lightness. You can admire it in its entire splendor by scrolling down.
8. Rough Crafts' Ballistic Trident Motorcycle.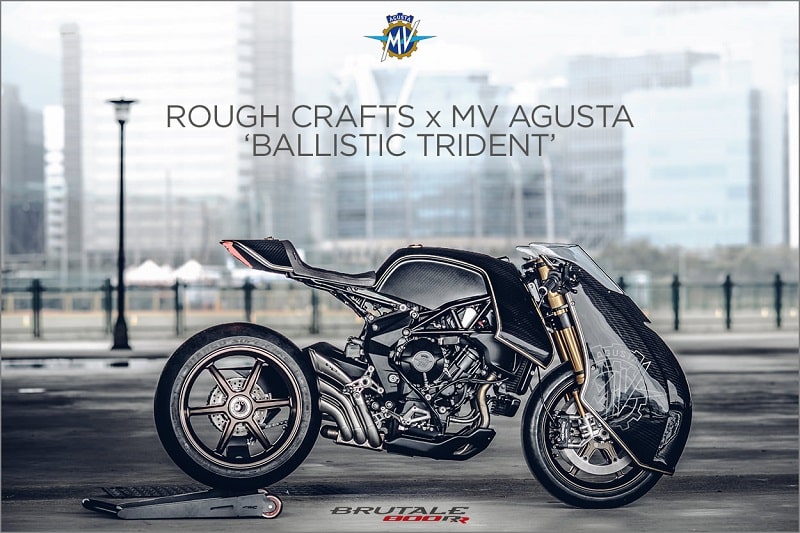 Even though it might look slightly dangerous, or maybe even a little bit crazy, the Ballistic Trident motorcycle by Rough Crafts is one of the company's most impressive creations. Its futuristic design allows it to stand out in an instant, but that's also because it is based on a Brutale 800 RR, which is one of MV Agusta's most menacing-looking rides. These bikes are notoriously difficult to modify, but Winston Yeh accepted the challenge without a second thought, and the result of his hard work is definitely something to write home about.
The Ballistic Trident could be incredibly dangerous because its unique dustbin fairings could allow side winds to topple it all together. However, Yeh decided to implement something called a "modern dustbin" that turns with the forks and features a compact profile from the side to the front. As for the fairing, it was designed by Yeh using a computer, and then he transferred it to a 1:1 scale 3D model and a full-size woodcarving. The carving was used to mold for the carbon fiber into shape. The 17-inch six-spoke wheels are also a nice touch, as are the sculptural gold Öhlins FGR 800 forks, and the custom-made Beringer brakes.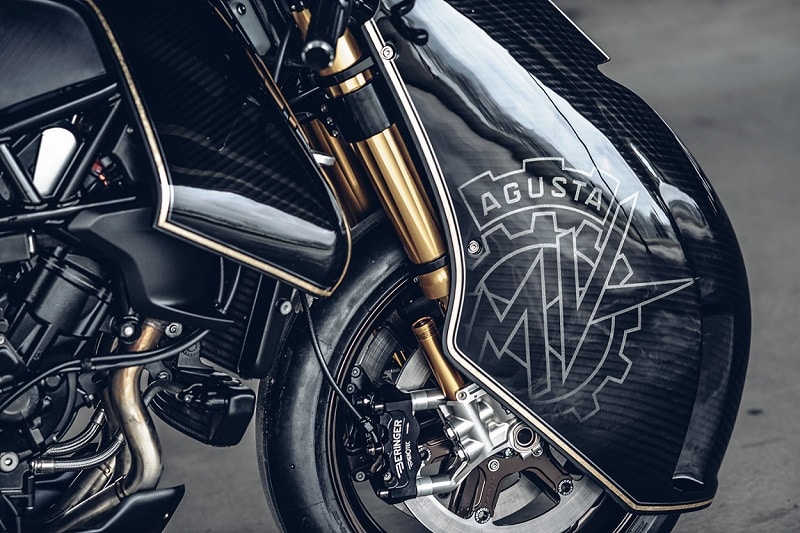 As far as power is concerned, we're looking at a 12-valve, three-cylinder engine that's able to deliver 140 horsepower at 13,100 revs.
7. HONDA CX500 Motorcycle Made out of Stone.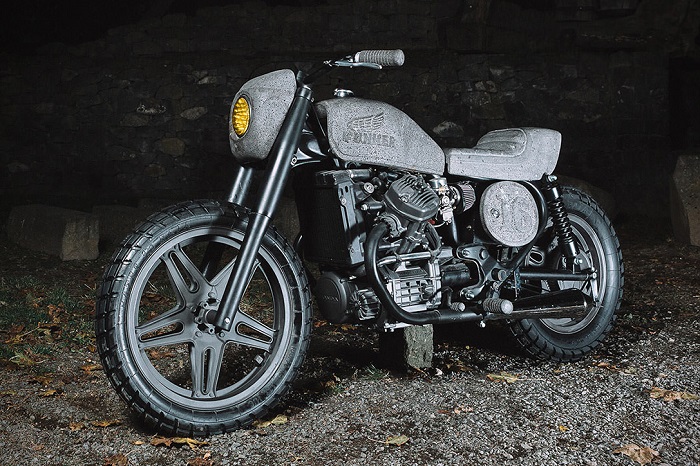 When we saw this bike for the first time, we thought that surely the stone-like material that was used for its construction was some kind of stone imitating solution, but it turns out that we were wrong. This stone 1982 HONDA CX500 motorcycle was put together by a man named Chis Zernia, who built it for a special contest sponsored by a German magazine named Custombike.
The stone used in the creation process is actually basalt, which is a volcanic rock that originates from the local Eifel mountain range. Since it can be shaped relatively easily, basalt was a perfect choice for this unique project, and it was used to manufacture the fuel tank, seat, and headlight, which boasts a fully functional cavity for a real lamp.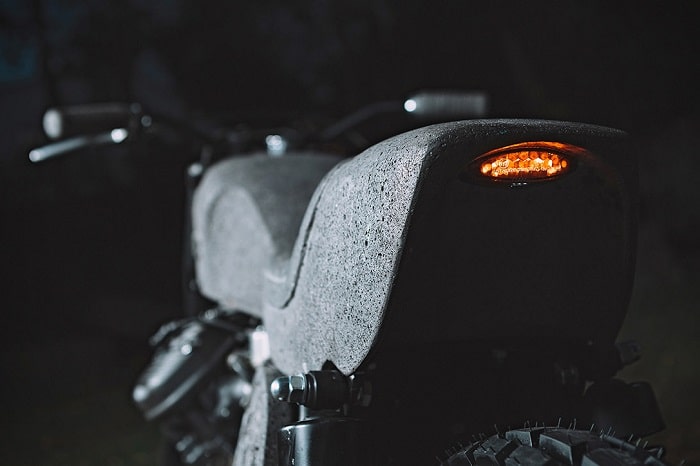 The front part of the motorcycle received a set of Honda VT600 Shadow forks, while the rear received two Harley Dyna shocks that help support the extra weight from the stone elements. A set of Bates Baja tires were added as a final touch, and at the end of the day, this Honda CX5000 motorcycle tipped the scales at no more than 780 pounds, which is about 353 kg. Not bad at all considering the basalt elements, and the great news is that Chris wants to go a step further and establish a record for the fastest stone-made motorcycle.
6. BMW K100 LT Xaver by Titan Motorcycle Company.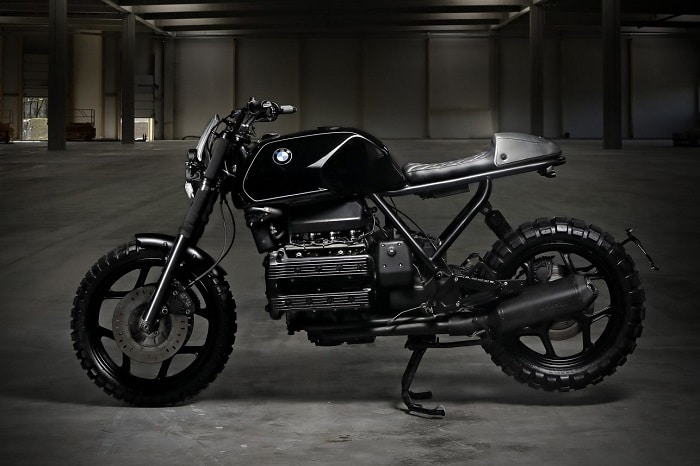 Oh, we certainly love to feature a nice, blacked out, upgraded motorcycle from time to time, and this time around we decided to focus on this breathtaking project created by the Titan Motorcycle Company. The company's experts focused on a BMW K100 LT Xaver ride, which was actually created for an avid Harley Davidson fan. As you can probably imagine, the stakes were very high indeed, as convincing a Harley Davidson enthusiast to ride off on a BMW was no easy task.
Still, it's pretty hard to resist when you see such a fantastic display of fine taste and quality craftsmanship. The K100 LT Xaver is in a league of its own, all thanks to its powerful 987cc engine, genuine leather seat, handmade subframe, full LED headlights, Rizoma Club S rear lights, Rizoma bar-end signals, and REMUS sports exhaust. Considering that this two-wheeler came out of BMW's factory doors in 1987, what we have here is a true masterpiece.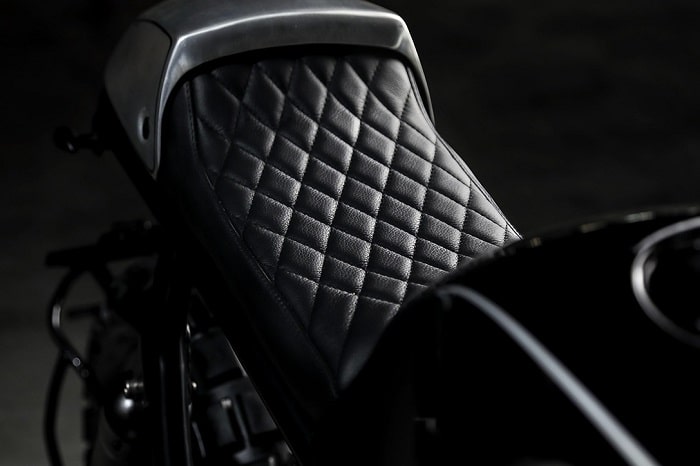 To round up its menacing yet somehow elegant appearance, Titan installed a handmade low "GS" style license plate bracket, equipped the bike with Continental TKC80 tires, and gave it a sublime black crystal paint job. Yep, this is definitely one of our favorite bikes so far.
5. Yamaha YZF R1 "Back to the Future" By Lazareth.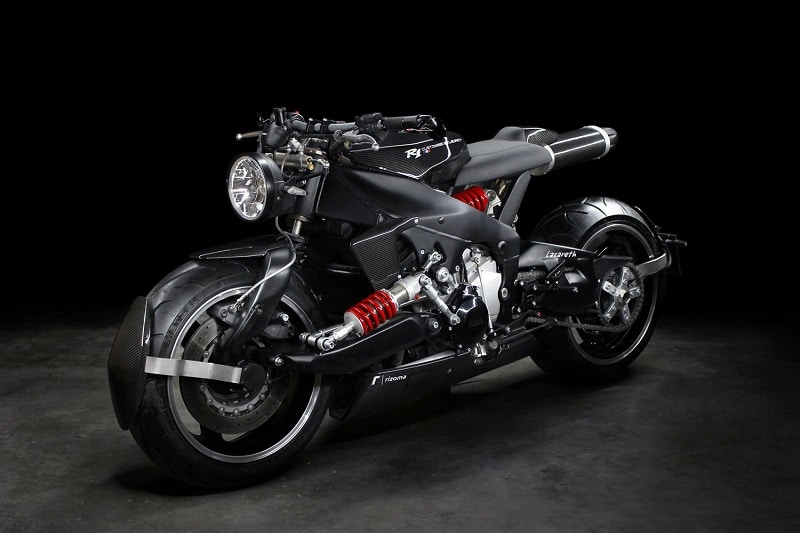 If you're a fan of custom motorcycles and you don't know who Ludovic Lazareth is, well, you should probably pay more attention to the French custom motorcycle scene. That's because there's a big chance that you're going to fall in love with the man's projects. One of the most impressive, at least in our humble opinion, is the "Back to the Future" bike based on a Yamaha YZF R1, which was built about ten years ago and was supposed to be featured in the Babylon A.D. film starring Van Diesel.
Lazareth decided to bring the bike out of storage in order to upgrade it and transform it into a futuristic masterpiece. He certainly achieved his goal, as he left the original Yamaha YZF R1 frame intact and replaced most of the other parts with carbon fiber ones. The wheels were swapped for a pair of Triumph 955 IN 17-inch beauties, while the swing arms were linked to a high-end TFX suspension.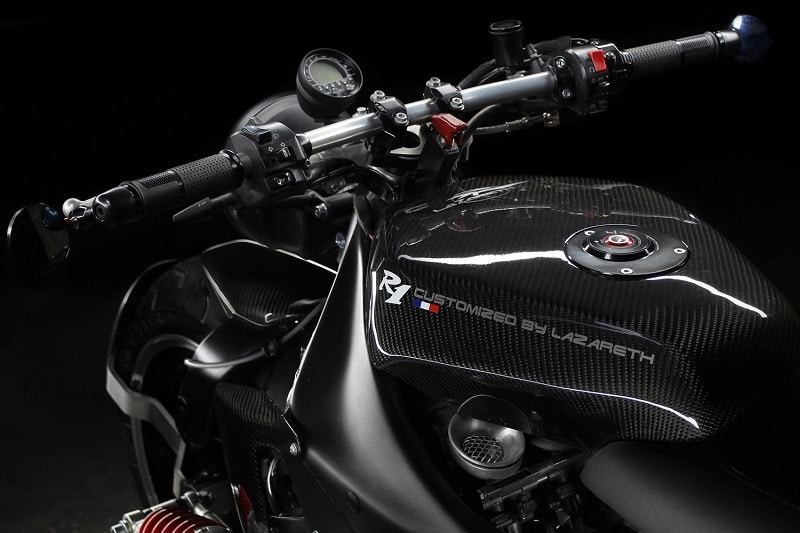 Other important upgrades comprise LED lights, a fantastic floating link suspension system, and a single pipe exhaust. We'll let the images tell the rest of the story.
4. IWC BMW R65 Riot Starter Motorcycle.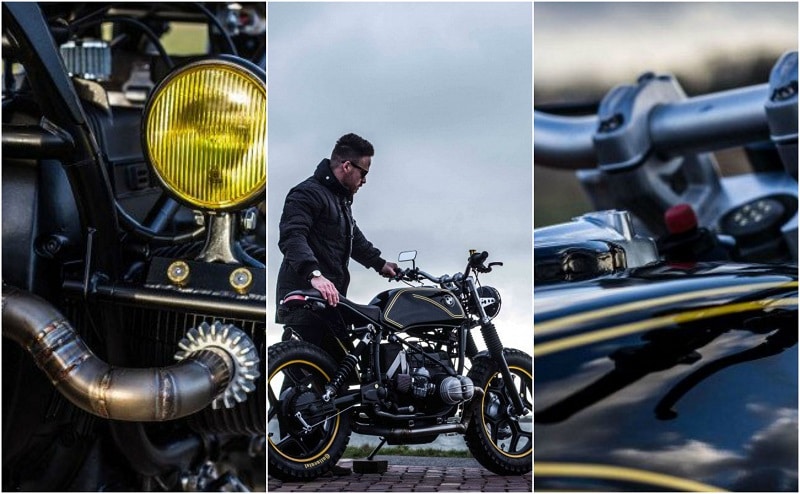 Arjan van den Boom and the good people over at Ironwood Custom Motorcycles are some of the most respected custom bike makers in The Netherlands, and the world. The team's latest creation is the fantastic BMW R65 Riot Starter, which is based on a BMW R65 Scrambler. The two-wheeler was customized extensively, so much, in fact, that almost every part of the original bike was altered in some way or replaced altogether.
The gas tank and fender were sourced from a Honda CB400, and they both received a diamond black metallic paint job, as well as a yellow stripe that forms an outstanding contrast. Moreover, an R1200 GS was used to source the handlebar, a gold Rizoma reservoir holds the Brembo RCS17 brake pump, while the Speedo comes from Caferacers United.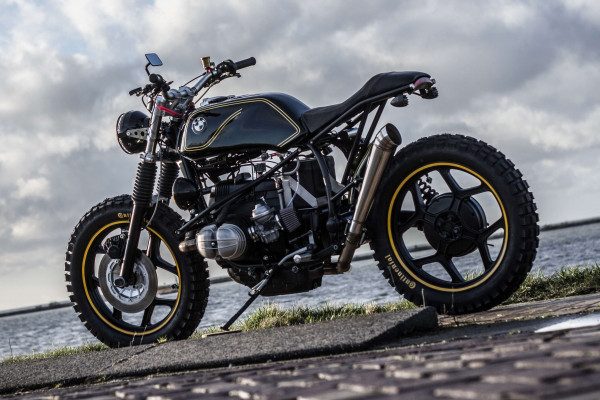 Many parts were actually created by Arjan and his team from scratch, including the battery holder, rear seats, license plate holder, and ignition key holder, all of which were custom made using stainless steel. Since we're talking about a modern bike, the BMW R65 Riot Starter comes with interesting features such as an engine emergency stop system, and a USB-charger for phones or tablets. As for the upholstery, it was created by Marcel Miller of Miller Kustom Upholstery, and it looks absolutely superb.
Last but not least, we should mention the Wilbers emulsion rear shock, the custom exhaust system with a GP muffler, and the Conti TKC80 tires.
3. Custom Triumph Ghost Motorcycle.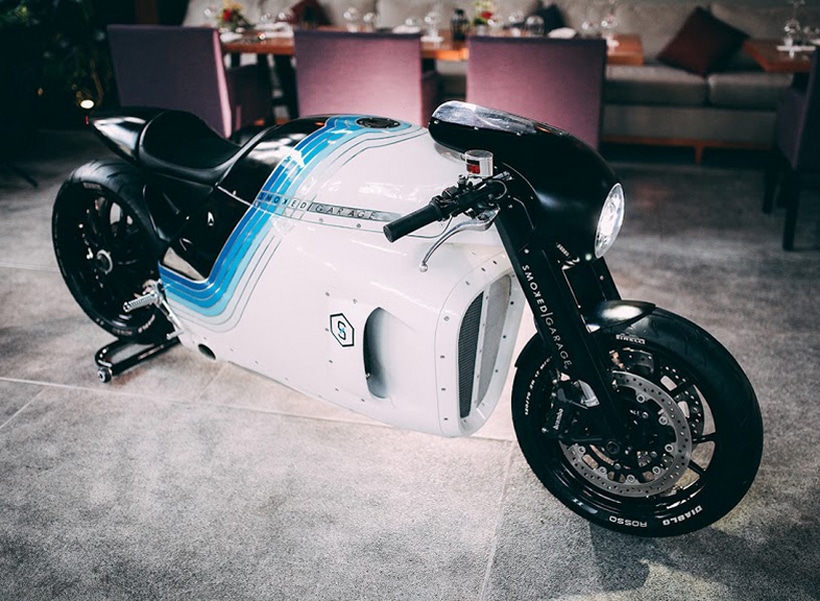 The Triumph Ghost motorcycle is not your average two-wheeler, that much is certain. It was inspired in its design by the highly acclaimed Lotus C-01 Concept, and it was sketched out by a team of experts from Smoked Garage, which is an Australian workshop. This custom Ghost is based on a 2005 Triumph Speed Triple, and it impresses with unique frame geometry and a bespoke cooling system.
Its full aluminum body looks superb from every angle, and it supports a set of custom fork sleeves and a bespoke headlamp. We should also note that this Triumph Ghost is incredibly lightweight, as it was built using just five pieces of solid aluminum. Other highlights include an incredibly sporty yet elegant paint job and a custom tail section with an integrated LED light. No word on the powertrain or any performance figures, but we do hope that this concept will inspire a real production motorcycle, and soon.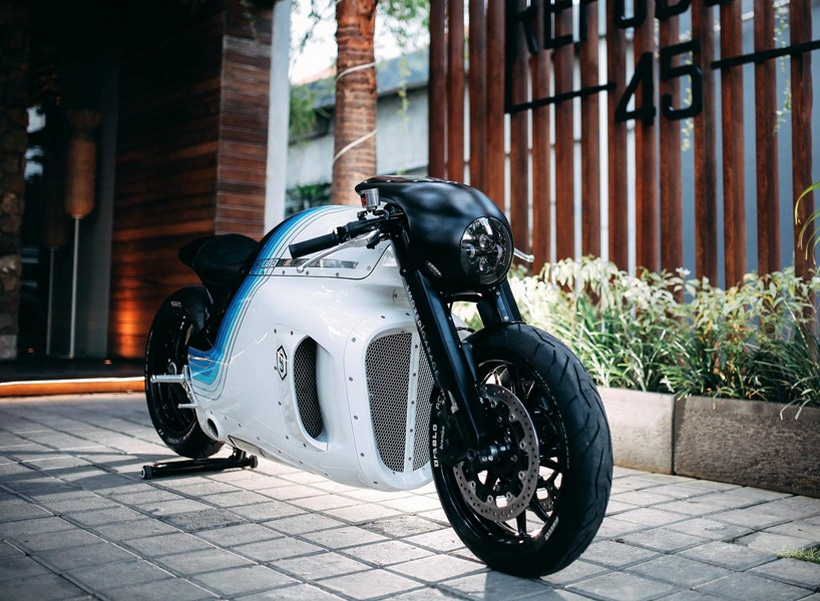 Custom motorcycle concepts are usually wild and incredibly eccentric, but the Triumph Ghost is actually quite toned down, even though it is unmistakably futuristic. Its contemporary design cues will definitely impress motorcycle fans from all over the world, no doubt about it.
We're certainly at a loss for words.
2. Ducati 1199 Polished Panigale.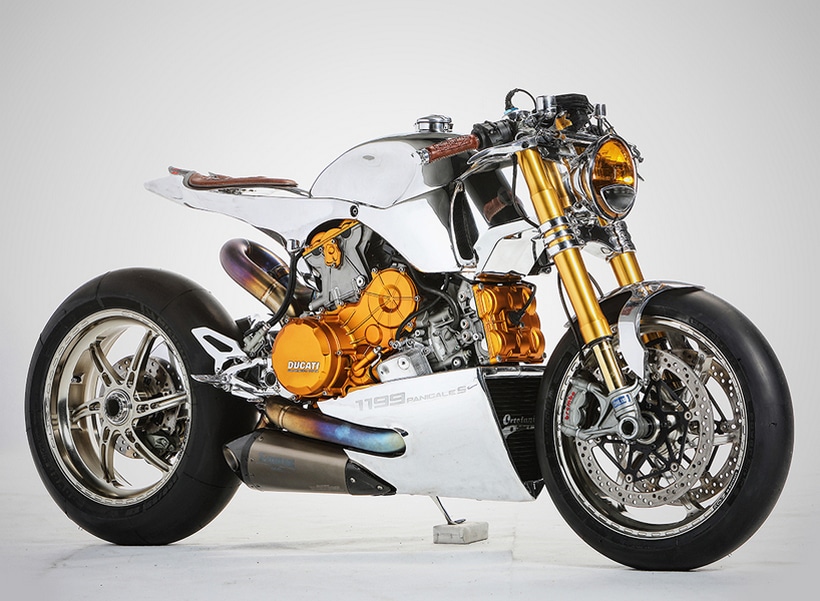 Based on the renowned 1199 S model from Ducati, which is widely appreciated as one of the most outstanding two-wheelers in existence, the 1199 Polished Panigale is in a league of its own as far as power and aesthetics are concerned. The concept was envisioned by the good people over at Ortolani Customs, and it was molded into a masterpiece using only traditional metal shaping techniques.
The gorgeous exterior that you're admiring right now was created by shaping aluminum over wooden bucks, and this includes the airbox, fuel tank, the wasp-like tail, and the fuel pump. The brown leather saddle also stands out, of course, as it adds a touch of elegance to an otherwise menacing-looking bike.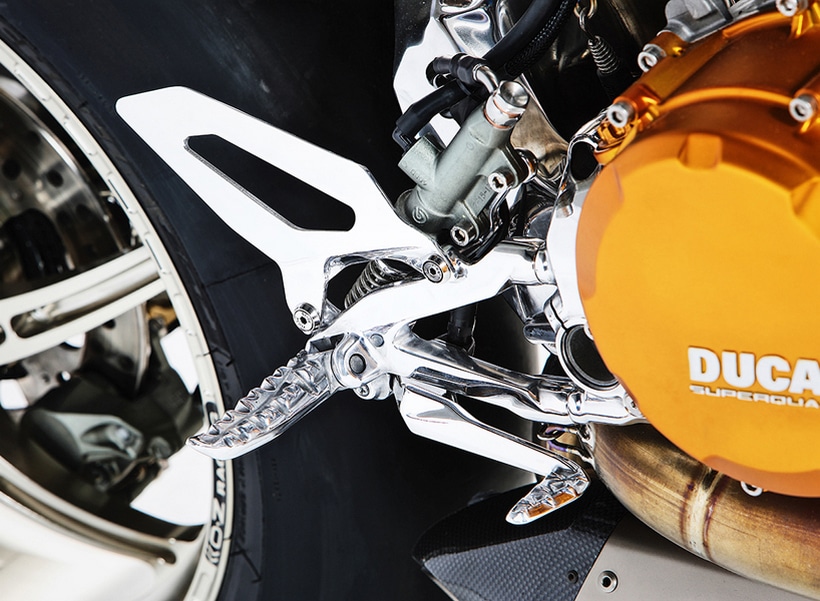 As far as power is concerned, the Superquadro L-twin engine has received a few modifications, including an Akrapovic exhaust system and larger pistons, both of which contribute to a total output of 210 horsepower. Other highlights include high-performance Brembo brakes, OZ racing forged rims, and high-end Michelin tires.
1. Ducati TransScrambler Bike By Deus ex Machina.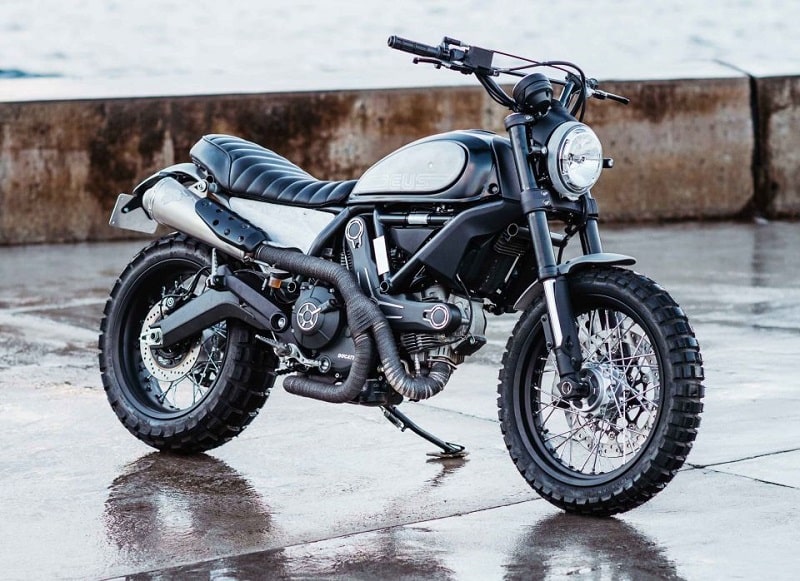 There are many things that can be said about the new Ducati TransScrambler by Deus ex Machina, but one thing's for certain: this is not a boring bike. That's particularly true since it was created for those of you who enjoy surfing, one of the most exciting and spectacular water sports in the world.
Based on a yellow Ducati Scrambler ICON and carved into existence by Head mechanic Jeremy Tagand, the Ducati Trans Scrambler is in a league of its own when it comes to aesthetics and build quality.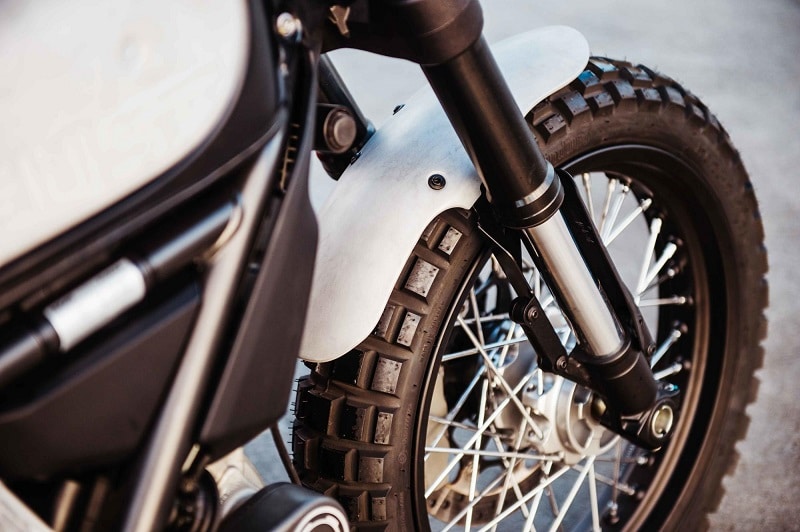 The bike impresses with a Nitro Heads seat from Japan, Continental Twinduro tires, aluminum front, and rear guards, and a Termignoni performance exhaust system. The most important highlight comes in the form of a surf rack, which looks outstanding but also serves a very important practical purpose.
Those of you who enjoy surfing know very well how difficult it can be to carry a surfboard around to and from the beach. A two-wheeler such as the TransScrambler is a perfect addition to any serious surfer. However, what we have here is a unique Deus Ex Machina project, one that will surely be appreciated by many surfers from all over the world.