Summer's always around the corner, and when it comes to planning a relaxing Mediterranean cruise, it's never too early to search for options.
And what could be better than enjoying the finer things in life on board a luxurious and beautiful yacht? Our top 10 luxury yacht charter options include fantastic vessels, some ranging in size from 27 meters all the way up to 95 meters. These yachts were built by shipyards such as Ferretti, Benetti, and Heesen, which means that they sport outstanding quality and reliability.
Let's get started, shall we?
10. Whitefin Sailboat.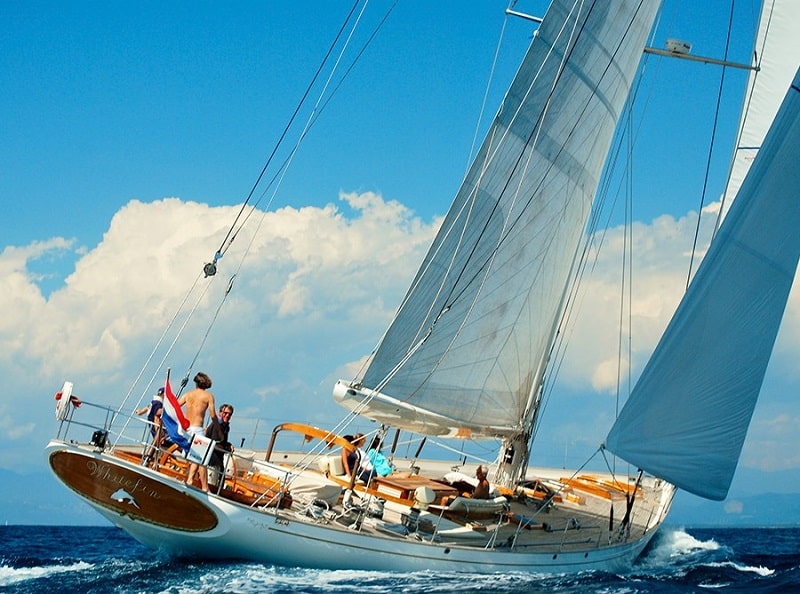 Whitefin has been around for quite some time now. It's not exactly a yacht, true, but it can definitely compete with modern-day fast cruisers. The vessel was built back in 1982 by Renaissance Yachts, and it was refitted in 2002. Accommodations include four staterooms, eight guest rooms and four crew quarters, which is quite generous for a 27-meter sailboat. As far as speed is concerned, a cruising experience at 10 knots is easily achievable.
Whitefin can be chartered during hot summer days in the Western Mediterranean for about $26,000.
9. Lady Soul.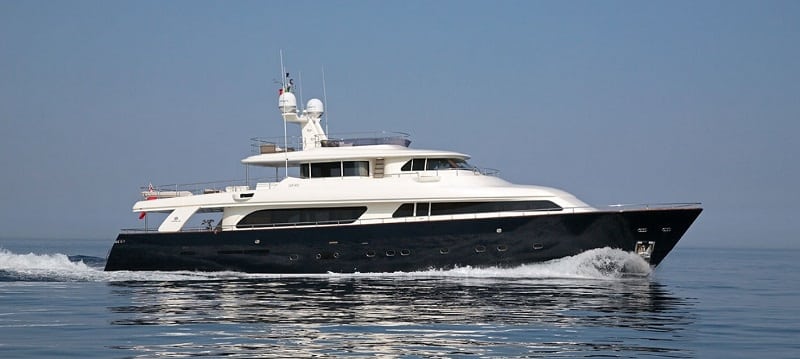 Built by Ferretti Custom Line, Lady Soul is a 30.9-meter superyacht that was released to sea in 2006. However, it received a complete refit in 2014, which means that it meets even the most demanding requirements as far as luxury is concerned.
It is large enough for up to 10 guests, and it flaunts amenities such as a barbecue area and a cocktail bar. The vessel is available for charter in the East Mediterranean for about $52,000 no matter the season.
8. Alexandra by Benetti.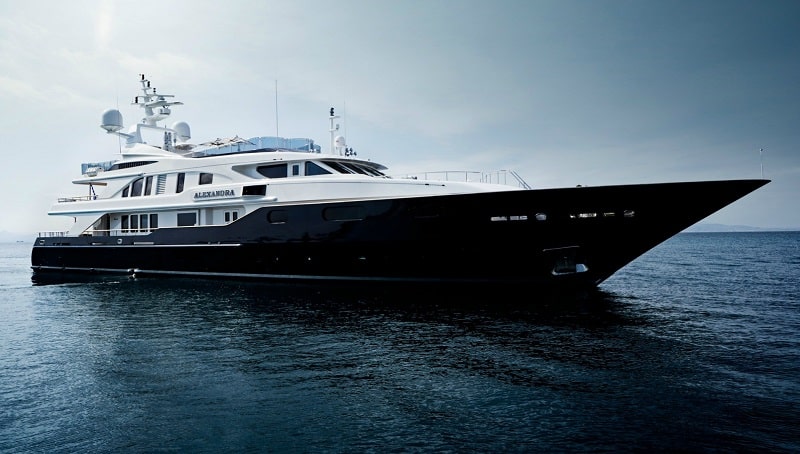 The Alexandra superyacht was built in 2002 by Benetti and measures in at 50 meters in length. It was refitted extensively in 2014, and it provides enough living space for up to 12 guests in sublime conditions. Some of its main highlights comprise a sturdy steel hull, an elegant exterior in black and white, as well as a top speed of 18 knots. The cruising speed of 16 knots ensures a range of 2579 nautical miles, which is definitely respectable for a yacht of this stature.
Alexandra can be chartered in the Eastern part of the Mediterranean for about $188,500. Isn't she a beauty?
7. OKTO.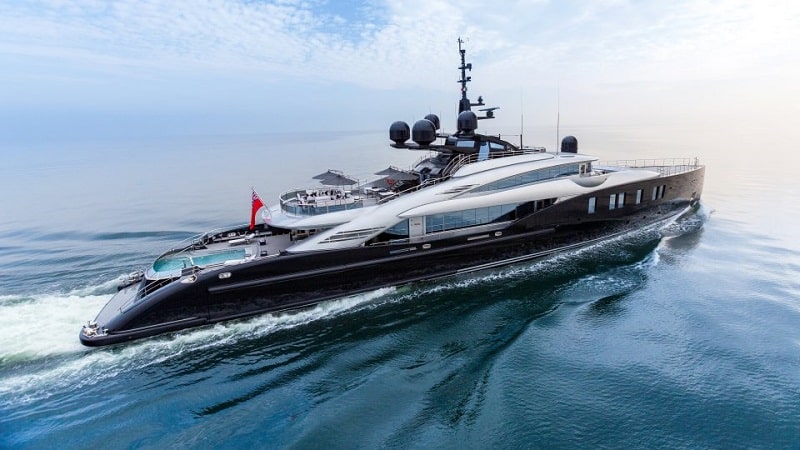 The Okto superyacht is just four years old, as it hit the open sea in 2014 courtesy of ISA. The vessel measures in at 66.4 meters, and it flaunts six spacious staterooms that offer enough space for up to 11 guests. Thanks to a modern pair of 3512C Caterpillar engines, Okto can reach a cruising speed of 16 knots, and its complete range is 6,800 nautical miles. Highlights include an infinity pool, a Jacuzzi, a helipad, an elevator, and four tender bays.
As far as renting is concerned, Okto is available in the Western Mediterranean during the summer, and it spends its winters in the Caribbean. It can be chartered for about $530,500 in the summer and $500,000 in the winter.
6. Martha Ann.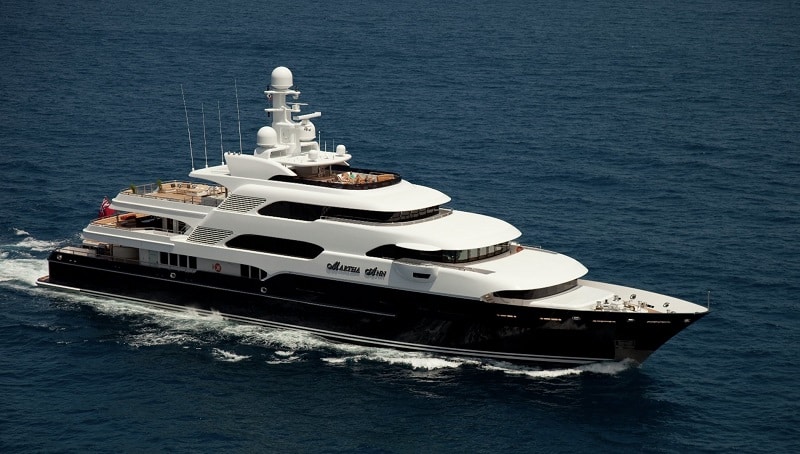 Martha Ann is a luxurious superyacht that's available for charter in the West Mediterranean and the Caribbean. It was built in 2006 by Lurssen, and it was refitted ten years later with comfort and performance in mind. The yacht's main amenities comprise a fully equipped gymnasium, a Jacuzzi, and an elevator that links all of its decks. There's enough space on board for 12 guests, while the cruising speed is reachable at 13 knots.
Price-wise, you can expect to charter Martha Ann for about $636,000 no matter the season.
5. Sherakhan.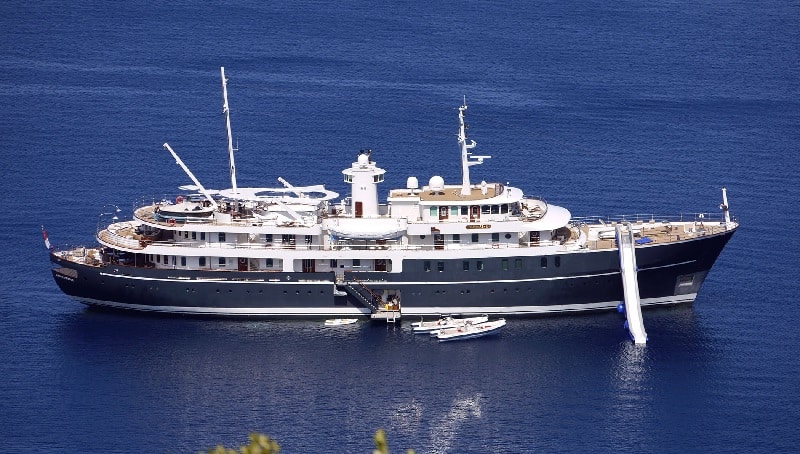 The mighty Sherakhan superyacht is one of the oldest yachts on our list, but it is also one of the largest and most impressive. Initially built in 1965 by Vuyk En Zonen, the vessel spends its summers in the Western Mediterranean, and its winters in the waters of the Caribbean.
The refitting process was carried on in 2014, and the yacht has remained true to its heritage while welcoming contemporary conveniences. Sherakhan can accommodate 26 guests, and it even has its own spa onboard. Measuring in at 70 meters in length, the vessel can reach a top speed of 13 knots, which is quite adequate for this day and age.
Charter prices start off at $450,000.
4. The Legend superyacht.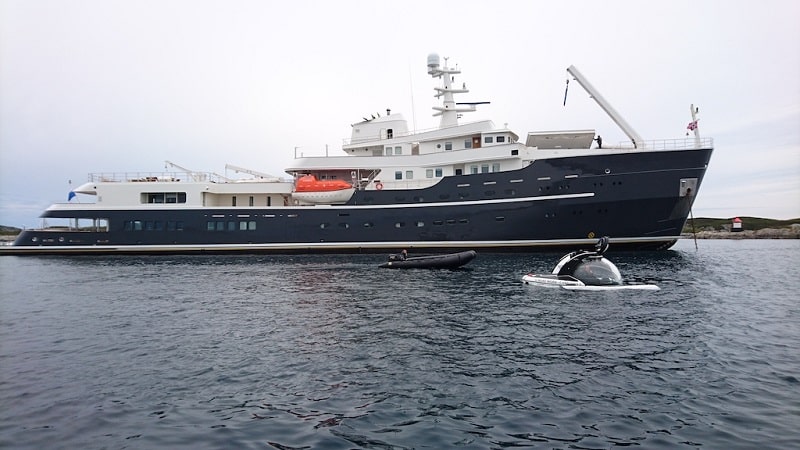 Truly worthy of its name, Legend's hull measures 77 meters, and it is one of the sturdiest on our list. It has to be, as this massive yacht frequents the rough waters of Northern Europe. Accommodation-wise, we're looking at 13 lavish staterooms that are spacious enough for up to 26 guests. It's worth mentioning that Legend won the "Best Rebuild Project" award at the World Superyacht Awards 2017.
Main conveniences include a spa, a helipad, a gym, and a cinema, meaning that guests will want for nothing during their stay. Chartering this beast would set you back around $519,000, though, which is no small feat.
3. Indian Empress.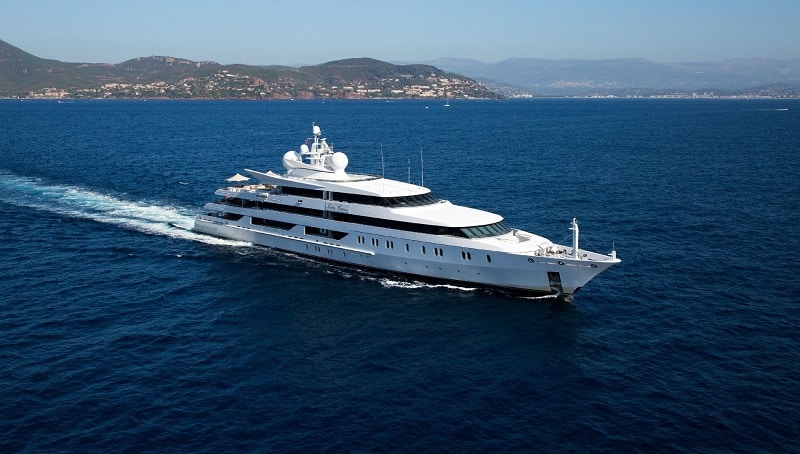 The largest superyacht in our top 10 is not necessarily the most expensive to charter, but it is arguably the most impressive depending on your own needs. With a whopping 95-meter hull, the Indian Empress bears the badge of Oceanco, and it first hit the waves back in 1999. It was refitted extensively in 2015, and it can now be chartered for about $795,000 in the Western Mediterranean.
Its 17 staterooms will house up to 12 guests in sublime conditions, while the cinema, beauty salon, Jacuzzi, and gym will ensure memorable moments for all.
2. Solandge.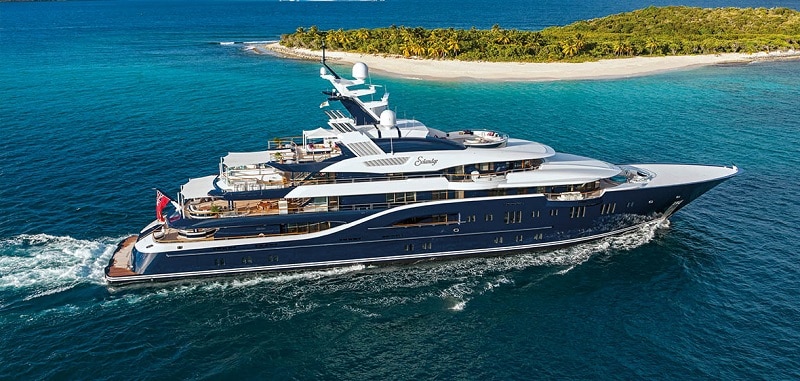 Feast your eyes on Solandge – a luxurious vessel created by Lurssen in 2013. It measures 85 meters in length, and it cruises across the Western Mediterranean and Caribbean waters. It is large enough to accommodate 12 guests, and it can reach a cruising speed of 15 knots effortlessly. What's truly mind-boggling about Solandge is that it costs a little bit over $1 million to charter.
It's worth every penny, though, trust us!
1. Here Comes The Sun.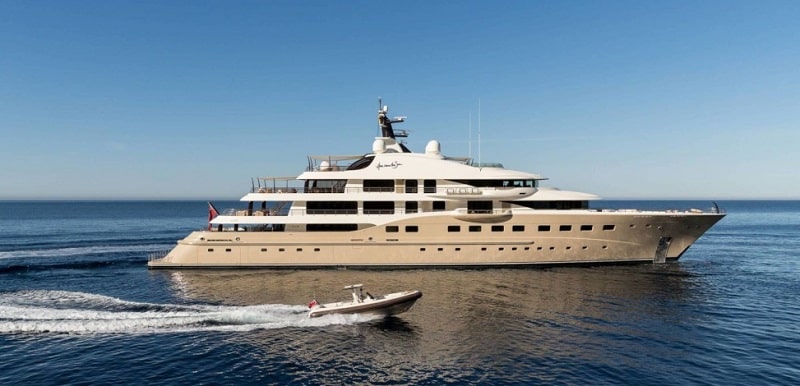 Bearing one of the most glorious names in the business, the 83-meter Here Comes The Sun is undoubtedly one of the most impressive superyachts in the world. It was built in 2017 by AMELS, and it can be chartered during the summer in the West Mediterranean. It can also be found in the Caribbean come winter.
The charter price, however, is worthy of its fancy name: $1,2 million. For that kind of cash, you can expect to be treated like royalty. There's enough space on board for 12 lucky individuals, who will get to enjoy access to amenities such as a spa, a beach club, a sundeck Jacuzzi, and an infinity pool.