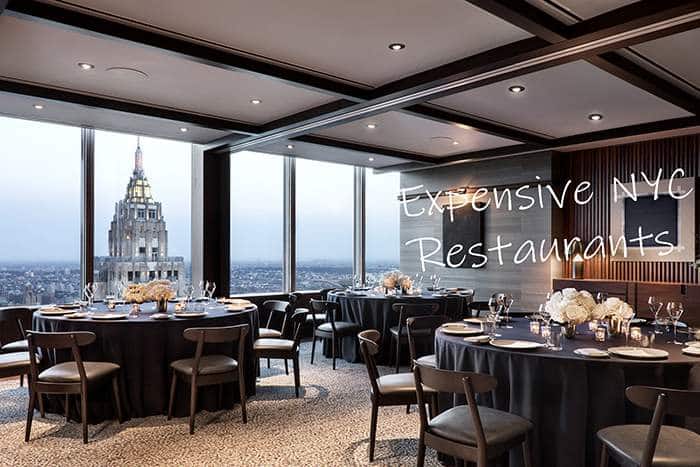 Fancy dining: the 5 most expensive restaurants in NYC.
New York, the Big Apple, is one of the world's most amazing cities, that much is clear. Apart from its unique landmarks and rich history, the city is also home to some of the fanciest restaurants on the planet, all of which offer unique approaches to international and local cuisine.
That being said, the most expensive restaurants in NYC are often part of international chains owned by the world's elite. These establishments were designed with the utmost quality and luxury in mind, as its patrons expect irreproachable service and only the finest meals.
While it's true that it's often quite difficult to get a table at any of these expensive restaurants, food prices are not always that out of reach. It all depends on what you order, but there are certain dishes that would be considered out of this world when it comes to price. We've previously covered the world's most expensive meals, and some of them can be enjoyed at the following restaurants.
Without further ado, let's have a look at the five most expensive restaurants in NYC!
5. Eleven Madison Park.
Eleven Madison Park is a unique restaurant that represents the embodiment of high-end New York cuisine. As one of the city's most reputable and expensive restaurants, it benefits from a prestigious location overlooking Madison Square Park – one of Manhattan's most beautiful parks. The restaurant's address is 11 Madison Avenue, East 24th Street, and it operates within the superb Art Deco Metropolitan Life North Building.
The building, also known as Eleven Madison, boasts 30 stories, and it sits on the site of Richard Upjohn's original Madison Square Presbyterian Church. It was designed in the 1920s by Harvey Wiley Corbett and Dan Everett Waid. Even though it was originally meant to have 100 stories and become the world's tallest building, construction of the North Building was halted at level 29, mainly as a consequence of the 1929 Stock Market Crash, and the Great Depression.
The dining experience.
Back to Eleven Madison Park, the restaurant originally opened its doors in 1998 courtesy of restaurateur Danny Meyer. Chef Daniel Humm and Will Guidara started working there in 2006, and in 2011, they purchased the business from its original owner. Eleven Madison Park was closed for renovation in 2017 in order to upgrade its kitchen. The kitchen was in dire need of renovation, as it hadn't been updated in nearly 20 years.
These days, Eleven Madison Park offers an eight to ten-course menu in the main dining room. However, visitors can also spend some time at the bar and savor a lighter menu, some snacks, or delicious beverages. The primary multi-course menu is ever-changing, but it always draws inspiration from the culinary history of New York.
Pricing can reach $225 for a prix-fixe dinner, but the good news is that you will always be able to customize the dining experience according to your own preferences.
4. The Old Homestead Steakhouse.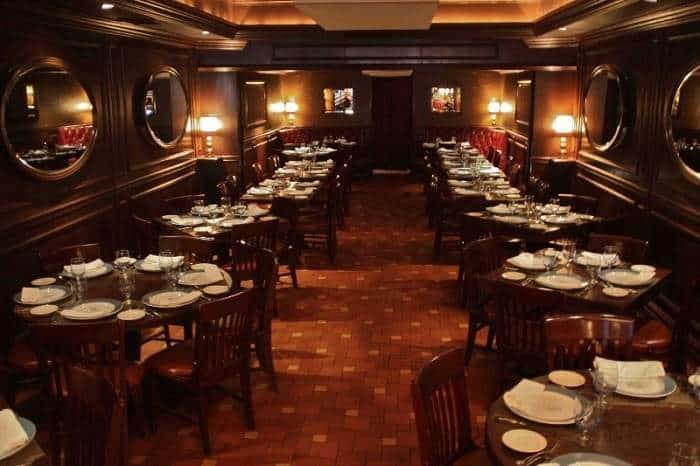 The Old Homestead Steakhouse took roots in 1868, which makes it the older and most prestigious steakhouse in the United States. However, the chain's flagship restaurant is located in Manhattan, and it so happens to be one of the most expensive restaurants in NYC. The steakhouse was originally called the Tidewater Trading Post, which was established by a German family in Manhattan's Meatpacking District on West 14th and 9th Avenue. The restaurant was eventually purchased by one of its former dishwashers, Harry Sherry, in the 1940s. Harry passed down the business to his family, and the Old Homestead Steakhouse is now under the management of his grandsons, Greg, and Marc Sherry.
The cow symbol.
The Old Homestead Steakhouse has a fitting symbol, namely a cow, but there's an interesting story behind this signature. Apparently, a certain Texan enjoyed a very delicious meal there in the mid 20th century, and at the end of the meal, he promised Harry Sherry that he would send him a cow as thanks. Indeed, two weeks later, a cow was delivered to Harry's doorstep, but it wasn't a live animal but a cow statue. Since then, the steakhouse adopted the cow as its signature symbol.
In order to keep up with the times, the steakhouse has made some risky yet rewarding leaps of faith. In the 1990s, for instance, this was the first establishment in the United States to introduce Japan-sourced Wagyu beef into its menu. However, in order to make this happen, the owners had to work with Japanese farmers and help them bring their facilities up to the American health code.
While the Old Homestead Steakhouse has received quite a bit of praise over the years, one particular article in the New York Times stands out. It was written in 1994 by Ruth Reichl, who stated that "for sheer quantity, nothing can beat the Homestead." Ruth tried out the porterhouse for two and described it as thicker than the Manhattan phone book and twice as heavy. That being said, it's worth mentioning that a meal at this prestigious steakhouse could set you back $350 per person.
3. Per Se Restaurant.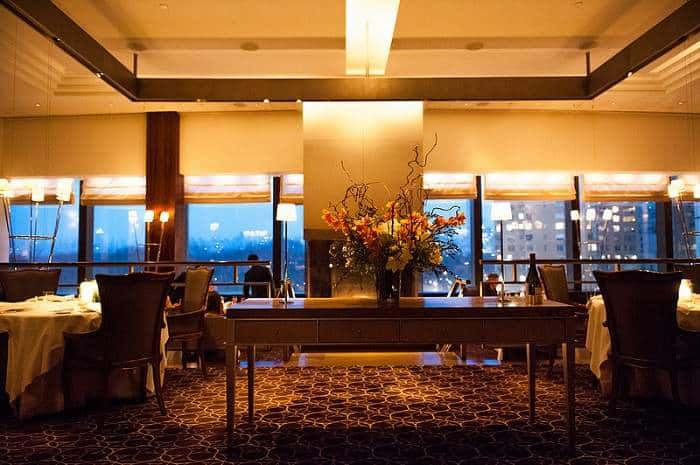 Per Se is indeed one of the most expensive and highly appreciated restaurants in NYC, but let's find out exactly what makes it so special. At a glance, Per Se's success is linked to its unique blend of American and French elements, both in terms of interior design and culinary design. Per Se is owned by chef Thomas Keller, who works closely with Corey Chow as Chef de Cuisine. The restaurant opened its doors in 2004, and it can be found on the fourth floor of the Time Warner Center at 10 Columbus Circle in Manhattan, New York.
The establishment was sketched out by designer Adam Tihany, who drew some inspiration from The French Laundry – another one of Keller's high-end restaurants. He also inserted elements sourced from his and Keller's past, and the result is definitely something to write home about. Regarding those awards that we mentioned before, Per Se received three Michelin stars as part of the 2006 inaugural Michelin Guide to New York City. The most impressive part is that the restaurant has managed to retain all three stars ever since.
When it comes to food, Zagat gave Per Se a rating of 4.6/5 and placed it at No.1 in their list of 50 restaurants of New York City. However, in recent years, the restaurant has been the target of some criticism, mainly because the food has become overdressed. It all depends on your personal preference in the end, and if you ask us, Per Se is still one of New York's top restaurants, and one of the fanciest restaurants in the world. As such, when it comes to pricing, you should expect to pay around $350 for a prix fixe dining experience.
2. Chef's Table at Brooklyn Fare.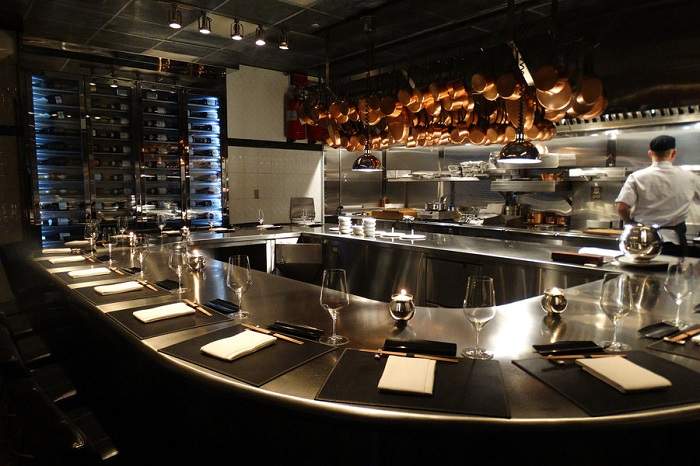 The Chef's Table at Brooklyn Fare is perhaps one of the most exclusive restaurants in New York, as it only includes 18 seats. This means that reservations can sometimes take up to two months, but the wait is highly rewarded with one of the best dining experiences in the world. There's something about watching our food being made before our eyes that's incredibly appealing. Chef César Ramírez is very well aware of this, which is why he designed his entire restaurant around this concept. 
The original Chef's Table at Brooklyn Fare was located at 200 Schermerhorn Street (at Hoyt Street) in Downtown Brooklyn, New York City. It was the first restaurant in New York City outside of Manhattan to receive three Michelin Stars. In December 2016, however, the restaurant was relocated to 431 West 37th Street in Hell's Kitchen.
What about the food?
Brooklyn Fare is a seafood-centric restaurant, but it also offers some more traditional courses. The food is generally inspired by Japanese dishes, and there are 24 courses in total, including canapés, cheeses, soups, and desserts. In general, the restaurant uses about 900 serving pieces each night, and Ramirez introduces the courses himself by listing the ingredients. After the food is done and served, he watches his guests eat. Ramirez actively discourages attendees from taking notes or using cell phones while inside the restaurant. This makes sense in a way, as such distractions could potentially dilute the entire experience.
The Chef's Table at Brooklyn Fare promises a unique, delightful, and delicious experience for those who are lucky enough to catch a seat. However, with prices ranging from $306 to $425 per person, this is definitely one of the priciest NYC restaurants out there.
1. Masa Restaurant NYC.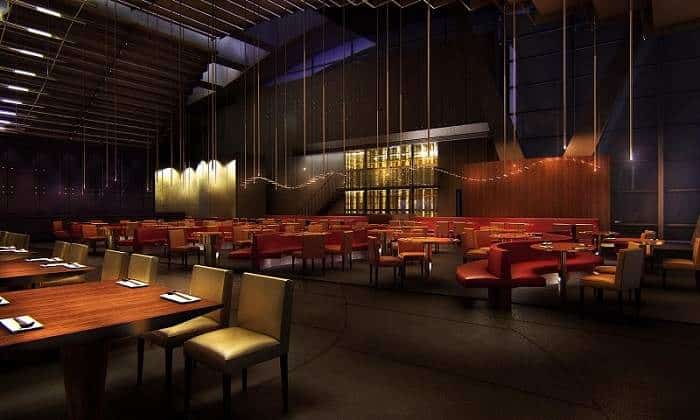 The undisputed, most expensive and fancy restaurant in NYC is Masa by Masa Takayama. Chef Takayama opened the restaurant in 2004, and over time, it has become a beacon for high-end dining in one of the world's most amazing cities. Masa is located on the fourth floor of the Time Warner Center at 10 Columbus Circle (at West 60th Street and Broadway) in Manhattan in New York City, and it offers just 26 seats. Reservations are taken three weeks in advance, and all guests get to eat whatever the chef chooses for them.
Not having a say in what you eat might sound a bit strange at first, but there's certainly some appeal in surrendering when it comes to dining. After all, you get to feel more like a guest in someone else's house, and given the guarantee that the food will be delicious either way, the experience is always a pleasing one. These Omakase, chef-selected meals cost $595 per person before tax and drinks, which makes this the priciest restaurant in the city.
Takayama's story.
Masa Takayama was born and raised in Japan, and shortly after he finished high school, he started work at Tokyo's Sushiko in Ginza. He moved to Los Angeles in 1980, and he opened his own Ginza Sushiko, which quickly became one of the city's most expensive restaurants at $105 per person. He spent 20 years at this particular restaurant, but he eventually decided to sell it to his sous-chef and move to New York.
Masa Takayama found even greater success in the Big Apple, as he now boasts a net worth of about $10 million.
Masa's sushi bar was created using a very expensive $260,000 piece of rare hinoki wood, which adds a great amount of authenticity. Actually, Masa is one of two restaurants in North America to have a hinoki wood sushi bar. Takayama prepares each meal himself with great attention to detail, sometimes using seasonal or exotic ingredients such as Kobe beef or truffles.
In 2009, Masa received the highest possible star rating as part of Michelin's Guide, and it also received three out of four stars from The New York Times, as well as five out of five in the Forbes Travel Guide.