The Coralarium is a very special installation in the Maldives.
It's not like the Maldives wasn't already an absolute delight when it comes to spending a holiday, but now it just got a lot better. A very talented artist and environmental sculptor named Jason deCaires Taylor has just completed one of his most outstanding projects to date. The Coralarium is the world's first semi-submerged art gallery, and it can be found at the island resort of Fairmont Sirru Fen Fushi, Maldives. The gallery is part of a large coral lagoon, and it can only be accessed via swimming or snorkeling.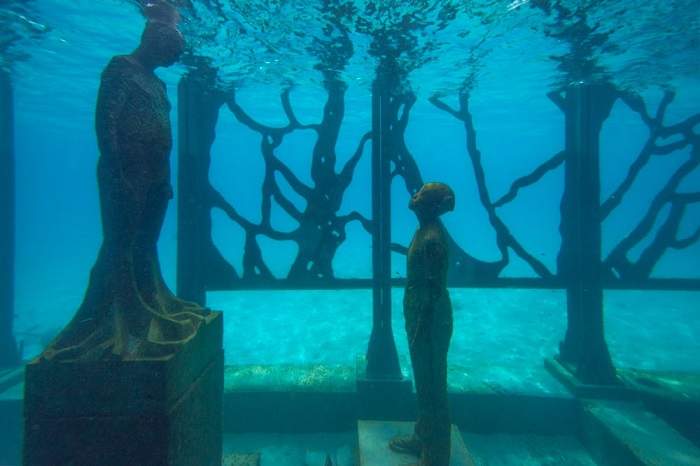 To be precise, visitors will have to swim about 500 feet (150 meters) in order to reach it. However, it will definitely be worth the effort, especially in a few years. The installation looks very impressive today, but it will only get better as time goes by. The artist knew that algae will eventually colonize the stainless steel structure. Moreover, the elements will weather it down with time, which will only make it more interesting to see.
The Coralarium's size and art pieces.
The structure measures 20 feet (6m) in height, and it weighs about 200 tons. It is a stainless steel cube with a submerged staircase that leads the way to above the water to an elevated viewing area. There are three levels available in total, some of which show off a series of submerged structures, while others rest are above the water. Taylor, the Coralarium's creator, has explained this unique approach:
"It exists in three different elements. A set of sculptures that interact with the sky and the atmosphere. There's a set of works that are in the tidal area. They live both above the water and below the water. And then there a set of submerged works. The idea is that it's about taking all the elements of our planet and showing that everything is connected."
The Sculptures.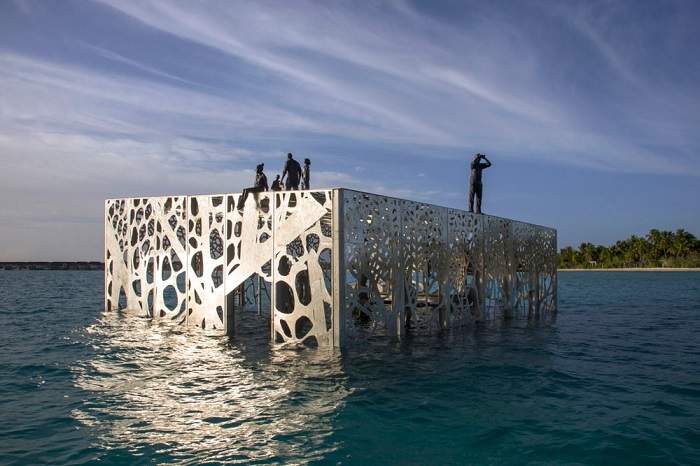 As for the sculptures themselves, they resemble the figures of real people. Even though the artist used casts of regular people, the end results are mostly hybrid-looking beings that borrow some elements from the natural environment. This way, the link between humans and the environment is highlighted in an original way.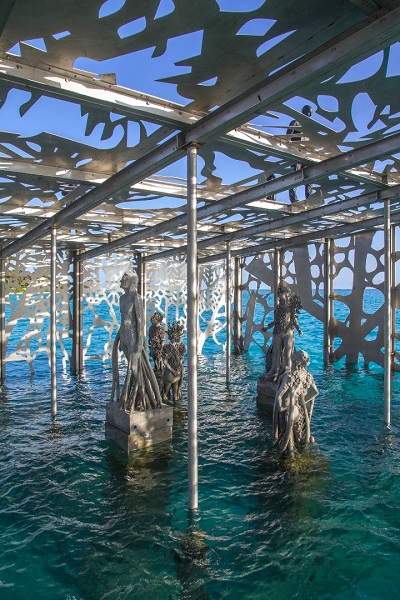 Needless to say, the Coralarium doesn't impact marine life in a significant way. The walls of the cube resemble coral patterns and allow currents and fauna to slip through unhindered. The marine biologists over at Fairmont Maldives Sirru Fen Fushi are now organizing various tours that include this wonderful installation.

As long as you can afford a trip there, we definitely suggest giving it a try.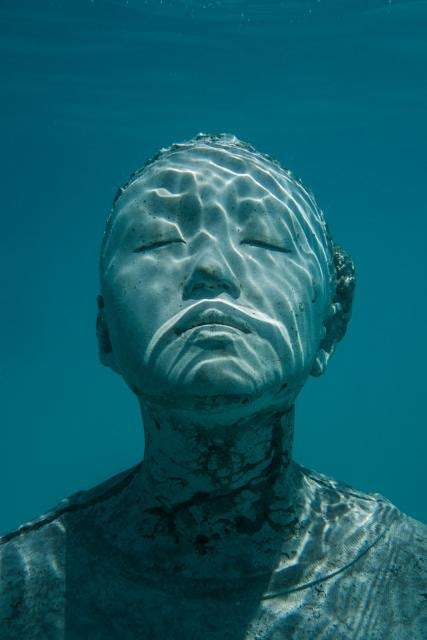 Moreover, make sure to check out our list of 15 of the best Maldives resorts, just in case you want to try another island.