S.T. Dupont celebrates the Year of the Dog in a very special way.
As we've come to expect year after year, S.T. Dupont, the Parisian manufacturer of lighters, pens, handbags, and perfumes, has decided to release a very special collection of pens and lighters in order to celebrate the Chinese New Year. This year is the Year of the Dog, and the French brand honors it with a pair of double-flame lighters complemented by two very special pens.
Set in bronze and flaunting a sublime yellow gold finish, these items were inspired by Chinese wooden doors and Ruyi – small objects that are said to bring about power and fortune.
Let's analyze each piece closely.
Starting off with the Ultra-Exclusive Neo-Classic President pen, we notice a dog profile that adorns both sides of the cap. There's also a yellow gold door motif that boasts red natural lacquer. The nib is made out of 18-karat solid gold, while the special stand comes with a Ruyi-style design of its own. Oh, this pen costs $19,500, by the way, which is definitely an intimidating price tag.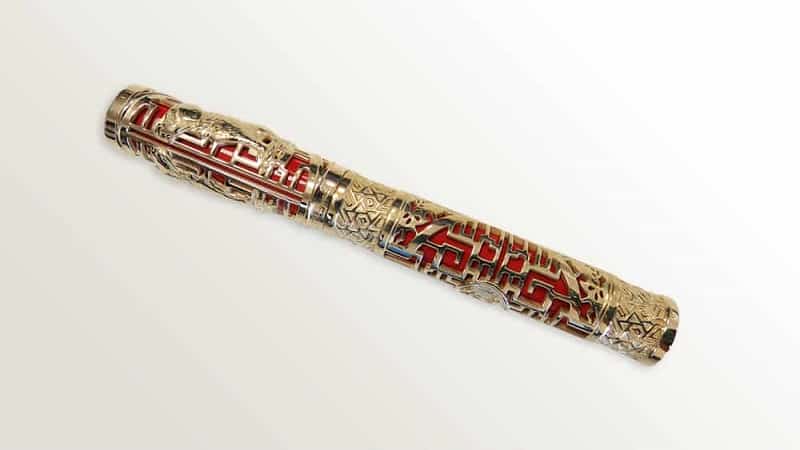 Moving on to the Ultra-Exclusive Ligne 2 double-flame lighter, this piece also comes with complex door motifs, a carved dog, and red natural lacquer elements. Priced at no less than $19,996, the lighter has decorative guilloché patterns on its ignition roller.
Both the pen and lighter are a part of a limited edition of 88 units each. This makes them incredibly exclusive and sought-after. If these two are a bit too expensive for your taste, you could get your hands on the Prestige Neo-Classic President pen, which costs $7000 and is available as both a fountain and rollerball.
Last but not least, the Prestige Ligne 2 double-flame lighter is limited to just 288 units, and it costs $7,250. It includes 18-karat yellow gold elements, and it shares some design cues with its more expensive cousin.
Whether you're a connoisseur or just a luxury enthusiast, this S.T. Dupont collection is definitely worth some attention. For more information about this collection, you should head over to S.T. Dupont's own website.