The Royal Coffee Maker transforms coffee brewing into a luxe experience.
Coffee is one of the most popular and widely enjoyed brewed drinks in the world, but it wasn't always so accessible. Indeed, back in the day, only the most esteemed individuals were able to savor its unique taste, and sure enough, obtaining and brewing coffee was a luxurious experience in itself. That's not really the case anymore, but if you look hard enough, you can find products that are out of the norm, products that redefine coffee brewing as we know it today.
One such a product is the Royal Coffee Maker, which was created by a company named Royal Paris. Boasting a rich historical heritage, Royal Paris once brought together some of the most respected and skilled goldsmiths, glassmakers, engineers and mathematicians, all in an effort to present a unique and revolutionary product: a coffee maker that leaves nothing to chance.
Aesthetics and materials.
The Royal Coffee maker stays true to its name, as it incorporates some of the most expensive and luxurious materials available. The brewer is a semi-precious work of art in itself, and it features a stunning design inspired by original balancing siphons present in European Courts during the 1800's.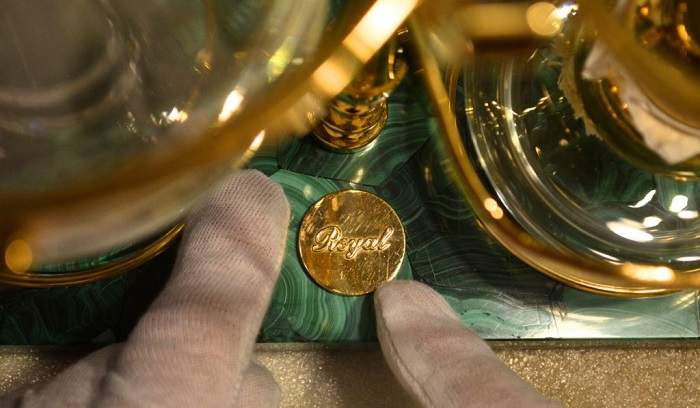 The counterweight, gargoyle, oak leaves, and finials were all created using brass. However, it's worth noting that artisans relied on very old casting methods in order to shape them, including the lost-wax method known as "cire perdue." Depending on the client's requirements, each Royal Coffee Maker can be finished in copper, silver, or gold, while the base comes in either black obsidian, azurite, mahogany or malachite.
The 24k version of the Royal is particularly impressive, as it was inspired by the unique beauty of gold. Furthermore, Royal Paris' metallurgists created a custom-alloy that offers a spectacular shade of yellow without sacrificing the gold's resilience, shine, and natural beauty.
Each and every one of these machines flaunts its own serial number, and only a limited number will ever be produced.
In partnership with Baccarat.

Each Royal is accompanied by two unique pieces created entirely by hand in France. We're talking about the crystal carafe and burner vase. The carafe was manufactured specifically for Royal by Baccarat, which is one of the world's most respected manufacturers of fine crystal glassware.
The company has been around since 1764, and it is based in Paris.
The coffee brewing experience.
You might be wondering by now: how does this coffee brewer work anyway? What makes it stand out among its peers? The process itself is quite complex, truth be told, but that's exactly what makes it special. It all starts with the boiling water, which goes through a handcrafted pipet in order to cool off a few degrees before reaching the coffee grounds.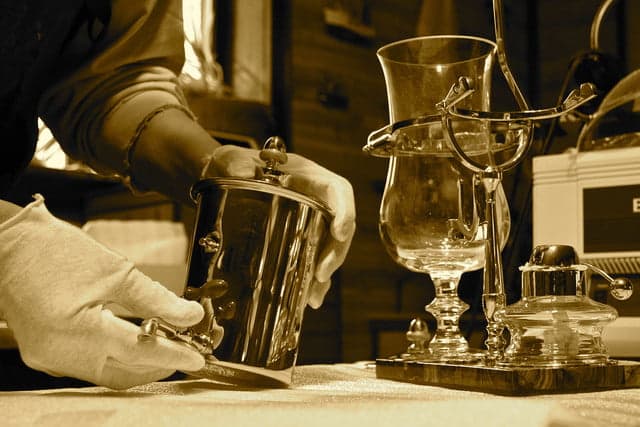 This ensures that the coffee and water meet at an ideal temperature, thus all of the coffee's flavors and oils are extracted without giving off that bitter, scorched taste. After the coffee spends an extended period of time in contact with the water, it becomes separated by it. The bitter grounds are collected into the glass carafe using a gold filter. Moreover, no artificial filters are used in the brewing process, which means that the coffee will never have a "paper" taste.
The end result is always spectacular – an incredibly pure taste, a strong aroma and no bitterness caused by the brewing process.
What about pricing?
Given the product's orientation towards quality and luxury, it should come as no surprise that the Royal Coffee Maker is quite expensive. Depending on your choice of finish and base, one could set you back between $15,000 and $24,000, which is a fair deal, all things considered.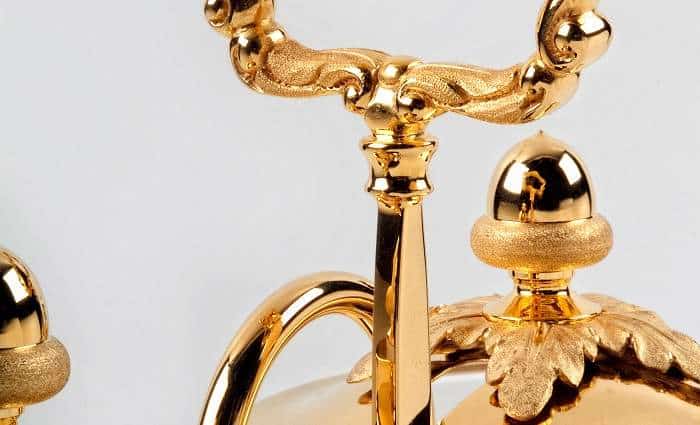 If you would like to purchase one of these products yourself, you can always visit the manufacturer's official website and place an order. Once you're there, you can also have a look at Royal Paris' Kopi Luwak offering. Kopi Luwak is the world's most expensive and most delicious coffee, and it would surely taste incredible once brewed using their exceptional coffee maker.