The Dynamiq GTT 115 Superyacht is a Porsche on the waves.
Back in May, we told you about the GTT 115 hybrid yacht project. You know, the one that was designed by Design Studio Studio F. A. Porsche and built by Dynamiq. Well, it looks like this monumental vessel has finally hit the waves, and we're proud to present the very first official images of it.

As you can see, the yacht meets and surpasses the most excessive requirements in terms of luxury and lavishness. The fine choice of materials for the interior is definitely something that we'd expect from Dynamiq, especially given the Porsche collaboration. Measuring in at 35 meters in length, the GTT 115 will be a part of a limited edition of just 7 units. Therefore, yachting enthusiasts from all over the world will be racing to get their hands on one of these vessels.
It's definitely worth noting that this particular model includes features that were never seen before in the yachting world. These include the first superyacht on the market infused with the design spirit of Studio F. A. Porsche, the first to blend a top speed of 21 knots speed with Transat range, and the first yacht equipped with two engine rooms in this size category. Moreover, this is the first yacht that can be configured and ordered completely online.

The configurator.
Speaking of which, if you're interested in owning one, you should know that there's only one place where you can configure it. Fortunately, all you have to do is visit Dynamiq's official configurator for the GTT 115 right here. Powered by a duo of MAN diesel engines, the yacht boasts 3,250 horsepower, but we should also mention the 20.8 kW electric motors. These motors might not seem like much, but they can enable a top speed of 6 knots alone, while the diesel engines ensure a 21-knot speed.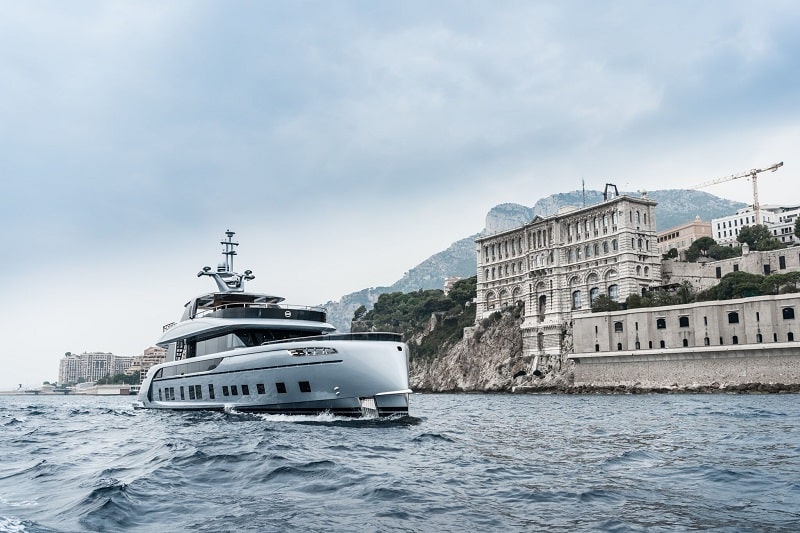 Priced at €12,5 million, the Porsche-designed GTT 115 hybrid yacht by Dynamiq is definitely intimidating, but it's also worth every penny. Deliveries are expected to commence in January 2019.