The Parrot Pocket Watch Repeater is a true stunner.
Marking anniversaries is no easy feat, even for companies such as Jaquet Droz. With 28 years of experience to back it up, this Swiss brand is a staple of high-end craftsmanship and attention to detail. We've featured many Jaquet Droz timepieces here on Luxefeed. We'll definitely carry on, but for now, we'll take a closer look at the unusual Parrot Pocket Watch Repeater.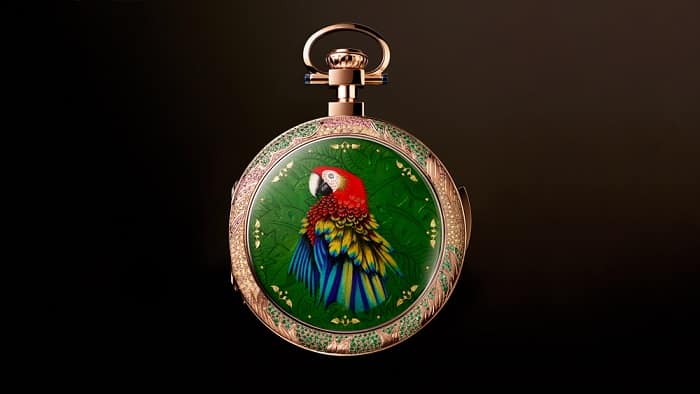 This unique pocket watch marks the 28th anniversary of Jaquet Droz, and it is as luxurious as it is complex. It dazzles the eye with a myriad of colors, just like a parrot would, but it does so in an elegant, timeless way. We already know that the Swiss brand loves to incorporate bird motifs into its creations. That's why the Parrot Pocket Watch Repeater is so fitting.
Materials and craftsmanship.
The watch's 18k rose gold case measures in at 58mm, and it flaunts numerous precious gemstones. Overall, this pocket watch incorporates 10 carats of precious stones, including emeralds, sapphires, rubies, and yellow diamonds. The piece required three years of hard work and dedication in order to be complete, and it bears the mark of every artisan technique at the company.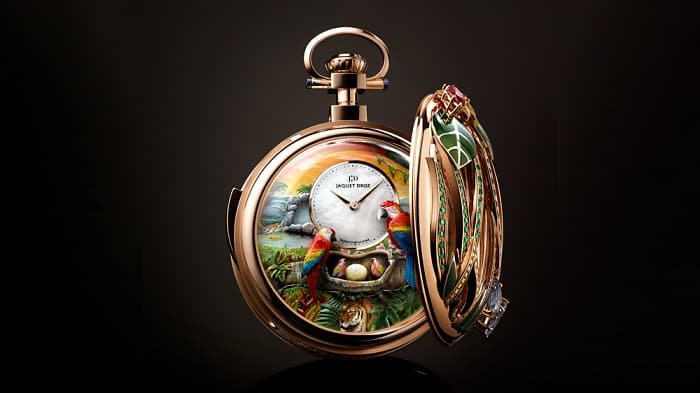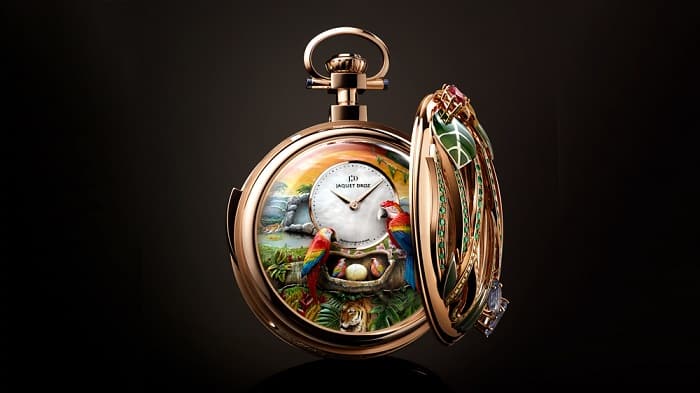 The timepiece honors each member of the macaw family of five. Moreover, the parrots are accompanied by a bird of paradise and two tigers. Engraved and painted by hand, the jungle relief scene comes in 18k gold. As for the time, it is displayed on a mother-of-pearl subdial. The back of the case impresses with a Grand Feu enamel painting of a macaw, while the dial cover features tropical foliage of vines made with Grand Feu enamel and gemstones.
The RMA88 movement.
As far as the movement is concerned, it incorporates 668 components, which is double when compared to a conventional minute repeater caliber. Among those 668 parts are 69 jewels, as well as long cathedral gongs for a plus of resonance.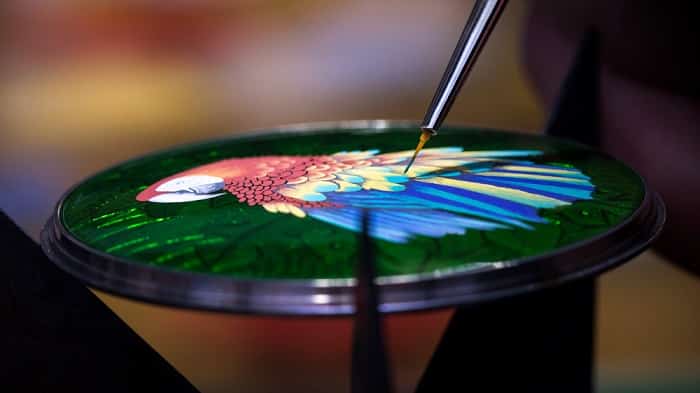 The Parrot Pocket Watch Repeater by Jaquet Droz is a one-off piece. Therefore, it shouldn't surprise anyone that it carries a hefty price tag. However, those of you who are looking to own a piece of the Swiss brand's history will probably spend the $1.05 million in a heartbeat.
Don't forget to visit the Jaquet Droz website for more information!