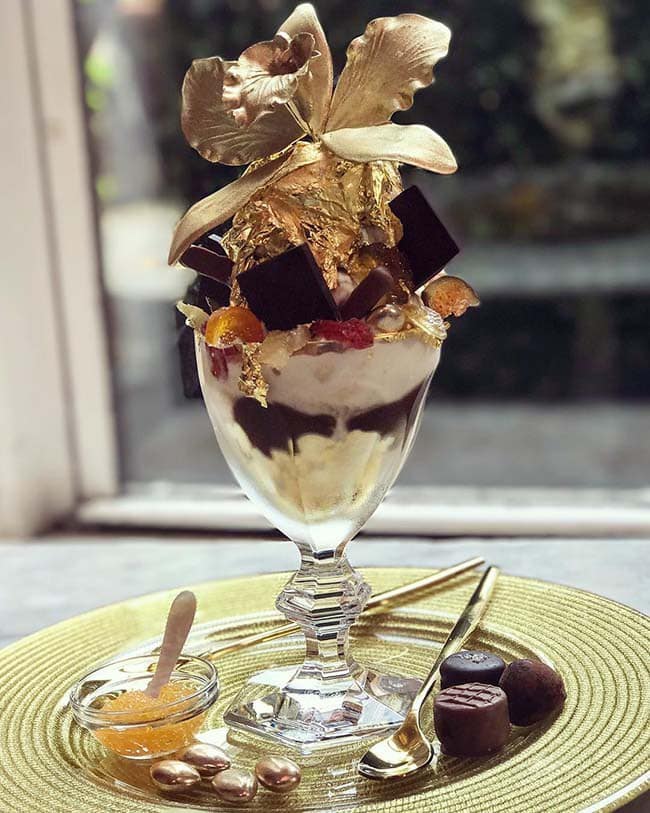 It's not every day that we get to report on one of the world's most expensive desserts, which is why we were delighted to find out about the luxurious delight called the Golden Opulence Sundae. This decadent ice-cream is being served by a New York based restaurant named Serendipity 3, and it is based on a blend of Tahitian vanilla ice cream with Madagascar vanilla beans and a 23-carat gilded leaf.
As if that wasn't enough, the sundae's creators also added some of the most expensive chocolate in the world into the mix, namely Amedei Porceleana, to say nothing of the chunks of rare Chuao chocolate, which add an extra touch of lavishness. The treat is served in a Baccarat crystal goblet that you can take home with you, and let's not forget about the 18K gold spoon.
Final touches include exotic candied fruits sourced from Paris, chocolate truffles, gold covered almonds, and marzipan cherries. Back in 2007, the Golden Opulence Sundae earned its spot in the Guinness Book of World Records as the most expensive sundae in the world. Its price tag of US$1,000 might be a turn off for most people, but those who can afford to savor the finer things in life will undoubtedly rush to New York to give it a try. Keep in mind that the restaurant needs to be notified 48 hours in advance, though.
Bon Appetit!