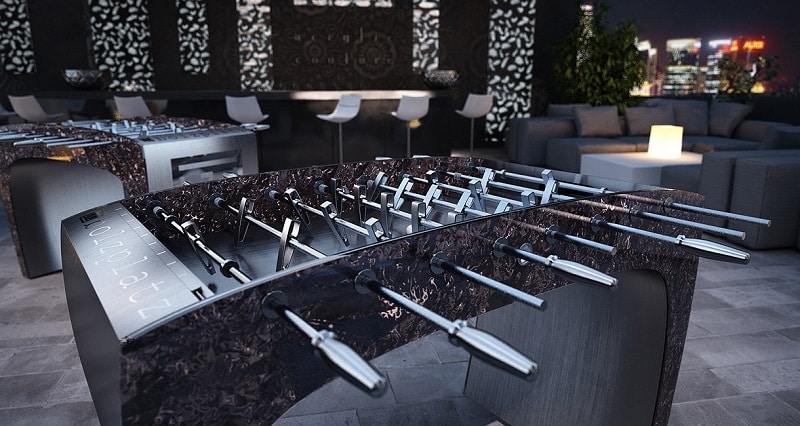 Otherwise known as table football or table soccer, foosball is a very engaging and interesting sport, and one of the most popular football-related table-top game. You've probably seen your fair share of foosball tables in older movies or TV shows, which makes sense as the activity was invented in 1921. The main purpose of the game is to move the ball into your opponent's goal using control knobs. While it might seem easy at a glance, playing foosball properly requires quite a bit of dexterity and quick reaction times.
There are no unified rules for playing foosball, and rules can vary greatly between countries, cities, and even clubs. When it comes to pricing, a conventional foosball table would set you back no more than $200 at the time of writing, which means that you can definitely pick one up without breaking the bank. However, there are certain foosball tables out there that are worth as much as a nice car. These are the ones that we'll be focusing on today. These products represent more than just regular foosball tables, they are masterpieces created with so much care and attention to detail that they will definitely impress you to the core.
Today we want to share with you the 5 most expensive foosball tables in the world, many of which were created by famous brands and using expensive materials.
5. Audi Foosball Table – $16,000.
Audi has realized the value of foosball tables, and so the company decided to make a limited edition foosball table emblazoned with its logo. The Audi foosball table is made from handcrafted wood, extremely durable plastic, aluminum, and other high-end materials.
It is manufactured by one of the most famous Germany foosball companies, namely Leonhart, which made the Audi foosball table in a limited edition of just 20 units. These things are highly exclusive, that's for sure.
4. Barbie Foosball Table – $25,000.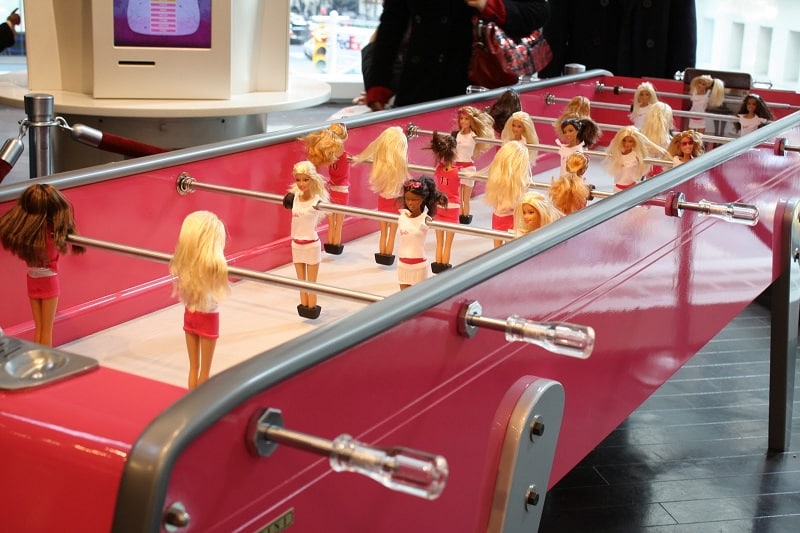 The 4th most expensive foosball table is made for women. To be more exact, for Barbie fans. French designer Chloe Ruchon made a foosball table with Barbie dolls because he wanted to mix these two opposite symbols. The players on the table are Barbie dolls and due to the fact that they are much bigger than the regular size foosball players, the table is adjusted accordingly.
It is much longer than similar products and it is completely covered in Barbie pink. There are only 10 Barbie foosball tables in the world, and each has already found an owner.
3. Lux Gold Foosball Table – $28,000.
This unique table has an eye-catching, elegant design based on foosball players made from lavish gold. It is one of the most impressive tables on the list, not just because of its price tag, but also thanks to its lavish black and gold appearance.
If you aren't interested in those 2 colors, you can have your pick from 50 different available colors and 12 different styles. The price quite a bargain actually, especially considering the materials used to create this work of art.
2. Opus Foosball Table – $34,000.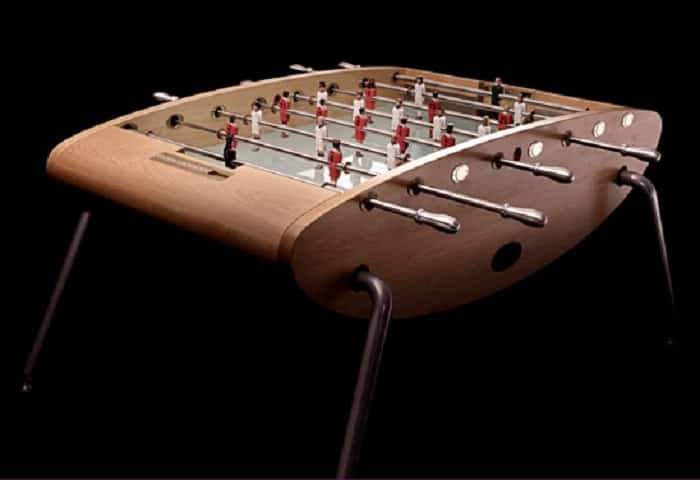 I must admit I am really impressed with this table because it is inspired by historical events. The Opus foosball table symbolizes the never-ending war against good and evil. The White team symbolizes Good and the red team symbolizes Evil.
On the white team playing for Good we have God, Assisi, Flash Gordon, Mary Poppins, M.K. Gandhi, and Santa Claus, while on the red team playing for Evil we have Lucifer, Jack the Ripper, Vlad the Impaler, Adolf Hitler, Child Catcher, and Caligula. This incredible table is a limited edition, only 20 tables were made and they are signed by a company called Eleven Forty.
1. 11 – The Beautiful Game – $97,000.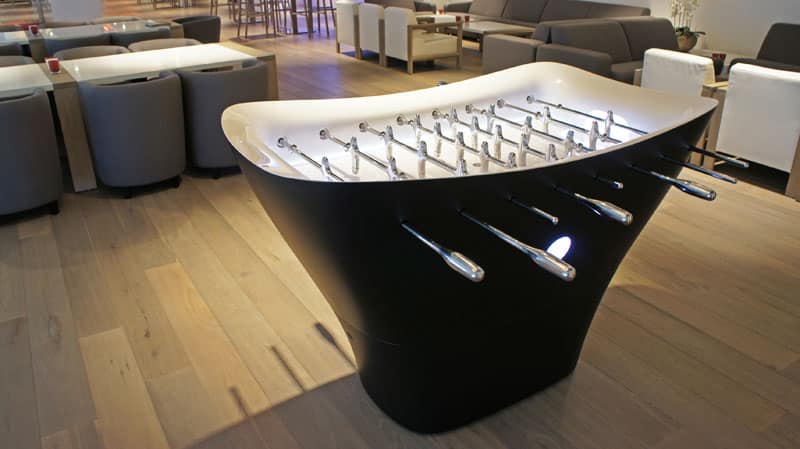 The most expensive foosball table in the world was made by two companies named GRO design and Tim modelmakers. You have to order the table and wait 12 weeks for it to be done, which is not too long considering that it is completely handmade.
The clean lines represent the modern architecture of football stadiums all over Europe. The number 11 stands for the number of players on one team, while "The Beautiful Game" is the phrase Diego Maradona used when he described football. This particular foosball table is definitely the most luxurious object of its kind in the world. It is available in limited production, and you can definitely try to order one yourself by visiting the manufacturer's official website.
Pricing starts off at $97K for the classic White and Black variants, but it can go even higher if you opt in for various customizations and finishes.
Author's bio:
Mark is a foosball enthusiast who has a blog called the Foosball Zone. On that blog you can learn everything about foosball, so make sure to check it out right here!