A closer look at the life of Erika Costell.
We've covered quite a few major models and YouTubers here on Luxefeed, but now it's time to focus on someone who can also make it in the music industry as well. Today we're going to shine a spotlight on Erika Costell – a highly successful model, YouTuber, Instagram influencer, and singer-songwriter. That's a very impressive repertoire for someone who's only 24 years old, wouldn't you agree?
Erika Costell was born on November 12, 1992, in Bedford, Michigan, U.S, and she began her modeling career when she was 16, while she was still in high-school. She used to be affiliated with the Wilhelmina International and the DAN Talent Group, but after she finished high school, she went on to continue her studies at the Middle Tennessee State University. She graduated with a bachelor's degree in business administration, which definitely helped her start her online business and YouTube channel.
YouTube channel and music career.
A quick online peek quickly reveals that Erika Costell is one of the most successful YouTubers in the world. Her channel currently enjoys 4.4 million subscribers, and her videos sometimes exceed 5 million views each. Some of her most popular uploads include vlogs and reaction videos, and you can go ahead and subscribe to her channel yourself right here.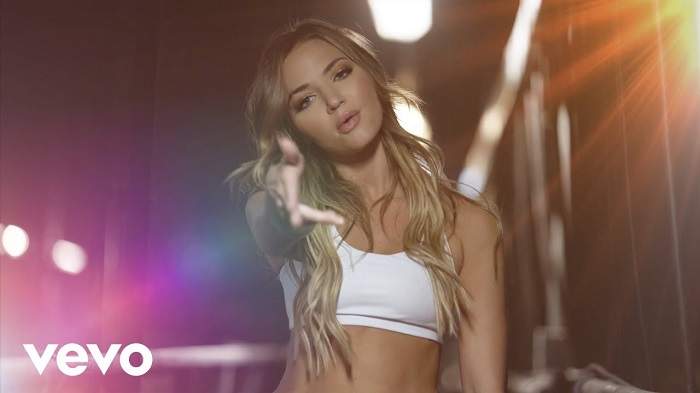 As for Erika Costell's career as a singer and songwriter, she released Jerika with Jake Paul featuring DJ Kade in 2017, which peaked at no. 86 in the US charts and at 76 in Canada. She also released a song called There For You in 2017, as well as Chitty Bang and Not Her in 2018. As a featured artist, she worked with Tessa Brooks for a single named Powerful Emotions.
What's even more impressive is that she topped the Music Web Star category at the 2018 Teen Choice Awards. She's currently the Chief Operations Officer of Jake Paul's Team 10, and she resides in Calabasas, California with other team members.
What is Erika Costell's net worth?
It's worth pointing out right off the bad that it's incredibly difficult to obtain any official information regarding Erika Costell's income. However, sources indicate that she has a net worth of $200,000, which she obtained through her modeling gigs, YouTube revenue, and Instagram sponsored posts.
Speaking of Instagram, her page boasts nearly 300,000 followers, and it includes various pictures of herself and her boyfriend Jake Paul. Their relationship became public in April 2018 during a Philadelphia 76ers basketball game.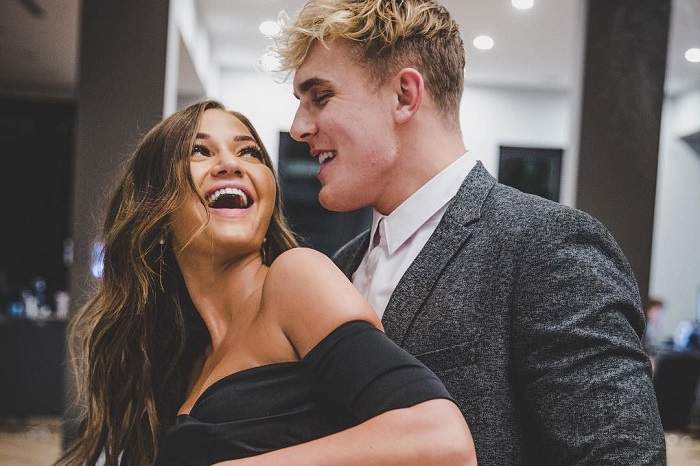 Does Erika Costell have any tattoos?
As a matter of fact, she has eight of them. She has a representation of a cross on her side, a GOAT tattoo on her inner lip, a tattoo that says Ohana on her foot, an X on her elbow, an XII on her chest, another GOAT on her forearm, "Loyalty" on her hip, and "Fear Ends where Faith Begins" on her stomach.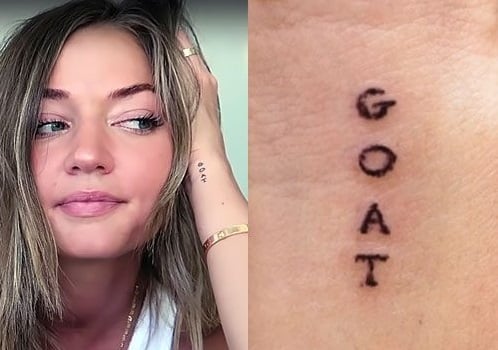 So what do these tattoos mean? Well, the X stands for Team 10, which is the YouTube house that she's a part of. As for Ohana, it's actually the Hawaiian word for "Family." Perhaps the weirdest and most controversial are the GOAT tattoos, but she explained that GOAT actually stands for Greatest of All Time. She also had a pet goat when she was 12, and it looks like she's quite fond of these particular animals. The cross tattoo on her rib cage is dedicated to her former manager Larry, who she described as her "guardian angel."
Looking for some merch?
If you'd like to get your hands on some Erika Costell merch and be a part of her Goat Army, you should probably have a look at her collection on Fanjoi. Her fashion lineup includes T-shirts, hoodies, sweatshirts, youth apparel, and several "back to school" items. The store also includes phone cases, posters, blankets, and coffee mugs.