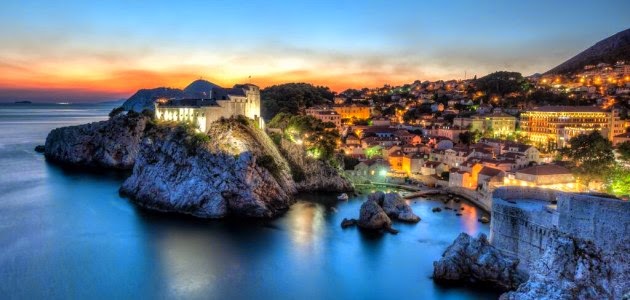 When a city is beautiful enough to be chosen by the creators of Game of Thrones as a shooting destination, you know that it is truly special. The Croatian city of Dubrovnik sits on the shores of the Adriatic Sea in Dalmatia, and it represents one of the most popular tourist destinations in Europe.
In 1979, this beautiful city was added to the UNESCO World Heritage List due to its great historical significance and picturesque landscapes. Unfortunately, a terrible earthquake in 1667 damaged or destroyed most of the Renaissance structures that were erected within the city, but some of them were fortunately left standing, and they can be visited to this day by history enthusiasts from all corners of the globe.


One of the most significant landmarks of Dubrovnik is the Sponza Palace, which dates all the way back to the 16th century and is presently used as a home for the National Archives. Another great museum operates within a Gothic-Renaissance palace called Rector's Palace, but we should also mention the Franciscan monastery and its massive library that shelters 1,500 priceless handwritten papers, 30,000 volumes and 216 incunabula.


However, Dubrovnik is instantly recognizable thanks to its massive walls, which stretch about 1.24 miles or 2 kilometers around the city. The walls that are on the land side can be anywhere between 4 to 6 meters (13.2 to 19.8 feet) thick, while numerous towers and turrets stand watch to protect the citizens from enemies. Or so they did, during the old days. Now, these walls are famous for appearing in the Game of Thrones series as part of the now renowned city called Kings Landing.
Dubrovnik can be admired in its entire splendor by going on a cable car ride, but those who wish to sample local delicacies or catch a glimpse of its vibrant nightlife could easily find plenty of restaurants and clubs to satisfy their needs. The prices are cheaper compared to other reputable cities in Europe, which is always a big plus if you plan on traveling on a budget.